Mobile broadband devices offer a viable alternative to fixed-line home broadband. They boast the lack of a home phone line and a fixed-term contract with a broadband provider among their advantages.
What's more, with 4G/5G connectivity it can offer a reliable service for those in traditionally hard-to-reach areas.
But what's the service like in terms of speed and connectivity more generally?
We compare two home router devices from EE and Three according to design, speed, connectivity, set-up and price to see, which one comes out on top.
© Choose
---
Design
Winner - EE 4GEE Home Router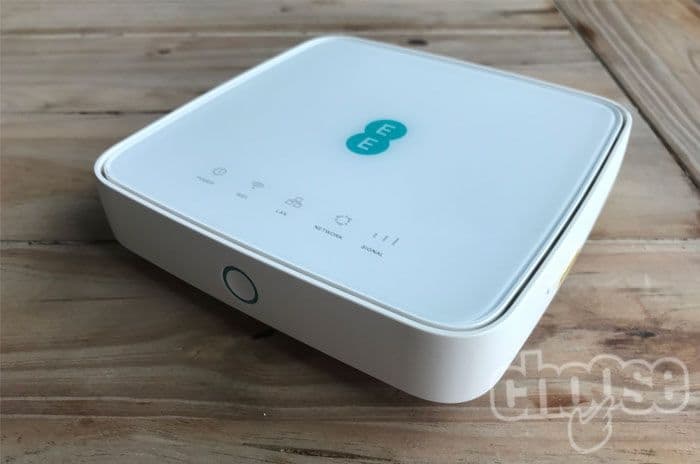 EE's 4GEE Home Router boasts a more modern and compact design.
Three's HomeFi 4G router has a simple rectangular design with slightly sloping sides and, comparative to most home broadband boxes, it's actually quite small. Measuring 23 x 20.2 x 7.4cm, it's compact and doesn't take up too much room. It's available in both black and white.
The only con was that the lightweight and upright design meant it was quite easy to knock over. This happened a few times during the set-up process. However, we imagine that once it's placed in permanent situ this is unlikely to be a huge problem.
EE's 4G router is also small and compact. It has a slightly more expensive-looking design than the Three router, courtesy of its more detailed logo and shiny top case. It's a slightly smaller size to the Three router, measuring 14.6 x 14.6 x 3.2cm. It's also a more conventional shape and heavier so we didn't experience the same tipping over issues when moving the device.
---
Set up
Winner - It's a draw
Both devices come with a power plug, SIM card and ethernet cable.
Setting up either device is fairly straight-forward, which is a much-welcomed change from the usual ordeal involved in establishing a new fixed-line home broadband service, which often requires a lengthy waiting period and an engineer visit.
To connect to the network you can press the WPS button on top of the device, or read the name and password for your network on the sticker on the bottom of the router, which also gives you the address and password for the admin panel. You should then have instant home internet.
Both mobile broadband routers rely on a pre-installed SIM card to provide their connection. To install, it's simply a case of plugging in the device, pressing the relevant icons, waiting for them to light up and then you're good to go.
Read more about how mobile broadband for the home works.
---
Speed
Winner - EE's 4GEE Home Router
EE's 4GEE router offers average speeds of 31Mb, with a maximum speed of up to 90Mb available depending on location. An impressive offering for a service that doesn't use a traditional fixed-line FTTC technology. In fact, such speeds surpass the low tier packages offered by many fixed-line services.
We managed a fairly decent average speed of 60Mb. However, we tested the device in the city centre of Manchester. It's possible the average speed may be much lower in more remote locations.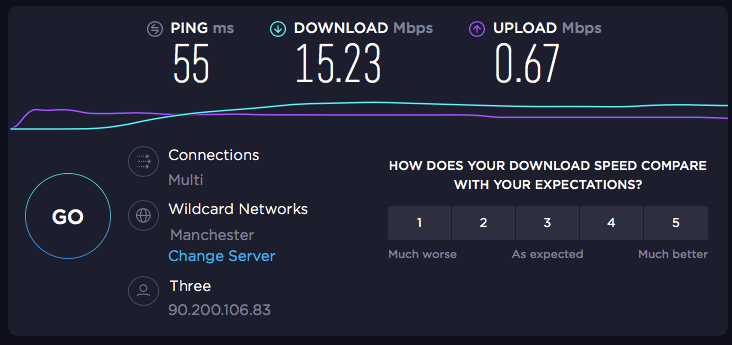 EE's 4GEE Home Router managed download speeds of 60Mbps.
We also noted a slower speed around peak times, evenings and weekends, of around 45Mb but this was more than fast enough for our needs - browsing the web and streaming music and videos.
While the Three HomeFi 4G router boasts of a higher speed of up to 150Mb, which is again location dependent, we found it provided a much lower average speed of 15Mb. The only aspect in which it faired better than EE's 4GEE router in the speeds stakes was that this average speed was consistent; it didn't vary depending on the time of day.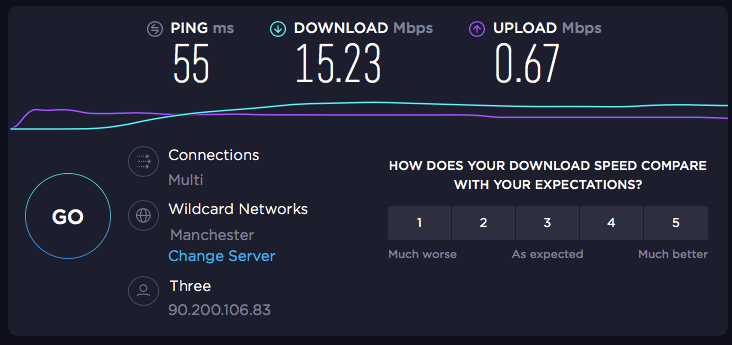 Three's HomeFi 4G speed test averaged just 15Mbps.
Connectivity
Winner - It's a draw
Both mobile broadband devices promise a 4G connection for up to 32 devices at the same time over Wi-Fi. Whilst we didn't test anywhere near that many devices, we were able to connect our desktop, laptop, printer, home speaker and three mobile phones without experiencing any connectivity issues.
As mentioned above, the exact speed of either device will depend on the connection in a particular location. We established a strong, constant connection and fairly consistent average speeds on both routers. It's again worth noting that those in less well-connected areas may experience a less reliable and slower service.
Another related feature in respect to connectivity is the fact that, as mobile broadband devices, both are portable. They simply require electricity and the accompanying SIM to connect so you can take the device out and about with you to use as your very own Wi-Fi hotspot.
For ultra-portability however, you'd want a battery powered mobile wi-fi hotspot instead.
---
Price
Winner - Three HomeFi 4G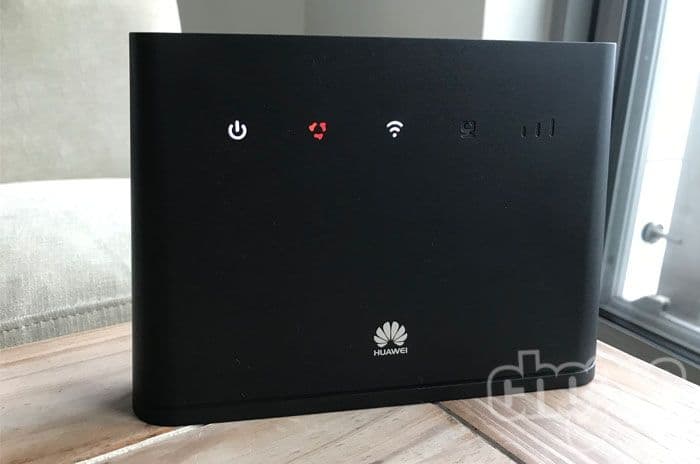 Three beat EE on price - offering more plans for their HomeFi 4G router.
EE offer their 4G router on a number of price plans, the exact price varies depending on the contract length and data allowance.
It's not possible to purchase on a Pay As You Go basis. However, you can opt for the minimum contract of one month.
It's possible to get a price plan that offers no upfront fee and a monthly cost of £35. Yet this ties customers in for a longer period of 18 months and offers a lower data allowance of 100GB. At the other end of the spectrum, customers can opt for a one-month contract that provides 500GB of data but this will cost £100 upfront and a monthly payment of £50.
EE also promises to provide free 5GB data boosts every month.
Unlike EE's router, Three's is available on a Pay As You Go basis for £59.99. However, this option has the lowest data allowance of just 1GB. For the most generous data allowance available on Pay As You Go - 24GB - it'll set customers back £109.99.
As part of a price plan, customers can get Three's Huawei router with unlimited data for just £24 but to do this they'll need to sign up to a 24-month contract. It's also available on a one-month contract with 24GB but comes with an upfront cost of £60 and a monthly cost of £24.
In terms of price plan options and Pay As You Go deals, then it seems there's only one winner.
Compare prices and see the latest deals on EE home routers and Three home routers.
---
Our verdict
In terms of connectivity and set up it's a pretty even service from both EE and Three.
When it comes to speed, arguably the most important aspect of any router, EE's router gave us a more superior service. Yet, another important, consideration is price - and in this respect, Three's offering came out on top. For this reason, we'd advise that if price is your deal-breaker then go with Three's Huawei device. Alternatively, if it's a fast connection that you're after we'd recommend EE's 4GEE router.
Of course, check you live in a 4G connect area before purchasing either device.
See the latest mobile home routers in our mobile broadband comparison.
Read more in our review of EE mobile broadband and our in-depth look at Three mobile broadband.