SIM only deals come with data, minutes and texts but customers aren't paying for a handset at the same time.
So, SIM only plans are cheaper than mobile handset deals and they are generally more flexible too.
There are SIM only deals on offer from big names like O2 and Three as well as smaller networks such as giffgaff and talkmobile.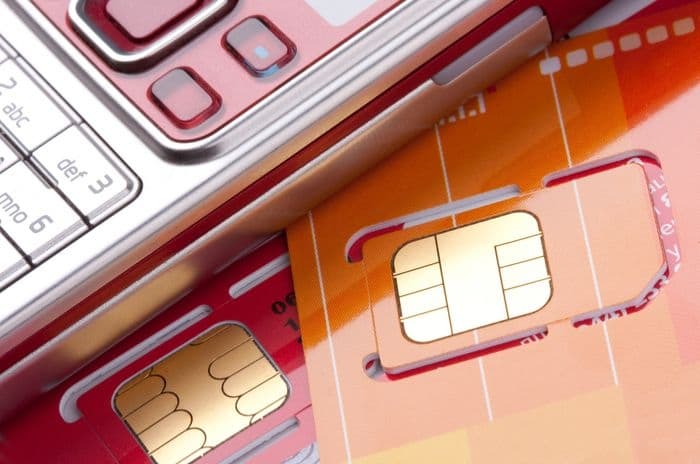 ---
Cheap SIM only deals
SIM only deals from smaller network providers are often cheaper, especially if customers are looking for medium-sized data plans.
Here are some of the best SIM only deals available right now:
| | Package | Minutes | Data | Monthly price | Contract term |
| --- | --- | --- | --- | --- | --- |
| SMARTY | 4GB Data | Unlimited | 4GB | £5 | 1 month |
| talkmobile | Purple 6 Extra | Unlimited | 4GB | £5.95 | 12 months |
| iD Mobile | 5GB data | Unlimited | 5GB | £6 | 24 months |
| Virgin Mobile | 5GB Data | Unlimited | 5GB | £6 | 1 month |
---
What is a SIM only deal?
A SIM only deal allows customers to take a package of data, calls and texts from a mobile provider without also taking a handset from them.
SIM only deals are ideal for:
People who have a handset they're happy with
People who want to buy a refurbished mobile phone
People who have been given an older phone (e.g. by a relative or friend)
People looking for the cheapest mobile deals available
As customers are not paying for a handset as part of their monthly contract, SIM only deals can be offered at a much lower price.
Customers will need a handset to put their SIM card into and they will need to check which size SIM card their device takes.
Different handsets take different sizes of SIM cards. The three standard sizes are:
Standard SIM card (15mm x 25mm)
Micro SIM card (12mm x 15mm)
Nano SIM card (8.8m x 12.3mm)
Most network operators will send out a SIM card which is pre-cut to all three sizes, so customers simply need to pop out the correct size of SIM to start using it.
Overall, SIM only deals are a straightforward and cheap way of getting a mobile package for customers who don't need the latest handset or are happy with the phone they currently have.
Contract vs rolling SIM only
SIM only plans can be taken on a traditional contract basis (24-month or 12-month terms) while some providers offer rolling SIM only deals.
These contract types will appeal to different customers, with some wanting to lock down a cheap SIM only plan for a year and others preferring the flexibility of rolling deals.
Here are a couple of things to bear in mind about contract SIM only deals:
Customers are tied into them for the length of the contract term and will be charged early exit fees if they try to end the contract early
The monthly cost of the bill will usually rise in line with inflation (or more) each year and customers can't avoid these rises while they're in contract
Some deals come with special introductory offers that wear off after a few months, so prices may increase
On the flip side, here are some things to remember when looking at rolling SIM only plans:
Some rolling deals can work out as more expensive over time
Providers can put prices up at any time and customers aren't protected against major increases
1-month rolling deals can also come with introductory offers that may not be good value in the longer term
It's also true that some major networks don't offer cheap SIM only deals on rolling monthly deals, even if they do have some on sale.
So, for customers determined to stick with a big name like EE or Vodafone, they might find they are paying far more per GB of data than they would be if they went for a fixed-term SIM only plan.
Some mobile virtual network operators (MVNOs) will only offer rolling monthly plans and don't provide fixed-term deals at all.
Unlimited SIM only
Many mobile providers now offer unlimited mobile SIM only deals as we explore in our dedicated guide.
For customers who use a lot of data, unlimited deals can make sense, although it's worth checking how much data is being used each month first - plenty of customers opt for unlimited deals when a mid-range data plan with 20GB or 30GB would be more suited to their needs (and cheaper).
Here are a couple of the cheapest unlimited SIM only deals available from UK mobile providers:
| | Package | Minutes | Data | Monthly price | Contract term |
| --- | --- | --- | --- | --- | --- |
| iD Mobile | Unlimited Data | Unlimited | Unlimited | £16 | 24 months |
| SMARTY | Unlimited Data | Unlimited | Unlimited | £16 | 1 month |
| Tesco Mobile | Unlimited data | Unlimited | Unlimited | £17.50 | 24 months |
| Lebara | Unlimited | Unlimited | Unlimited | £22.50 | 12 months |
Is SIM only the same as Pay As You Go?
Many people think that a SIM only deal is the same as a Pay As You Go (PAYG) deal, but that's not always the case. PAYG can be linked to a SIM only deal, or it can be with a handset included.
A SIM only contract works just like a normal contract, giving you an allowance of text, minutes and data to use during each month.
PAYG, on the other hand, does sometimes allow a certain level of calls, texts and data in exchange for a top-up, but you are not required to top up and there is no contract between you and the provider.
Both PAYG SIM only and contract SIM only provide only the SIM card itself, leaving you to source your own handset for use. PAYG means you're not tied into making any payments on a regular basis, so if you don't use your mobile much, it's a highly flexible choice.
On the plus side, the number of minutes, texts and data you get with SIM only tend to be much more generous than with PAYG, so if you've got a regular need for these services, SIM only is usually the better value.
One final point: mobile networks are phasing out PAYG deals by charging higher rates for use, so they might not be an economical option for many.
---
Pros and cons of a SIM only contract
As with anything, the suitability of a SIM only contract will depend on your own needs. Some of the key advantages of choosing SIM only include:
Free to choose a provider: You're not trying to obtain a handset, so you can select the best provide for your needs based on tariff alone.
Free to move more regularly: Shorter SIM only contracts of 1 month or 12 months leaves you free to shop around more regularly and change providers if a better offer comes up.
Lower monthly cost: Because you're not paying for a handset too, your monthly commitment will be much lower than if you choose a contract with a phone supplied.
Wait for a new handset to be released: If you know a new handset is coming out soon, but your contract has already ended, you can switch to a SIM only deal on a 30 day contract to lower your outgoings and cancel once the phone you want becomes available.
Stay with your phone: If you like the phone you've got right now, why pay to upgrade? You can use your old handset by simply swapping the SIM card to access the new contract.
Easier credit check: If you've been turned down for a new phone following the credit check, you could still qualify for a SIM only contract as the criteria are somewhat more relaxed.
Of course, there are always two sides to every story. In terms of SIM only deals, you should be aware that:
Handsets are expensive: Because you're not getting a phone with your contract, you'll need to source one through your own financial means. Even a basic handset that's a few years old could set you back several hundred pounds, so be aware of this cost.
Handsets could be locked: If you're locked to a particular network, you may need to ask to have your phone unlocked in order to use another provider. This is often free of charge but do check as some providers occasionally levy a fee for this service.
These disadvantages aren't necessarily deal breakers but should be kept in mind if you're thinking of moving to SIM only.
---
Who offers SIM only deals?
Mobile networks will usually offer a range of SIM only deals, with some smaller providers specialising in them.
As well as the big four of EE, O2, Three and Vodafone, there are dozens of MVNOs active in the UK.
These providers piggyback off the network infrastructure of the big names, so customers looking at any of the smaller players will need to bear that in mind.
Here are the MVNOs you can compare with Choose and the network they use to deliver their services:
| MVNO | Network operator |
| --- | --- |
| Asda Mobile | Vodafone |
| BT Mobile | EE |
| giffgaff | O2 |
| iD Mobile | Three |
| Lebara | Vodafone |
| Lycamobile | O2 |
| Plusnet Mobile | EE |
| Sky Mobile | O2 |
| SMARTY | Three |
| Talkmobile | Vodafone |
| Tesco Mobile | O2 |
| Virgin Mobile | Vodafone |
| VOXI | Vodafone |
Note: SMARTY is a sub-brand of Three while VOXI is a sub-brand of Vodafone. Although Virgin Mobile is owned by Virgin Media O2, their services are provided by Vodafone for now.
Choosing a SIM only provider
The right SIM only mobile provider will depend on a customer's needs and individual requirements.
Here are five questions to ask before signing up to a SIM only deal:
Is the contract the right length? Some customers may prefer 1-month rolling deals rather than tying themselves into a fixed-term contract.
Which network operator does the provider use? For MVNOs, it's important to check what mobile coverage for the network operator is like in an area - if you have a problem with Three coverage around your home, for instance, then iD Mobile won't be a suitable choice.
How fast is the mobile network? This is related to the point above, since the mobile network operator (MNO) will dictate how fast a mobile provider will be.
Does the provider have a good customer service record? Low complaints can suggest a more positive customer experience.
Are there any extras included with a mobile provider such as the EE's Stay Connected promise or VOXI's free streaming and social media?
Answering these questions should help customers choose the right mobile provider for them but it could still be worth testing the network with a 1-month SIM only plan to see if the coverage and speed meets expectations.
---
Switching to a SIM only plan
Switching to a SIM only deal is usually a straightforward procedure.
Thanks to rules brought in by Ofcom in 2019, customers can now leave their network by text message.
There's a simple three-step process:
Customers text the word 'PAC' to 65075.
Providers respond quickly with a PAC code that is valid for 30 days. The provider will also include information about early termination fees and any other charges in this text message.
The customer gives the PAC to their new mobile provider and the new network arranges for the switch to be finalised within one working day.
This is a massively streamlined process compared to how things used to be, and it means that customers can switch to SIM only deals easily and without having to speak to their existing provider directly.
However, it doesn't mean that we can get out of existing contracts - mobile providers can and do hold us to them.
---
Summary: Are SIM only deals any good?
SIM only deals are great for customers looking to save money on their mobile bills each month.
As long as you have a mobile handset that you're happy with (or can pick one up cheaply), it's economical to go SIM only.
In fact, research from Ofcom in 2021 showed that customers pay the equivalent of 23% APR if they take a handset and airtime contract combined compared to taking them separately, so it could be worth shopping around for the handset too, despite loopholes on overcharging being closed.
Some of the main benefits of SIM only deals include:
They're cheaper than taking a mobile handset contract
They can be flexible with rolling 1-month contracts
Customers have a wider range of networks to choose from who offer SIM only deals
There are data plans to suit every type of mobile user
Ultimately, while some customers want the latest Apple iPhone or Samsung Galaxy device, there are plenty of others who would be happy continuing with the handset they've got or picking up a cheap one second-hand.
While there are various ways to save money on your mobile phone bill, choosing a SIM only deal is usually the biggest cost-cutter.