Several UK mobile operators offer "like new" devices that have been returned soon after purchase, but there are also various locations to get refurbished devices online and offline.
Customers shopping for a refurbished mobile phone may have to pay outright for the device, putting some people off taking this option.
There is a grading system for refurbished phones, although it's important to note this isn't legally enforceable so should be used simply as a reference.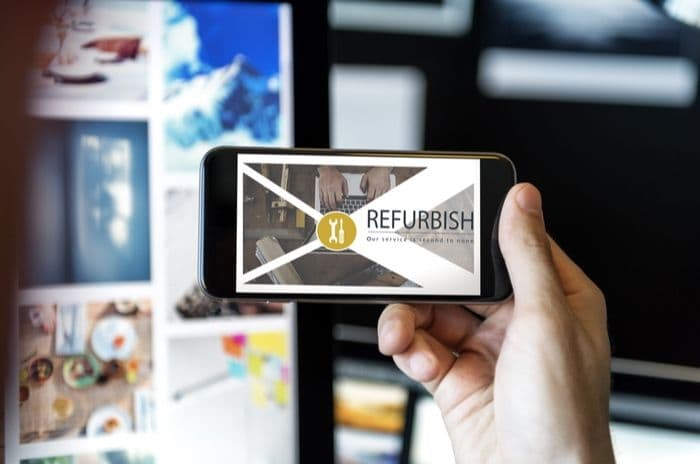 ---
Are refurbished mobile phones cheaper?
Refurbished mobile phones are often cheaper than brand new mobile phones, but this isn't always the case and the amount customers save depend on their device, airtime plan and choice of retailer.
Here are some current examples if we're looking to pay outright on some popular handsets:
| Provider | Device | Refurbished price | New price |
| --- | --- | --- | --- |
| Vodafone | Apple iPhone 12 (64GB) | £641 | £667 |
| O2 | Apple iPhone 12 (64GB) | £755 | £633.80 |
| giffgaff | Apple iPhone 12 (64GB) | £569 | £679 |
| Vodafone | Samsung Galaxy S21 (128GB) | £641 | £641 |
| O2 | Samsung Galaxy A12 | £119 | £172 |
| giffgaff | Samsung Galaxy S21 Ultra | £919 | £1219 |
As we can see, outright pricing doesn't always seem to make sense, with it currently costing much more to get a refurbished Apple iPhone 12 on O2 than a brand-new one and the Samsung Galaxy S21 on Vodafone costing the same whether it's refurbished or new.
Part of this will depend on network offers at the time, so if there's a particular handset you've got your eye on, it's worth checking if the refurbished price really is better.
Now let's take a closer look at the Apple iPhone 12 on Vodafone and O2:
Provider
Minutes
Data
Initial price
Monthly price
Apple iPhone 12 (64GB) (Like New)
Vodafone
Unlimited
Unlimited Max
£29
£42
36 month term
See deal
Apple iPhone 12 (64GB)
Vodafone
Unlimited
Unlimited Max
£29
£45
36 month term
See deal
Apple iPhone 12 (64GB) (Like New)
O2
Unlimited
Unlimited
£30
£51.14
36 month term
See deal
Apple iPhone 12 (64GB)
O2
Unlimited
Unlimited
£30
£47.78
36 month term
See deal
So, while it's slightly cheaper per month on Vodafone to get the refurbished model, it's actually more expensive on O2.
It's difficult to find in-stock refurbished models that neatly line up with in-stock models for obvious reasons, but here's the Samsung Galaxy A12, new and refurbished, on O2:
Provider
Minutes
Data
Initial price
Monthly price
Samsung Galaxy A12 (Like New)
O2
Unlimited
Unlimited
£10
£36.03
36 month term
See deal
Samsung Galaxy A12
O2
Unlimited
Unlimited
£10
£37.50
36 month term
See deal
It's slightly cheaper per month to get the refurbished A12, but there's not much in it and many customers will simply opt for the slightly more expensive option.
We go into more detail about why choosing a refurbished device can be worthwhile below but, on price alone, it doesn't always seem to add up.
Buying refurbished devices direct from manufacturers may work out cheaper, however, with Apple promising 15% off the retail price of the devices they sell on their website.
---
Where can I get a refurbished phone?
We've looked at some locations to get refurbished mobile phones above, but it's worth examining the small print in a little more detail to understand what providers are offering.
Vodafone
Vodafone sell second-hand phones under their Like New branding.
They promise:
Quality assured devices that are checked, tested and restored to full functionality
12-month warranty
14-day returns (cooling off period)
Since Vodafone also offer trade-in deals to encourage customers to upgrade their phone to fresher models, there should theoretically be a wider range of refurbished devices on offer, yet we could only find handsets from Apple and Samsung when we searched their deals.
One thing to note here is that Vodafone state most of these phones are unused anyway - they have been purchased previously and returned within the 14-day cooling off period.
In this sense, there are few differences between new and refurbished devices, so it makes sense there isn't much difference in the pricing either.
O2
When we look at refurbished phones from O2, we find they're more upfront about the potential for slight wear and tear to the handsets.
Even so, they say a device:
Will have no more than five deep scratches or chips up to 2mm in length
Will be loaded with the latest operating system
Will be rigorously tested before being re-packaged
Will come with a 12-month warranty
They also have a five-point checklist that all refurbished phones must pass:
They check the battery charges
They check the buttons, security features and cameras
They check the sound and microphone for clear audio
They check the screen and associated features like zooming
They check the wi-fi and other connectivity features
One thing to highlight is the lack of a charging block in the box. Their refurbished phones come with a charging USB cable but no plug, although customers can purchase them at the time of their order.
Again, O2's refurbished lists are dominated by Apple and Samsung, but we also found a Huawei handset when we searched.
EE
Like Vodafone, EE concentrate on Good As New devices rather than genuinely refurbished phones. These are devices returned to EE through the 14-day cooling off period, and they promise:
They will free from scratches and marks
They will be subject to rigorous cosmetic and functional control tests
They will be sent in original packaging (including a charger)
They be covered under the EE Lifetime Guarantee against manufacturer faults for the length of a customer's contract
A yearly device and account MOT is available at local EE stores
The good thing about EE Good As New devices is that they have never been in repair for a known fault, but they're so close in quality to brand new devices that the prices don't budge much either.
giffgaff
giffgaff is mainly an option for those seeking to buy devices outright, since their monthly credit deals are in partnership with Buy Now Pay Later (BNPL) firm Klarna.
There is much more depth to giffgaff's refurbished smartphone offer and they use the same grading system we see across other retailers when they decide what condition a phone is in (more on this below). In addition, they have some "like new" handsets available.
Refurbished phones have their own tab on giffgaff's main phone sales page, and, at the time of writing, they had devices available from the following manufacturers:
Apple
Samsung
Moto
Huawei
Oppo
Nokia
If we look at the iPhone X as an example of a giffgaff refurbished phone, we can see the differences in price:
| Device | Condition | Price |
| --- | --- | --- |
| Apple iPhone X (64GB) | Good | £229 |
| Apple iPhone X (64GB) | Very Good | £319 |
| Apple iPhone X (64GB) | Excellent | £349 |
There's a reasonable progression between price ranges, allowing customers who don't mind a device in Good condition to pay over £100 less for this particular device.
giffgaff say their refurbished phones:
Come with a 12-month warranty
Come with a USB charging cable
They do warn, though, that no original accessories like headphones are included in the box and any repairs made during the refurbishment process may not include manufacturer parts (i.e. non-genuine battery replacements).
Other locations
We've already mentioned that Apple sell refurbished iPhones direct to customers for a 15% saving on the new price of a handset. Samsung also sell pre-owned phones that are certified for resale.
There are various websites dedicated to selling second-hand mobile phones, but there's a distinction to be made between "used" and "refurbished".
It's worth spending a little time looking at those differences.
---
What are the differences between refurbished and used phones?
The terms "refurbished" and "used" are often mentioned in the same breath, but they can mean wildly different things and choosing a used phone can leave customers without adequate protections.
Refurbished phones are sold by networks and established retailers or traders. These sellers have the expertise to test the handset for damage and make sure it is in working condition before they sell it on.
These devices also come with a warranty and are covered under the Consumer Rights Act provisions we discuss in more detail in our guide to buying second hand goods.
On the other hand, used phones don't have such provisions and it can be tricky to understand what's been done to check they're in working order or that they're safe to use.
This can be a problem when buying from sites like eBay, although their terms of use do specify a faulty item can be returned to a private seller for a refund within 30 days.
Grading for refurbished phones
There is a loose grading system that customers can refer to when they're thinking about purchasing a refurbished phone.
Roughly, the four grades cover:
Grade A - These smartphones are as close to new as possible, often returned to mobile networks within the 14-day cooling off period.
Grade B - These devices may have some chips or scratches but they're generally pretty good.
Grade C - These phones will have up to five blemishes and it'll be clear they've been used before.
Grade D - These handsets are usually broken in some way and will have been well-used.
As we saw with giffgaff's classification system of Excellent, Very Good and Good, it's unlikely we'll find Grade D phones from well-known websites and retailers. Instead, they'll likely be sold by private traders and won't be covered by many protections.
Trading Standards warn the grading system isn't legally enforceable, so customers should use their judgement when shopping and be aware of their rights too.
If someone is offering an iPhone X (which came out in late 2017) in apparently Grade A condition, this should raise some red flags about what condition the device will be in when it arrives. A phone that has been used at any point in the four years since release will likely have some blemishes and Grade B at best would be a realistic expectation.
---
Benefits of refurbished mobile phones
We've already discussed some of the benefits of refurbished mobile phones, but it's worth putting them in one place.
Here are some key benefits:
Can be cheaper than brand new phones, especially when smartphones are older and customers are willing to purchase devices outright to combine with a SIM only mobile deal
It's a good way to get hold of a decent device from a big name like Apple that's a couple of years out of date and isn't still available as a new device
Properly refurbished phones are in good working order
Buying from a reputable retailer means handsets often come with a decent warranty
A refurbished mobile phone is a more sustainable way of buying because good devices are being reused
It's certainly important to be aware of the distinction between refurbished devices and used devices, and also to understand what mobile networks mean when they say that a device is "like new".
The price differences on some handsets may make the option of refurbished phones seem perversely uneconomical, but there are bargains to be had.
---
What to watch out for
All the positives aside, there can be some drawbacks to purchasing a refurbished phone.
Here are some examples:
You rarely get the newest handsets because they won't have been through the system yet and "like new" devices can be as expensive as brand-new models
Some parts may not have been repaired with manufacturer own parts
The grading system is open to interpretation and that can lead to different expectations between traders and customers
Buying a device outright is too costly for many, even if it's a cheaper refurbished one
Some people do prefer having the latest brand-new mobile phone and can afford to take it out on contract. If that's the case, a refurbished phone is unlikely to work for you.
---
Verdict: is a refurbished phone the right choice?
Refurbished phones are a great idea for customers who want handsets from big names like Apple, Samsung and Oppo but can't necessarily afford to buy them brand-new.
The differences between a new handset and a decently refurbished model are limited, so customers can enjoy a good device at a cheaper price.
Yet there are some downsides meaning that refurbished phones won't be for everyone.
Chief among these is price: many customers simply can't afford to buy a handset outright and the "like new" models offered by mobile networks on contracts are sometimes even more expensive than the brand-new version of the phone.
It would be nice to see refurbished phones going a little more mainstream over the coming years, especially when e-waste remains such a hot topic and even network operators like Vodafone and O2 are signposting customers towards more sustainable mobile devices through the Eco Rating scheme.
Arguably, most customers still prefer to purchase phones (either outright or on contract) through mobile networks because they can take them alongside a SIM only deal and get the support of the network in the form of a warranty.
Until we see more devices like that on mainstream network sites, refurbished phones may still be a hard sell to some customers.