From June 2021, these operators will display Eco Rating labels on many handsets within their range at point of sale.
Handsets currently included in the scheme include devices from big names like Samsung and Huawei, along with smaller players like Doro and CAT.
Devices will be assessed across five aspects of sustainability such as the recyclability of the handset and its durability.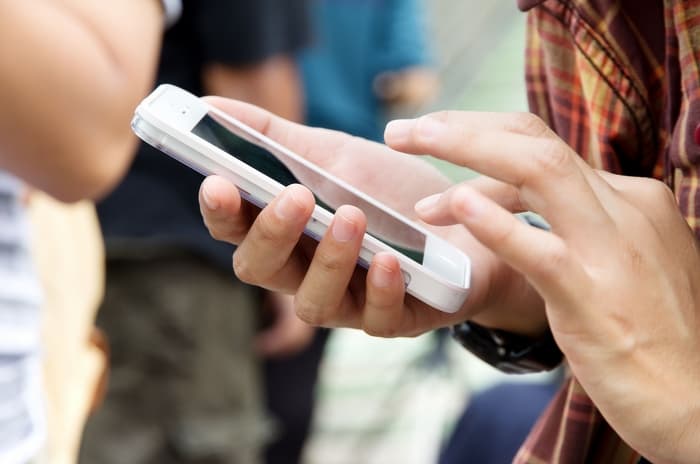 Eco Rating
Eco Rating labels will begin to be rolled out for customers to view when buying a new mobile handset from June 2021.
Each device assessed will be given a score out of 100 to demonstrate the environmental performance of the handset, with higher scores showing a device is better for the environment.
So far, 16 manufacturers are signed up for the scheme: CAT, Doro, Huawei, MobiWire, Motorola, Nokia Phones, OnePlus, Oppo, Samsung, TCL, Xiaomi and ZTE.
Over 80 devices have been rated so far, with this figure set to increase as more devices are added to the roster. Eco Rating also hope to encourage more manufacturers and mobile operators to participate.
The Eco Rating scheme is the result of five mobile operators joining forces to improve mobile sustainability: Deutsche Telekom, Orange, Telefonica (O2 and Movistar), Telia Company and Vodafone. Of these, O2 and Vodafone are operational in the UK.
Sustainability score
Each handset assessed by Eco Rating will be checked across the following criteria:
Durability: Covers how robust the device is, how long the battery will last for and the guarantee period for the device and its components.
Repairability: Looks at how easily a device can be repaired and how the design and supporting activities could increase the product's lifespan by improving repairability, reuseability and upgradability.
Recyclability: How well the device components can be recovered and disassembled, whether information is provided to help and how well device materials can be recycled.
Climate efficiency: Looks at the greenhouse gas emissions during the whole life cycle of the handset (a higher score means a higher contribution to climate protection).
Resource efficiency: Assesses the impact of the scarce materials required for manufacturing (a better score means a lower impact on the availability of scarce materials).
Overall, the Eco Rating methodology assesses how much a device is taking away from the environment and whether the manufacturer is making a sincere effort to mitigate that environmental impact.
Tech waste
Eco Rating may be a new initiative, but the concerns behind it have been present in the global technology market for years.
Back in 2013, it was revealed that only 4% of unwanted mobiles in the UK were being recycled while a study two years later from the United Nations University found less than 16% of global e-waste was being responsibly disposed of.
Last year, the Environmental Audit Committee (EAC) published recommendations to help the Government target tech recycling and limit the problem of planned obsolescence where a company deliberately shortens the lifespan of a product to encourage customers to replace it with a newer model.
The Government has responded with a legal right to repair on home appliances such as washing machines and dishwashers that will make manufacturers legally obliged to provide spare parts for customers from summer of 2021.
So, steps are being taken to reduce tech waste in the UK and this European-wide initiative by major mobile operators and manufacturers to improve consumer knowledge may be another step in the right direction.