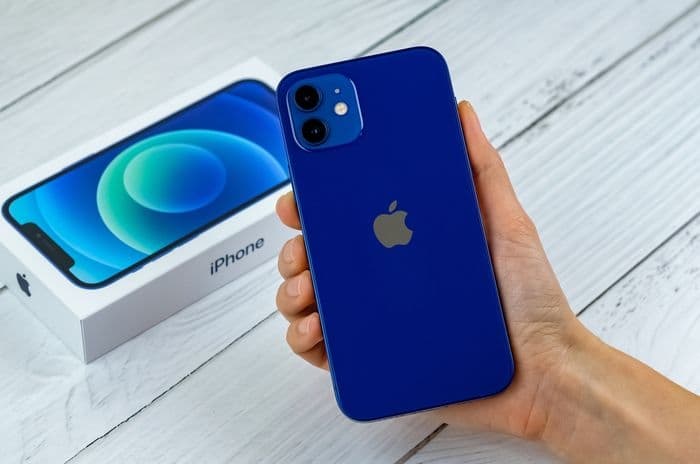 ---
Prices
Costs from £799 without a contract
2-year contracts cost upwards of £50 plus small upfront fee
The iPhone 12 costs £799 for the lowest 64GB storage capacity option. 128GB and 256GB options are also available:
| Storage capacity | Price |
| --- | --- |
| 64GB | £799 |
| 128GB | £849 |
| 256GB | £949 |
So, none of these options break the £1,000 barrier as the iPhone X did in 2017, although the pricing on the more premium models of the iPhone 12 does.
The iPhone 12 Pro starts at £999 for the 128GB model and tops out at £1,299 for the 512GB one, while the iPhone 12 Pro Max starts at £1,099 with the top model.
Looking at the pay monthly options for the iPhone 12, we can find deals for around £50 (£29 upfront) but these don't include much data.
Provider
Minutes
Data
Initial price
Monthly price
Apple iPhone 12
Sky
Unlimited
4GB
on 5G
£0
£24
36 month term
More
Apple iPhone 12
O2
Unlimited
1GB
on 5G
£529
£19
1 month term
More
Apple iPhone 12
ID Mobile
Unlimited
100GB
on 5G
£0
£23.99
24 month term
More
Apple iPhone 12
Carphone Warehouse
Unlimited
100GB
on 5G
£79
£19.99
24 month term
More
Here are the prices for the iPhone 12 64GB with each network's highest data package, all on 24-month contracts:
| | Provider | Minutes | Data | Initial price | Monthly price | |
| --- | --- | --- | --- | --- | --- | --- |
| Apple iPhone 12 | Three | Unlimited | Unlimited | £29 | £31.50 for 6 months then £63 | More |
| Apple iPhone 12 | Vodafone Unlimited Max | Unlimited | Unlimited | £29 | £65 (including a £6pm discount) | More |
| Apple iPhone 12 | O2 | Unlimited | Unlimited | £30 | £67.05 | More |
| Apple iPhone 12 | EE Essential Plan | Unlimited | Unlimited | £30 | £68 | More |
Beware of some quirks when searching for iPhone 12 deals, including introductory half price deals and ongoing discounts.
In addition, there are cheaper unlimited packages available from Vodafone, but their different tiers of "unlimited" mean speed restrictions are in place on some deals - almost pointless for users looking to enjoy the 5G capabilities of the iPhone 12.
---
Display
6.1" display with reduced bezel sizing
OLED display for sharper colours
2532 x 1170 pixel-resolution at 460 ppi
Ceramic Shield for protection
One of the biggest upgrades on the standard iPhone 12 model is the OLED display, bringing it into line with the premium models of the iPhone 11 last year.
OLED screens remove the permanent backlight we're familiar with on traditional LCD phone screens, effectively allowing each pixel of the screen to produce their own light. This results in more vibrant and deeper colours, as well as reducing the amount of power it takes to power the screen - so, battery life is increased too.
The iPhone 12 incorporate a Super Retina XDR display and Apple's True Tone which utilises advanced sensors to match the colour and intensity of the iPhone's display to the ambient light - the aim is to make the colours appear more natural.
Haptic Touch is operational on the screen, allowing users to long-press on the screen and undertake tasks quickly. This has been present on several iPhone models now, and it looks like it's here to stay with more third-party apps making use of it.
At 6.1", the iPhone 12 screen is the same as its predecessor, just slightly smaller than the Samsung Galaxy S20.
Apple have made plenty of noise about the Ceramic Shield on their new models. This technology introduces nano-ceramic crystals into glass in such a way that the transparency of the glass is maintained. As a result, they claim it's tougher than any smartphone glass that has come before.
---
Camera
Dual 12MP Ultra Wide and Wide cameras
12MP front camera
HDR video recording
There are no extra lenses on the iPhone 12, nor have the specs of the cameras changed much since the iPhone 11.
Instead, Apple have made some internal tweaks such as updating their Smart HDR feature to combine multiple exposures and adding Night Mode time-lapse capabilities to the video recording suite.
Portrait Mode is available on both the front and rear cameras, and six effects are included in Portrait Lighting: Natural, Studio, Contour, Stage, Stage Mono and High-Key Light Mono.
The primary camera has a f/1.6 aperture and HDR recording can achieve 10-bit HDR video recording with Dolby Vision up to 30 frames per second. For those happy with 4K video recording, this records at 24, 30 or 60 frames per second and 1080p and 720p HD video recording options are available too.
Another neat option is the ability to take an 8MP still photo while recording 4K video - useful for snapping photos without pausing the video.
Ultimately, the camera on the standard iPhone 12 is great for everyday use, but anyone serious about their photography may want to consider the more expensive 12 Pro and 12 Pro Max instead - the LiDAR sensors on those models allow improved focus and AR capabilities among other functions.
---
Performance
A14 Bionic chip
Pre-loaded with iOS 14
5G-capable
The iPhone 12 range has been given a processor upgrade - they use the A14 Bionic chip while the iPhone 11 used the A13. Important too, is that the same chip is used across all four models of the iPhone 12, so users across the range get the full experience.
The A14 is the fastest processor Apple have ever included in an iPhone, and it allows users to undertake those video recording tasks we mentioned above.
iOS 14, the latest operating system, comes pre-loaded on the iPhone 12 range. Compared to iOS 13, the new version of iOS focuses on speeding up processes, so widgets can be placed straight onto the home screen and pinned conversations allow users to quickly message the people they contact more regularly.
There are numerous small upgrades in iOS 14 designed to improve the user experience, so anyone upgrading from an older iPhone model will find that it's roughly the same but more attuned to the needs of iPhone users.
Finally, it would be remiss of us not to mention the headline feature in the Apple iPhone 12 range - it's the first iPhone to include 5G capabilities.
Apple have been behind the curve on this one with other manufacturers like OnePlus and Oppo Reno releasing 5G phones in 2019, yet Apple have a history of waiting to perfect their technology before rushing to release.
At the moment, 5G coverage isn't hugely widespread across the UK. Over 200 towns and cities have some 5G coverage from at least one provider, but the network is still a work in progress.
Apple would argue, then, that incorporating their fastest-ever chip alongside 5G capabilities allows users to make the most of the technology rather than running it on an inferior processor.
One thing's for certain: iPhone aficionados waiting for Apple to go 5G have got their wish.
---
Aesthetics
5 colour options
Squarer-edge design
The iPhone 12 comes in five colours: White, Black, Blue, Green and (Product) Red. Of these, the Blue and Green options are new.
Green offers a light version of that colour while Blue is a little darker, they're closer to White and Black respectively. The (Product) Red branding has become a staple of Apple devices, working in partnership with other companies to raise funds to eliminate HIV/AIDS in eight African countries.
All the colours are attractive in their own right, with the traditional Black smartphone serving as a good choice for anyone looking for a professional finish.
In terms of the shape of the handset, Apple have reverted to the flatter, squarer-edged design reminiscent of the iPhone 4. It means the phone sits slightly differently in the hand, so it may be an unusual experience for those familiar with the more curved exterior of recent iPhone models.
We've already mentioned the Ceramic Shield for the screen which is both a design feature and an aesthetic one in that it should theoretically protect the screen more effectively from damage over the lifetime of the device.
---
Storage and battery
Three storage capacity options
Up to 17 hours playback
The iPhone 12 is available with three levels of storage: 64GB, 128GB and 256GB.
While it's tempting to opt for the largest storage option, remember that Apple allows unused apps to be offloaded to free up space on the device. Plus, iPhone users get 5GB of free iCloud storage, allowing photos to be stored in the cloud rather than on the device.
So, many people will find they have ample storage space with the 64GB option, but for people who take a lot of video or use a lot of big apps, the expanded storage offered by the 128GB and 256GB devices may be warranted.
On the battery side of things, Apple doesn't routinely release the specs of their battery, meaning it's difficult to make direct comparisons between manufacturers.
The reported capabilities of the battery suggest it's around 2,800mAh. That's smaller than the iPhone 11's battery, and smaller than the publicly reported sizes of other batteries:
| Phone | Battery size |
| --- | --- |
| iPhone 12 | 2,800mAh (est) |
| Google Pixel 5 | 4,080mAh |
| Huawei Mate 40 | 4,300mAh |
| Samsung Galaxy S20 | 4,000mAh |
As we can see, even if the iPhone 12 battery is bigger than the estimate, it's still likely to be substantially smaller than those in competitor devices.
Apple say the battery allows up to the following:
65 hours of audio playback
11 hours of streamed video playback
17 hours of video playback
The iPhone 12 is also fast-charge capable with an appropriate 20W adapter, allowing for up to 50% charge in 30 minutes, and wireless charging is also available.
---
Other things to note
Along with all the usual elements of smartphones we've covered above, there are a couple of other things worth mentioning about the iPhone 12.
MagSafe
MagSafe is a feature that Apple users may be familiar with, just on MacBook power leads rather than their iPhones.
On the iPhone 12, MagSafe incorporates a system of magnets which ensures any wireless charging pad is held in the right place. It solves a problem for those who have a habit of placing their iPhone in the wrong place to charge and then being frustrated when their device hasn't charged a few hours later.
Resistance
The iPhone 12 has a rating of IP68 which means it's splash, water and dust resistant.
It can withstand a maximum depth of six metres for up to 30 minutes, although resistance can reduce with general wear.
Naturally, it's unlikely anyone will ever want to test the theory, but it's a nice back-up option.
Not in the box
Apple have made loud noises about cutting their carbon footprint as a company, and they have followed through in the iPhone 12 range by not including a plug or headphones in the box.
The rationale behind this is that many people purchasing the iPhone 12 will have plugs and headphones from previous models of iPhone.
While this may be true in many cases, it could be a frustration for new customers or those who were expecting new headphones in the box.
It's something to bear in mind as it could be another upfront cost.
---
Summary
The iPhone 12 has plenty going for it, especially as it's the first Apple device with 5G capabilities.
Thanks to the OLED screen, the display on the iPhone 12 promises to be sharper than ever, plus the Ceramic Shield makes it tougher than previous models.
£799 is a reasonable price point, although it doesn't have the budget credentials of the Google Pixel 5 which is £200 cheaper and is also 5G-ready.
Yet there are question marks over the battery power of the iPhone 12 and, while the camera capabilities are good, the 12 Pro and 12 Pro Max are better options for photography enthusiasts.
Overall, though, the standard iPhone 12 is an excellent device for anyone who has been waiting for Apple to join the 5G revolution.