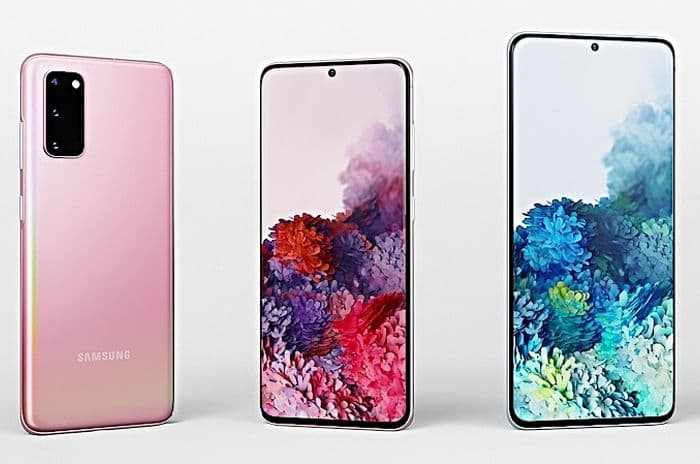 ---
| Pros | Cons |
| --- | --- |
| Powerful and 5G-capable | Pricey |
| 64MP telephoto camera with 30x optical space zoom | Maximum resolution limits the screen refresh rate |
| Cinema-quality Dynamic AMOLED display | Fingerprint scanner a little slow |
---
Prices
Handset costs £900 contract-free
2-year contracts cost upwards of £50 per month
The Galaxy S20 sim-free handset costs £900. For reference, the S20 Plus costs £1,000, and the S20 Ultra costs £1,200.
Most 24-month contracts with decent amounts of data cost upwards of £50 per month - unless you're prepared to spend hundreds at the outset.
Here we've included some of the best value deals from each of the major networks and resellers for the Samsung Galaxy S20 on pay monthly:
| | Provider | Minutes | Data | Initial price | Monthly price | |
| --- | --- | --- | --- | --- | --- | --- |
Find more deals by comparing mobile phones here.
---
Display
6.2" edge-to-edge display
Screen can update images up to 120 times per second (twice that of the S10)
Dynamic AMOLED tech provides cinema-grade color and contrast
The Galaxy S20 has one of the best displays we've seen. The screen is nicely sized, and the display reaches right to the edges of the phone without losing space for the front camera.
Samsung are one of the few companies to introduce a 120Hz refresh rate for the display - previous devices have used 60Hz. A refresh rate is the number of times a display can update its image per second.
The 120Hz refresh-rate means gaming is smoother, screen transitions work better and scrolling feels more natural.
Samsung have also upped their game in terms of screen resolution, with the S20 offering full WQHD+ screen resolution.
The downside of the S20 is that you can't have the screen set at 120Hz (the default is 60Hz) and the resolution set at the higher WQHD+ (3040 x 1440) rating - though Samsung are said to be working on fixing this.
If you want a 120Hz refresh rate, you'll need to stick with the default Full HD+ (2220 x 1080) resolution. However, images are still bright and vibrant, even at the lower resolution default setting.
| | |
| --- | --- |
| Screen size | 6.2" |
| Pixel density | 563ppi |
| Resolution | 3200 x 1440 pixels |
| Screen technology | Dynamic AMOLED |
| Screen protection type | Corning Gorilla Glass 6 |
---
Camera
8K video recording
High-resolution telephoto lens
30x zoom function
Samsung has gone all-out with the S20's camera, and it's our favourite thing about the phone.
As well as the 10MP front camera, there's a triple rear camera system with a 64MP telephoto camera, a 12MP ultra-wide lens and a huge 30x optical space zoom.
This improved camera hardware comes with new features to play around with.
The Single Take function allows you to shoot for up to 10 seconds and get 14 different formats of image back. The function basically cycles through the cameras at the back, so you get everything from portraits to video to choose from.
Night Mode captures multiple photos at once, merging them into a single shot. This is aided by a larger sensor, which is able to capture more available light.
The zoom function works great - with no loss in quality when zooming up to three times. If you want more, you can zoom up to 30 times, but you will notice slight image deterioration.
Samsung have improved the video capabilities Video has been improved too - upped from 4K to a far sharper 8K (at 24FPS). Accompanying new features include being able to pull 33MP stills from any captured video.
It's worth pointing out that Samsung's Super Steady stabilization feature doesn't work in 8K. You can only use the anti-roll (up to 60 degrees) correction tech when shooting in relatively low-quality 1080p.
---
Performance
Lightning-fast processor
Runs Android 10
Fingerprint scanner could work quicker
The Galaxy S20 runs on Samsung's own Exynos 990 processor - a 7nm, 64-bit Octa-Core chipset with a similar architecture to last year's Exynos 9820.
In practice, the device is more than capable enough to manage any application you care to open. With the advent of 5G, phones are going to have far more taxing apps to process, so a little overkill at the moment is no bad thing.
The S20 uses the latest version of Google's operating system - Android 10 - with a Samsung One UI overlay. The Samsung software doesn't feel intrusive and you can get rid of any homegrown apps you don't want.
The fingerprint scanner is hidden underneath the screen. When you place your finger or thumb on the screen, the scanner sends ultrasonic pulses to detect the 3D ridges and valleys of your fingerprint to quickly and accurately recognize you. While this sounds great, we would have liked it to be a little faster.
Like an increasing number of high-end phones, the S20 does away with a 3.5mm headphone jack. Instead, you need to plug in via the USB-C port. There's a pair of AKG earphones that ship with the device that do just this. Alternatively, you can go wireless.
---
Aesthetics
Choice of three colours
No camera notch
The S20 is a good-looking device, if a little standard. The front is virtually all screen, with a pin-hole cut for the camera rather than the more usual notch.
The glass back has a pearlescent finish that comes in either grey, pink or blue. However, you're unlikely to look at the back for long - the phone is so slippery that it really does need a case.
The rear camera array is a little intimidating, but pales in comparison to the S20's more lens-heavy brothers - the S20 Ultra and the S20 Plus.
At 163g, the S20 is rather light, but that doesn't stop it feeling like a quality phone. The device feels good in the hand and looks good on the desk.
---
Storage and battery
4,000mAh battery will last all day
Up to 1TB storage, which equates to approximately 500 hours' worth of movies
120Hz refresh rate is a drain on battery life
The Galaxy S20 comes with 128GB of internal storage as standard. However, if you plan on using the camera's many functions, it's likely that you'll need more. If you do, there's a microSD slot, with options for cards with up to 1TB in storage.
The S20's 4,000mAh battery will easily last the day for most people, and is a marked improvement on previous models' battery capacity.
That said, it's worth pointing out that using the device with the full 120Hz refresh rate does reduce battery life, as does using it at full WQHD+ resolution. This is presumably why Samsung won't let you use both at the same time.
The phone ships with a 25W, Type-C, Power Delivery charger. This will charge your phone in roughly an hour.
---
Summary
The S20 is a great phone - we'd even cautiously recommend it over its more expensive variants, the S20 Plus and the S20 Ultra. It has the majority of the same features, but is both cheaper and more manageable size-wise.
There are a few minor gripes - we would have liked the fingerprint scanner to be quicker, and we'd also like the screen to combine the faster refresh rate and higher resolution.
Nevertheless, we wouldn't hesitate to recommend the S20 to anyone looking for a premium Android device.
Compare mobile phone deals with our comparison table here.