There is no evidence to suggest that Huawei phones are less secure than their rivals simply because they're a Chinese firm.
However, the user experience on Huawei devices is different thanks to their own HarmonyOS and App Gallery with no access to Google apps.
So, UK mobile networks have seemingly abandoned selling Huawei smartphones on contract and customers have to purchase direct instead.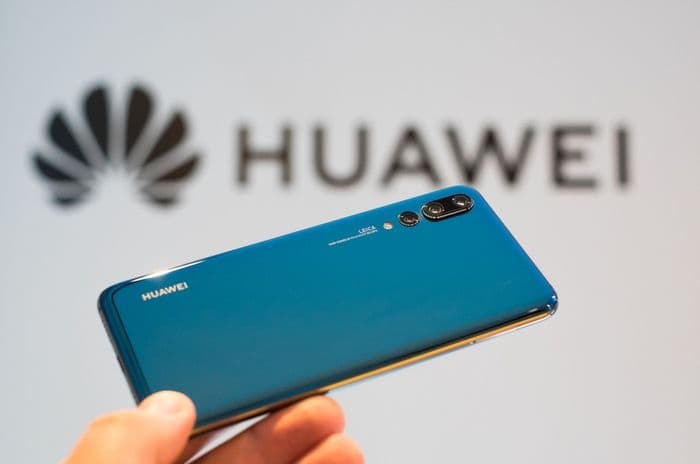 Credit: Karlis Dambrans/Shutterstock.com
---
Who are Huawei?
As of July 2022, Huawei remains the third most popular manufacturer of smartphones in the UK.
However, they only have a 4.47% share of the market compared to Apple (50.8%) and Samsung (30.9%) according to Statcounter GlobalStats.
The Chinese company managed to steadily increase their market share from 1% in mid-2015 up to 6.2% and to over 10% by mid-2020, yet the rise in their fortunes coincided with a rise in the controversy surrounding them and they subsequently dropped back to under 5%.
We go into more detail about why that is later in this guide, but first let's look at whether Huawei phones are safe to buy and use.
---
Are Huawei mobile phones safe?
The problems with Huawei smartphones and equipment are based on two issues that are intertwined:
Much of the debate centres around the Huawei kit installed in networks rather than Huawei handsets, tablets and other tech bought directly by customers.
There is no evidence to suggest that Huawei smartphones are less secure than those designed by most other manufacturers, but the implication that Huawei are under the control of the Chinese state means they are inevitably linked with security concerns in some people's minds.
App security
All new Huawei phones are shipped with their proprietary HarmonyOS.
This has been the case since 2021, meaning few customers are going to be able to get hold of a Huawei handset running Android (unless they purchase a refurbished phone).
So, while the old debates about Android vs iOS for app security don't matter anymore for new Huawei handsets, it brings with it a whole new set of problems including:
Lack of access to Google apps (more on this below)
Security issues from trying to sideload Google apps or use other methods to get apps that are missing from Huawei's ecosystem on to a device
Potential for malware
On this last point, it's important to note that malware isn't just an issue for Huawei App Gallery - we've seen numerous issues with Apple and Android devices over the years.
Yet Huawei were forced to act quickly in late 2021 when their security system detected a trojan that had already infected millions of devices.
The fact that Huawei's systems picked up on the risk and they removed the apps is welcome, and they have since implemented a new security scan feature that customers can use to go through the apps on their phone to see if there are any risks within them. Customers are then warned of the risks and are helped to uninstall the suspicious apps immediately.
The feature also covers third-party apps that have been downloaded from other sources that may feature:
Viruses
Malware
Privacy violations
This is designed to offer some protection against apps that have been sideloaded on to Huawei devices.
Issues with apps and app stores don't automatically make Huawei smartphones inherently riskier than Android and iOS devices, but they are a potential security problem for users to be aware of.
Other security risks
Much of the conversation around Huawei security centres on the possibility of the Chinese state using the company's infrastructure to spy on other countries.
Although this sounds intimidating, it's worth remembering that Huawei is mistrusted due to national security issues and the hypothetical situation of them using their place within the underlying communications network to act against the UK or its allies.
It doesn't really apply to finding out what Huawei mobile users had for dinner or what they're messaging to their friends.
The controversy surrounding Huawei's security isn't relevant to buying one of their smartphones, and it's worth reiterating that no evidence has been released to show that using a smartphone manufactured by Huawei is any less secure than using one made by their rivals.
---
Should you buy a Huawei mobile phone?
For many prospective buyers in the UK, the issue of buying a Huawei mobile phone isn't necessarily due to the national security controversy, although it is connected to it thanks to the knock-on effects of the arguments between China and the US.
The question we now have to ask is, given that Huawei mobile phones seem as secure as other devices, should we buy them?
Apps
The Huawei App Gallery is now the only official way of getting apps on to Huawei devices since Google severed ties.
While this might sound at first like a technicality, the problems soon become apparent when you look at the apps on offer in the App Gallery.
Many major companies simply haven't bothered to add their apps, and the store is populated by unfamiliar apps. There's no BBC, for example, and Facebook and Twitter have yet to be officially listed. More worryingly, there's no support for online banking services which will be off-putting to many potential customers.
What we get instead are results from Petal Search which essentially directs customers to Android Package (APK). These are essentially ZIP files that can be downloaded on to a device.
APKs occasionally come from official sources but there are also many third-party ones that might not be secure, leading to the type of issues we've discussed above.
Huawei is clear about this and offer a comprehensive disclaimer on the App Gallery.
Yet it's not difficult to see that many customers who may not be tech-savvy could create serious security problems for their device by trying to use this workaround.
Hardware
While the reasons might be piling up to step away from Huawei, it's worth remembering that their smartphones and associated technology is popular for a reason.
The company has made a name for themselves in the non-US smartphone market by delivering quality mobile phones with an emphasis on stunning picture quality.
When we compared the Huawei P20 Pro with the Samsung S9 back in 2018, Huawei's device pipped Samsung's to the post, mainly thanks to the camera capabilities. In our reviewer's words, Samsung made a good camera, but Huawei made an excellent one.
There's no denying that Huawei's technology creates brilliant handsets, even at lower price points. The problem is the trade-off between technology and interconnectivity, and it comes down to how an individual customer uses that technology. After all, once you've taken a brilliant photo, would you want to upload it straight to Instagram? That isn't possible using Huawei's App Gallery.
---
Can you still buy a Huawei phone?
One final question that it's worth covering is whether you can still buy a Huawei smartphone in the UK.
Huawei devices used to be supplied on contract from UK mobile networks, but none of their handsets were available at the time of writing from EE, O2, Three, Vodafone or smaller players.
This suggests that selling the Huawei App Gallery with no access to Google apps has proved to be difficult for providers and they have simply opted out.
It's still possible to buy Huawei phones in the UK but they need to be purchased directly from Huawei or through some third-party retailers (often renewed or refreshed devices).
In practice, this means handsets will need to be purchased outright and, with the Huawei P50 Pro retailing at £999, that's beyond most people's budgets.
---
Why is Huawei in this position?
Now we've analysed the pros and cons of Huawei as a smartphone manufacturer, it's worth stepping back and looking at why these questions need to be asked and why it has become so difficult for customers to buy Huawei mobiles with confidence.
Regardless of any alleged ties between Huawei and the Chinese state, the company has been caught in a trade war between China and the United States.
In May 2019, they were banned from working with US companies like Google when President Trump issued a national security order. They were later given a temporary reprieve, but the US government tightened the screws in other ways over the following year by barring departments from working with them or buying their technology.
May 2020 saw US sanctions against Huawei extended for another year and new ones introduced which severely limit the options Huawei have for manufacturing their own chips.
That's why the UK Government, despite saying in January 2020 that Huawei could have a limited role in the UK's 5G network, changed their minds in July 2020 and ordered that Huawei technology must be removed from 5G infrastructure by 2027.
It was later clarified that companies must stop installing new Huawei kit in the UK 5G network from September 2021.
This was a direct result of the US trade dispute, as UK security officials could not guarantee the security and reliability of chips made without the components Huawei had previously been using.
Essentially, the ban was invoked because Huawei couldn't access the same tried and tested technology they could at the time of the first decision in January 2020.
What next for Huawei phones?
There has been a steady decline in the use of Huawei devices in the UK, with their market share dropping by half in two years according to the Statcounter GlobalStats data we mentioned above.
While they are still the third most popular brand in the UK, it would be no surprise to see Xiaomi or Google overtake them in the next year.
As customers come to the end of their long-term contracts on older devices that had access to Google apps or newer Huawei ones that came with HarmonyOS, they may decide that they want the type of Android experience offered by Samsung, Google and others.
It could be that we see a steady exodus away from Huawei smartphones outside of China, although they may continue to make models available to non-China users even if their popularity wanes.
For all the Competition and Markets Authority's (CMA) frustrations with the mobile duopoly of Apple and Google, HarmonyOS has so far failed to attract buy-in as a third option and it means that customers are reluctant to move away from the apps they know and love.
Yet, while Huawei originally hinted that they would move back to Android if they were able, they have since committed to their HarmonyOS and are looking at ways to make it more of a success.
---
Summary: Safe but niche
No evidence has been brought forward to categorically say that Huawei mobile phones are less secure than their rivals, although the implication remains widespread thanks to the company's ongoing trade dispute with the US.
That said, while Huawei devices might be safe for average customers to use, the argument about whether people should choose to take a Huawei smartphone is far from settled.
Access to Google apps and everyday features we have come to expect from our smartphones is a deal breaker for many. Huawei may yet encourage more app developers to port their apps over to the App Gallery and they might develop their own apps which are as popular with non-China users as they are with those in China.
For many, Huawei smartphones might be a safe option for their next mobile phone, but they don't consider them to be the smart option.
Compare the latest mobile phone deals with our free comparison tool.