While Sky launched the first version of the Ultra HD-ready Sky Q box way back in 2016, it remains the box to beat, still surpassing the Virgin 360 and BT TV Box Pro.
Sky Q allows customers to pause, rewind and record live TV, with enough tuners to record six channels simultaneously while a customer watches a seventh .
Guide personalisation, extensive search functions, and voice control, all help keep the Sky Q box modern, despite its eventual replacement by Sky Stream.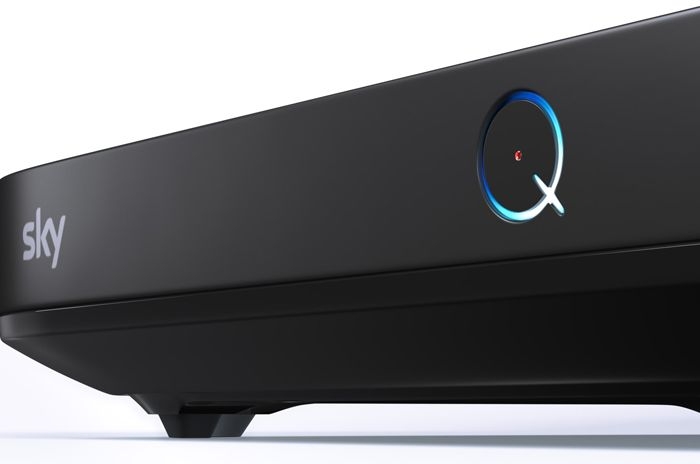 ---
At a glance
| | Sky Q Box |
| --- | --- |
| Storage | 1TB (2TB optional upgrade) |
| Recordings | Up to 150 hours of HD |
| Tuners | 7 (Record 6 while watching a 7th) |
| Resolution | Up to 2160p UHD |
| Multiscreen | Up to four boxes |
| Remote | Voice control |
| Setup price | £20 |
| Pros | Cons |
| --- | --- |
| 4K Ultra HD-ready | Not entirely wireless (unlike BT TV Pro Box) |
| Voice control remote | May suffer less upgrades as Sky focuses on Sky Stream Puck |
| Record multiple programs at once | |
| Widest support for on-demand apps | |
Best deals
Package
TV
Broadband
Monthly price
Upfront price
Contract term
Sky TV Essentials + Superfast 35 Broadband
200
36Mb average
£33
Free
18 months
Offer: No setup fee
---
What is the Sky Q Box?
Sky Q is Sky's latest set-top box for their satellite service, yet it was first announced over seven years ago in November 2015, with the first Sky Q packages becoming available in February 2016.
While the Sky Q box has seen some updates and improvements since it was initially launched, it's largely remained the same, as a 1TB capacity Ultra HD set-top box.

It should be surprising then that the Sky Q Box still beats rival boxes from Virgin Media and BT, despite the Virgin 360 box not coming out until November 2020, and the BT TV Box Pro launching in June 2021.
In fact, Virgin Media released their V6 box as the first attempt to rival Sky Q in December 2016, meaning the Sky Q box even predates Virgin Media's now retired V6.
The overarching features of the Sky Q box is the ability to record six shows while watching a seventh, the ability to stream content over powerline adaptors to Sky Q mini boxes for multiroom viewing, and an updated TV guide with the ability to search all live listings, recordings and on-demand apps in one place.
Sky Q also introduced personalised suggestions based on time of day viewings, so customers who tended to watch comedy on Friday nights, or sports on Sunday, would be suggested similar programming at those times.
Slightly more recently, the Sky Q box also now supports upgraded voice control, so customers can search, record and find programmes to watch entirely through voice commands.
---
How does Sky Q work?
Sky Q is the platform for premium TV content delivered over Sky's satellite dish network.
While Sky have been upfront about their eventual move to an Internet-delivered streaming only platform, with the launch of Sky Stream Puck, they've also recently extended their satellite delivery contract for a further ten years.
Customers who sign up to Sky Q either need a satellite dish already, or be willing to allow an engineer to come and install one on the side of their property.
Those who take Sky Q however, get the Sky Q Box, voice control remote, satellite dish, and engineer installation included in the upfront cost of £20.
While the satellite dish becomes property of the customer, the Sky Q Box and remote remain property of Sky. While this means they will need to be returned to Sky if the contract is ended, it also means Sky will replace and repair any equipment that stops working free of charge.
The Sky Q packages themselves come as the Sky TV base plan with over 400 channels, and customers can then choose to add various channel packs to further customise their viewing.
Sky Q includes the option to bundle Sky Sports, Sky Cinema, TNT Sports, Disney+, Netflix, a kids pack, and upgrade the picture quality to 1080p HD or 4K Ultra HD.
It's also possible to extend Sky Q into a multiroom service with the addition of up to two Sky Q mini boxes, and a Sky Multiscreen subscription.
---
Sky Q specifications
Sky TV customers all receive a Sky Q 1TB Ultra HD box as standard, and the current setup fee is £20 as mentioned.
There is a 2TB Sky Q box available, but it's only available as an upgrade option to existing customers, and comes with a setup fee of £99 for a self-installation.
It's worth noting the latest version of the Sky Q 1TB box has all the same features and specifications as the 2TB box, including simultaneous viewing support for two Sky Q mini boxes. The only difference is the size of the hard drive.
Here are the main specifications of the Sky Q box:
| | Sky Q Box |
| --- | --- |
| Dimensions | 330mm x 210mm x 35mm |
| Storage capacity | 1TB (700GB for customer use) |
| Recordable TV | Up to 150 hours of HD recordings |
| Tuners | 7 (Record 6 and watch a 7th live) |
| Picture quality | Up to 2160p 4K |
| Multiscreen support | Simultaneous viewing on two Sky Q mini boxes |
| WiFi support | Dual-band WiFi 5 |
| USB ports | 1 x USB 2 |
| HDMI ports | 1 x HDMI 2.0 with HDCP 2.2 |
| Ethernet port | 1 x 1Gb |
| Digital Audio port | S/PDIF with Dolby Atmos |
The 2TB version of the Sky Q Box offers a 2TB hard disk drive with 1.7TB reserved for customer use. It can record up to 350 hours of HD programming.
---
Sky Q features
The Sky Q box offers a range of advanced home entertainment features, including a personalised guide, voice control, multi program recording, 4K Ultra HD picture quality, and mesh wireless network boosters when expanded with Sky Q mini boxes.
Sky Q TV guide
Navigating to different channels on the Sky Q guide is done via content type in a sidebar on the left rather than punching in channel numbers. This is an easier way of finding different types of content.
Once a user selects a channel, a familiar preview box appears in the top-left showing the live channel and customers can switch to it if they select again.
A big change with the Sky Q box is that users can create their own personalised guides full of the channels they're interested in. Taking a little time to create this can make a huge difference to the user experience.
Sky Q Touch remote and voice search
Sky Q remotes are voice command devices, meaning that users can control playback and recording using their voices by pressing a button on the touch remote.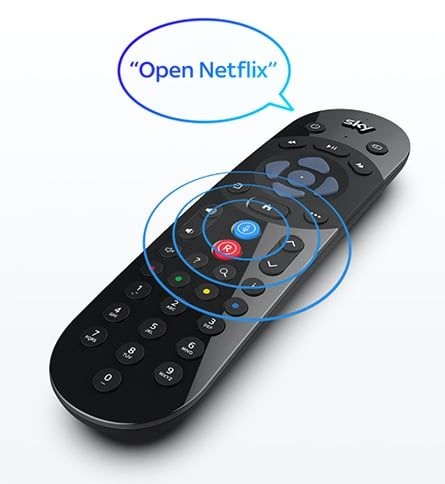 All customers need to do is make sure their Sky Q box is connected to the internet and their remote is paired, before pressing the voice button on the remote and speaking commands.
The remote also comes with a neat location feature. If the remote can't be found, users can push a button on the Sky Q box to make the remote beep for 30 seconds to help them locate it.
The new model of the Sky Q Touch remote is a big improvement on the original Touch, which came without physical buttons and was fiddly to use. Users who were particularly fond of the original touchpad form can opt to enable this on the newer remote.
There are frequent updates to the functionality of voice control on Sky Q.
For example, in September 2021, Sky enabled voice control between apps, so customers can switch between different apps using their voice rather than pressing a sequence of buttons to get there. Customers can also navigate out of apps this way and return to the Home screen.
At the same time, they added the ability for users to record while watching live TV by saying "record" or "record this".
While Sky announced it was trialling voice controls without a remote in 2018, this has yet to come to fruition. However, rumours were further bolstered when US firm Comcast acquired Sky - Comcast's own flagship box has an AI voice platform built-in.
A feature called Voice Guidance was also introduced in March 2021. This helps visually impaired customers navigate the menus on the Sky Q box, providing spoken descriptions of menu options and how to get to different points within the menu.
HD and UHD compatibility
The Sky Q set-top box is HD and UHD compatible, so customers who add this type of content to their Sky subscription will be able to view it via the Sky Q box.
The other caveat to this is that customers will need a 4K TV to view UHD content, so bear that in mind before adding the UHD upgrade to a Sky plan.
Read more about HD TV content in the UK.
Sky Q app support
Sky Q is a hub for home entertainment, so it gives users access to various apps entertainment and streaming apps.
We've already mentioned Sky TV can be taken with Netflix and their partnership means the app can be viewed and managed through the Sky Q box. However, there are other apps available on the platform too.
Bear in mind that some services like Disney Plus or Amazon Prime Video will require extra subscriptions, but they can be watched through the Sky Q box.
Current video streaming apps include:
BBC iPlayer
ITVX, including BritBox (previously ITV Hub)
All4
Netflix
Prime Video
Disney+
Peacock
Apple TV+
Discovery+
Paramount+
Lionsgate+
Fiit
Peloton
Youtube
Current music streaming apps include:
There are also learning, gaming and fitness apps available on Sky Q too, so most people will be able to find apps on the service that suit their household.
Sky frequently add apps to their Sky Q box - ITVX is the latest addition after the provider announced an upgrade to the Sky Q box in February 2023.
Overall, Sky Q supports more on-demand apps than rival Virgin 360 as we explored in our head-to-head guide to Sky vs Virgin Media.
Parental controls
Parental controls are available on the Sky Q box for parents to keep an eye on what their kids are watching.
This takes the form of PIN protection to stop them accessing content that isn't appropriate or to block purchases on events and shows.
To complement this, Kids Safe Mode can be enabled that will restrict all viewing on TV shows and movies to those with a U rating - great if there are young inquisitive kids in the house trying to watch scary or adult content.
Parental controls aren't just applicable to the main Sky Q box and can be applied to the smaller Sky Q Mini boxes and the Sky Go app for viewing on the move.
Sky Q Multiscreen
The main Sky Q box can be joined by up to four Sky Q mini boxes to create a multiroom experience in the home.

Sky Q mini boxes allow users to pause broadcasts or recordings in one room and then continue to watch in a different room. Mini boxes don't have any tuners, and don't need to be connected to a satellite dish. Instead, they wirelessly stream content from the main box.
Monthly price
Set-up cost (one off charge)
First additional box
Second mini box
Third mini box
Fourth mini box
Sky Q Multiscreen
£15
£20
£99
£99
£99
Some limitations of Sky Q mini boxes are that they only support picture quality of up to 720p HD, and the Sky Q box itself can only support simultaneous streams to two Sky Q mini boxes at the same time. Although customers can watch an on-demand programme on a third mini box.
---
Sky Q box prices
The Sky Q set-top box comes with a nominal set up cost of £20 which covers the service set-up and engineer installation, including a satellite dish if required.
Take a look at how this compares to other providers:
| | Sky Q | Virgin 360 | BT TV Box Pro |
| --- | --- | --- | --- |
| Setup fee | £20 | £35 | £30 |
Set up for Sky TV is cheaper than both Virgin Media and BT TV, despite BT TV being delivered solely over the Internet.
That said, setup is also waived under special offers, so keep an eye out for that.
---
Sky Q box deals
Sky Q boxes are provided as part of Sky TV deals, with customers also able to sign up to Sky TV Essentials, which is just Sky Q box with access to Freesat and on-demand apps.
Sky TV Essentials offers the best savings when bundled with Sky Superfast 35 broadband:
Package
TV
Broadband
Monthly price
Upfront price
Contract term
Sky TV Essentials + Superfast 35 Broadband
200
36Mb average
£33
Free
18 months
Offer: No setup fee
The Sky Q box is also available with larger pay TV deals like Sky Ultimate, which bundles Sky Signature with Netflix, and also allows customers to add channels packs such as Sky Sports and Sky Cinema:
Package
TV
Monthly price
Upfront price
Contract term
Sky TV + Netflix
401
£31
£20
18 months
Offer: No setup fee
Adding premium channel packs can make a home entertainment package for both sports and movie lovers, but add-ons can increase the price sharply.
One selling point for Sky however is they include Sky Sports and Sky Cinema packs in HD as standard, so customers don't need to also take the HD pack for those channels.
Because Sky Q is largely being replaced by Sky Stream, prices for both Sky Entertainment and premium channel packs are now becoming much cheaper with Stream.
Read more in our full review of Sky TV packages..
---
Sky Q installation
The arrival of the Sky Q set-top box changed the way Sky charge for equipment.
Unlike previous boxes, which were bought by or gifted to users, Sky Q equipment is loaned for the duration of the subscription and must be returned at the end of the contract. This is the same for Sky Q mini boxes too.
The process has its advantages - Sky Q customers have their devices professionally installed with free servicing and mechanical fault repairs for its lifetime, and it's also much more environmentally sound.
Because Sky TV is satellite-based, setting it up requires the installation of a satellite dish connected to the Sky Q set-top box. Mini boxes connect wirelessly to the main box, so don't need to be connected to the satellite dish. Installation can take up to 3 hours.
While Sky cover the cost of the satellite dish provision for new customers, once installed it becomes property of the customer and doesn't need to be returned. For customers with an existing dish, Sky engineers will get this one connected to the new box instead.
Upgrading
As the Sky Q set-top box was made standard for new customers in late 2016, it's unlikely anybody will still be upgrading from the old Sky HD+ box.
However, bear in mind that existing customers may pay more for installation - Sky were warned by the Advertising Standards Authority (ASA) in 2020 for not making this clear in the main text of an advert.
---
Verdict: is the Sky Q box worth it?
Overall, the Sky Q set-top box is a pretty expensive piece of kit provided to new customers without an additional charge, and it offers a very broad range of customisable channel content.
Sky Q does well to offer a seamless viewing experience, impressive storage, the best HD offering on the market, and an exciting future rollout of more HD and UHD content.
Sky remains the TV provider to beat for many, not only because it brings flagship content like Sky Sports, Sky Cinema and Sky Atlantic to customers at the best prices, but also because the Sky Q box is still one of the best on the market and is still being continuously updated with new features.
As we've explored in this Sky Q box review, these frequent updates add fresh functionality such as voice control as well as expanding the user experience for all.
With both Virgin and BT bringing out new set-top boxes in recent years, the pressure is on Sky to remain relevant and their Sky Q set-top box is still market-leading, thanks in part to the excellent TV service offered by Sky and the ability to add four Sky Q mini boxes to the ultimate home entertainment package.
While Sky Stream Puck will eventually take over from Sky Q, the satellite-based service remains relevant for many households across the UK.
Read how Sky Q compares against Virgin TV 360 and BT TV Box Pro in this head-to-head guide.