EE HAVE committed to extending their 4G coverage to 95% of the UK, geographically speaking, by 2020 - starting with the switching on of 4G services in Shetland and the Isles of Scilly this week.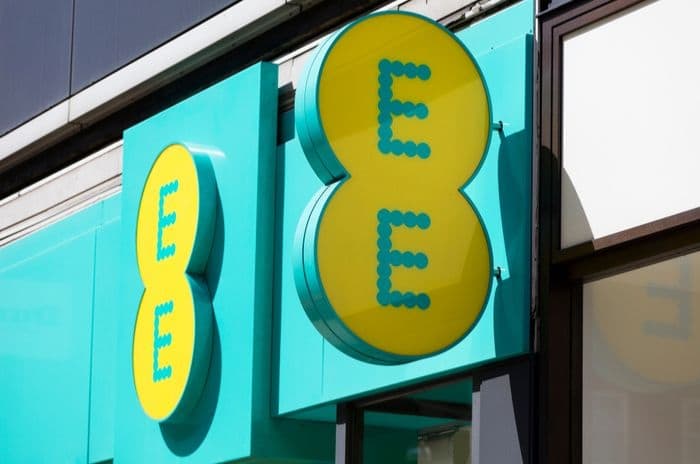 Credit: Ink Drop/Shutterstock.com
They've also announced that call centres within the UK and Ireland will be dealing with all of EE's customer support calls by the end of the year.
EE say the move, which will see around 600 roles created in various locations here and in Ireland, shows they're dedicated to providing "the best customer service for a mobile operator in the UK".
Everything everywhere
EE's 4G service target seems somewhat ambitious given that the four main UK mobile operators currently manage 60% geographical coverage on average.
Even 2G voice and text services are far from universal - and the networks are only obliged to ensure that such coverage reaches 90% of the UK by the end of 2017.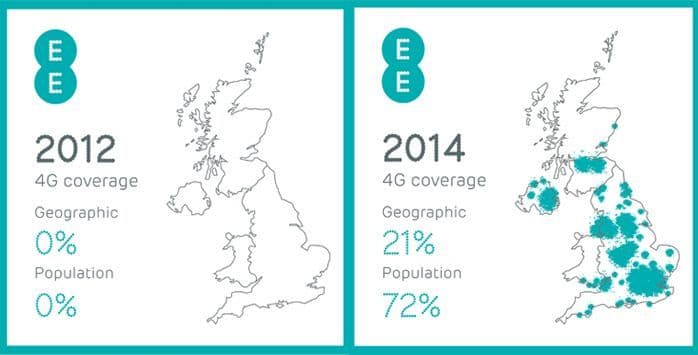 As the network that introduced 4G to the UK, it comes as no surprise that EE lead when it comes to how much of the UK they already cover: 75% in geographic terms, and 98% in terms of population.
Their self imposed target means that by 2020 not only should their 4G signal cover 95% of the UK's landmass, but 99.8% of the population.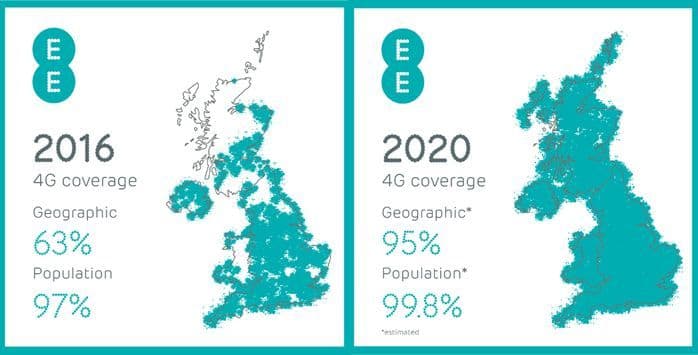 It's the geographical coverage they're pushing, however, calling on the mobile industry to "measure vital coverage metrics" in terms of landmass rather than what they're calling "the outdated population score".
Help from BT
The focus on population, rather than on landmass, has skewed the both networks' and the regulator's efforts towards urban areas - with the result that service in less densely populated areas can be somewhat hit and miss.
That's not just deeply frustrating for the people who live there permanently, but for those passing through or visiting.
EE chief executive Marc Allera points out that tens of thousands more people visit areas like the Lake District and the Isles of Scilly than actually live there - and while it sounds selfish, he's right when he says that "customers want 4G speeds everywhere they go".
It doesn't hurt that as well as being the biggest 4G operator in the UK, EE are now owned by BT. The mobile operator say that the 4G switch-on in the Isles of Scilly was enabled by BT's fibre broadband links.
That infrastructure will likely come in handy again over the next few years. EE say that in order to fill in the holes in their existing 4G coverage and expand the network further, they'll be working on more than 750 new sites.
That's not to say that if it weren't for BT, EE wouldn't be investing in more out of the way locations.
Even before the details of the takeover were confirmed EE had connected thousands of smaller communities - and they were very proud of including in that number the village of Elvanfoot, in South Lanarkshire, which at the time had just 52 residents.
Fewer complaints, higher satisfaction
It's not just their coverage that they're planning to improve. Part of the rationale behind bringing their customer support call centres back to the UK is that it will help raise the standard of their customer service.
Today's news follows on from other recent efforts to improve their performance and reputation after a bruising few years as the provider generating the most complaints to Ofcom about both broadband and mobile.
Last year the regulator fined them £1 million for their failure to deal properly with complaints about their mobile service from July 2011 to April 2014.
The end of that period coincides with the peak in the number of complaints made about them to Ofcom - and the start of a concerted effort on EE's part to start putting things right.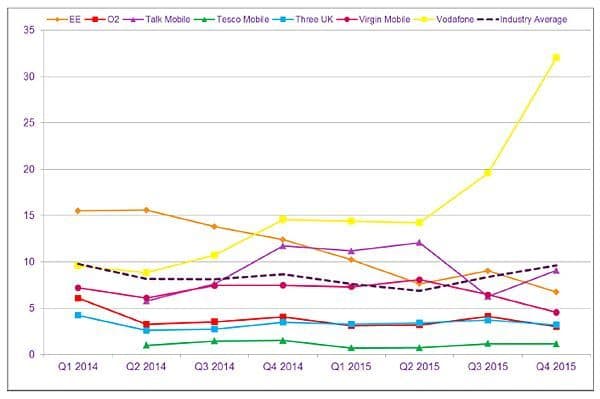 SOURCE: Ofcom Telecoms Complaints, March 2016. Available here
With the announcement that they planned to bring 1,000 or so customer service jobs that had been based overseas back to the UK, the then chief executive Olaf Swantee said he hoped that:
"...within 18 months, I will be able to say that EE has done for customer service in the UK what it has done for networks."
It seems to have worked, as when, last September, EE announced plans to significantly improve their broadband customer service, they were able to point to a 50% decrease in the number of complaints being made to Ofcom about their mobile arm.
They're still provoking more than twice as many complaints as Three or O2 - which suggests they've some way to go, but Marc Allera says they've also seen a "major boost in customer satisfaction" as more customer service jobs have been brought back to the UK.
By the end of this year they'll have created around 2,000 customer service jobs here since 2014 - so we could expect to see the trend continuing, for the time being at least.