5G will initially be switched on in London, Cardiff, Edinburgh, Belfast, Manchester and Birmingham, with other sites being rolled out during the next months and years.
EE also announced 5G enabled smartphones from Samsung, Oppo, OnePlus and LG are now available for pre-order.
However, EE have paused the launch of Huawei 5G phones amid concerns over the availability of Google services on Huawei devices following a US trade ban.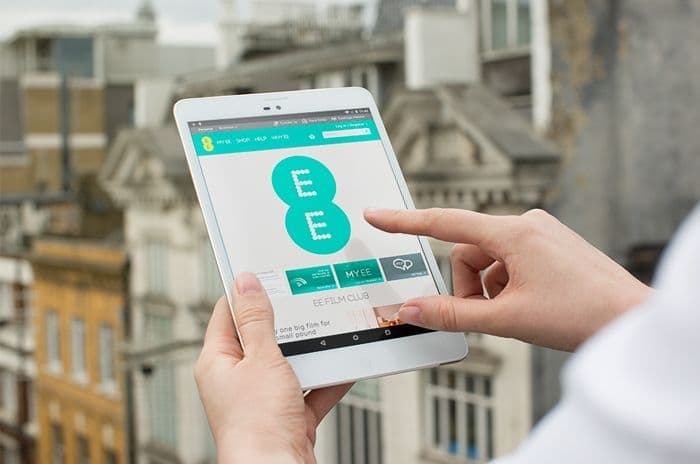 © EE
EE determined to be first
EE have long expressed their determination to be the first 5G network in the UK, and this announcement means they beat rivals Vodafone by just one month.
However, EE's launch will be limited to six large cities to begin with, while the busiest parts of ten further cities will be switched on later in 2019.
These cities are: Bristol, Coventry, Glasgow, Hull, Leeds, Leicester, Liverpool, Newcastle, Nottingham and Sheffield.
This would be extended to further locations including Aberdeen, Gloucester and Southampton by the end of 2020.
Anyone looking at upgrading to 5G with either EE or Vodafone should be aware of the locations set to be 5G-enabled over the next few years.
While there are many duplications in their rollout plans, the initial launch of EE's 5G won't cover Liverpool, Glasgow or Bristol while Vodafone won't cover Edinburgh or Belfast.
It's also important for customers to recognise this is only the first phase of 5G, with faster technology and services expected to be rolled out in the years ahead.
Users may experience improved speeds on their 5G handsets, but this is expected to be significantly improved, so some may not consider the cost/benefit analysis of being an early adaptor as viable.
Equally, there are network-specific issues to consider. Read our review of EE's mobile network here and Vodafone's mobile network here.
We also compare the two networks in this comparison guide.
What phones will be available?
EE are offering 5G smartphones across a range of price points, including exclusive UK partnerships to provide the Oppo Reno 5G, OnePlus 7 Pro 5G and the LG V50 ThinQ.
The most significant so far, however, is the Samsung Galaxy S10 5G which will be coming to both EE and Vodafone soon.
It crashes through the symbolic £1,000 mark, with a handset price tag of £1,099 and monthly deals which will reflect the premium quality of the handset.
One phone that won't be available via either network is the Huawei Mate 20X, the 5G-enabled smartphone from the beleaguered Chinese manufacturer.
Earlier this week, Google confirmed bespoke versions of Android will be available for future Huawei devices following a trade ban by the US Government.
This has led to EE and Vodafone withdrawing Huawei handsets from their 5G launches, and Carphone Warehouse have also confirmed customers won't be able to reserve Huawei 5G handsets via pre-order.
Future of 5G
There's little doubt this is only the start of the 5G journey, and more smartphones will be released at different price points as the technology settles into common use.
However, as we mentioned when we reported the impact of the US trade ban on Huawei's business on Tuesday, the development of 5G infrastructure could be delayed if Huawei equipment is stripped out of the non-core UK mobile networks.
While other equipment from different manufacturers can be used, it is a laborious process to replace it all, and Vodafone have conceded they would have to redeploy engineering resources from 5G infrastructure installations to achieve it.
A final decision on Huawei's involvement in the UK's telecommunications network is expected soon.