Amazon Prime Video: A Grand Tour
©iStock.com/scanrail
UNLESS we're content to watch the looping repeats of Top Gear on Dave, there's only one place to see Jeremy Clarkson's most recent motoring antics, and that's Amazon Prime Video.
It's expanded massively since Amazon inherited Lovefilm Instant with their buyout of the DVD rental firm in 2011, but despite being around longer it's generally played second fiddle to Netflix.
That's partly because Amazon Prime Video suffers from the perception that a lot of the content is only available at an extra cost on top of our subscription.
In this review, however, we'll aim to make it much clearer what's included, and how much it'll all cost, as well as how to watch.
The plans
Let's quickly mention the difference between Amazon Video and Amazon Prime Video. Amazon Video is a purely pay-to-view streaming service allowing people to buy or rent certain content as and when they want.
Amazon Prime Video, which is the focus of this review, is the subscription service - and it's the subscription that's the key to accessing Amazon's exclusive content, like The Grand Tour.
Depending on which other services we want from Amazon, and how we want to watch content, there are a couple of packages and payment options available:
Package
Contract term
Upfront price
Monthly price
Prime Video
One month
None
£5.99
Amazon Prime Video + free one day delivery
One month
None
£7.99
12 months
£79
None
Whether we choose Prime Video on its own or a full Amazon Prime membership, the content is the same - skip ahead to find out more about that.
Those wondering whether the simple video subscription or the full Prime membership is for them should consider the following:
The full Amazon Prime membership comes with access to a range of other services, most famous of which is free one day delivery on most Amazon-sourced orders.
Also included are Prime Photos (unlimited cloud storage for images on Amazon Drive), Prime Music, the Kindle Lending Library, and Twitch Prime - which offers discounts and bonus features on video games.
Importantly, full membership doesn't include Amazon Music Unlimited or Kindle Unlimited, although Prime members get a discount on Music Unlimited.
LoveFilm: Prime Video by post
Paying for full membership costs £7.99 on a monthly basis, or £79 annually. That's between £7 and £24 a year more than paying for Prime Video on its own, at £5.99 a month.
Whether it's worth going for the full Prime membership or not depends on how much benefit we'll get from the rest of the service - obviously, the more we use, the better value it is.
Prime content
Ignoring all the features listed above, what do we get with Prime Video?
There's a huge range of content - more than 15,000 TV and film titles - with a good mix of new and older releases, much of which is downloadable. Most titles are available in both SD and HD, depending on how we're watching (more here), and there's a certain amount available in Ultra HD.
The important thing to note is that not all of the material available through Prime Video is included in the subscription.
Among the inclusive content are the Amazon Originals: shows like the incredibly popular The Man In The High Castle, Lucifer, Preacher, Mr Robot, and of course The Grand Tour.
Programmes that started out somewhere else and are now available free to Prime members include Parks and Recreation, Manhattan, and The 100.
Ignoring the growing amount of original content Amazon are producing, there are two questions that can help viewers determine whether something featured in the Prime Video library is covered by their subscription:
How new is it?
Is it available on one of Amazon's rivals?
The older a show or film, the more likely it is to be free to stream. At the time of writing, for example, there are four seasons of The Americans available. The first three are included in Prime, but the fourth, having only aired on TV for the first time in spring 2016, is only available to buy.
In the case of the latter question: Breaking Bad is now a firm part of the Netflix catalogue, and Game of Thrones is one of the jewels in Sky's crown. Both are available on Prime Video - but only to buy, whether episode by episode or series by series.
It's a similar situation with films - while it's possible to see the most recent releases from Disney and 20th Century Fox on Amazon Prime Video, it'll be on rental or purchase terms.
Otherwise, it's a case of looking for the Prime banner on the top left hand corner of a title, or restricting searches to the categories headed "included with Prime".
Renting and buying content
Those who don't mind paying more on top of their subscriptions have two options: renting a title or buying it outright.
Content
To rent
To buy
TV shows
Per episode
N/A
From £1.89 to £2.49
Per series / season
N/A
From £4.99 to £22.99
Films
From £1.99 to £4.45
From £1.99 to £19.99
Renting content comes with time limits: users will have between seven and 30 days to start watching something they've paid for, then 48 hours to view from that point.
Most new film releases tend to be priced between £7.99 and £13.99 depending on how big and how recent they are; films of live music concerts and other performances tend to be priced higher.
Whichever device we're using to access our Prime Video account, we should be able to find any rented or purchased content in the "Your Video Library" area. Rented content will automatically disappear once the rental period is over.
How to watch
Amazon provoked a certain amount of controversy in late 2015 when they effectively banned the sale of certain streaming devices that didn't support Amazon Video, most notably Apple TV and Chromecast.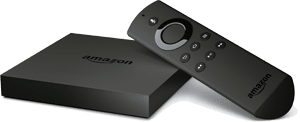 As well as being available though Amazon's own Fire TV boxes and sticks, the app is built in to smart TVs and Blu-ray players from Panasonic, Sony, Samsung, and LG.
The other devices it's possible to watch Prime Video on are:
Roku
Sony Playstation 3 and 4
Xbox 360 and Xbox One
Nintendo Wii and Wii U
Fire tablets and phones
Android phones and tablets running at least v4.0 (Ice Cream Sandwich)
iOS devices running 7.0 or later
Be aware that the Amazon Video app isn't available in Google Play: Android users will need to download the Amazon Underground app from Amazon themselves, then find and download the Video app from there.
Android devices are also limited to streaming and downloading in SD, as are the Nintendo Wii and the Kindle Fire second generation tablet. The Wii U and all other devices listed above should support streaming in HD at the very least.
Ultra HD streaming is supported on the Fire TV second generation box, and on TVs dating from 2014 from LG, Samsung, and Sony.
Amazon recommend that SD streams will fare best on connections of at least 900Kb, and where HD is supported a connection of at least 3.5Mb is required.
Downloads
As mentioned above, much of the content on Prime Video is downloadable. That's a serious boon for those who don't have an entirely consistent broadband connection, or who want to take their viewing with them without worrying about their data usage.
Before trying to download, users will need to make sure they have a wi-fi connection and one of the following compatible devices:
Fire tablet or phone
Android phone or tablet
iOS device
Being able to downloads content means that we can stockpile our favourite programmes and films if we know we're going to be travelling - although there is a limited selection of Amazon Original content available to view abroad as well.
13 October 2017
11 October 2017
10 October 2017
Follow us or subscribe for FREE updates and special offers