The BT TV Box Pro is provided for free with all BT TV packages and allows customers the unique ability to pause, rewind and record live content through NOW.
Its best-selling feature is undoubtedly it's wireless connectivity, so customers no longer need to mess around with a wired setup for the first time.
However, there are some drawbacks, with limited on-demand apps making it feel dated in comparison to newer Sky Stream and updated Virgin 360 boxes.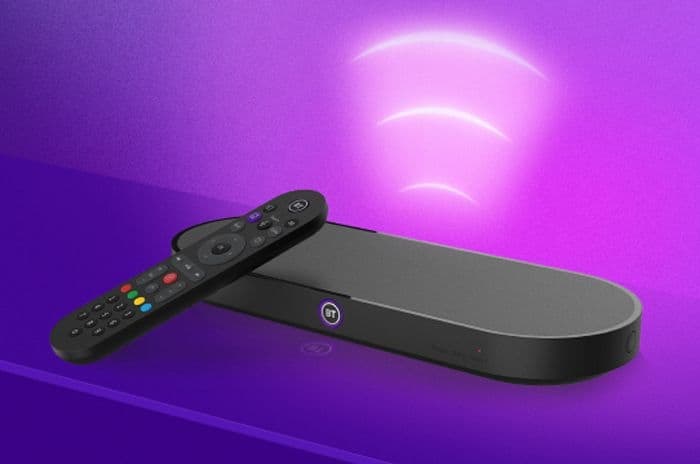 ---
At a glance
| | BT TV Box Pro |
| --- | --- |
| Storage | 1TB |
| Recordings | 600 hours of SD / 250 hours of HD |
| Tuners | 4 (Record 3 channels, while watching a 4th) |
| Resolution | 4K HDR |
| Multiscreen | Up to 1 extra box |
| Remote | Bluetooth |
| App support | NOW, Netflix, Prime Video, BritBox, BBC iPlayer, ITVX, All4, My5 |
| Setup price | £30 |
| Pros | Cons |
| --- | --- |
| Pause, rewind & record NOW content | Lacks some newer on-demand apps |
| Wireless setup & Bluetooth remote | Can only be used with the BT Smart Hub |
| Ultra HD resolution with Dolby Atmos | Not available to purchase separately |
| Flexible monthly TV plans | |
Special offers
Offer
Terms

Get this offer

£50 BT Reward card with BT Full Fibre 100 for just £37.99 a month

Hurry! Offer ends 4 January 2024

24 month minimum term. £31.99 setup fee. From £42.99/mth after 24 months. Price rises each year on 31 March by Consumer Price Index rate of inflation + 3.9%.

Get this offer

Get this offer

£50 BT Reward card + Xbox Game Pass Ultimate for 12 months with BT Full Fibre 900 for just £57.99 a month

Hurry! Offer ends 4 January 2024

24 month minimum term. £31.99 setup fee. From £62.99/mth after 24 months. Price rises each year on 31 March by Consumer Price Index rate of inflation + 3.9%.

Get this offer
---
What does the BT TV Box Pro offer?
The BT TV Box Pro was first launched in mid-2021 as a refreshed set-top box to rival the Sky Q and Virgin TV 360 boxes.
It is now the standard TV box provided with all BT TV packages, so all new customers will now get the BT TV Box Pro instead of the previous BT YouView box.
Existing BT customers can upgrade to the BT TV Box Pro, but they'll need to take out a new contract and sign up to one of BT's new TV plans.
While the BT TV Box Pro is still based on the YouView interface, the box itself has received quite a few feature updates - which we look at more closely below.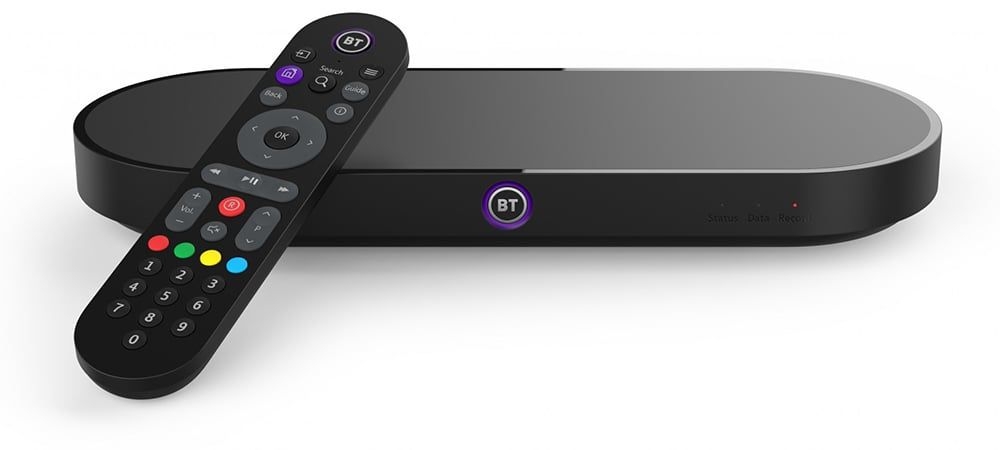 The main features of the BT TV Box Pro are:
1TB hard drive for recording TV programmes
Two physical and two virtual tuners allow customers to record three channels simultaneously while watching a 4th
Ultra HD or 4K ready with HDR
Dolby Atmos sound support
Bluetooth remote doesn't need a direct line of sight to the box
Wireless capability for a wire-free setup, including the extra box
Freeview aerial receiver
There are also energy saving features on the BT TV Box Pro, including a standby mode that puts the box into deep hibernation in the hours when it is unlikely to be used rather than waste energy on the standard standby mode.
Overall, the BT TV Box Pro is sleeker and more stylish than previous BT TV boxes, with additional up to date features including a wireless setup and Bluetooth remote control.
---
BT TV Box Pro prices
The BT TV Box Pro isn't available to purchase separately and is only provided for customers who sign up to one of BT's TV and broadband bundles.
BT TV packages come with a 24-month minimum term, however customers are free to upgrade or downgrade the actual TV package on a monthly basis.
Package
TV
Broadband
Monthly price
Upfront price
Contract term
Entertainment + Fibre 2
96
67Mb average
£55.99
£61.99
24 months
Offer: £100 BT Virtual Reward Card

(Ends 04/01/2024)

Sport + Fibre 2
77
67Mb average
£53.99
£61.99
24 months
Offer: £100 BT Virtual Reward Card

(Ends 04/01/2024)

Big Entertainment + Fibre 2
107
67Mb average
£65.99
£61.99
24 months
Offer: £100 BT Virtual Reward Card

(Ends 04/01/2024)

Big Sport + Fibre 2
90
67Mb average
£78.99
£61.99
24 months
Offer: £100 BT Virtual Reward Card +

(Ends 04/01/2024)

Full Works + Fibre 2
125
67Mb average
£111.99
£61.99
24 months
Offer: £100 BT Virtual Reward Card +

(Ends 04/01/2024)
The packages above show each BT TV option combined with BT's Fibre 2 broadband, but customers can bundle any of BT's broadband packages.
The BT TV packages mainly offer access to one or more NOW Membership passes, as well as options to access Discovery+ Premium for TNT Sports and Eurosport channels in the Sport packages.
VIP is BT's largest TV plan and also includes a subscription to Netflix Standard as well as NOW Boost and the HD pack.
As mentioned, these deals are completely flexible, so customers can switch between Entertainment and Big Entertainment, or Sports and VIP, on a monthly basis as much as they wish.
---
BT TV Box Pro features
The BT TV Box Pro has all the features we'd expect from a modern TV box, but it also manages to do some things differently too.
Since the box is designed to work in tandem with BT TV and their NOW TV integrations, there's a big emphasis on streaming and on-demand content.
One of the major draws of BT TV is the ability to pause, rewind and record live TV content on Sky through NOW, and this is entirely down to the BT TV Box Pro. It's also something which is unique to BT, as direct access to the NOW app doesn't usually allow for this.
Many big-name free and paid streaming apps are available on the box including:
| | | | | |
| --- | --- | --- | --- | --- |
| NOW | Netflix | Prime Video | BritBox | BBC iPlayer |
| ITVX | All4 | My5 | UKTV Play | STV Player |
| Milkshake! | POP Player | BBC Sounds | S4C Clic | CBS Catchup |
However, there are some noticeable absences in the form of Disney+, YouTube, Paramount+, and Apple TV+, so customers may not be able to get all their subscription content in one place.
Wireless connectivity
The headline feature on the BT TV Box Pro is wireless connectivity. This wasn't available at launch but has since been switched on via an update and all customers can now access it.
Wi-fi connectivity means no wires connecting the TV box to the router, although customers may still need aerial connections if they're using that option.
Getting rid of the need for Ethernet connections from the TV box to the home router is something new and fresh for the BT TV Box Pro. It isn't offered by Sky Q or even with Virgin's latest TV 360 box.
Many customers will enjoy the ability to remove trailing wires and it's a feature that experts have been clamouring for over recent years, so it's good to see BT leading on this.
If customers do prefer to have a wired connection because of poor home broadband signal, for example, a 1.5m Ethernet cable is still included with the TV box.
Pause, rewind and record
A key feature of this latest BT TV box remains the ability to record multiple programmes at once and store content on the 1TB hard drive.
This storage capacity is bigger than we've seen with previous BT TV boxes and allows customers to record up to 600 hours of standard definition (SD) content.
As picture quality gets higher (HD and UHD), the number of recordable hours will be reduced to around 250 and 60 respectively, but 1TB is still an excellent storage capacity for most users, especially when we remember that many programmes are also available on catch-up and on-demand services integrated within the box so recording may not be strictly necessary.
The BT TV Box Pro can record up to three channels at once while watching a fourth. Again, this should be suitable for the majority of homes when combined with catch-up apps.
Live TV can be paused and rewound for up to two hours if users want to pause a show and come back to it after doing the school run or cooking dinner, for example.
TV Guide
The YouView electronic programme guide (EPG) received an upgrade in 2021 to make it easier for users to navigate and find the things they want quickly.
From the main screen, users can access the Guide to see what's live on their subscription channels as well as easily accessing the Featured Apps, Recordings & Watch List and BT Player features.
There are also TV Shows, Films and Sport sections showing content that may be of interest to viewers.
One useful feature of the EPG is the ability to customise the Guide and remove channels from the list. It not only allows users to get rid of channels they'll never watch and are sick of scrolling past, it can be used to hide duplicates of channels such as SD channels when you want to watch everything in HD where possible.
4K and Dolby Atmos
The BT TV Box Pro incorporates both 4K HDR technology for UHD viewing and Dolby Atmos technology for incredible sound quality.
While the amount of 4K UHD content is still limited, on BT TV it includes the TNT Sports Ultimate channel as part of the TNT Sports pack (previously the BT Sport pack).
It's also useful to be future-proof for when the much-heralded 4K revolution really takes off, and BT TV's customers are ready for that.
This preparation is also aided by the Dolby Atmos functionality that works brilliantly with surround sound systems to help create a cinema-style entertainment venue in the privacy of your own living room.
For outstanding picture and sound quality, the BT TV Box Pro excels. However, it's worth noting BT say the minimum broadband download speed for 4K content is 44Mbps.
Accessibility
Another area where BT are keen to show their credentials is with their accessibility functions.
Their handbook for the BT TV Box details the following (where available):
Audio Description
Subtitles
Sign language
High contrast for menus
Remove channel logos for easier viewing
Remove transparency in the Guide to make it easier to read
Easy zoom
Keyboard as remote feature with printed overlays available
Overall, older customers and those with accessibility requirements will find plenty to like about the BT TV Box Pro, although it's worth remembering that Audio Description, sign language and subtitles are dictated by the programmes themselves having those features - and that has little to do with BT themselves.
Drawbacks
Like all TV boxes, the BT TV Box Pro has some downsides alongside its great features and intuitive interface.
Here are some things to be aware of:
Missing apps. As we've already mentioned above, some streaming apps we'd expect to be available on a set-top box like this are not there. It might not matter if they're already built into a customer's smart TV (like YouTube usually is), but it means the BT TV Box Pro may not be a complete one stop shop for entertainment.
No SCART connection. The box must be connected to a TV using HDMI rather than an old-style SCART input. While this won't be an issue for many customers, it may still be a frustration for some with older TVs.
It really only works with a BT Smart Hub or Smart Hub 2. If a customer has an older BT router, they will replace it for free, but this drawback means customers can't use their own router with the service because of the protocols used.
Connectivity limitations. Ideally, BT say the router should be only 5 meters away from the box if used wirelessly with only one wall between them at most. For many homes, this might not be entirely practical.
No mini preview on the Guide. There is no way to see a live potential new channel while browsing the Guide and the current channel continues to play against a transparent menu. It feels like the worst of both worlds.
These are niggles for the most part and many customers won't be affected by them.
Something that will affect everyone is pricing, and it's worth remembering that BT TV is a 24-month commitment where the absolute minimum price for the TV portion every month is £12 (with current offers).
---
Verdict: Is the BT TV Box Pro any good?
Aesthetically, the BT TV Box Pro owes as much to the sleek stylishness of the Sky Q box as it does to the previous incarnations of BT set-top boxes.
It's eye-catching in a good way and will sit neatly on top of a cabinet or within a TV unit without looking out of place. The wireless functionality may dictate where a user puts it (if they want to use the wi-fi capability), but it will likely look good anywhere.
The wireless connectivity is arguably the standout feature of the BT TV Box Pro and it gives BT something Virgin and Sky have yet to incorporate into their own boxes (although the new Sky Stream Box is now wireless too).
There are unique benefits to the partnership with NOW, including the ability to pause, rewind and record Sky content through the NOW Memberships, which isn't possible directly with NOW.
NOW Boost is also combined in the BT HD pack and includes content in full 1080p HD as well as ad-skipping, with on-demand content on NOW ad-free. That again is something that's not available on the new Sky Stream service, where customers can only skip over ads in on-demand shows.
That said, there are still frustrations.
Missing apps are likely down to contractual issues, but that doesn't stop an average user being disgruntled that they need to switch from the box to the smart TV or a smart stick to watch streaming services that are not yet support.
However, when everything is weighed up, customers looking at BT TV alongside BT broadband will receive a high-quality set-top box that offers useful features alongside BT's ultra-flexible TV packages.