The V6 has subsequently been replaced at Virgin's default set-top box but many existing customers will still have a V6.
It's possible to get a firmware update and new remote for the V6 to upgrade to the latest Virgin TV 360 platform without the need for a new box.
Overall, the V6 remains a good set-top box but it's no longer Virgin's premier piece of tech.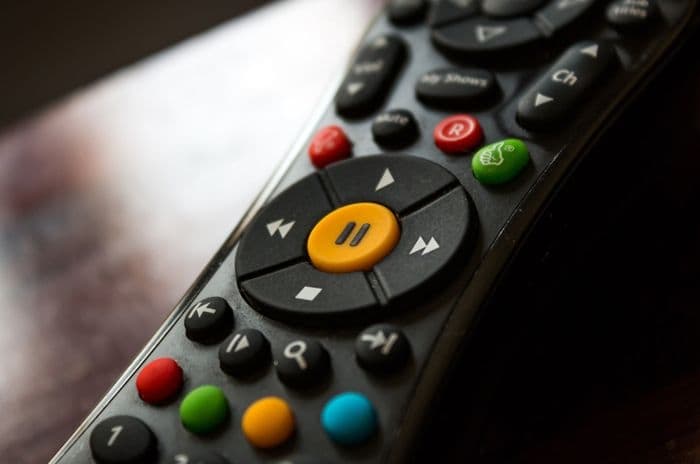 Credit: Toby Parsons/Shutterstock.com
---
At a glance: Virgin V6
Virgin V6
Storage capacity
1TB
Recordable TV
500 hours of SD TV / 100 hours of HD TV
Simultaneous recording
6 channels (watch a 7th recording)
UHD-ready
Yes
Multiscreen
Up to 2 extra boxes
Price
No longer available for purchase
| Pros: What we like | Cons: What we don't like |
| --- | --- |
| Good storage capacity | Dated platform |
| Excellent recording facilities | No new boxes available for multiroom so upgrade necessary |
| Intelligent recommendations | |
| Can be upgraded to Virgin TV 360 | |
Latest offers
Offer
Terms

Get this offer

£50 bill credit with Virgin M125 broadband, just £26.50/mth

Hurry! Offer ends 14 December 2023

18 month minimum term. No setup fee. £49/mth after 18 months.

Get this offer

Get this offer

Virgin Media Bigger Sports Combo HD Bundle just £62 a month with free setup (worth £35)

18 month minimum term. No set up fee. £137/mth after 18 months.

Get this offer
---
What is the Virgin V6 box?
The Virgin V6 box was the default set-top box provided to all new Virgin Media TV customers from 2016 to 2020.
It was subsequently replaced by the Virgin TV 360 box, which was made available to all existing customers in 2021.
This means that customers signing up to new Virgin TV packages will receive the newer box, but plenty of existing customers may still have the Virgin V6.
The viewing experience was enhanced with the release of the Virgin TV 360 yet existing V6 customers should be able to upgrade to the 360 platform without needing a new box.
This is because the V6 can be upgraded with a firmware update sent directly to the box, so there's no need for new hardware. However, customers will need a new voice-activated remote and this usually costs £24.95.
For more information about the 360 platform, visit our full guide to the Virgin TV 360 box. The rest of this guide will focus on the V6 platform that originally came with the V6 box.
---
Specifications
At the time of its release, the V6 was the most sophisticated TV box Virgin had ever offered.
The main technical specs of the V6 are actually the same as the 360, with the newer box improving on the platform rather than the tech inside the box.
These are the main things to note about the V6:
Measures 230 x 153 x 55mm
Weighs just over 1kg
1 HDMI 2.0 output
Optical audio outlet
3.5mm jack
1 Ethernet port
1TB hard disk recorder
The V6 comes with a traditional remote control, which remains the biggest physical difference between the two boxes.
As we've mentioned above, customers will need to upgrade their remote to a voice-activated one if they want the 360 experience on the V6 box.
---
Features
The V6 includes many features that compare favourably with Sky's current Sky Q set-top box.
Let's have a look at the highlights.
Pause, rewind, record
Pausing and rewinding live TV are basic features of modern set-top boxes, so it's no surprise the V6 offers them.
Customers can also record on the six tuners of the V6:
Record up to six channels at once while watching a recorded programme
Record five channels at once while watching a live programme
This is beaten by the ability of the 2TB Sky Q to record six channels and watch a seventh live, yet it will be more than sufficient for most households, especially when we remember catch-up services are available for major channels.
The standard box given with Sky Q packages is the 1TB, and that only allows recording on three channels while watching another live.
It's safe to say, though, that Virgin's V6 is a great option for customers looking to record multiple programmes at once and still watch another live - if there are six things you want to watch all on at once, the V6 can handle that.
Storage
The V6 comes with 1TB of storage.
This is enough to record around:
500 hours of standard definition (SD) content
100 hours of high definition (HD) content
The V6 doubled the amount of storage space available to customers, improving from the 500GB TiVo box previously offered.
As we noted above, Sky do supply a 2TB box which could be appealing to customers who plan to record a lot.
The reality for many, though, is that 1TB will be ample storage, especially if they mostly record SD channels.
4K Ultra HD and HDR viewing
The V6 brought compatibility with 4K Ultra HD content to the Virgin ecosystem for the first time as well as HD TV.
Depending on which Virgin Media TV package customers take, they'll get at least 10 HD channels, mostly from the free to air broadcasters, and up to 85 HD channels with the larger bundles, when including Sky Sports and Sky Cinema.
Virgin launched the UK's first dedicated 4K channel in September 2018 following other trials of UHD content such as the BBC's 2016 Planet Earth II clip.
Virgin also hosts the BT Sport 4K Ultra HD channel and occasionally broadcasts select sporting events in 4K Ultra HD, such as the Champions League final, the French Open final, the Wimbledon Championships and several World Cup matches.
As an option for watching UHD content, then, the V6 is excellent, and the technology means that, as more UHD channels and programmes are added to UK TV, they'll be accessible on Virgin's V6.
(PS: Don't forget that watching 4K and HD content is only possible on the right TV).
Personalised suggestions
Intelligent recommendations are at the heart of the V6's platform.
The box learns from both the positive and negative ratings we give shows, so, like Netflix and Amazon Prime Video, Virgin V6 should learn what we like and suggest things we may also enjoy.
For those who also have a Netflix subscription, the box should search both the channels in our TV subscription and the entire Netflix catalogue to find recommendations from both.
Like Sky Q, there's a wish list feature, based on simple search terms.
The most obvious example is the title of a show that's vanished from the mainstream channels - Friends, Jonathan Creek, or Marvel's Agents of Shield.
As soon as any of the channels in our subscription - even the really obscure ones buried in the depths of the channel list - shows a programme matching that search term, the box will flag it and record it.
Alternatively, we can search by actor or director, so Scorsese buffs and Channing Tatum fans alike will never miss out.
One final point about this smart feature - if recording space on the V6 is limited, programmes that were suggested by the box itself will be removed ahead of scheduled recordings, so customers don't lose the programmes they've actually chosen to record.
Radio-frequency smart remote
The remote control that accompanies the V6 uses a one-click mentality, with the TV guide, live TV and recordings hub all accessible with just one click.
Unlike its predecessor, the V6's remote uses radio frequency (rather than infrared) to communicate with the box - handy if you don't always have a direct line of sight to the box.
The remote is also smaller than it used to be, but the box comes with a Find My Remote feature where a simple press of a button on the V6 box will cause the remote to start beeping. It's a small but potentially very useful extra for families.
Virgin TV Go & Virgin TV Control apps
V6 customers can watch some of their subscription content on the move via Virgin TV Go.
They also have an app called Virgin TV Control which allows customers to manage their V6 box remotely.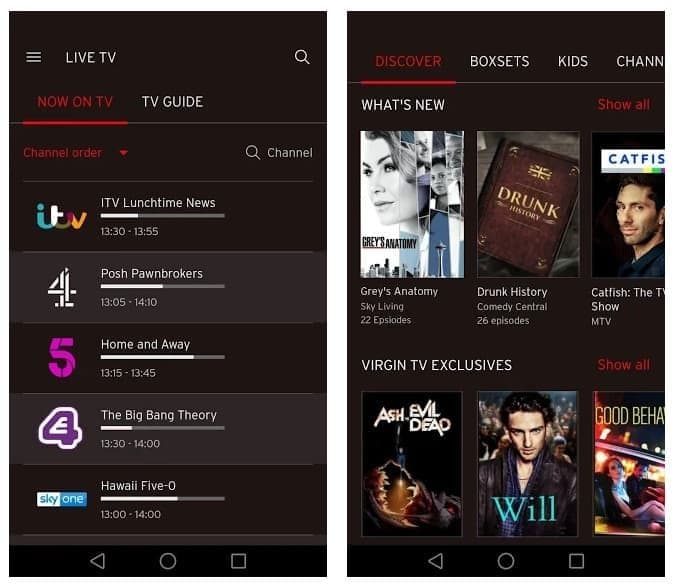 Let's look at those two apps in more detail.
Stream to mobile with Virgin TV Go
Customers can live stream some - but not all - of the channels in their subscription to their mobile devices using the Virgin TV Go app. They'll also be able to access inclusive box sets and TV On Demand.
At the time of writing, Virgin say over 100 live TV channels are included in this service including Eurosport, Comedy Central and Sky Max, as long as the customer's package permits the channels to be accessed.
The Virgin TV Go app is free to all Virgin TV customers and can be used on up to five compatible devices.
It's compatible with:
iOS 11 and higher
Android 5.1 and higher
Windows 8.1 and higher
macOSX 10.1 and higher
Virgin TV Go no longer has a Windows 10 app and is not available on Amazon Fire devices.
Mobile remote with Virgin TV Control
Virgin TV Control allows customers to use their mobiles as remote controls for their TV boxes.
That means that customers can start recording a show when they're out and about, flick through the Virgin TV guide, or just use it as an extra remote.
If it turns out that our box's storage is running low, users can get the app to delete old episodes or less accurate suggestions as well.
Catch up TV
Virgin TV customers have two ways to access the free-to-air channels' catch up services: through the official Catch Up search function or through the TV guide.
After clicking through to the Catch Up function located within the main Home menu, there are several options available:
Search using the title of a show
Choose from Virgin's trending Catch Up options
Browse by channel
See options from the last 7 days
See options in different genres
See all available programmes sorted alphabetically
The alternative is, as mentioned, using the TV guide to scroll back through the past seven days' listings. Any program available through catch up will have a little C symbol next to it: select that program and it'll load up for you.
Series Link+
A handy feature of the Virgin boxes is Series Link+, which gathers together episodes of a show from wherever they are hosted and sticks them in one folder. From there, they can be sorted by recording date or episode order for clarity.
An added bonus of this feature is that, if different channels, have rights for separate series of a programme, SeriesLink+ will pull them all into one place.
Plus, if a programme is available to stream on a connected service rather than episodes needing to be recorded and kept on the V6 box, it'll let you know.
Back-to-back recordings
Unlike lesser set top boxes, the Virgin TV V6 box can record back-to-back programmes without losing the final moments of one or the starting moments of another.
When one of the back-to-back recordings is on one more channel than the boxes can handle, they'll ask which recording to risk. If it's going to be a repeated issue, the viewer is given the chance to reprioritise future recordings.
The box will keep recording each channel using the already assigned tuner and separate the programs after the fact.
If we're not in, we'll need to use TV Control app on our mobile to reschedule one of the recordings or hope that the box really does know what we like and makes the right choice for us.
---
Known problems
All technology is subject to some customer complaints, and the Virgin V6 has experienced its fair share of criticism over the years.
Here are some of the more common complaints:
Cluttered interface
We've already mentioned the SeriesLink+ options which brings its own form of intelligence to recording specific programmes and series, but one complaint is that it clutters the My Recordings area.
However, the capabilities may be a good trade-off for having more programmes in a list than you're expecting.
There's also an advert at the bottom of the main user interface which can't be removed, often highlighting the latest film purchase options.
Box freezing
A regular complaint from V6 users seems to be that the box is freezing regularly, often as a result of being unable to recognise the remote.
There is a way around this which involves connecting the remote in RF mode which makes the remote multi-directional.
Flickering picture
Another regular complaint from customers is that the screen sometimes flickers without any real reason to the point where engineers don't know what the problem is.
The fix for this is to restart the V6 but, of course, it can be a pain if you're trying to watch something and you need to restart the system in order to finish watching the programme.
---
Should you upgrade to the Virgin TV 360?
Customers who want to upgrade their Virgin TV experience can contact Virgin via live chat or phone to request an upgrade from the V6.
This can usually be done without needing to get a new box and comprises of two elements:
A firmware update sent to the V6 box that installs the 360 platform
A new voice-activated remote control sent through the post
This upgrade will cost £24.95, although there may be opportunities to upgrade for free - keep an eye on Virgin's personalised promotions and their customer emails.
While customers may feel they're getting short-changed by not getting a brand new box through this type of update, since the technical specifications of the V6 and Virgin TV 360 boxes are almost identical.
There may be options to upgrade and get the latest box, especially if customers want to access multiroom services. V6 and 360 boxes cannot be used together in the same household.
Overall, upgrading to the Virgin TV 360 platform while using an existing V6 box is a great way for Virgin customers to get the latest viewing experience without needing too much new tech.
---
Frequently Asked Questions
What is the Virgin V6 box?
The Virgin V6 was the default set-top box supplied to Virgin TV customers between 2016 and 2020. Many existing customers will still have a V6 box.
Is the Virgin V6 any good?
Although it is no longer the latest set-top box from Virgin, the V6 is still a good piece of kit and shares the technical specifications of the latest Virgin TV 360.
How many V6 boxes can I have?
Virgin Media households can have up to three V6 boxes to access multiroom services. However, no new V6 boxes are being supplied by Virgin Media, so existing customers will need to upgrade for multiroom.
Is the V6 still supported?
Virgin still support customers with V6 set-top boxes. There are no signs this support will end anytime soon.
Can I upgrade from the V6 to the 360?
Existing Virgin customers with a V6 can update their current V6 to the Virgin TV 360 platform. This upgrade is £24.95 and covers the cost of sending out a new voice-activated remote.
---
Verdict: Is the V6 any good?
The Virgin TV V6 may not be the latest set-top box from Virgin, yet it's still a great piece of kit that many existing customers are happy with.
It offers:
The ability to record on six channels at once
1TB storage capacity
Access to the Virgin TV Go and Control apps
Good, modern viewing features
V6 was a definite upgrade on the previous 500GB TiVo box, and it still holds its own for the most part.
No new customers will be given the V6 on signing up to Virgin TV, but thanks to the option to upgrade the box to Virgin TV 360 at minimal cost, existing customers can get the best of both worlds.
As to whether Virgin Media is the right choice for TV in the first place, read our in-depth comparison between Sky, Virgin and BT.