Sky Glass bundles a Sky box, soundbar and QLED TV in one, and allows customers to subscribe to Sky TV without needing a satellite dish.
Offering a service similar to that of Sky Stream, customers receive the live channels and on-demand programmes entirely over their broadband connection.
Sky Glass is available in three sizes, across five colourways, and can be purchased outright or spread across a 24 or 48-month contract.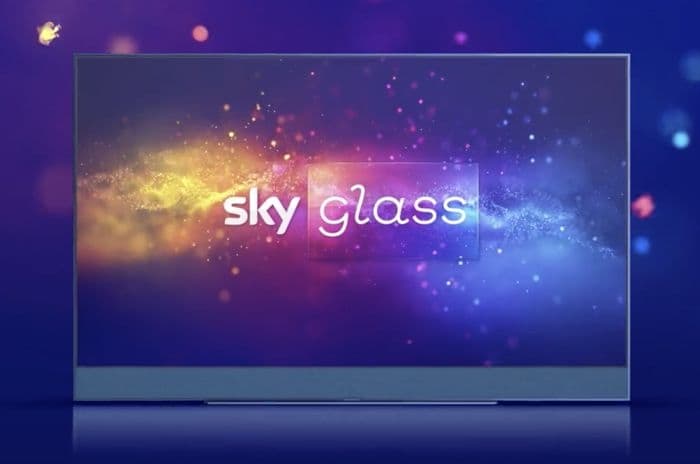 ---
At a glance
| | Sky Glass |
| --- | --- |
| Price | From £14/mth for 48 months |
| Setup cost | £10 - £20 |
| Display | QLED Ultra HD with HDR |
| Sound | Dolby Atmos 360 |
| TV channels | 150+ |
| On-demand apps | Netflix, Prime Video, Disney+, Discovery+, Paramount+, Lionsgate+, Apple TV+, Peacock, Peloton, Fiit, YouTube, BBC iPlayer |
| Storage | 1000 hours cloud |
| Pros | Cons |
| --- | --- |
| Sky TV without a satellite dish | Requires minimum broadband speed of 25Mb |
| Wire-free setup with built-in Sky box, and soundbar | No standard Freeview access |
| QLED screen with 8.3 million pixels | Extra cost for Ultra HD content |
| Content in HD as standard | |
Package
Channels
Contract term
Upfront price
Monthly price
Sky Glass 43 + Sky Entertainment + Netflix
150
48 months
£10
£14
for 3 mths,


then £40

Offer: Sky Entertainment & Netflix free for 3 months

(Ends 29/12/2023)

Sky Glass + Sky Sports
158
48 months
£10
£34
for 3 mths,


then £60

Offer: Sky Entertainment & Netflix free for 3 months + Save £5/mth on Sky Sports

(Ends 29/12/2023)
---
What is Sky Glass?
Sky Glass, first unveiled in October 2021, is the first Sky TV service that doesn't require a satellite dish.
It's manufactured by the company behind Phillips TV sets, but utilises the QLED quantum dot technology made famous by Samsung.
While it looks somewhat similar to the Samsung 'The Frame' range of QLED smart TVs, Sky Glass is a unique proposition with a built-in Sky box, Dolby Atmos soundbar, and a microphone to support voice control functionality.
Alongside the new Sky Stream Puck box, it offers exclusive access to Sky TV as a streaming service, with over 150 live premium and free-to-air channels, and more than 30,000 shows to watch.
The Sky Glass screen supports viewing quality up to 2160p Ultra HD 4K and HDR, although customers will have to subscribe to the Ultra HD pack to gain the full benefit of this.
The same goes for the Dolby Atmos surround sound system, which requires content optimised for Dolby Atmos only included in the Ultra HD pack.
Finally, the built-in Sky box provides support for 27 free-to-air and subscription apps, including Discovery+, Lionsgate+, Apple TV+, Disney+, Netflix, Prime Video, Peacock, and many more.
---
Sky Glass prices
The price of Sky Glass varies depending on the size of the set, at the time of writing, customers can expect to pay:
| | Small 43" | Medium 55" | Large 65" |
| --- | --- | --- | --- |
| In full | £699 | £949 | £1199 |
| Over 24 months | £28/mth | £38/mth | £48/mth |
| Over 48 months | £14/mth | £19/mth | £24/mth |
Customers who spread the cost will also need to pay an upfront fee of £10 for the 48-month term, or £20 for the 24-month term.
Spreading the cost of Sky Glass is offered on an interest-free basis, and customers will get a 2-year warranty and free delivery.
---
Sky Glass with Sky Entertainment & Netflix
Sky Glass is usually purchased alongside a Sky Entertainment & Netflix subscription, which can be customised at the point of sign up.
Current prices for new customers for Sky Glass with Sky TV are:
Package
Channels
Monthly price
Upfront price
Contract term
Sky Glass 43 + Sky Entertainment + Netflix
150
£14
for 3 mths,


then £40

£10
48 months
Offer: Sky Entertainment & Netflix free for 3 months

(Ends 29/12/2023)

Sky Glass 55 + Sky Entertainment + Netflix
150
£19
for 3 mths,


then £45

£10
48 months
Offer: Sky Entertainment & Netflix free for 3 months

(Ends 29/12/2023)

Sky Glass 65 + Sky Entertainment + Netflix
150
£24
for 3 mths,


then £50

£10
48 months
Offer: Sky Entertainment & Netflix free for 3 months

(Ends 29/12/2023)
Sky Glass + broadband
It's also possible to bundle Sky Glass with Sky broadband for extra savings compared to taking the services separately.
Package
TV
Broadband
Monthly price
Upfront price
Contract term
Sky Glass + Sky Entertainment + Netflix + Superfast Broadband
150
61Mb average
£31
for 3 mths,


then £57

£10
48 months
Offer: Sky Entertainment & Netflix free for 3 months + Reduced price broadband and no broadband setup costs

(Ends 29/12/2023)

Sky Glass + Sky Entertainment + Netflix + Ultrafast Broadband
150
145Mb average
£31
for 3 mths,


then £57

£29.95
48 months
Offer: Sky Entertainment & Netflix free for 3 months + Reduced price broadband

(Ends 29/12/2023)
At the time of writing customers can get Sky Superfast Broadband for just £13 a month, compared to £25 if taken on its own.
For faster speeds, Sky Ultrafast Broadband is just £17 a month for 18 months with Sky Glass, compared to £29 as a standalone broadband and phone plan.
Read more in our full review of Sky broadband.
---
How does Sky Glass work?
Unlike TV packages where a box set is provided under contract, customers will need to purchase Sky Glass outright in addition to taking out a Sky TV subscription.
However, customers have the choice between paying for Sky Glass in one upfront sum, or spreading the cost on an interest-free basis over a 24- or 48-month term.
Either way, Sky Glass only really works with an active Sky subscription, which does mean customers are tied to Sky despite paying for the TV set outright.
Without a Sky subscription, customers will only be able to:
Access the on-demand apps
Connect devices to Sky Glass via the HDMI port, for example game consoles
They won't be able to:
Watch any live TV, including Freeview, unless they disconnect the Internet and have a working aerial connection
Access any apps provided through their Sky subscription, for example Netflix or Discovery+
Use any Stream Pucks purchased as part of a Whole Home subscription
The built-in Freeview receiver only works as a back-up, which means without a Sky subscription customers can't watch any free-to-air channels unless they disconnect the Internet.
So, it could become rather cumbersome to connect broadband to use iPlayer, but disconnect to watch BBC1, which would also need an aerial connection.
On the flip side however, what this also means is Sky Glass customers can watch Freeview without a working aerial, as it's streamed live over broadband.
Lastly, Sky recommend customers will need a minimum broadband speed of at least 25Mb per second to watch Sky Glass, and at least 30Mb per second for any Ultra HD content.
---
Sky Glass specifications
The main specifications of Sky Glass are:
| | Sky Glass |
| --- | --- |
| Display | UHD Quantum Dot |
| Resolution | 3840 x 2160 |
| HDR | Dolby Vision HDR 10, HLG |
| Speakers | 6 with Dolby 3.1.2 output |
| Sound output | Up to 215W |
| Voice control | Far-field voice detection |
| Ports | 3 x HDMI 2.1, USB C for power |
| Bluetooth | Remote control only |
| Connectivity | WiFi or Ethernet |
Sky Glass also includes advanced features such as the eco-friendly ambient light sensor and auto-standby when no motion is detected in the room. This means the set can also wake up when someone enters the room too.
Sizes
Customers can choose to buy Sky Glass in one of three sizes:
43-inches
55-inches
65-inches
These sizing choices should be good enough for most households, even if some customers might prefer a smaller option for a second room.
A multiscreen option is available with Sky Glass, known as Whole Home, which offers devices called Sky Stream Pucks to connect additional non-Glass TVs to the Sky service. We look at this in more detail below.
Colours
There are five frame colour choices available for Sky Glass:
Ceramic white
Anthracite black
Racing green
Ocean blue
Dusky pink
All colour options are available in the three different sizes, although availability may vary.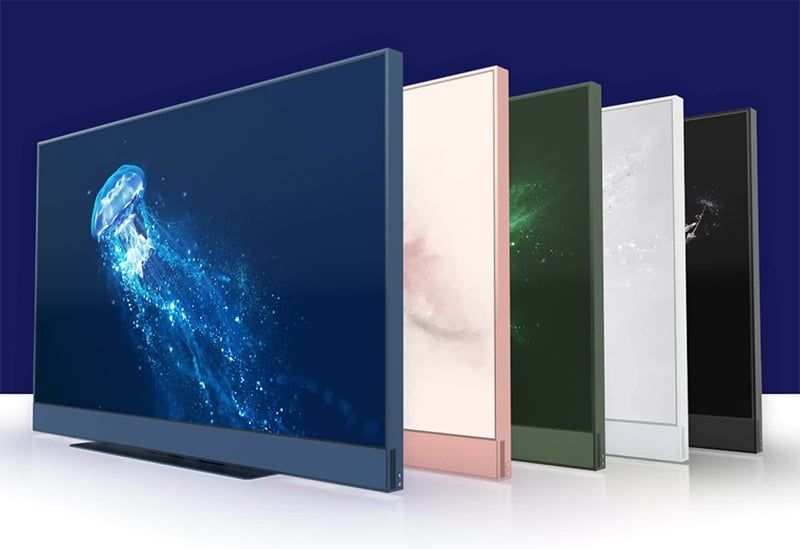 One thing to note about the colour choices is that they're all stylishly muted and even the dusky pink frame won't detract from what's on the screen itself.
At the same time, it's nice to be able to choose options that go with a home's colour scheme and a customer's personal preferences too.
Energy efficiency
There's one further thing to note about Sky Glass's specifications that might interest homes trying to improve their energy efficiency.
Simply put, Sky Glass isn't hugely eco-friendly and has poor energy efficiency ratings on the A - G ranking scale.
| Size | Energy efficiency rating |
| --- | --- |
| Small (43-inches) | G |
| Medium (55-inches) | F |
| Large (65-inches) | E |
However, Sky do say that Sky Glass uses 50% less energy compared to using a TV from a leading manufacturer in the UK along with a Sky Q set-top box and a sound-bar.
They also highlight the fact that Sky Glass is the first TV in the world to be certified as CarbonNeutral by Natural Capital Partners.
Home energy efficiency is a cumulative thing, so if Sky's claims do stand up to scrutiny, Sky Glass could still be a better option than using multiple electrical items together to deliver a similar effect.
---
Sky Glass features
Sky Glass is a new way of watching Sky TV, and it's the first time customers have been able to subscribe to Sky without needing a satellite dish.
There are some benefits to Sky Glass over the standard Sky Q service too, for example, Sky Glass customers get most of the channels in 1080p HD as standard, while Sky Q is still primarily an SD service where customers have to pay an extra £9 to get content in HD.
Sky are also now promoting the Sky Stream service Glass uses over their traditional satellite dish powered Sky Q, which means customers will now find the cheapest prices for premium content on Glass and Stream.
The built-in Sky experience includes the well-known intuitive interface and Sky EPG, as well as voice control that doesn't rely on the remote.
Integrated viewing
The most noticeable feature of Sky Glass is that it integrates three distinct elements of modern TV viewing: the TV, the set-top box and the sound-bar.
Sky Glass brings all these elements together in one unit, getting rid of the extra wires and cables around the unit and - more uniquely - getting rid of the need for a Sky satellite dish outside the home.
Instead, Sky Glass operates via a home's broadband network and allows customers to watch TV using their internet connection rather than via satellite.
It's important to note that Sky Glass can be used with any broadband provider, so customers don't need to be a Sky broadband customer to benefit, although deals for bundling are available to new customers.
The only caveat is that a broadband connection must provide a connection with a minimum download speed of 25Mb, while UHD viewing needs a minimum speed of 30Mb per second.
Ultra HDR and Dolby Atmos
One benefit to Sky Glass over Sky Q is that the TV service is HD by default (excluding Netflix), whereas usual Sky TV requires a £9 monthly pack for any HD viewing.
All customers can enjoy what Sky call Intelligent Zonal Technology to make bright colours look brighter and darks look darker on the HDR display. The 4K UHD Quantum Dot screen has 8.3 million pixels to deliver a sharp picture.
That said, while Sky Glass is built to support 4K Ultra HD, yet customers will only be able to experience it by adding the Sky Ultra HDR and Dolby Atmos pack for £6 a month. It's cheaper than the Sky Q £12 per month fee for UHD, but still feels a little like a hidden charge to experience the full capabilities of the Sky Glass set.
Sky say customers need a minimum broadband connection of 30Mb for the Ultra HDR and Dolby Atmos pack.
In terms of sound then, Sky Glass comes with six speakers and a subwoofer built-in to offer excellent sound quality. Sky compares it to having a sound-bar built into the TV.
Again though, to really experience what the sound system is capable of, customers need to upgrade to the Dolby Atmos pack for £6 a month, where content is optimised and delivered in 360-degree surround sound.
It could be a great add-on for users who want the best sound quality money can buy, providing an immersive sound experience. But considering the price of the TV set it's disappointing this isn't included as standard.
Picture and sound modes
Sky Glass comes with Sky Auto-Enhance to help optimise the picture and sound while users are viewing specific types of content:
Sports mode
Music mode
Movie mode
These modes are designed to help viewers get the most out of their content, meaning music clarity is optimised in Music mode, for example.
Whole Home
Whole Home is the way of getting multiscreen services on Sky Glass.
This service costs an additional £12 per month and includes one Sky Stream Puck for free.
Sky Stream Pucks can be connected to the main Sky account to bring Sky TV to another TV in the house, which doesn't need to be a Sky Glass TV. A maximum of six Pucks can be added in a household, and additional pucks cost £39.95 each.
Customers will need a minimum broadband speed of 30Mb for Whole Home to work, with an additional 5Mb needed for each Puck added.
---
What's missing on Sky Glass?
We've touched above on a few of the negatives of the Sky Glass set. However, we'll look at them more specifically here.
No Freeview
A major bugbear of Sky Glass adopters is the fact Sky have disabled the built-in Freeview receiver except for when there is no Internet connection to the TV.
This means when a customer's broadband connection goes down, they can connect a TV aerial to Sky Glass and watch Freeview. However, as soon as the set has an Internet connection it will stop working.
It is possible to work around this, but neither option is particularly hassle-free.
Customers can either toggle the wi-fi connection to their TV set on and off to enable the Freeview TV to work. Or, they can purchase an external Freeview receiver box and plug this into the TV set via one of the HDMI ports.
For such an expensive TV set people may well feel aggrieved to have access to Freeview limited in this way, and we're not entirely sure why Sky felt this was necessary.
One thing it does do is keep users tied to a Sky subscription, as without one it's not possible to watch Freeview over broadband.
No NOW app
Sky have chosen not to include a NOW TV app on the Sky Glass. It's unsurprising considering Sky Glass is designed specifically for streaming Sky content, which is exactly what the NOW brand does too.
However, it's another way customers are restricted to a Sky TV subscription.
This is the current cost difference between Sky Glass and NOW TV:
| | Sky Glass TV | NOW TV |
| --- | --- | --- |
| Entertainment | £26 | £9.99 |
| Sky Sports | £20 | £34.99 |
| Sky Cinema | £11 | £9.99 |
| Sky Kids | £6 | Included in Entertainment |
| TNT Sports | £28 | Not available |
NOW looks a lot cheaper than Sky on first glances, but it's important to note it's a scaled down version with less channels or access just to on-demand content. Only the Sky Sports and Entertainment packs offer access to live channels.
As with Freeview, it's also possible to work around this by accessing NOW via a smart TV stick or games console. Compatible devices that could be connected to the Sky Glass that support the NOW app include:
Amazon Fire TV Stick
Roku
Chromecast
PlayStation 4 & 5
Xbox One or Series X/S
Apple TV
Read more about Sky TV vs NOW TV.
Fees for UHD and Dolby Atmos
As mentioned above, while Sky Glass offers 4K Ultra HD viewers won't be able to experience this without paying an extra £6 per month. Considering Sky Glass isn't a cheap TV, we'd have expected at least some UHD and Dolby Atmos content to have been included in the base package.
That said, the UHD fee of £6 per month is less than half the cost of viewing Ultra HD content with Sky Q. So, it is arguably discounted.
Improvements
It's worth noting since its launch Sky have already improve the Sky Glass offering, so there's a good chance further improvement will be made and some of the remaining issues may get resolved.
For example, prior to 2022, Sky Glass didn't offer any way to record shows, and customers could only watch either live TV or rely on the catch-up or on-demand apps.
However, that's now been rectified with a cloud storage service added allowing customers to record and store a range of live TV and on-demand content. Sky Glass specifications now list the ability to store 1,000 hours' worth of TV, which is more than six times what the 1TB Sky Q box can store.
---
What content is on Sky Glass?
Sky Glass must be taken with the Sky Stream platform, which is very close to the original Sky Q TV service.
However, there are some differences between Sky Glass and Sky Q, namely:
Sky Stream has fewer channels overall, around 150+, compared to 300+ with Sky Q, although it's the bulk of free-to-air freesat channels that are missing, rather than any premium content
Sky Stream offers content in 1080p HD as standard, while Sky Q customers have to add the HD pack
It's not possible to record to a set-top box like you can with Sky Q, instead Sky Stream offers a cloud base 'Playlist', customers can save a lot more content, but recordings aren't permanent
Sky Stream customers have to pay £5 for the ability to skip ads, while this is included for free with Sky Q
Sky Stream comes with Sky Entertainment & Netflix as standard, which covers over 150 channels including Sky Atlantic, Sky Max, Sky Comedy, and National Geographic.
Netflix Basic is included by default, and Sky customers get free access to Discovery+ Basic as well.
Customers can then customise their Sky Glass viewing experience by adding channel packs including:
Sky Glass customers can choose between an 18-month contract on Sky Stream or a 31-day rolling plan, with the more flexible option costing a little more each month.
In addition, it's possible to take Sky Stream on an 18-month plan, but then add Sky Sports on a 31-day contract.
This gives Sky Glass customers a little more flexibility over Sky Q, although it's really a benefit that works better with Sky Stream Puck due to the limitations of the Sky Glass set without an active Sky subscription.
It's also become the case that Sky Stream is now cheaper than Sky Q, including for additional channel packs, with prices differing by as much as £12 per month on the streaming service.
However, customers should be aware prices could rise after the minimum term on both Sky Glass and Sky Q, unless customers negotiate a new contract.
Sky Entertainment
Sky Entertainment forms the base package for Sky TV or Sky Ultimate TV (which is Entertainment + Netflix).
Its where you'll find one-off entertainment shows and drama series on channels such as:
Sky Atlantic
Sky Max
Sky Comedy
National Geographic
Sky Documentaries
Show Showcase
Sky Witness
Discovery
Sky have their own programming in the form of Sky Originals, many of these shows are exclusive to Sky. This includes shows such as:
Game of Thrones
Westworld
Gangs of London
Chernobyl
Euphoria
House of the Dragon
Sky Atlantic is the main channel for Sky Original dramas and is exclusive to Sky, which means some of these programs can't be accessed anywhere else.
The base Sky TV pack also includes many of the well-known free-to-air channels, such as:
BBC1
BBC2
ITV
Channel 4
Film4
E4
Channel 5
Netflix
Netflix is included for free as standard with Sky Glass, and customers can also choose to upgrade the Basic plan to either Standard or Premium.
Netflix Basic does offer viewing in 1080p HD as standard, but Standard allows customers to watch on more than one device â€" which would be needed for Whole Home subscriptions.
Netflix Premium includes viewing in Ultra HD where available, as well as on up to four devices simultaneously. The costs of Netflix with Sky Glass compared to subscribing directly are currently:
| | Netflix with Sky | Netflix Direct |
| --- | --- | --- |
| Netflix Basic | Included | Not available |
| Netflix Standard | £4 | £10.99 |
| Netflix Premium | £8 | £17.99 |
Netflix Basic is no longer available through Netflix directly, with their cheapest plan now being the Standard (or Basics) with ads plan costing £4.99 per month.
Sky Glass Apps
Sky Glass has 27 app integrations available and continues to add popular apps to the platform.
For example, they added Apple TV+ in December 2021 as part of a deal between Apple and Sky's owner Comcast.
Here are the apps available on Sky Glass at the time of writing:
| | | | | |
| --- | --- | --- | --- | --- |
| Prime Video | Disney+ | Discovery+ | Lionsgate+ | Apple TV+ |
| Paramount+ | Peacock | Peloton | Fiit | YouTube |
| YouTube Kids | PlayWorks | Tastemade | Highbrow | Redbull TV |
| Sky News | GlobalPlayer | XITE | BBC Sounds | RadioPlayer |
| Amazon Music | BBC iPlayer | ITVX | All4 | STV |
| My5 | Vevo | Spotify | | |
Sky customers get Discovery+ for free, and those who take the Sky Cinema pack also get Paramount+ included at no extra cost as well.
Sky have some of the widest support for apps in the market, including in comparison to Virgin Media's TV boxes.
While BritBox isn't available, it's possible to add it via Prime Video.
NOW is also notable in its absence, however as Sky want to promote their own TV add-ons, it's highly unlikely NOW would ever be added to Sky Glass or Sky Q.
---
Verdict: Is Sky Glass worth it?
Sky Glass isn't a straightforward replacement for Sky Q. Instead, it offers something we haven't previously seen from Sky - an integrated Sky TV service that dispenses with the satellite dish and runs solely via a broadband connection.
For many customers, not being forced to take a satellite dish will be reason enough to sign up to Sky Glass and there are other great features too such as the HDR screen offering an excellent viewing experience and integration with Dolby Atmos delivers stunning sound quality.
What we like most about Sky Glass:
Uniquely designed QLED TV set that neatly combines a TV, TV box and soundbar
Access to Sky TV content without the need for a dish
Innovative features such as Playlist with cloud storage for recordings and full voice control
The ability to create a home entertainment system using Sky Pucks is useful too, although the upfront costs of Whole Home can be expensive.
In fact, that's one of the main issues with Sky Glass - the cost.
Even if customers take a 48-month interest-free loan (and this is subject to a credit check), they're still left paying an extra chunk of money out each month for a new TV. If this is something they would be doing anyway, it might not be so bad, but upgrading mainly to get the latest Sky product is harsh on the wallet.
What potential buyers need to consider as drawbacks:
Reliance on a Sky TV subscription to watch Sky content as well as free-to-air channels
Additional monthly charges for Ultra HD and Dolby Atmos content, as well as to remove advertising
There's also the issue that customers are essentially locking themselves into Sky's ecosystem and are at the mercy of any price rises Sky decides to implement on their TV plan.
It could be said that many customers are at Sky's mercy anyway since the only provider with a comparable TV service, Virgin Media TV, doesn't have the network coverage available to Sky Glass, but it's worth bearing in mind.
Ultimately, Sky Glass is a niche product aimed at modern viewers who want to stream Sky content. For those looking at ditching the satellite dish permanently, it could be an excellent option. However, those on a budget should look first to Sky Stream Puck's standalone service, which offers the same TV content on your existing TV set.