Sky have increased the price of Sky Q for new customers to £31 per month, £5 more than for Sky Stream.
Sky Q is now priced at £31 per month for the first 18 months, and then £36, while Sky Stream is available from just £26 per month on a similar 18-month contract.
While Sky Stream comes in HD as standard, Sky Q customers have to pay an additional £8 per month, making a like-for-like comparison £13 more expensive.
While satellite agreements have been signed by Sky up until at least 2028, the provider seems set on moving customers over to its streaming platform.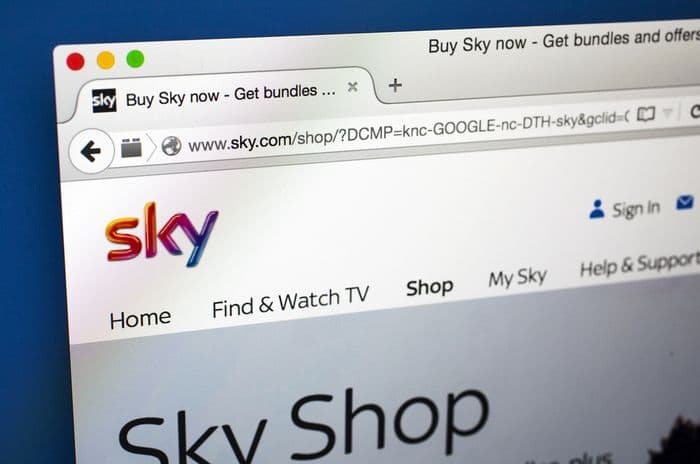 Credit: chrisdorney/Shutterstock.com
Sky Q price rises
While Sky signed an agreement with satellite operator SES in 2022 to enable them to continue broadcasting via satellite until at least 2028, there were also rumours new dish installations would soon come to an end.
Sky denied these claims however, but they have been gradually moving customers towards their newer Sky Stream service by increasing the price of Sky Q for new customers.
As recently as April 2023, Sky Q was available to new customers for as little as £23 per month with Sky TV and Netflix included.
However, the package is now listed on Sky's website for £31 per month, reverting to £36 per month after the 18-month minimum term. In comparison, Sky Stream costs just £26 per month on an 18-month term.
In addition, while Sky Stream is delivered in full 1080p HD as standard, Sky Q is still SD by default, with customers having to pay an extra £8-£9 per month for HD viewing.
That makes a like-for-like comparison between Sky Q and Sky Stream £13 more per month, with new Sky Q customers having to pay a premium to remain on a dish-based service.
Premium channel packs are also more expensive on Sky Q, with Sky Sports costing £34 per month at the end of the minimum term, compared to just £25 per month on Stream. Sky Cinema is also cheaper with Stream, at just £11 per month compared to £12 for 18 months, and then £19 per month with Sky Q.
Sky Stream
Quickly becoming the provider's mainstay of pay TV promotion, Sky's new streaming platform has only been available as a standalone service separate to Sky Glass since October 2022.
However, it could be argued they're slightly playing catch-up, as Virgin Stream launched much earlier in the year in April 2022, and other providers like TalkTalk and BT moved to streaming services in 2021 and 2020 respectively.
Sky Stream is delivered entirely over a customer's broadband connection, and setup and installation are engineer-free with customers simply needing to plug the device in.
That's set to save Sky a lot of money, with media analysts Enders previously suggesting the move from satellite to streaming could save the provider £100 million in costs each year. The device is also driving Sky's ambition to reach net zero by 2030, providing a much more energy efficient way to watch Sky than the Sky Q box.
Sky Stream is also arguably more attractive to younger customers who've been found in research commissioned by Ofcom to express a strong preference for on-demand content, with customers moving away from linear viewing.
Sky's future
It's interesting to note that Sky Stream as a service is much more similar to Sky-owned NOW TV, albeit with more content and features.
However, Ofcom's Media Nations report 2022, found NOW has consistently struggled to gain growth over other subscription on-demand services, with customer numbers actually falling over 2021 by 220,000 customers to just 7% of UK homes.
Sky themselves also face an increasing challenge from on-demand services, with content owners including Disney and Paramount moving their content away from Sky channels onto their own streaming platforms.
Paramount has already moved series like Yellowjackets from Sky Atlantic to Paramount+, while HBO are planning to move content rights to programmes like Game of Thrones from Sky to their own streaming platform when their current agreement ends in 2025.
Sky do create their own content, including over 200 Sky Originals in 2022 alone, yet the streaming market is becoming increasingly fractured with more individual apps becoming available.
While Sky Stream looks set to provide both Sky and their customers greater value for money through a range of Sky TV deals, it's clear the provider has a new set of challenges ahead of them.