BT have replaced most of their traditional packages with new flexible ones based on Now TV passes and a selection of bolt-ons.
With contract lengths of 24 months, customers will now be able to add and remove packages on a month-by-month basis to better serve modern lifestyles.
At the same time, it was announced BT Sport will be offered directly to Sky customers for the first time, and Sky have combined that channel into new packages too.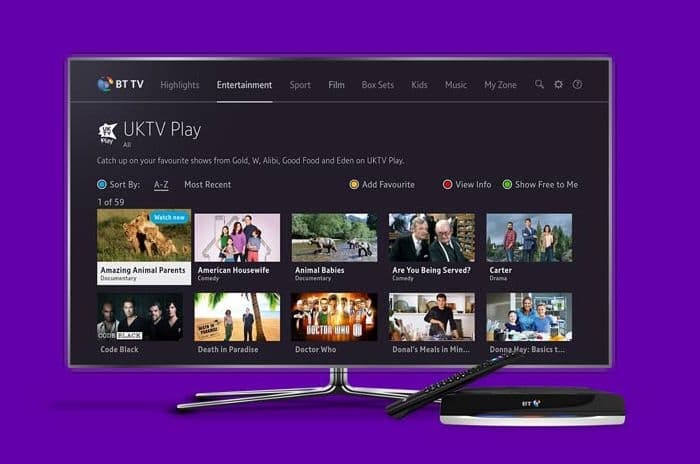 BT TV revamp
Under the shake-up, BT TV now offers five specific TV packages alongside their Classic Entertainment one. All these come with BT's exclusive AMC channel as standard:
Entertainment - Premium channels and over 300 box sets on demand with Now TV Entertainment Pass for £10 per month
Big Entertainment - As above with Sky Cinema Pass including over 1,000 movies on demand and Sky Cinema channels for £20 per month
Sport - All 4 BT Sport channels for £15 per month
Big Sport - As above with all 11 Sky Sports channels included in the Now TV Sports Pass for £40 per month
VIP - All content from Big Entertainment and Big Sport with access to BT Sport Ultimate in 4K HDR for £60 per month
Once a customer chooses a base package on a 24-month contract, they can add various extras including adding additional Now TV passes and others including:
Amazon Prime Video for £5.99 per month (after six months free)
BT Sport for £15 per month
HD and 4K for £5 per month
BT TV Kids for £5 per month
Customers can also watch BT TV in another room for an extra £5 per month. See all BT TV and broadband deals.
App controlled
These flexible packages all come with BT TV's set-top box allowing for pausing, rewinding and recording of shows. Plus, all the Now TV content is integrated into the box, making the service straightforward to use.
Flexibility is the key point in these new packages, especially the option to add and remove elements on a month by month basis. It's a response to the shifting nature of TV viewing that puts control in the viewer's hands.
In a similar move, Sky integrated Netflix into their Ultimate on Demand service in November 2018, although they maintained their own extensive channel options.
With the base contract for all BT TV packages set at 24 months, it is a long-term commitment, just with the added benefit of being able to tweak the package as you go along with control through the app rather than having to speak to someone.
One thing to note - BT's Classic Entertainment package for £10 per month can't be upgraded or downgraded with Now TV pass content, although Netflix, Amazon Prime Video, BT Sport and BT Kids can still be added as extras.
BT Sport on Sky
The other major announcement is that BT Sport is now available on Sky for the first time to coincide with the Now TV deal.
These are the three extra deals offered by Sky TV:
Sky Sports and BT Sport - £35 per month alongside Sky TV subscription for all sports channels from both suites
Sky Sports and BT Sport plus Sky Entertainment - £47 for all sports channels plus 40 catch up channels and 300 Sky TV channels
BT Sport - £25 per month bolt-on to add BT Sport to an existing Sky TV package
As this is the first time BT Sport has been made available on Sky TV, it's a huge leap for sports fan contracted to Sky yet missing out on the fixtures offered by BT Sport.
It comes months after BT launched their BT Sport Monthly Pass (also for £25) which allows customers instant and flexible access to BT Sport and BT Sport Ultimate.
The new deal between BT and Sky for this content mirrors the continuing deal between Sky and Virgin Media to offer content to their respective customers.