Sky Stream offers the most affordable way to watch Sky TV and Netflix, offering 120 channels and the option of a 30-day term.
Sky Stream is Sky's most affordable TV package yet, offering both ease of installation and the option of a flexible monthly contract.
It includes Sky TV with 120 channels, including their flagship Sky Atlantic channel, alongside Netflix Basic, which has recently been boosted to HD.
Monthly plans cost from £26 per month, and customers can add both premium Sky add-ons like Sky Sports and Sky Cinema, as well as access a range of on-demand apps from Disney+, Prime Video, Apple TV+, Peacock and Fiit.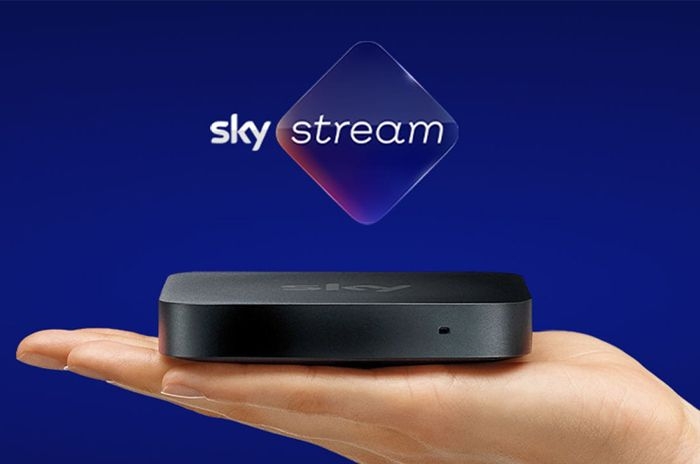 Sky Stream
For the first time UK customers will be able to access the Sky TV platform via a low-cost streaming device with no need for a satellite dish or a Sky Glass set.
Sky Stream uses the Sky Glass platform to deliver Sky's premium content over a broadband connection. The service has less channels than Sky's Q service, but still boasts over 120 channels, including Sky's exclusive Sky Atlantic channel, which shows Sky Originals like House of the Dragon, Gangs of London and Game of Thrones.
Sky's streaming service was pioneered with the Sky Glass TV set, but it's so far come with a high barrier to entry due to the requirement to purchase a high-end TV costing from £650, which many people either can't afford or simply don't want.
While Sky Glass will remain available, Sky Stream opens the door as an affordable way for people to access Sky's TV platform without the requirement of a satellite dish.
Sky Stream also offers great flexibility in that customers can subscribe from just 30-days at a time, such as over the holidays, allowing them to access Sky's content without a long-term commitment.
Sky Stream is similar to the Pucks provided with Sky Glass to create a multiroom experience, and requires just a power supply and HDMI connection to a standard TV set. The device has a built-in WiFi receiver to connect to a home's broadband connection, which needs to be at least 10Mb.
Sky Ultimate TV and Netflix
Sky Stream will launch with the option of either a 30-day or 18-month minimum term. Both options are based on Sky's Ultimate TV package that includes the Netflix Basic plan.
Netflix has recently boosted their Basic plan to 720p HD as standard, making it much more attractive for people watching on a larger screen, like a main TV.
The two plan options for Sky Stream are:
30-day minimum term at £29 per month, plus a £39.95 set up fee
18-month minimum term at £26 per month, plus a £20 set up fee
Sky say there's no need for an engineer installation and the Sky Stream box will be sent out with next day delivery so customers can get up and running almost immediately.
It's possible to upgrade Sky Stream to a multiroom service, with the Whole Home pack costing £12 extra per month, which allows up to five additional Stream devices around a home.
Customers can choose from the usual Sky TV premium add-ons including Sky Cinema with Paramount+, Sky Sports, BT Sport, Disney+, and the Kids TV pack.
In addition, the Sky Stream device also supports the same range of on-demand apps as the Sky Q box and Sky Glass set. Including iPlayer, ITV Hub, All4, Youtube, Apple TV+, Prime Video, Peacock, Discovery+, Peleton and Fiit.
Sky vs Virgin
Sky Stream launches just six months after Virgin Media launched their own 'Stream TV' service.
Virgin Stream is a very similar device, but works somewhat differently to Sky Stream, coming without a monthly subscription fee or any base TV channels. Instead, Virgin Stream allows customers to choose from a range of add-ons, including Essential Entertainment costing £12 per month, which includes channels like Sky Max, Comedy Central and Alibi.
While Virgin Stream looks cheaper at first glances, it could work out more expensive if people specifically want to watch premium add-ons like Sky Sports and Sky Cinema. Ultimately, and in keeping with their main services, Sky Stream beats Virgin Stream for range of content, yet Virgin Stream will sometimes work out cheaper.
In addition, one of the biggest differences between Sky Stream and Virgin Stream, is Sky's service is independent of any broadband connection, while Virgin Stream is only available to Virgin broadband customers.
As a result, Sky may well get a boost in sign-ups as customers don't need to also switch their broadband service. However, it'll be interesting to see what offers do become available for those willing to bundle Sky Stream with Sky broadband.
Sky Stream will also become a closer to rival to the Sky-owned NOW TV service, which has so far been the only low-cost way of watching premium Sky content like House of the Dragon and Game of Thrones.