Virgin's latest 360 box offers a voice activated remote control and an updated TV guide, which combines content from several sources in one place.
Feature improvements are mostly around user experience, with the ability to start a live programme from the beginning, and multiple profiles with personalisation.
TV 360 is bundled for all new customers, or those with older boxes can upgrade for free with a new contract.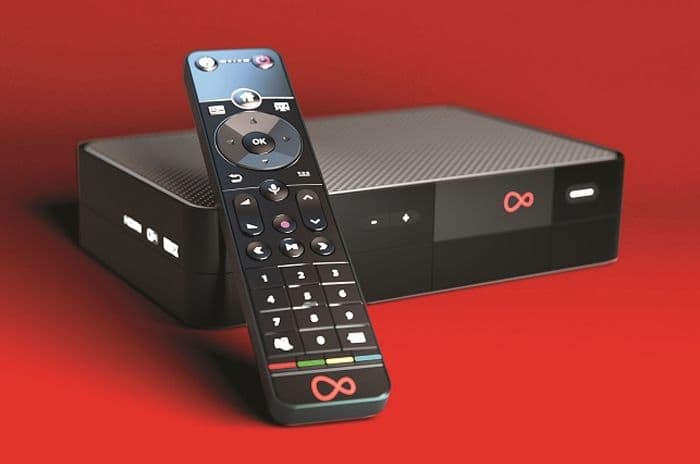 ---
At a glance
| | Virgin 360 Box |
| --- | --- |
| Storage | 1TB |
| Recordings | 500 hours SD / 100 hours HD |
| Tuners | 6 (Record 6 channels simultaneously) |
| Resolution | Up to 2160p Ultra HD |
| Multiscreen | Up to 2 mini boxes |
| Remote | Voice control |
| App support | Netflix, Prime Video, Disney+, Paramount+, Lionsgate+, Youtube, BBC iPlayer, ITVX, All4 |
| Setup price | £35 |
| Pros | Cons |
| --- | --- |
| Improved user experience | No technological leaps |
| Voice control remote | Still a wired connection |
| Multiple personalised profiles | |
| Better Virgin TV Go integration | |
Latest offers
Offer
Terms

Get this offer

£50 bill credit with Virgin M125 broadband, just £26.50/mth

Hurry! Offer ends 14 December 2023

18 month minimum term. No setup fee. £49/mth after 18 months.

Get this offer

Get this offer

Virgin Media Bigger Sports Combo HD Bundle just £62 a month with free setup (worth £35)

18 month minimum term. No set up fee. £137/mth after 18 months.

Get this offer
---
What does the Virgin 360 box offer?
Launched in November 2020, the Virgin 360 box is the latest set-top box for customers taking Virgin Media's cable TV service.
All new customers signing up to Virgin Media TV will now get the 360 box, and existing customers with either the V6 or TiVo box can choose to upgrade.
TV 360 brings Ultra HD 4K viewing to Virgin customers for the first time, along with a voice controlled remote and additional guide features including Startover to watch a live TV programme from the beginning, and the ability to create multiple profiles with personalised viewing histories and recommendations.
Main features of the Virgin 360 box include:
1TB storage capacity for recordings
Up to six simultaneous recordings
Ultra HD ready
Voice controlled remote, including voice search
Personalised profiles for each family member
Startover to watch live programmes from the beginning
Improved integration with the Virgin TV Go app
Improvements over the V6 box
The Virgin 360 box utilises the same hardware as the previous V6 box, despite the boxes being made by different manufacturers.
Many of the technical features are the same, which also means customers with the V6 box can apply a firmware update to upgrade the box to the latest 360 platform without actually getting a new box.
Similarities between the 360 and V6 boxes include:
1TB hard disk for storage
Ultra HD ready
Six simultaneous recordings
1 x HDMI 2.0 connection to TV
1 x Ethernet port for wired Internet
Optical audio out and 3.5mm jack out
Up to 2 extra mini boxes support with Multiscreen
Largely similar on-demand app support
Indeed, the 360 and V6 boxes look largely the same too. So, the upgrade to the Virgin 360 box is much more about software features and user experience.
The ability to create a Personal Profile for each user is much the same as how streaming services like Netflix work.
The voice control remote, which can also be paired with an updated V6 box, allows for voice searches as well as control over playback, although this too can be found elsewhere as the Sky Q box also has a voice remote.
However, as you can see from the table below, the greatest leaps in features came when Virgin Media upgraded customers from the TiVo box to the V6 box back in December 2016.
| | TV 360 | V6 | TiVo |
| --- | --- | --- | --- |
| Storage capacity | 1TB | 1TB | 500GB |
| UHD ready | Yes | Yes | No |
| Number of simultaneous recordings | 6 | 6 | 3 |
| View recordings on TV Go app | Yes | Yes | No |
| Restart live TV (Startover) | Yes | No | No |
| Create multiple profiles | Yes | No | No |
| Voice control | Yes | No | No |
Overall, Virgin TV 360 is more an evolution than a revolution - but the new features do enhance the viewing experience.
---
Virgin 360 box prices
New customers will get the Virgin 360 box included with any broadband and TV bundle, from the Big Bundle up.
While there is no cost to pay for the box itself, customers will usually have to pay a £35 setup fee for the service, although this is often waived under special offers.
Existing customers can upgrade to the 360 box for £24.95 if they have a V6 box, or for £49.95 if they have a TiVo box. However, discounts apply for those willing to sign a new contract.
Here are the full pricing details:
| | New customers | V6 customers | Tivo customers |
| --- | --- | --- | --- |
| With new contract | £35 | Free | £24.95 |
| Without new contract | N/a | £24.95 | £49.95 |
Existing customers with a V6 box will get an over the air upgrade of their existing box, plus a new voice controlled 360 remote sent out in the post. TiVo customers are charged more because they'll need a full box swap.
---
Virgin TV packages
Virgin TV is only available to people who also subscribe to Virgin broadband, and is sold in a range of pre-made bundles, including:
Package
TV
Broadband
Monthly price
Upfront price
Contract term
Big bundle + Drama & Docs
145
264Mb average
£37.99
Free
18 months
Offer: No setup fee (was £35)
Bigger Combo bundle
190
264Mb average
£39.50
Free
18 months
Offer: No setup fee (was £35)
Biggest Combo bundle
210
132Mb average
£79
Free
18 months
Offer: No setup fee (was £35)
Mega Volt bundle
230
516Mb average
£85
Free
18 months
Offer: No setup fee (was £35) + O2 mobile SIM with Unlimited data, minutes and texts
Virgin Media's pricing is competitive, especially when we look at what is included. Customers can choose from a range of ultrafast broadband speeds, up to their fastest Gig1 package with average download speeds of 1.13Gb per second.
In addition, great value for money can be found with Volt bundles, which boost broadband speed and bundle an O2 mobile plan.
While pay TV rivals Sky and BT are also rolling out gigabit-capable broadband, Virgin Media's network remains the most widely available.
---
Virgin 360 box features
Virgin TV 360 builds on the features offered by the V6 to deliver more to customers from the comfort of their sofas or, thanks to Virgin TV Go, while they're on the move too.
The best new feature of the Virgin 360 box is arguably the voice activated remote, but let's look at each of the improvements in turn.
Startover
The Startover feature is a new addition for the Virgin 360 box. While it's a small feature, it's one worth knowing about.
It allows customers to skip back to the beginning of live programmes, even if they have already started.
So, although many shows will be available via catch-up services, it's a great option if a user tunes in late to a programme that's already started but wants to watch it from the start.
Personalised profiles
The Personal Profile function is an evolution of the intelligent recommendations seen on the V6.
Customers can create up to six Personal Profiles for their household, allowing each user to develop their own watch lists, received recommendations, start programmes from where they left off or access their favourite channels.
It also remembers settings such as menu and audio language or subtitle settings for ease of use.
There is a button on the side of the 360 remote to create and manage profiles, and these profiles don't have to be used for an individual - they could be used as family or couple profiles when watching together, to keep viewing separate from an individual's profile.
Voice search and control
One of the flagship figures of Virgin 360 box is the new Voice Search and Control feature available via the 360 remote.
Once the microphone button is pressed on the remote, a customer can direct the box to undertake tasks without needing to press another button. For example, they could:
Find programmes on live TV or box sets
Quickly access Catch Up
Open apps like Netflix
Set recordings
Fast forward or rewind
Turn on subtitles
Return to the Home menu
Turn the 360 box off
The new remote is very much geared around this microphone button, and it's less cluttered than its predecessor.
Yet that does result in extra button presses for customers who prefer to press rather than speak. For instance, it takes up to four button presses to access subtitles rather than just using the voice app to access them.
There's also no dedicated button to stop playback on the remote, with customers using the Back button instead.
One handy feature however is if a customer misplaces the remote they can press a button on the 360 box which will help them find it by triggering a long beep.
Integrated apps
Virgin TV 360 allows customers to access extra content through free-to-air and subscription apps available on the box.
Some of these come pre-loaded while others can be downloaded via the platform. It gives customers access to content from the likes of:
Netflix
Prime Video
Disney+
Paramount+
Lionsgate+
MTV Play
Pluto TV
YouTube
BBC iPlayer
ITVX
All4
My5
BBC Sounds
Paramount+ is the most recent addition, going live in May 2023 after Virgin signed a deal with Paramount back in November 2022.
There are some notable exceptions however, with no support for NOW or Discovery+, despite being offered for free by Sky TV and with the BT Sport pack on BT TV.
While many of these require additional subscriptions, some like Netflix offer integrated billing too.
This means customers who sign up to Netflix through their Virgin 360 box will be billed for their Netflix subscription through their Virgin bill. Existing Netflix customers should be able to transfer their existing account settings to Virgin, although it's already been confirmed some of the new account sharing features won't be supported.
Customers can also access the Virgin Media Store to purchase new TV series and movies directly through their 360 box, which is the only way they can watch shows from Sky Atlantic, like Game of Thrones and House of the Dragon.
Pause, rewind and record
Customers with a Virgin 360 box can record up to six programmes at once while watching another pre-recorded programme or something on an app.
This is in line with the V6, so it's a standard feature Virgin TV customers will be used to by now.
It's worth reiterating the seventh programme being viewed must be either something previously recorded or through an app like Netflix. It can't be on a seventh live channel to the other six being recorded.
In practice, few households are going to record six programmes at once and watch something else at the same time. On the rare occasions where it might be an issue, there are Catch Up functions on the Guide (see below) or individual apps for many channels.
As we mentioned above, the storage capacity of the Virgin 360 box is 1TB. This allows customers to record around 500 hours of standard definition (SD) content or 100 hours of high definition (HD) content.
TV 360 Guide
The Virgin TV 360 platform has a Home feature where customers access their channels, apps and saved content. There's also a direct link to the Virgin Media Store.
The TV Guide itself is designed to be easier to navigate than ever before, and it can also be used in conjunction with the voice remote to go forward a day or go down to the next set of channels.
Filters are available on the Guide to help users find exactly what they're looking for, with a HD filter available if customers just want to search through their subscribed HD channels.
Overall, the Guide is easy to navigate and works well with the voice remote for customers who want to navigate using their voice.
Catch Up
Catch Up allows customers to quickly access recent content from their subscription channels through their 360 box.
This service can be accessed either through voice control or navigating via the Home button on the remote. This brings up several options:
Search
Trending
Channels
Last 7 Days
All
Genres
Be aware, not all shows are available on Catch Up, and the ones that come up through the Catch Up menu are included in a customer's subscription and able to be viewed.
Catch Up was an option on the V6 box too, but Virgin TV 360 brings voice control into the mix.
4K viewing
Virgin TV 360 boxes are 4K and HDR-ready, ensuring customers with compatible TVs can watch their subscription content in HD or UHD (where available).
This counts for the Mini boxes too, so there can essentially be up to three UHD hubs in a household if the accompanying technology is there.
Ultra HD content is still fairly limited however. Virgin Media Bigger Bundle and up customers will get the Virgin TV 4K Ultra HD and BT Sport Ultimate channels included, and it's now possible to subscribe to Sky Sports Ultra HD for an extra £7 on top of the Sky Sports HD pack.
Customers can also pay extra to add Ultra HD content for Sky Entertainment and Sky Cinema channels if they're included in a customer's bundle.
Read more about Ultra HD.
---
Virgin TV Go with TV 360
Virgin TV Go has been revamped to be used alongside the new Virgin TV 360 platform.
The app can be downloaded from the App Store or Google Play and it offers:
Live access to over 100 selected live channels
Ability to watch box sets on the move
Ability to download selected shows to watch offline
Create a watchlist of on demand shows
Switch from device to main TV using Watch on TV feature
Option to sign into a Personal Profile to receive personalised recommendations on the move
Up to five devices can be registered on Virgin TV Go from a household, but only two devices can be watched at a time.
Bear in mind there are limitations to Virgin TV Go such as the fact that Sky Sports subscription content must be viewed through the Sky Sports app rather than the Virgin one.
---
Frequently Asked Questions
Can you get multiroom with Virgin TV 360?
Virgin TV 360 brings UHD multiroom to homes starting from £10 per month.
Customers can add two Mini boxes to their contract, with the first costing £10 per month and the second costing £5 per month.
So, a comprehensive multiroom service with two Mini boxes alongside a 360 box will cost £15 extra per month.
Learn more about multiroom services from different providers.
How do you upgrade from the V6 or TiVo?
Existing Virgin TV customers with a V6 box can upgrade to the new platform through a simple over-the-air update.
This costs £24.95 and the customer will receive a new 360 remote through the post. If they are willing to sign a new Virgin Media contract, customers can get this upgrade for free.
If a customer has an older TiVo box, the costs for upgrading to Virgin TV 360 is £49.95, lowered to £24.95 if a customer is willing to recontract. The extra cost here comes from the fact customers will need an entirely new box rather than just an update.
Is Series Link available on TV 360?
The Series Link+ feature has now been added to the Virgin TV 360 platform.
It allows customers to record their favourite shows whenever and wherever they are available, saving them into a dedicated folder.
There are customisation options such as:
Whether to record new episodes or all episodes
Whether to record episodes only on a specific channel
When to start and stop recording
When to keep the recordings until
Series Link+ is a handy feature for some users and can be accessed while a show is playing, via the Guide or via the Home button.
Can you watch Disney+ on Virgin TV 360?
Yes, Disney+ is now available on Virgin TV 360.
When the TV 360 first launched, Disney+ was notably missing from the app line-up, and it took over 18 months for the streaming service to become available on the Virgin platform.
Customers will need a separate Disney+ subscription - it's not possible to sign up to the service through the TV 360 box or to pay on one bill.
---
Verdict: Is the Virgin 360 box any good?
Virgin's 360 box is a worthy follow-up to the company's popular V6 box, although one that focuses on the user experience rather than huge technological leaps.
The feature Virgin Media are keenest to shout about is the new remote with voice search and control. This is undoubtedly appealing to many customers, allowing them to navigate menus and undertake everyday tasks without needing to press a button.
Yet the other tweaks to the user experience are more likely to benefit customers on a daily basis. For example, we like:
The uncluttered Guide
All apps being in an easily accessible location
Personal Profiles for individual control
Startover feature to skip back to the beginning of programmes
Overall, Virgin TV 360 is a sleek way of watching TV and managing connected apps that helps position Virgin Media as the only real rival to Sky TV and their Sky Q platform.
Yet if customers don't want the full-service TV packages offered alongside the Virgin TV 360 box, there's now another option - Virgin Stream.
As the name suggests, Stream is a set-top box focused on streaming services and modular content subscriptions, with a sleek interface that matches the TV 360 but with cloud-based recording capabilities.