New and existing Virgin Media TV customers can now add Sky Sports in Ultra High Definition and HDR to their viewing line-up.
Previously only available to subscribers in HD, Virgin Media customers can now boost Sky Sports to Ultra HD and HDR viewing for just £7 per month.
The add-on is available to both new and existing Virgin Media TV customers, although they'll need a 4K or HDR compatible TV to experience the higher definition.
This upgrade to Virgin Media TV brings its Sky Sports offerings in line with Sky themselves, who charge customers £12 for Ultra HD viewing.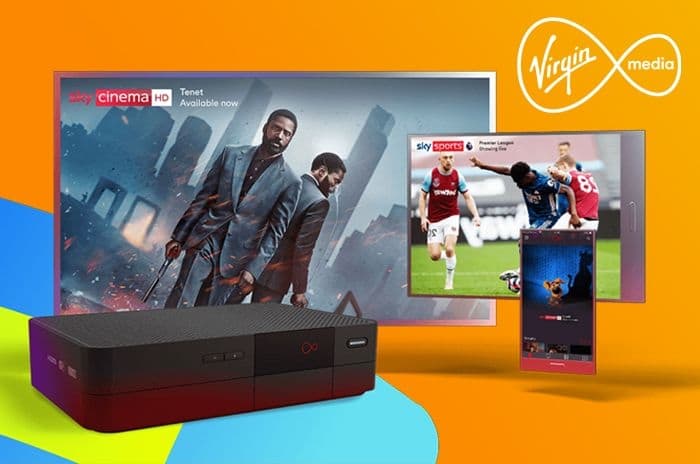 Sky Sports Ultra HD
The Ultra HD add-on for Sky Sports will be sold as an extra, costing customers £7 per month.
In addition, they'll also need a Sky Sports HD subscription which costs £38.75 per month, or comes included in the Ultimate Volt Bundle.
Customers with Sky Sports in SD on Virgin Media, including Bigger Bundle + Sports customers, will need to first upgrade to the HD pack for £7. So, the UHD upgrade would effectively cost £14 extra.
The new Sky Sports Ultra HD channels include:
Sky Sports Main Event Ultra HD, channel 532
Sky Sports Ultra HD 1, channel 533
Sky Sports Ultra HD 2, channel 534
The Sky Sports UHD pack also comes with Dolby Atmos sound.
While Virgin Media TV contracts usually run for 18-months, the premium channel add-ons, including the Ultra HD upgrade to Sky Sports is available on 30 day rolling terms, with just 30 days' notice required to cancel any extra packs.
Find more of the cheapest ways to get Sky Sports here.
Ultra HD compatibility
Customers wanting to upgrade to the Sky Sports Ultra HD viewing pack should ensure their equipment is 4K compatible first.
Viewers will need a V6 or Virgin TV 360 box and a 4K compatible TV with HDCP 2.2.
4K resolution offers an increase resolution of 3840 x 2160 pixels, which is up to four times the clarity of standard HD content, at 1920 x 1080 pixels.
Customers can also choose to boost Sky Entertainment and Sky Cinema channels to Ultra HD for an extra £6 per month.
Virgin Media vs Sky
The latest upgrade for Virgin Media TV customers brings Virgin closer to rival Sky for unparalleled viewing options, making the choice between Virgin and Sky harder than ever.
In November 2022, Virgin Media announced they had signed a deal to bring Paramount+ to Virgin TV in 2023, which has so far only been available through Sky, where they included it for free in their Sky Cinema pack.
Virgin Media customers on the budget Big Bundle also got a number of channels boosted to HD for free in January 2023.
While Sky Sports is still cheaper as an add-on for Sky TV customers costing just £20 per month for the channel pack in HD, customers need to pay a further £12 for Ultra HD.
And when we've considered initial TV pack costs, and equivalent broadband bundles, Virgin Media usually works out cheaper than Sky for premium channel packs.
Read more in our head-to-head guide to Sky vs Virgin Media.