Virgin Media TV customers will be getting up to 14 channels boosted to HD at no extra cost from this week.
Virgin Media customers on the Mix TV package will have 14 existing channels boosted to High Definition, while customers on Player or Mixit packages will get 7 channels boosted.
The upgrade will be implemented automatically and won't cost any extra, although Virgin Media have recently announced a round of annual price rises of 13.8% on average.
TV channels being boosted to HD include National Geographic, Sky Comedy, Sky Arts, ITVBe, and Film 4, among others.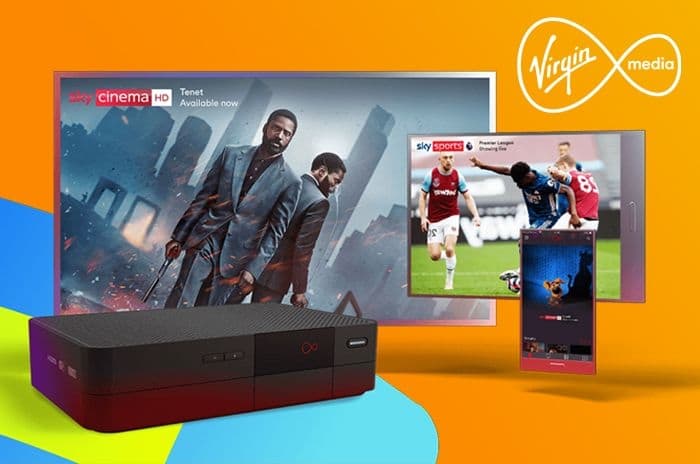 Virgin Media HD TV boost
Virgin Media will be upgrading up to 14 channels to high definition for both new and existing customers on their TV plans from this week.
Extra channels made available for Player and Mixit TV customers include:
Film4 HD
More4 HD
E4 HD
ITVBe HD
ITV2 HD
ITV3 HD
ITV4 HD
While, customers on the Mix TV package will get the following channels in HD:
E! HD
Sky Arts HD
Sky Comedy HD
Sky Crime HD
Sky Documentaries HD
Sky Max HD
Sky Nature HD
Sky News HD
Sky Showcase HD
Sky Sports Mix HD
Sky Sports News HD
Sky Witness HD
Sky Sci-Fi HD
National Geographic HD
While Player and Mix are no longer available to new customers, the Big Bundle includes the Mixit TV plan and so customers signing up to a Big Bundle deal will now benefit from these extra 7 channels in HD.
80 free fitness classes
The HD upgrade comes just weeks after Virgin Media announced they would be adding 80 free fitness classes to their On Demand service available on all boxes including TV360, V6, TiVo and Stream.
The fitness classes are provided by Nuffield Health, Fiit, and Fit at Home and cover a range of activities including pilates, weight training, high-intensity interval training, dancing, and stretching.
The classes were added for both new and existing Virgin Media customers at no extra cost at the start of January 2023.
Virgin Media Volt customers can also gain access to free fitness benefits through O2 Priority, including:
A 90-day free Peloton App trial worth £38.97, offering app-based fitness classes
A free Hussle gym Day Pass for over 1000 fitness venues nationwide
Up to 3 months free Apple Fitness, offering app-based workouts and meditations
Free setup offer
For customers looking to sign up to Virgin Media for the first time, the provider is offering free setup across its range of TV and broadband bundle deals, worth a saving of £35.
The free setup deal includes popular packages including the Big Bundle, Bigger Bundle, and Ultimate Volt bundle.
Broadband-only customers can currently get Virgin Media's fastest Gig1 package for just £39.99 a month for 18 months, a saving of over £360 on the usual £60 per month price.
Price rises
While it's good to see Virgin Media adding extra benefits for its existing customer base we've also seen the provider confirm their annual round of price increases will be going ahead in April and May of this year. Customers can expect average price increases of 13.8% across broadband, TV and phone plans.
Currently, it's possible to exit a Virgin Media contract early if the provider increases the price of the service with just 30 days' notice.
However, Virgin Media have also recently announced they'll be introducing contractual price rises of Retail Price Index (RPI) + 3.9% from April 2023. This means, from next year, customers won't be able to leave the provider if they increase their prices.
It's somewhat of a backward move for the provider considering RPI is due to be phased out by 2030 and all other broadband and mobile providers now use the Consumer Price Index (CPI) for their inflationary price rises.