Virgin Media reveal new set top box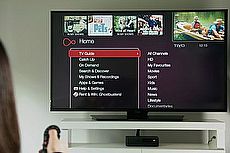 Virgin Media
VIRGIN Media have revealed their latest set top box, boasting ultra HD compatibility, 1TB of storage, and the ability to record up to six different channels at once.
It's half the size of the existing Tivo box but Virgin Media say it's 10 times faster, and it comes with a remote control that uses an RF signal rather than infrared - which means it'll work whatever angle we hold it at.
The V6 runs on the latest version of the Tivo software, making it compatible with existing Virgin Media Tivo boxes, allowing those who want to upgrade to transfer recordings and settings.
Existing customers with the Mix Bundle or higher should be able to upgrade before the end of the year; it'll be available to new customers from January.
Offer
Terms
Get a free 6 month Netflix Subscription with Virgin Media Bundles

Hurry! Offer ends 18 December 2017
12-month contract. £20 activation fee. Excludes the Player Bundle.
TV, broadband and phone bundles from £30 a month
12-month contract. £20 activation fee.
Broadband and phone from £29 a month
12-month contract. £20 activation fee.
Ultra HD and HDR
As well as featuring the kind of features and tricks Virgin Media Tivo customers will already be familiar with, Virgin have made the new box ultra HD compatible and HDR ready.
At present Virgin media subscribers who get one of the new boxes will be limited to being able to watch Netflix and Youtube content in 4KHD, but Virgin are promising more ultra high definition content will follow soon.
The new buzzword is High Dynamic Range (HDR), a phrase which may be familiar to photographers.
Basically, HDR gives us a more realistic image by preserving both the darkest and brightest parts of it, and providing a continual range of shading between them, rather than under- or overexposing part of the image to cope with the light (or lack of it) in another part of the scene.
There's not that much in the way of HDR content at the moment, but it was the feature many TV manufacturers were pushing at this year's CES in Las Vegas.
So the V6 is HDR ready - there's a software update ready and waiting to be downloaded to our set top boxes when broadcasters and content providers start making HDR content available.

Price and availability
When the new V6 box becomes available, most customers will face a one-off upgrade charge of £99.95; new and existing customers with the Full House or VIP bundles will be offered the new box at a reduced rate of £49.95.
As mentioned above, existing triple play customers with all but the Player Bundle should be able to upgrade if they wish before the end of the year - that is, those with the Mix Bundle or higher:
Bundle
TV Channels
Broadband
Phone
Price inc. line rental
Mix Bundle
150+ channels
Up to 100Mb
Talk Weekends
£46
for 12 mths,
then £55
Fun Bundle
190+ channels
Up to 100Mb
Talk Weekends
£49
for 12 mths,
then £57
Full House Bundle
245+ channels
Up to 100Mb
Talk Weekends
£56
for 12 mths,
then £70
VIP Bundle
245+ channels + Sky Cinema + Sky Sports (in HD)
Up to 300Mb
Talk More Anytime (inc. to mobiles and 0845/0870 numbers)
£91
for 12 mths,
then £125
At the moment it doesn't look like it's going to be an upgrade option for those who have just Virgin Media TV, or TV and phone.
New TV customers will be given the option of sticking with the existing Tivo box or getting their hands on the V6 box from January.
Competition beating?
Virgin Media Reviews
Superfast 200Mb reviewed
here
Virgin broadband reviewed
here
Virgin Media TV reviewed
here
Is Virgin available to you?
Check here
The new software and the faster hardware may be key to Virgin convincing some of their existing customers to stick with them: for all the clever features included with the platform, many users have found it slow or unresponsive, and getting worse as both software and hardware struggle to cope with increasing demands.
As if that wasn't enough, there's been extra pressure to update the platform as Virgin's competitors have improved their set top boxes.
The biggest threat to Tivo from Virgin Media appeared in February, when Sky Q was launched - and the threat only grew when Sky announced in October that the 1TB version of the box was to become the standard box for all new Sky TV customers.
Even EE, who we might think represent less of challenge to Virgin, have rolled out a couple of significant updates to their already rather advanced Freeview boxes this year.
In spring this year, they added the ability to download recordings to our devices - several months before the Sky Q app launched with a restricted version of the same service.
More recently, they've released another update that increases the number of channels the EE box can record simultaneously for 24-hour catch-up purposes (up to eight from six) while still allowing viewers to watch or record two other channels as normal.
There's also the significant upgrade being rolled out to Youview, the freemium service provided by BT, TalkTalk and Plusnet, although that's more about improving the user experience than introducing new features.
As far as Virgin Media and Tivo are concerned, though, the new box is a return to the future-facing form of old: more live tuners, as much storage, and more compatible formats than their rivals can boast - with the ability to add more of the first two with additional boxes.
One thing's for certain: we're probably going to need a new TV in order to keep up.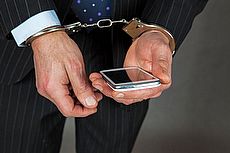 23 November 2017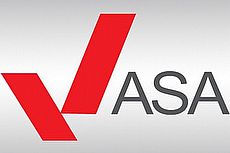 23 November 2017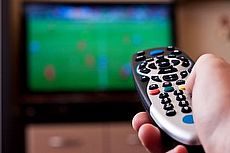 15 November 2017
Follow us or subscribe for FREE updates and special offers