Most broadband deals come with introductory prices for the length of the minimum term, and at the end of this period, prices go up.
Customers then have two choices, either switch away for another new customer offer, or re-contract with their existing provider hopefully for a lower price.
However, the latter option sometimes requires some negotiation and even haggling to get the price you want. Here we'll explain how to do that.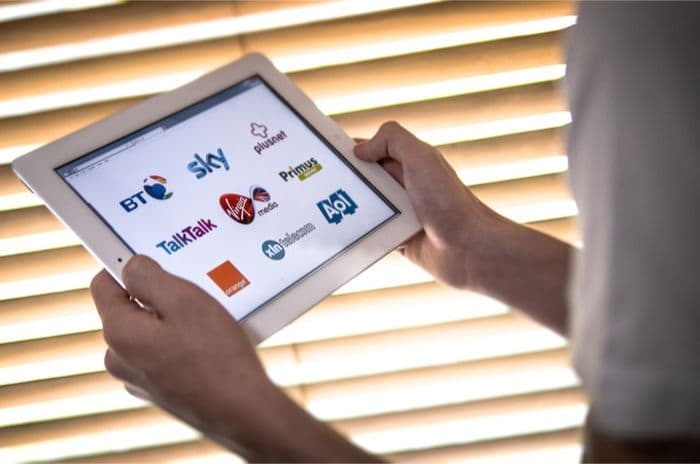 Credit: Lenscap Photography/Shutterstock.com
---
Why negotiate for a better deal?
Broadband customers who are at the end of their minimum terms and paying 'out of contract' prices, can save hundreds of pounds a year by negotiating a better deal.
Negotiating, or effectively haggling, for a cheaper price is best done just before a minimum term comes to an end when we receive our end of contract notifications. However, customers who've already rolled onto a monthly agreement and are now paying a higher price can also haggle for a better deal.
End of contract notifications can be a useful starting point because they must include details of a provider's best prices, including those it offers to new customers.
While a provider isn't obligated to offer existing customers the same deals it offers new customers, it can be useful starting point for negotiation.
Providers will generally ask an existing customer to re-contract or extend their minimum term for another 18 to 24-month period, but for doing so, will likely then be offered:
A lower monthly price, although this may not as low as the initial price
Faster broadband, including upgrades to full fibre
Free, or cheaper, add-ons, such as premium channel packs for TV, or wireless speed guarantees for broadband
Out of contract prices for any provider can be expensive, and so it's certainly worth negotiating a better deal with an existing provider if you're sure you don't want to switch away for a new customer offer elsewhere.
However, when negotiating, it's worth being aware your strongest negotiating position comes from being willing to walk away.
Minimum terms and mid-contract price rises
Mid-contract price rises happen when a provider increases the price of a broadband deal during a minimum term, and depending on a contract's terms the customer can't leave early.
It's worth being aware then, that sometimes prices can go up and we can't do anything about it, and while Ofcom is now reviewing these above inflation price rises, at the moment regulation allows providers to do this.
If your broadband bill has gone up and you're still within your minimum term it's unlikely then that you'll be able to negotiate a cheaper price until your contract ends.
Leaving early can incur early cancellation fees, which can be expensive and will most likely be more than any mid-contract price rise.
Finally, it's also worth remembering that new customer offers are usually reserved for new customers, and existing customers must switch away for at least 3 to 12 months before they're eligible for the best offers.
---
How to negotiate with your broadband provider
Some providers, such as Plusnet, who unsurprisingly have the highest re-contract rate, do offer existing customers re-contract offers through their online portal. However, most providers will expect customers to phone customer services to negotiate a new deal.
Before calling, make sure to have your end of contract notification which will list the provider's best prices, or use a broadband comparison search in your area to see what deals are currently available to new customers.
There are a few ways to approach the negotiation, however, most of them will require signing up to a new minimum term:
1. Cancel services
If we're not watching some of the channels in our TV package or there are extras like broadband boosters we're not using, it's worth trying to get them removed.
This approach is pretty straightforward: if we're paying for something we're not using or could do without, get rid of it and pay less.
Ideal candidates for ditching are premium movie or sports channels, multiroom subscriptions and HD packs - as added extras, they're fairly simple to remove.
Providers may offer incentives to keep the services such as a discount for a certain number of months or they'll remove them from the contract entirely.
2. Add services
Offering to take more services, or upgrade our package, may tempt a provider into offering a good price a for new minimum term contract.
In fact, Ofcom's research into re-contracting found most customers ended up paying more, which could well be due to upgrading.
Anyone considering this option should take a look at specific existing customer upgrade options usually found through a provider's online account. It's likely offers will be available to existing customers for upgrading to:
Full fibre broadband from fibre to the cabinet or basic broadband
Wireless boosters to improve signal around the home
TV boxes, including premium channel packs
Mobile SIM deals
The current roll out of full fibre broadband and the imminent closure of the copper phone line network means providers actively want customers to move from copper and fibre/copper connections to full fibre.
BT particularly encourage customers to make the switch, so it's one to be aware of.
Alternatively, providers such as Sky and Virgin Media who both offer TV and mobile services as well as broadband, such as Virgin Media's Volt, often have offers available for existing customers to bundle more services.
One thing to be aware of however, is that it's always worthwhile comparing broadband or broadband and TV deals to make sure a cheaper deal isn't available elsewhere that could be worth switching for.
3. Mention customer loyalty
If you've been a customer of a particular provider for many years it's worth bringing this to their attention when asking for a better price.
Older customers are most likely to be paying the highest prices, yet providers are keen to hold onto their existing customer base, and if you've been a loyal customer this should be included in your negotiations.
We can also mention similar deals available to us from other providers, including the prices available to new customers if we left and switched away. Our existing provider may be tempted to try and match this deal to keep our custom.
4. Threaten to cancel entirely
Asking for new services is one thing, but the biggest bargaining chip customers have, and the one most often used in negotiations, is cancelling altogether.
Customer service staff are usually only authorised to "give away" a certain amount in terms of extras on top of the current deal held by an existing customer.
If what they're offering doesn't tempt us then they may choose to pass us on to "customer retentions", the corporate name for "cancellations".
The advisers in cancellations can potentially offer much better deals, as their job is entirely focused around keeping hold of customers who want to cancel.
However, it often seems that how successful this tactic is depends on who we speak to, what time of day it is (because each member of retentions staff is given a daily discount budget) and perhaps even what mood they may be in.
Be warned - this option isn't for the faint hearted and we must be willing to back up the threat and switch away.
---
Accepting a deal from our provider
Once we've been offered a deal from our provider we now have to decide whether to accept the offer, ask for an even better deal, or switch to another provider's offer.
If we're keen on staying with our existing provider, there is a risk that turning down one offer may not result in a better one at a later date, or indeed the same one again.
However, sometimes it's possible that if you call back, and speak to a different agent on a different day, you may be offered a different deal. So, if you're unhappy with the first offer, it can be worth trying again.
Ultimately though, as we've mentioned, if the price being offered isn't as low as you'd like, you might need to consider looking elsewhere.
---
When a broadband deal isn't good enough
If negotiating a better deal with our provider doesn't go as planned and we don't get the price we want, sometimes the best way to save money is simply to switch a new customer offer with another provider.
Customers on the Openreach network can switch incredibly easily by simply placing an order for a new broadband deal, and the new provider will handle the switch including cancelling the old service.
This includes providers such as BT, Plusnet, EE, TalkTalk, Sky, NOW Broadband, Vodafone, Zen Internet, and others.
Switching between networks can be more complicated as we'll need to cancel our existing service ourselves, although easier switching is in the pipeline for this year.
Read more about how to switch broadband providers.
Best broadband offers
The easiest way to find the best broadband offers is to search your area using a broadband comparison tool.
However, alongside the best special offer, we also might want to consider requirements such as, who offers:
Additionally, bundled services like TV or mobile are only available with certain providers. For example, premium TV is generally limited to Sky, Virgin Media, or BT. Although more limited TV services from NOW and Netgem TV are also available in broadband bundles.
When looking at signing up to a new broadband package, we should first work out the follow things:
What broadband speed we need
Whether we need any extras such as wireless boosters or TV boxes
How much we're willing to pay
For many customers, this last point will be the most important and it will usually be the reason we've tried to haggle with our existing provider in the first place.
---
Summary: stay polite
Broadband providers are businesses like any other, and they would prefer to retain customers than see them leave to join one of their rivals.
So, the chances are that customer service advisers have a little leeway to make us some good offers - as long as we treat them with respect and behave politely.
When haggling with a broadband representative, remember that:
We're unlikely to be able to haggle when we're within a minimum contract period
Knowing what the competition are offering can help (as well as knowing what your provider is offering to new customers)
It might be possible to get more valuable services for a similar price instead of cutting down the bills (such as full fibre broadband or extra TV)
Crucially, don't feel compelled or rushed into making a decision about a deal. It's perfectly reasonable to say you need to discuss the package with a family member before saying yes or no.