Netgem also acts as a central hub for subscription services like Prime Video and BT Sport, though these must be paid for separately.
Netgem TV comes with a 4K set-top box, allowing HD and UHD content to be accessed if a customer has the right TV to go along with it.
Although customers can subscribe to Netgem TV separately, it is also available as an extra service from broadband providers like TalkTalk and Community Fibre.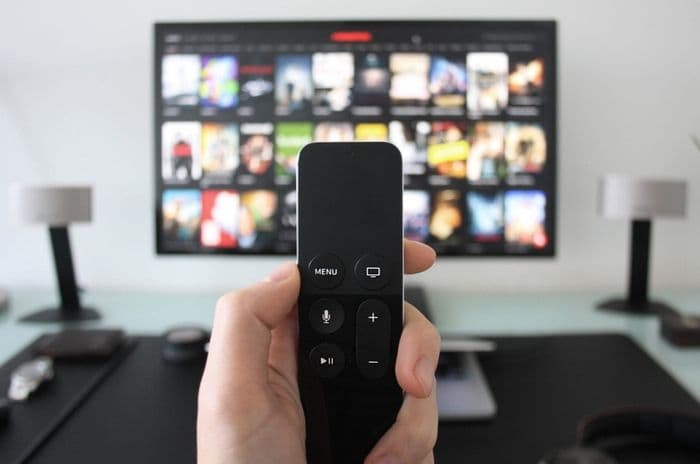 ---
At a glance
| What we like | What we don't like |
| --- | --- |
| Access to some premium content | Limited premium TV included |
| Central location for on-demand and subscription content | Netflix and Now TV aren't supported |
| Personalised recommendations | Box is only leased and must be returned |
| 4K set-top box | |
| Some ISPs offer package deals | |
---
What is Netgem TV?
Netgem TV is an award-winning pay TV service that offers Freeview channels alongside premium content, with an emphasis on becoming a central hub for on-demand and other subscription content too.
Customers signing up to a Netgem subscription will receive Freeview Play as standard alongside some premium sports and TV Player channels.
They can also access their subscriptions from other providers such as BT Sport and Amazon Prime Video, although these must be paid for separately.
Netgem TV comes with a 4K set-top box. This includes pause and rewind functions, with the option to record to a USB also available.
As well as being available to order directly from Netgem themselves, the service is also offered via some broadband providers across the UK.
There is also a Super WiFi broadband boosting service that can be taken as part of the Netgem TV bundle or on its own - more on this below.
Packages with Netgem TV
Netgem TV is available on its own directly from the company on a 12-month subscription:
Package
TV
Monthly price
Upfront price
Contract term
Netgem TV
Netgem TV
210+
(50 HD)
£15
£20
12 months
Netgem TV
Netgem TV and Super WiFi
210+
(50 HD)
£20
£30
12 months
The 4K set-top box can also be purchased outright for £123, although this means customers will not receive access to premium channels available to subscribers.
Along with this, Netgem TV is available alongside broadband packages from select providers. Here are examples from London ISP Community Fibre and nationwide provider TalkTalk:
Package
TV
Broadband
Monthly price
Upfront price
Contract term
150Mb Fibre Broadband + TV
215
150Mb average
£27.99
Free
24 months
Offer: Installed in 48 hours + Free setup
TV 4K + Fibre 65
215
67Mb average
£34.95
Free
18 months
Offer: NOW Entertainment just £4.99 for 12 months (was £9.99) + NOW Boost free + Free Setup (worth £15)
---
Content on Netgem TV
Subscribers to Netgem TV will receive access to Freeview Play with over 70 free-to-air channels along with some premium entertainment and sports content.
Channels currently available to subscribers include:
| | | | | |
| --- | --- | --- | --- | --- |
| BBC One * | BBC Two * | BBC Four * | ITV * | ITV 2 |
| ITV 3 | ITV 4 | ITV Be | CITV | Channel 4 * |
| More 4 | E4 | Film4 | Channel 5 * | 5 Select |
| 5 Spike | 5 USA | 5 STAR | Milkshake | Yesterday |
| Really | CBeebies * | Drama | Dave | QVC * |
| QVC Beauty * | RT * | Al Jazeera * | Gaming TV * | Gossip * |
| Movies News * | Speed TV * | Tastemade * | Cooking TV * | Nature Vision TV * |
| Clubbing TV * | Karaoke TV * | DJTV * | Pop | Tiny Pop |
| Ketchup Kids Channel | Sony Movies | Sony Movies Action | Talking Pictures | 4 Music |
| BBC News * | Sky News | France 24 | Gems | 4 7 * |
| TBN UK | Sewing Quarter | Jewellery Maker | CBS Justice | Food Network |
| Home | Challenge | Blaze | CBS Reality | Tru TV |
| Horror Channel | CBS Drama | Your TV | Travel Channel | Sky Arts |
Something to note about Freeview Play is that channels from that platform can only be accessed if a customer connects their Netgem TV box to an aerial.
In July 2022, Netgem confirmed they had reached a milestone of more than 100 extra channels on their service to complement Freeview channels.
The main thing to note about the premium channels here is that they are only available via the monthly subscription model - they are not available if a customer purchases the box separately from Amazon.
One of their major focuses in on sports channels, so there are plenty of options including:
| | | | | |
| --- | --- | --- | --- | --- |
| Free Sports * | Premier Sports * | Premier Sports 2 * | Sports TV * | Football TV * |
| Xtreme Sports * | Frag TV * | Fitness TV | Fight TV | Fuel TV |
* Channel in HD
Some of these channels are available in partnership with SportsTribal TV after Netgem committed to strengthening their sports offer in June 2021.
The full list of current channels available on Netgem TV can be found on their website, so it's worth looking at the latest line-up to see what's on.
Apps and catch-up
Netgem customers can access a range of free and paid apps through their TV box.
This includes free catch-up services like ITV Hub and BBC iPlayer through to streaming giants like Amazon Prime Video.
These apps include:
| Free apps | Freeview Play apps | Add-on apps | Kids apps |
| --- | --- | --- | --- |
| YouTube | BBC iPlayer | Amazon Prime Video | YouTube Kids |
| TikTok | ITV Hub | BT Sport | Pop Player |
| PLEX | All 4 | Rakuten TV | SmartKids.tv |
| Filmzie | My5 | ACORN TV | Cool School |
| W4Free | UKTV Play | Britbox | Badanamu |
| Deezer | CBS Catchup Channels UK | Hayu | HappyKids.tv |
| Radioline | Horror Bites | Eros Now | Kidoodle.TV |
| Couchplay Games | STV Player | Fite | |
| France 24 English | BBC Sounds | Mubi | |
| France 24 French | Freeview Explore | | |
| France 24 Arabic | | | |
| The Weather Network | | | |
| International Observatory of Human Rights | | | |
It's important to note the paid content from these subscriptions isn't included as part of a Netgem TV subscription, so customers will need to have separate subscriptions for the likes of Amazon Prime Video, BT Sport and Britbox.
There are also some notable exceptions here, with no Netflix or Now TV integrations available yet. That could be limiting for some customers.
Personalised recommendations
One of the most attractive elements of the Netgem TV interface is that it offers a personalised experience with recommendations based on previous programmes customers have watched.
This will bring in viewing options from various catch-up and on-demand services the customer has available to them, putting it all in one place and allowing customers to quickly find something they might be interested in.
On the flip side, this may be frustrating to some customers who would prefer just to go to the app and browse from there. That can still be done, but it takes a couple more clicks to get there.
However, there is a Search function that will search for relevant content across all the apps and services available to a customer. From the search results, customers can click through to the relevant app.
---
TV boxes
Netgem advertise three TV boxes on their website, although only two are currently available for customers in the UK and it seems unlikely the standard HD box is going to make a comeback as Netgem focus on their 4K offering.
So, let's look more closely at the two in-stock TV boxes: the Netbox 4K and the Soundbox.
Netbox 4K
The Netbox 4K is the one Netgem supply if customers subscribe directly, and it's also the one customers who subscribe via broadband providers will generally receive too.
It includes the following features:
4K Ultra HD capability
Dolby Atmos sound
HDMI, S/PDIF and USB (for recording) ports
Connects via Ethernet or WiFi
Single tuner
The Netbox 4K can pause live TV and access catch-up TV and streaming apps through the interface.
It's also possible to record to a USB using the box, although this isn't comparable to the recording services that we see from major pay TV companies.
Customers will need to supply their own USB with a minimum capacity of 32GB and then record to that from the box. Any recordings will then be accessible through the menus.
Yet because the Netbox 4K only has one tuner, no other channels can be watched while the programme is being recorded. So, it isn't a great option for customers who record lots, but it might be useful for those who occasionally want to record one or two programmes when they go out.
Purchased separately, the Netbox 4K currently retails at £123.
Soundbox
The Netgem Soundbox is a combined TV box and soundbar that offers access to the same apps and channels as the Netbox 4K but also works as an audio system.
Unlike the set-top box discussed above, the Soundbox is HD-only, so customers with 4K TVs won't be able to enjoy the benefits of UHD.
These are the major features of the Soundbox:
HD capable
Dolby Atmos sound
Single tuner
HDMI with ARC, aerial-in port, USB (for recording)
3.5mm AUX jack
Connects via Ethernet or WiFi
Bluetooth
Amazon Alexa integration available
Bluetooth can be used to stream music directly via the soundbar or users can plug straight into the 3.5mm jack for a wired connection.
As for the Amazon Alexa compatibility, it's worth noting this requires an Echo device within the home to operate. This means it's a useful function for Amazon Echo households, but it does require additional equipment if households don't already have Alexa devices.
The TV features of the Soundbox are the same as the Netbox 4K, with the omission of 4K capabilities.
The Soundbox retails for £249.
Mobile app
The Netgem TV app is available on both iOS and Android. It allows customers to watch content and mark favourite programmes (which will help with the recommendation engine discussed above).
The app offers mobile TV across more than 100 live channels and 1000s of on-demand programmes, along with the ability to cast to the big screen.
However, Netgem reiterate that restrictions enforced by Freeview mean that channels on that platform can only be watched on TV and require that TV to be connected via an aerial - an unavoidable limitation for mobile app users.
---
Broadband partners
Netgem TV services are available alongside broadband plans from several ISPs across the UK, and this is a key area of expansion for the company.
They currently have partnerships with companies including:
Brawband
Box Broadband
Pop Telecom
Pure Fibre
Pure Broadband
WightFibre
The most significant of these is probably their link with TalkTalk, first announced in October 2021 with packages appearing from 2022 onwards.
This is more of a white label package than other providers offer, delivering TalkTalk TV branding with a variety of optional extras for a budget price.
Here are some examples of packages from TalkTalk and Community Fibre:
Package
TV
Broadband
Monthly price
Upfront price
Contract term
150Mb Fibre Broadband + TV
215
150Mb average
£27.99
Free
24 months
Offer: Installed in 48 hours + Free setup
TV 4K + Fibre 65
215
67Mb average
£34.95
Free
18 months
Offer: NOW Entertainment just £4.99 for 12 months (was £9.99) + NOW Boost free + Free Setup (worth £15)
Netgem say Super WiFi works with all broadband routers and extends the wi-fi signal around the home via the use of two wi-fi pods.
It's similar to the wi-fi boosting systems we see from broadband providers, with the difference that this is designed to work with routers from multiple ISPs.
Whether these wi-fi pods will be a worthwhile investment for a household is up for debate and depends on the home and its needs.
Even so, Super WiFi is an interesting addition to Netgem's services.
---
Verdict: Decent premium options
Netgem TV is an interesting proposition for customers, offering a budget subscription service that puts Freeview, some premium channels and plenty of on-demand content together in one place at a much lower price point than we see with traditional pay TV services like Sky TV or Virgin Media TV.
Yet, on the other hand, there's less premium content included with Netgem TV than other services, and customers may be put off by the prospect of purchasing additional subscriptions alongside Netgem to add more content to their box.
Here are some things we like about Netgem TV subscriptions:
Hybrid model includes Freeview alongside some premium channels
Sports content will appeal to sports fans
Central location for accessing many popular apps
Mobile app for streaming and casting
Pause and rewind via the set-top box
Includes 4K TV box (worth £123) with subscription
On the other hand, here are some downsides:
Not as much premium content available as with other TV services
Paying for additional subscriptions can soon add up
Limited recording functions (USB must be used and single tuner only)
The box remains the property of Netgem TV and must be returned
There are a couple of elements that could be considered as positive or negative depending on how a customer views them.
For example, subscribing directly via Netgem TV means customers are on an 12-month contract which is shorter than the BT TV contract.
Customers may prefer this shorter deal, but others may not want to be tied to a contract at all and would rather buy the box outright. The problem then becomes the fact that premium content is missing from the box, removing one of the main attractions of Netgem TV.
Another bugbear some customers may have is the personalised recommendations interface which provides ideas on what to watch based on customer preferences. This can be circumvented, but it may be frustrating to some to have this feature front and centre when all they want to do is get to their apps and search directly within them.
Overall, we like Netgem TV's unique proposition as bringing something different to the market. It provides a hybrid TV box (in 4K, no less) to independent subscribers while also allowing customers with certain broadband providers to bundle services together.
It's something different and it won't be for everyone, but it's worth checking out for many people who want a TV service but don't want to go the full Sky or Virgin Media route. Another option for customers of the latter might be the Virgin Stream service.