Broadband prices have jumped since April 2023, with inflation pushing up costs for both new and existing customers.
With household budgets squeezed, getting the cheapest broadband deal is as important as ever, and people should ensure they compare prices for the best deal in their area.
Finding the cheapest broadband plan isn't as simple as you might imagine however, with minimum terms for new customer offers, setup fees, and annual inflationary price rises to take into consideration.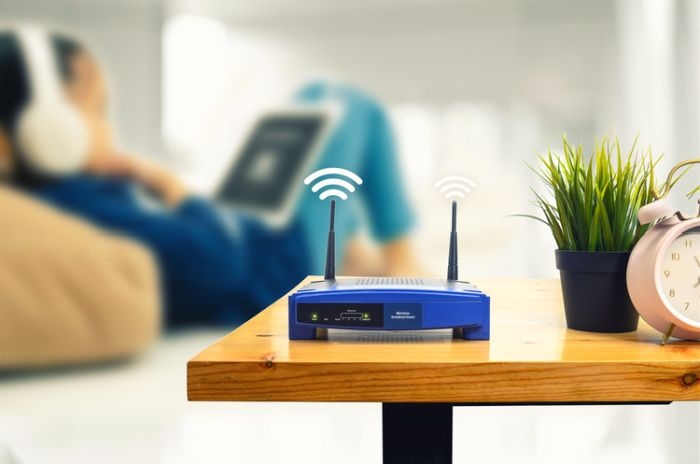 Credit: Casezy idea/Shutterstock.com
---
At a glance: Cheapest broadband deals
Package
Broadband
Monthly price
Upfront price
Contract term
Superfast Fibre
38Mb average
£21.99
Free
12 months
Offer: Money off for 12 months
Fibre 1
35Mb average
£24
Free
24 months
Super Fibre
63Mb average
£24
£10
12 months
Offer: Now TV membership at reduced price for 12 months. Price may change again during the minimum term.
Fibre
66Mb average
£24.99
Free
24 months
Offer: Save over £5/mth + No setup fee + Exclusive offers and discounts for Plusnet customers

(Ends 13/12/2023)

Superfast Broadband
61Mb average
£26
£5
18 months
Offer: Save £10.50/mth (was £34.50) + WiFi Max just £6.50/mth for 3 months and then just £10/mth + (£5 refundable setup fee for new customers if applicable)
---
Verdict: Which is the cheapest broadband plan?
The absolute cheapest broadband deal will depend on where you live. For example, smaller independent full fibre networks are currently undercutting Openreach resellers that have much wider availability across the UK.
People living in London may be able to get broadband from Community Fibre for as little as £19 per month, while those living in Hyperoptic enabled buildings can also get broadband as cheaply as £17.99 per month.
Yet these providers only cover small pockets of the UK, and the majority of broadband deals start from around £22 to £24 per month on networks with 97% UK coverage. Some of the cheapest broadband providers include:
Cheap copper, or ADSL, broadband deals may still be available to some customers, although Openreach is slowly withdrawing the sale of these connections, and they are becoming more expensive than fibre deals, despite offering slower speeds.
To see what's available in your area enter your postcode to find the cheapest broadband deals:
---
Broadband costs
While headline price is the main factor to look at when finding the cheapest broadband deal, there are other costs and factors to consider.
Special offers. Look out for special offers and check the latest pricing before signing up. Sometimes a faster broadband package may actually be cheaper due to a promotional offer, so it's always worth looking. We offer the ability to order deals by special offer as well as lowest price in our broadband comparison tool.
Contract length. Most deals for new customers are discounted, so the longer the contract the longer the period of time the lower price will apply. However, on the flip side, a longer contract means less flexibility. For people with long-term stability it makes sense to lock in a lower price for longer.
Annual price rises. An increasingly common term for broadband (and mobile) contracts, are price rises based on inflation that take effect in April each year. Some providers, like Hyperoptic, still fix their prices, but most providers now increase their prices by an inflationary measure. Not all providers increase their prices by the same amount however, so it's worth checking out, and it should be made clear at sign up.
Setup costs. A fairly high proportion of broadband providers offer free setup, or activation as it's sometimes called, or they'll waive it as part of a special offer. However, where setup is charged for, it can range from £10 to £60.
Out of contract prices. It's now a requirement for broadband providers to send customers end of contract notifications when their minimum terms are coming to an end. This is when that low headline price can increase sometimes dramatically (even though Ofcom negotiated to keep them fair), and people need to decide whether to re-contract with their existing provider for a lower price again, or switch away for a new customer offer elsewhere. Find out when you're considered a new customer again.
As you can see, it's not quite as simple as picking the cheapest advertised broadband price, but this is where our broadband comparison tool can help find the cheapest deal with the latest special offers available in your area.
---
Is cheapest always best?
Price is often the major factor in most consumer decisions, especially right now during a cost of living crisis. However, because competition in the market is so fierce, many broadband providers have just one or two pounds between them each month, sometimes even a penny.
So, it can be worth at least considering a few other factors before settling on a broadband package.
Most of the time broadband is fairly fault free, but when it does go wrong knowing customer services and fault resolution will be handled reasonably smoothly is important.
Unsurprisingly, it's often the cheapest broadband providers who have the highest complaints levels with Ofcom, and those that cost a little bit more tend to have higher satisfaction levels among their customers.
Virgin Media for example, because they're not reliant on a third party for infrastructure fixes, have one of the fastest fault resolution records in the market.
Plusnet and Sky also have exemplary customer service records, with some of the lowest complaint figures and highest levels of satisfaction.
At the other end of the scale, the absolute cheapest broadband providers, including Vodafone and Shell Energy Broadband, are currently experiencing high complaint levels.
Read more about broadband customer service and the most reliable broadband in our in-depth guides to the market.
---
Re-contracting versus new customer offers
The cheapest broadband prices are generally reserved for new customers, that means either people who don't have broadband yet at all, or those switching over from another provider.
For customers who switch between providers on the Openreach network the process has been incredibly simple since 2015, as it's a provider-led process. This means the new provider handles everything including cancelling the service with the old provider.
Switching between different networks, like from BT to Virgin Media, or Hyperoptic to TalkTalk, can be more complicated as the customer needs to also cancel their existing service.
However, Ofcom are planning to bring in new rules from 2023 to ensure all broadband switching is a simple and provider-led process, so switching for new customer offers should be even easier in the coming year.
For now, however, people who aren't switching between Openreach network providers such as BT, Plusnet, EE, TalkTalk, Sky, Vodafone, Zen, may be more inclined to re-contract with their existing provider because it could be easier.
The problem with re-contracting however is there are no rules that say a provider must offer a customer a cheaper price for doing so. However, end of contract notifications have boosted re-contracting, with Plusnet re-contracting the most customers (13%) since the rules were introduced.
So, some providers make re-contracting super simple and will provide new contract options in a customer's account that they simply have to click to choose. Others may take more persuasion, even requiring the threat of disconnection and talking to their retentions department for a deal to stay put.
We've a full guide on how to negotiate a new contract with your existing broadband provider for a cheaper price here.
---
Social broadband tariffs
For anyone in receipt of Universal Credit, as well as a few other means-tested benefits, the cheapest broadband deal may be a social broadband tariff.
Social broadband tariffs aren't yet regulatory, but providers are being firmly encouraged to make them available by Ofcom for customers who are struggling with their bills, to ensure they can keep an Internet connection.
The cheapest social broadband tariffs are priced from £12 per month, with the average around £15 to £20, depending on how fast a broadband package you think you need.
They're available from providers including:
BT
Virgin Media
Vodafone
Hyperoptic
KCOM (Hull only)
Community Fibre (London only)
G.Network (London only)
NOW Broadband
Sky (existing customers only)
Shell Energy Broadband
YouFibre
We've full details on the packages and eligibility criteria in our social broadband guide, but one note for Londoners is that Community Fibre's deal is available to anyone who needs it and there are no eligibility requirements. All the other social tariffs require applicants to be in receipt of Universal Credit, and some also accept a number of other benefits.
---
How cheap is broadband in the UK?
Ofcom previously reported the average household expenditure on broadband in the UK was £31, and £27 for lower income households, although this has likely risen since.
More recent research from Virgin Media has also showed average household expenditure on fixed line broadband was £41.08 per month at the end of 2021.
However, Virgin's research also showed household telecoms expenditure (broadband and mobile) has fallen from £95.70 in 2017 to £77.40 in 2021. So, consumers are managing to cut costs and save money by finding cheaper deals.
Research from Ofcom published in May 2022 found end of contract notifications increased switching to new deals, either by re-contracting with their existing provider, or switching to a new provider.
Plusnet had the highest level of re-contracts at 13%, with BT, EE, and Virgin Media all seeing re-contract figures of 10%, which helps to brings prices down for existing customers.
However, re-contracting doesn't always save money, with Ofcom noting BT and TalkTalk customers paid more for their services after re-contracting, with increases of £2.45 and £7.81 respectively. Yet, customers of Sky and Virgin Media saved £9.26 and £7.74 per month respectively, so it's not to say it doesn't work.
Ultimately, new customer offers are likely going to always be the cheaper broadband option, and with new simpler switching rules coming into effect in 2023, cross network switching should help promote competition further.
---
How are broadband prices changing?
While it might be logical to assume slower broadband equals cheaper prices, as technology has evolved in the broadband sector, this is now no longer always the case.
Cheap basic broadband can still be found with some providers from as little as £18 per month, yet many providers are now pricing their copper broadband deals the same, or even above, their faster fibre options.
Take TalkTalk for example, who made an explicit decision to decision to charge more for standard copper broadband, something Openreach are keen to nudge customers towards as they prepare for the closure of copper broadband lines.
In fact, BT Openreach's latest wholesale pricing is likely to make copper even more expensive from April 2023, while full fibre and the price of switching customers from copper to full fibre will go down.
We're already seeing independent full fibre networks pricing their broadband below that of even the cheapest basic copper deals, and as we move ever nearer to the planned closure of the copper phone line network at the end of 2025.
As cheaper wholesale pricing is introduced for resellers of BT Openreach full fibre, including budget providers like TalkTalk, Shell Energy Broadband, Plusnet, and Vodafone, it's likely we'll continue to see faster broadband available for less.
---
Summary: How to save money on broadband
Comparing broadband deals by price and looking for the latest special offers is the best way to find the cheapest broadband deal in your area.
Prices and offers change rapidly too, so if you see a good deal it's worth acting - we so make clear on our listings when deals are ending soon.
Here's a few tips to find the cheapest broadband deal:
Look for special offers in your area using our broadband comparison tool
Take a longer contract if you know you can commit, as you'll get to lock in the new customer price for longer
Rolling-contracts will often be cheaper than cancelling a cheap plan early due to penalty fees for cancelling a minimum term
Be mindful of annual price rises - however they're hard to avoid these days, with few providers offering fixed prices - Hyperoptic, Fibrus, YouFibre and Zen Internet - yet Zen are expensive anyway, and Hyperoptic, Fibrus, and YouFibre have limited availability
Full fibre broadband without a phone line is often cheaper as a data-only line, but it does mean relying on your mobile for all calls
Bundle TV - but only if you need it. Flexible plans from Virgin Stream and Sky Stream, as well as NOW TV, give customers the option to watch premium content without committing to long-term expensive contracts.
Switch regularly - while haggling or negotiating can get a cheaper price if you really like your current provider, being prepared to switch providers will gain access to the cheapest prices and offers for new customers.
Compare broadband in your area by price and see the latest special offers.