Customers can cancel a broadband contract before the end of the minimum term, but providers are allowed to charge the cost of providing the service up until the end of the contract.
These early termination charges are regulated at no more than the cost of providing the service, but they're usually uncapped, which means there is no maximum fee.
Providers include these charges in their terms so we can work out how much it will cost us to leave our broadband contract early, but speaking to the provider directly is usually best.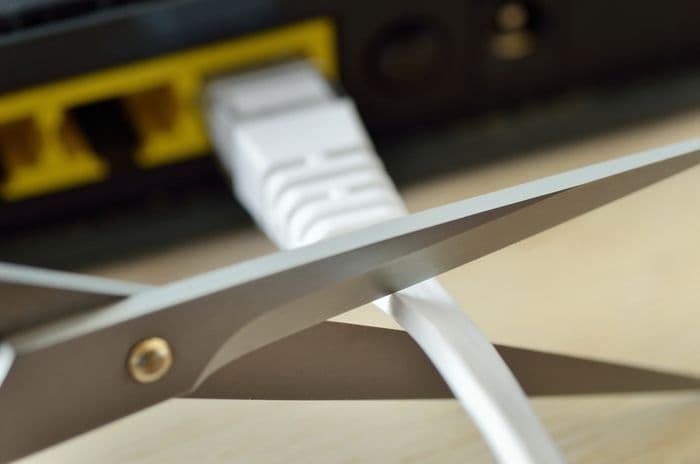 ---
When its free to cancel a broadband contract early
There are a few situations when leaving a broadband contract early is free and comes without penalty.
Here are some of those scenarios:
During the 14 day "cooling off" period at the very start of a contract if the service was signed up to online or over the phone. Customers can cancel the service in writing.
Some providers extend this initial cancellation period to 30 days, including TalkTalk, under their Great Connection Guarantee.
Customers with affordability issues may be able to switch to a provider's social broadband tariff free of charge even if they're within a minimum term on their existing service.
Ofcom made leaving a broadband contract easier in 2014 if the terms were changed in a way that didn't benefit the customer. So, if prices have gone up by more than inflation and this wasn't specified in the contract itself, customers have the right to leave early.
Some providers signed up to Ofcom's code of practice on broadband speeds provide a personalised minimum guaranteed speed at the point of sign up. If this isn't met, and the provider doesn't fix it within 30 days, customers can again leave without penalty. However, this code is voluntary and not all providers have signed up.
Lastly, if a broadband provider is in breach of contract and hasn't acted to solve the issues a customer has raised, this can justify cancellation. However, this need to be provable in writing and the reasoning would need to be watertight.
Customers who are struggling with their service and unhappy with how their provider is handling the issue should look at moving to a complaints procedure.
Ultimately however, if there is no legitimate reason for a free termination, fees will apply.
---
How much does it cost to leave a broadband contract early?
The process for calculating early termination fees depends on the broadband provider we're with.
Keep in mind that customers who've taken multiple services from a provider will often need to pay early termination charges for all of the services, and that can get expensive, as we look at below.
Here we cover the early termination charges and policies for each of the main broadband providers in the UK.
BT
BT calculates the costs of leaving a contract early by taking the total amount owed up until the end of the minimum period, and then subtracting any costs they save as a result of you leaving early, plus an additional 1%.
For example:
Number of months left x monthly fee
They take VAT (20%) off this total
They take off costs they save by customer leaving, BT say this could be around £15 for a £35 monthly package
They apply a 1% discount for early payment
VAT is added to the final amount
An important thing to note here is that the costs they will save from a customer leaving early are opaque, so it's difficult to guess at the exact costs without speaking to BT first.
BT do give one example of costs based on a customer paying £35 per month and ending their contract four months early. The early termination charges for this example were given as £67.32, which is less than half the £140 that would have been originally owed.
BT requires customer give them 30 days' notice of cancelling a contract, so customers will have to pay the full price during the notice period before the service is ended.
One final point: BT Home Essentials doesn't have exit fees, so customers on the social tariff are free to move away if they want to or their circumstances change without penalty.
Sky
Sky ask broadband customers to give them at least 14 days' notice of cancellation. They then work out any early termination charges in the following way:
The monthly charge for a customer's products
They minus the business costs they save from no longer providing the service
They add a discount for accelerated receipt of the outstanding balance
Sky also provide customers with exact monthly charges for ending a contract early for each package type or bundle taken.
This is much more transparent than BT as it allows customers to easily see how much each package would cost to cancel early. It's worth noting they do separate early termination fees for broadband from line rental on older packages.
Here are some of Sky's early termination charges:
| Package | Early termination charge per month |
| --- | --- |
| Sky Broadband Superfast | £16.94 |
| Sky Broadband Gigafast | £35.60 |
| Sky TV | £26.51 |
Customers with any discounts on their package will also be applied to the early termination formula too, so they won't lose out.
Yet customers should also be aware that cancelling multiple services can make those early termination charges multiply quickly.
Here is an example taken over six months for a Sky broadband and TV plan with some extras:
| Package | Early termination charge with six months left of the minimum term |
| --- | --- |
| Sky Broadband Superfast | £101.64 |
| Sky TV | £159.06 |
| Multiscreen | £90 |
| Sky Broadband Boost | £29.82 |
| Total | £380.52 |
As you can see then, leaving just six months early could be very expensive, with relatively little gained from keeping the service for the minimum term period.
It's worth noting that if services were taken out at different times, for example Multiscreen added at a date later than the Sky TV plan was taken, or if the Sky TV and broadband contracts were taken out at different times, the months left on each contract period could vary along with the total amount of charges.
TalkTalk
TalkTalk provide customers with set early termination charges for each package they may have. They also request at least 30 days' notice to end a service, including for any Boosts.
Here are the early termination charges for their current plans:
| Package | Early termination charge per month |
| --- | --- |
| TalkTalk Fast Broadband | £10.80 |
| TalkTalk Fibre 35 | £10.20 |
| TalkTalk Fibre 65 | £10.20 |
| TalkTalk Fibre 150 | £10.20 |
TalkTalk are fairly straightforward with their charging, with most plans costing the same per month to cancel.
The provider doesn't list early termination charges for TalkTalk TV or any Boosts, although these add-ons are often provided on monthly rolling terms, so customers may only need to give 30 days' notice.
TalkTalk do say they charge a commitment breakage fee if a customer cancels a Boost before the minimum period ends, but again, with most boosts on monthly rolling contracts customers will often be better off just giving notice to cancel it.
Overall, as with other providers, while TalkTalk give some plain examples of costs, an accurate final bill would be given by TalkTalk when a customer calls to cancel.
Virgin Media
Virgin Media offer a range of services, with some bundles covering broadband, TV, phone and even mobile. So, customers ending their service early could find early termination charges are expensive.
Contracts taken out before 2 April 2023 benefit from a cap on the total amount a customer can be charged for leaving early. Virgin Media say customers won't pay more than £288 for ending their contract before the minimum term is up.
However, they've chosen to end that policy and contracts taken out on or after 4 April 2023 will be subject to uncapped early termination charges.
Virgin Media give specific costs for different packages:
| Package | Early termination charge per month |
| --- | --- |
| M125 Fibre Broadband | £42.32 |
| M500 Fibre Broadband | £60.25 |
| Big Bundle with M125 | £54.93 |
| Bigger Bundle +.Sports with M250 | £98.12 |
| Ultimate Volt Bundle | £122.59 |
Customers are required to give 30 days' notice to cancel a Virgin Media contract, after which the early termination charges will apply if there are months remaining on the minimum term.
The previous cap of £288 made a significant difference, with say, cancelling the Big Bundle with six months remaining costing a total of £329.58 without a cap in place.
For a truly accurate final bill, customers should contact Virgin Media, but it's possible to get a good idea of whether it's worth cancelling early or not.
---
Cancelling with other broadband providers
We've covered the costs of leaving the four big broadband providers in the UK, but there are various other providers in the market that each have their own policies and cancellation fees.
Plusnet and EE are likely to charge early termination fees in a similar way to their parent company BT. Vodafone also use a similar formula to that of BT and don't give specific package costs.
Other providers such as Shell Energy Broadband provide a more comprehensive list of early termination charges for each package like TalkTalk does, with most fibre packages costing £18.50 per month to cancel early.
Some providers, like iTalk Broadband simply ask customers to call them to find out what charges may apply for leaving their contracts early.
---
Why does it cost so much to cancel broadband early?
As hard as it may be to believe, it used to cost a lot more to leave a broadband contract early than it does now.
In 2009, Ofcom said it was working with BT, TalkTalk and Virgin Media to make early termination charges fairer.
Ofcom said at the time that charges should "reflect the costs that the providers save by no longer providing the service". And that under the Unfair Terms in Consumer Contract Regulations 1999, it believed customers leaving a contract early should never have to pay more than they would have if they'd remained in contract: "in fact they should often pay less".
In 2010, Ofcom ruled that broadband cancellation charges had been unfair and new regulation was introduced that cut costs by up to 85%.
While early termination charges have gone up again since the new rules were bought in, for example, at the time Virgin Media reduced their cancellation charges to less than £10 per month, Ofcom noted in April 2014 that the number of complaints about early cancellation fees had declined by so much they saw no reason to continue monitoring the charges.
Fast forward to 2023, and early termination charges still haven't made it back onto Ofcom's agenda, with the regulator currently focused more on whether mid-contract price rises are fair or not.
---
Leaving a contract to switch to a new broadband provider
Some customers may want to leave a broadband contract early in order to move to a new provider.
Some providers, such as Hyperoptic and EE, even tempt early switchers by offering free service or bill credit to those who move whilst still within their minimum term contracts.
Either way, when leaving a broadband provider for another it's important to remember to tell the provider you're switching, or transferring services, rather than wanting to cancel entirely.
In addition, when switching between Openreach providers such as BT, TalkTalk, EE, Plusnet, Sky, NOW Broadband or Vodafone, the customer only needs to order the new deal and the gaining provider will cancel the old contract on the customer's behalf.
We've got more information on how to switch broadband providers or read our guide to ending a broadband contract to find out more about that.
---
Summary: Is leaving early worth the cost?
Often there is no alternative but to end a contract early.
Customers with affordability problems should speak to their provider who may be able to offer a social tariff instead.
Those cancelling may also be offered better deals for extending their minimum term through a provider's retentions department, which we cover more in our guide to negotiating a cheaper deal.
However, whether customers are leaving due to unresolved service problems, moving out of a network area, or simply finding a better deal elsewhere, adding up exit charges is worthwhile to know how much it's going to cost to leave early.
Understanding your rights around broadband contracts and approximate costs to leave early can help put you in a stronger position when approaching your provider to discuss your contract terms.