The BT Home Essentials packages offer customers on low incomes an affordable broadband and/or home phone plan.
Those in receipt of certain means-tested benefits can choose from two broadband speeds, or simply take a home phone-only plan.
The major benefits of social tariffs like Home Essentials, include a lower monthly cost as well as exclusion from annual price rises and out of contract price rises, so prices stay the same.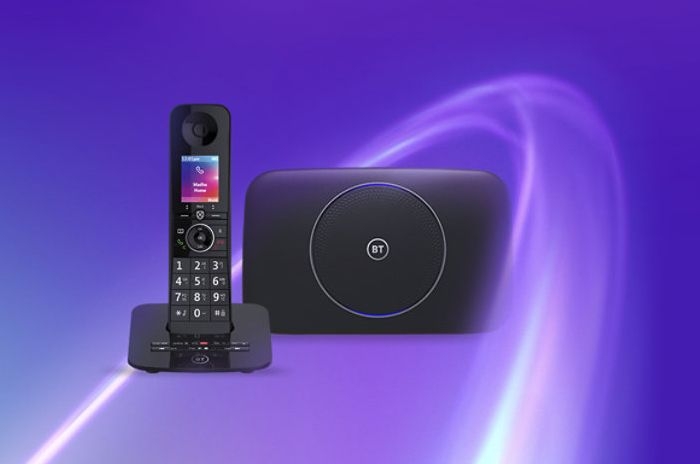 ---
BT Home Essential tariffs
BT's social tariff is called Home Essentials, and is the new name for the original BT Basic plan.
Eligible customers can sign up to one of two broadband packages with speeds of 36Mbps or 67Mbps, while those who only need a landline can sign up for the home phone only plan with unlimited minutes to UK landlines and UK mobiles.
| | Package | Broadband | Phone calls | Monthly price | Upfront price | Contract term |
| --- | --- | --- | --- | --- | --- | --- |
| | Home Essentials Fibre Essentials | 36Mb average | 700 minutes | £15 | Free | 12 months |
| | Home Essentials Fibre 2 | 67Mb average | Unlimited minutes | £20 | Free | 12 months |
| | Home Essentials Home Phone | N/A | Unlimited minutes | £10 | Free | 12 months |
The minimum term on BT Home Essentials plans is 12 months, however this refers more to eligibility than whether customers can move away or cancel or not.
BT will re-check eligibility each year automatically with the Department for Work and Pensions, but customers are free to leave the contract at any time without penalty.
The Home Essentials with Fibre Essentials and with Fibre 2 plans are the same broadband packages provided to standard customers, just at lower monthly prices.
Where full fibre is available customers will be connected to the new network, with part-fibre connections only provided where full fibre hasn't been rolled out yet.
Due to the upcoming closure of the copper phone line network BT aren't advertising a Home Essentials package on a copper only basis. However, for customers who don't yet have access to part-fibre, they should still contact BT as the provider is required by law to offer an affordable tariff to eligible customers everywhere in the UK (apart from Hull which is served by KCOM).
There are no setup fees for BT Home Essentials, and existing customers don't need to pass a credit check. New customers to BT signing up for Home Essentials will have a credit check carried out, and a security deposit may be required if customers have a low credit score.
Home phone calls
All BT Home Essentials packages come with line rental included and a home phone line that can make and receive incoming calls.
Customers also get an inclusive call allowance as part of the package, with unlimited calls to UK landlines and UK mobiles on the Home Phone and Fibre 2 plans, and 700 minutes of calls to UK landlines and UK mobiles on the Fibre Essentials plan.
In comparison to standard prices, the 700-minute call plan usually costs £8 per month, and the unlimited minutes call plan costs £18 per month. So, BT Home Essentials offers a substantial saving for eligible customers, and an upgrade over the previous BT Basic plan.
Do remember that calls to premium rate numbers and international calls aren't included in these call plans however, although customers will get BT Call Protect and Caller Display features.
Read more about stopping spam calls or about the cheapest ways to get a home phone.
---
Eligibility for BT Home Essentials
BT Home Essentials is available to both new and existing BT customers in receipt of one of the following benefits:
Universal Credit
Pension Credit (Guarantee Credit)
Income Support
Jobseeker's Allowance (income based or with contributory allowance that is less than the income-based portion)
Employment and Support Allowance (income based or with contributory allowance that is less than the income-based portion)
The person in receipt of the eligible benefit must also be the named account holder applying for the BT Home Essentials plan.
BT work with the Department for Work and Pensions to make applying easy. With just your name, date of birth and National Insurance number they can run an instant check to determine if you're eligible, so there are no more lengthy paper forms to fill out.
Existing customers
It's worth noting that existing customers of BT, and BT-owned Plusnet and EE, are able to switch to BT Home Essentials even during a minimum term without having to pay an early leaving penalty, as long as they're eligible for the plan.
This switch can be done at any time with no additional fees to pay.
How to apply
Applying for BT Home Essentials should be straightforward, and the instant checks with the DWP make the process quick and simple.
BT ask customers to phone one of the following numbers:
New customers and existing BT customers: 0800 800 150
Existing EE broadband customers: 0800 079 5122
Existing Plusnet customers: 0800 432 0200
These phone lines are open between 8am and 9pm Monday to Friday, and 8am to 8pm Saturday and Sunday, although the Plusnet line is only open until 8pm during the week and closed at the weekend.
Do remember that those new to BT will have to undergo a credit check, and while that won't affect eligibility, those with a low credit score may be asked to pay a security deposit.
How to pay the bill
BT Home Essentials plans can be paid by any of the following methods:
Direct Debit
Online using a debit or credit card
By phone using a debit or credit card
Using the MyBT app
Bank transfer
Cheque
PayPoint
Cash or cheque at a Post Office
BT Home Essentials customers can also request a paper bill for free too, despite this usually costing an extra £3 per bill.
Late payments however are likely to incur BT's standard default charge of £7.50, as there is no indication this doesn't apply to BT Home Essentials.
Renewals
The BT Home Essentials plan will be provided to eligible customers for 12 months, after 11 months BT will re-check a customer's eligibility with the DWP before extending the plan for another 12 months.
If a customer is no longer eligible for BT Home Essentials, BT will let them know and move them to a standard broadband and phone package priced at £5 more per month, unless they cancel their service.
For those who are moved to a standard plan, it's worth comparing broadband deals at that point and seeing which are currently cheapest to save the most money.
---
Market comparison
Customers looking at social tariffs like BT Home Essentials should know that BT isn't the only choice, with most broadband providers offering their social tariff to new customers as well.
It's worth knowing what else is available because other social tariffs can be cheaper than BT Home Essentials, although they rarely include a home phone and calls.
Package
Broadband
Monthly price
Upfront price
Contract term
Home Essentials
36Mb average
£15
Free
12 months
Fibre 1 Essential
Up to 38Mb
Unlimited
£12
Free
12 months
Essential
15Mb average
£12.50
Free
30 days
Broadband Basics
36Mb average
Unlimited
£20
Free
18 months
Vodafone and Virgin Media both offer a cheaper social broadband tariff than BT, although neither of these deals include any calls, while Virgin Media doesn't include a phone line at all.
Availability for Vodafone's tariff should be most of the UK, while Virgin Media Essential Broadband is only available on the Virgin Media network.
Sky's social broadband tariff is only available to their existing customers, while Sky-owned NOW Broadband offer a social tariff to new customers, but the deal is more expensive in comparison to BT Home Essentials Fibre Essential.
Overall, BT Home Essentials offers good value for money compared to other social tariffs, especially when you consider it includes a home phone line and inclusive calls.
---
Alternatives
Customers living in the Hull area will need to contact KCOM to sign up to their KCOM Flex deal. That costs £14.99 per month for 30Mbps broadband, or £5.10 for a phone-only plan, and the eligibility rules are pretty much the same as BT Home Essentials.
There are also social broadband tariffs available for those living in Virgin Media's network area, and for those in London who may be able to access deals with Community Fibre.
People living in Hyperoptic-enabled buildings can also access their Fair Fibre plan, which offers a broadband connection for £15 per month, with an optional home phone.
We've details of all social tariffs in this guide, but overall BT Home Essentials should cover most properties.
Lastly, not everyone will be or remain eligible for a social tariff but may still be struggling to afford to stay online.
In these cases, it's worth comparing the cheapest deals available in your area and being prepared to switch for the best prices.
Package
Broadband
Monthly price
Upfront price
Contract term
Super Fibre
63Mb average
£24
£10
12 months
Offer: Now TV membership at reduced price for 12 months. Price may change again during the minimum term.
Superfast Fibre
38Mb average
£21.99
Free
12 months
Offer: Money off for 12 months
Fibre 2
60Mb average
£25
Free
24 months
Budget providers including NOW Broadband and Shell Energy Broadband offer packages for as little as £21 and £22.99 per month respectively. And for customers living in specific areas, they may also be able to access deals from Hyperoptic and Community Fibre for as little as £18.
Ultimately, it's worthwhile seeing what's available in your area and then sorting deals by price for the lowest offers.
---
Summary: Is BT Home Essentials a good option?
BT Home Essentials offers an affordable way for people to stay connected online, as well as providing a low-cost home phone service too.
It provides definite benefits over the previous BT Basic plan, including the option of superfast broadband speeds up to 67Mbps on average, as well as unlimited call plans.
In fact, while BT Home Essentials offers a low price for those only wanting the Internet, it offers the best value for money for those who'll also use their home phone too due to the inclusive calls allowance.
It's also one of the few ways left to get a home phone only plan for customers who simply don't want a broadband package.
While promotion and awareness of social tariffs still needs to improve, tariffs like BT Home Essentials are helping to keep low income households connected.