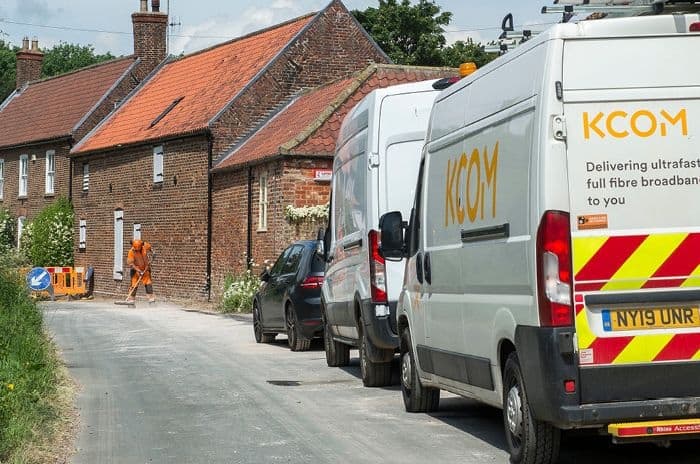 KCOM
---
At a glance
KCOM special offers
Offer
Terms

Get this offer

Black Friday: Up to £30 off every month for 24 months on selected KCOM full fibre broadband packages from just £19.99/mth.

Hurry! Offer ends 11 December 2023

24 month minimum term. £24.99 set up fee. New fibre broadband customers only. Selected areas only. Prices subject to CPI plus 3.9% increase every March.

Get this offer
What KCOM broadband offers
| | |
| --- | --- |
| Broadband | Full Fibre |
| Download speeds | 30Mb, 100Mb, 300Mb, 500Mb, 900Mb |
| Upload speeds | 5Mb, 30Mb, 75Mb, 100Mb, 180Mb |
| Home phone | Line rental included |
| Router | Technicolor DGA2231 or the ZyXEL XMG3927-B |
| Minimum term | 18 months |
| Price from (fibre) | £29.99 |
| What we like | What we don't like |
| --- | --- |
| Full fibre broadband | Prices are quite high |
| Fast download speeds available | Limited customer service info |
| Affordable call plans | Expansion is still slow |
| Increasing availability | |
KCOM broadband deals
| | Full Fibre Lite | Full Fibre 100 | Full Fibre 300 | Full Fibre 500 | Full Fibre 900 |
| --- | --- | --- | --- | --- | --- |
| Price from | £29.99 | £39.99 | £49.99 | £59.99 | £69.99 |
| Set-up costs | £24.99 | £24.99 | £24.99 | £24.99 | £24.99 |
| Download speed | 30Mb | 100Mb | 300Mb | 500Mb | 900Mb |
| Upload speed | 5Mb | 30Mb | 75Mb | 100Mb | 180Mb |
| Router | Technicolor DGA2231 or ZyXEL XMG3927-B | Technicolor DGA2231 or ZyXEL XMG3927-B | Technicolor DGA2231 or ZyXEL XMG3927-B | Technicolor DGA2231 or ZyXEL XMG3927-B | Technicolor DGA2231 or ZyXEL XMG3927-B |
| Call packages | Can be added from £4/mth | Can be added from £4/mth | Can be added from £4/mth | Can be added from £4/mth | Can be added from £4/mth |
| Available TV | None | None | None | None | None |
| Contract length | 18 months | 18 months | 18 months | 18 months | 18 months |
---
Broadband packages from KCOM
KCOM is a broadband provider mostly serving the Hull area. In fact, for most broadband customers in Hull, KCOM is the only ISP available thanks to a historical decision not to sell the business to the Post Office when they were creating a national telephone network.
Now KCOM are beginning to expand beyond their traditional base, laying fibre optic cables across the Humber Bridge and further into Yorkshire too.
KCOM offer their Lightstream full fibre broadband in speeds ranging from 30Mb all the way up to 900Mb.
These are their current broadband packages:
Package
Broadband
Monthly price
Upfront price
Contract term
Full Fibre 100
100Mb average
£19.99
£24.99
24 months
Offer: Black Friday: Save £22/mth for 24 months

(Ends 11/12/2023)

Full Fibre 175
175Mb average
£24.99
£24.99
24 months
Offer: Black Friday: Save £20/mth for 24 months

(Ends 11/12/2023)

Full Fibre 300
300Mb average
£34.99
£24.99
24 months
Offer: Save £15/mth for 24 months

(Ends 08/08/2023)

Full Fibre 500
500Mb average
£29.99
£24.99
24 months
Offer: Black Friday: Save £30/mth for 24 months

(Ends 11/12/2023)

Full Fibre 900
900Mb average
£39.99
£24.99
24 months
Offer: Black Friday: Save £30/mth for 24 months

(Ends 11/12/2023)
As the table shows, there is a steady rise in the price of KCOM packages, allowing customers to jump from one tier to another without prices increasing too much.
KCOM's base prices on their lowest deal are higher than the major providers on the Openreach network they will be challenging as they expand across Yorkshire and Lincolnshire:
Package
Broadband
Monthly price
Upfront price
Contract term
Fibre 1
35Mb average
£24
Free
24 months
Unlimited Fibre
66Mb average
£24.99
Free
24 months
Offer: Reduced price + No setup fee + Exclusive offers and discounts for Plusnet customers
Fibre 35
38Mb average
£28
Free
18 months
Offer: Free Setup (worth £15)
Fibre Essential
36Mb average
£31.99
£31.99
24 months
Offer: Reduced price for 24 months +

(Ends 07/12/2023)

Full Fibre 100
100Mb average
£19.99
£24.99
24 months
Offer: Black Friday: Save £22/mth for 24 months

(Ends 11/12/2023)
However, there are a couple of important things to note.
KCOM's network is 100% fibre-to-the-premises (FTTP) while the other options above are all fibre-to-the-cabinet (FTTC).
In terms of speeds, then, the actual speeds received by KCOM customers are likely to be higher than their competitors. There's more detail on speeds below, including upload speeds.
As well as being delivered via full fibre networks, another difference between KCOM and their competitors is contract length.
KCOM's standard contract length is only 18 months, something that suits their monopoly in the Hull area as customers are usually unable to switch to another provider anyway. Customers in the areas where KCOM are expanding may well be attracted by a shorter contract length in comparison to EE and BT, for example, who both offer FTTP on 24-month deals.
Read more about the cheapest fibre broadband providers in the UK or compare broadband deals in your area.
Flex Packages
Because they are the incumbent provider in Hull, KCOM are required to offer a basic broadband package in the same way BT do with their BT Home Essentials package in the rest of the country.
KCOM's Lightstream Flex costs £20 per month and includes:
30Mb broadband speeds
20 local calls
60 minutes of calls to 0845 or 0870 numbers
£10 spend cap on calls outside the inclusive allowance
Monthly rolling contract
No connection fee and no early termination fee
Until recently, KCOM included a 20GB data limit on their users but this has been quietly dropped from the terms and conditions for Flex, so customers will not be subject to limits now.
To be eligible for Flex, customers will need to claim certain benefits such as Pension Credit, Housing Benefit or Universal Credit with zero earnings. There are also provisions for customer referrals from Social Services including Lifeline customers and Care Leavers supported by Children's Support.
It's also important to note there will be regular reviews on eligibility, meaning customers who can no longer provide proof of eligibility will have the service suspended and offered the possibility of moving to another one of KCOM's packages.
Written confirmation will be made before any changes, so customers don't have to worry about their internet being disconnected without warning if their circumstances change.
Find out more on social tariffs for broadband and phone in this guide.
---
KCOM's broadband speeds
As we've already mentioned, KCOM differs from many of their competitors because their broadband is full fibre all the way to the property.
Not only does that mean they can offer download speeds of up to 900Mb to all customers, but the performance of their broadband will generally be better.
Although we don't have Ofcom data for KCOM's speeds because they are a niche supplier, we have information about the difference in performance between BT's FTTC and FTTP packages that illustrate how full fibre can make a difference.
This graphic shows the average download speed of various packages published in Ofcom's broadband performance report in May 2021: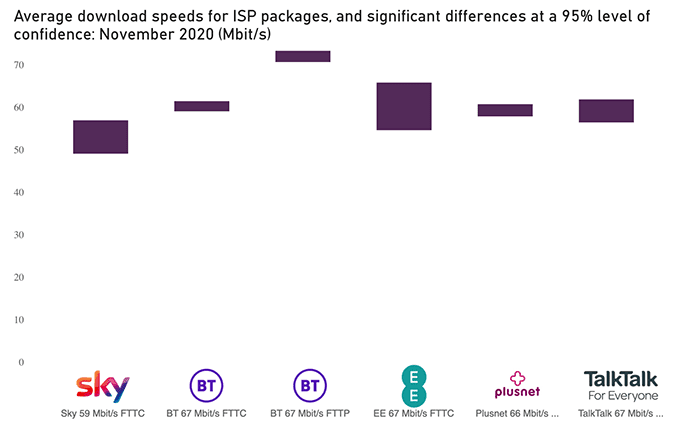 While the average speeds for BT's part-fibre package are below the advertised 67Mb, the same package delivered over full fibre exceeds them.
If we look at how long it takes for data to be transferred (also known as latency), we again find BT's FTTP ahead of their FTTC: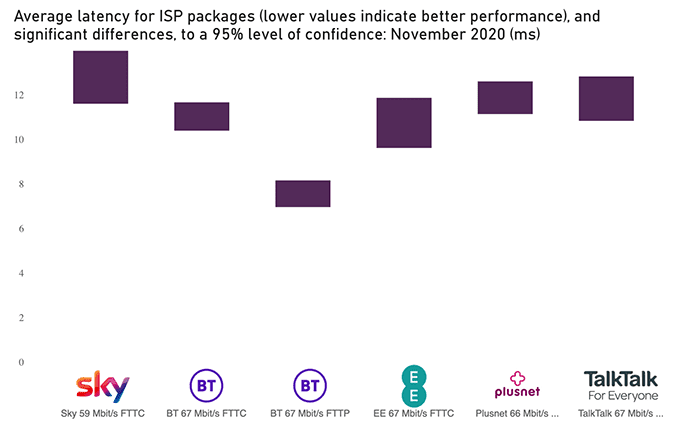 Full fibre connections, then, are likely to deliver faster speeds that are more in line with advertised expectations, along with enhanced performance for the customer.
Remember, though, we don't have independent speed data for KCOM in the way we do for BT, so these assumptions are based on how the technology works rather than actual figures.
Upload speeds
Another benefit of full fibre compared to FTTC is faster upload speeds.
KCOM advertise their upload speeds alongside their download speeds. Here's what customers can expect:
| KCOM package | Average download speed | Average upload speed |
| --- | --- | --- |
| Full Fibre Lite | 30Mb | 5Mb |
| Full Fibre 100 | 100Mb | 30Mb |
| Full Fibre 300 | 300Mb | 75Mb |
| Full Fibre 500 | 500Mb | 100Mb |
| Full Fibre 900 | 900Mb | 180Mb |
These are solid upload speeds for full fibre packages, although they are far from the symmetrical download and upload speeds some full fibre providers, like Hyperoptic, offer.
Again, we have data on BT's different packages to show the increased upload speeds on FTTP broadband: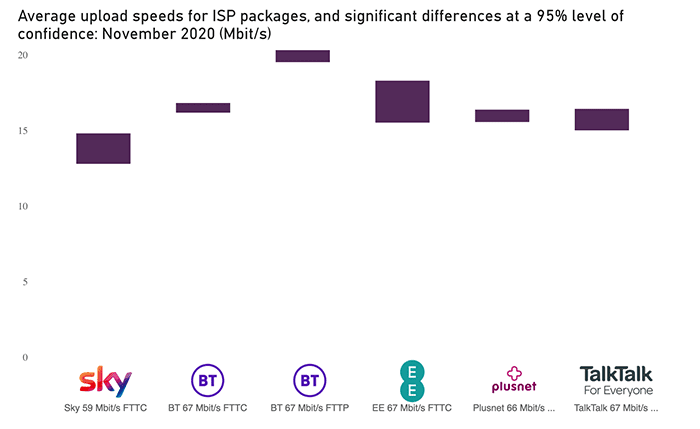 FTTP technology means data is carried by fibre all the way to and from the property, so downloads and uploads won't lose speed on the way. Overall, this makes speed estimates from ISPs like KCOM a little more reliable and robust.
---
KCOM's routers
Customers signing up to KCOM's FTTP service can expect to receive one of two routers: the Technicolor DGA2231 or the ZyXEL XMG3927-B.
Both routers have 4 Gigabit Ethernet LAN ports, a single Gigabit WAN port and 1 RJ11 DSL port, although there are differences between the two.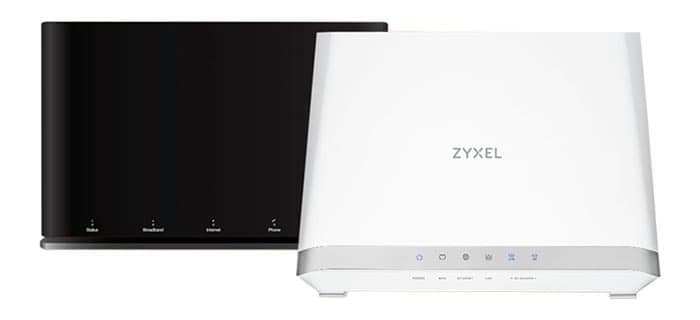 For instance, the Technicolor router includes two ports for VoIP, while the ZyXEL does not. Similarly, the Technicolor includes 2 USB2.0 ports while the ZyXEL offers a single USB3.0 port.
These are high spec devices used by other ISPs too, and they are designed to handle the heavy traffic associated with the 900Mb broadband KCOM customers can receive.
---
Adding calls to KCOM's broadband packages
Pay as you go calls are included as standard with all KCOM broadband packages, but extra calls can be added:
| Package | Features | Monthly price |
| --- | --- | --- |
| UK Landlines | Unlimited local calls and calls to 01, 02 and 03 numbers, free calls to 0845 and 0870 numbers | £4 |
| UK Landlines and Mobile | As above plus unlimited calls to UK mobiles | £8 |
| All-inclusive | As above plus 1,000 minutes of talk time to landlines in 45 worldwide destinations | £15 |
| International | 1,000 minutes of talk time to landlines in 45 worldwide destinations | £8 |
All these packages are taken on a rolling basis and can be cancelled at any time. No set-up fees are applied either.
---
Extras with KCOM broadband
KCOM include several notable extras with their broadband packages, providing additional value to customers and helping them better control their home broadband.
Hull hotspots
KCOM customers on the move can benefit from Wi-Fi hotspots in Hull City Centre.
This access is free and unlimited for KCOM broadband customers, while non-KCOM customers can access 20 free minutes a day if they register for the service online.
Obviously, this only really benefits customers who visit Hull City Centre regularly, but it's a nice extra for customers beyond the traditional KCOM areas who might travel into Hull occasionally and can access free Wi-Fi while they are there.
There are also hotspots planned in some expansion areas such as Beverley, Ferriby and Market Weighton, so customers in those areas should keep an eye out.
Parental controls
Parents can set up parental controls on their KCOM account to manage what their household can access online.
These can be set up in My Account and allow parents to choose from five profiles:
Off: no parental controls active, all websites available to browse
Aged 1 to 6: suitable for children using learning apps and watching appropriate programmes on a tablet
Aged 7 to 11: suitable for children starting to game online, using apps and watching YouTube
Aged 12 to 15: suitable for children who are becoming more confident online and are using apps, social media and doing homework online
Aged 16 to 18: suitable for teenagers who are communicating on social media via smartphones while also gaming and shopping online or streaming and downloading video content
Parents can further personalise these restrictions by blocking or allowing specific websites using their PIN, and the restrictions work on all devices in the home.
KCOM Pro
KCOM Pro is KCOM's solution to help customers get the best out of their broadband and troubleshoot any problems.
They say the process covers the following steps:
Talk to customer over the phone to understand what problems they're having and attempt to resolve them over the phone
If the issue can't be resolved, an engineer's visit will be scheduled
A full Wi-Fi survey of the property will be carried out to diagnose the problem and the engineer will explain their findings to the customer
The Wi-Fi will be optimised and customers will be left with a summary of what has been done and advice on how to optimise their connection in the future
The visit is free if customers are experiencing wireless performance issues and the problems can't be resolved via the initial phone call.
---
What's KCOM's customer service like?
Unfortunately, we don't have much independent data from Ofcom on KCOM's customer service since they are a relatively small ISP.
One statistic we do have comes from Ofcom's Comparing Service Quality report published in May 2021.
It states KCOM customers can expect to have their call answered in 3 minutes 19 seconds if they phone their provider. This was much faster than the industry average of 4 minutes 9 seconds.
21.6% of calls were abandoned by customers before they were answered. This was double the industry average.
However, it must be noted the reporting period included plenty of time during 2020 that was disrupted by Covid-19 and all telecoms companies experienced problems in keeping their communication channels open.
KCOM were singled out by Ofcom in their report for being the quickest provider on average to restore a customer's service, with the ISP able to resolve most faults where customers had completely lost their service on the same day.
This suggests KCOM fulfilled the main objective set out by Ofcom during the coronavirus crisis - to keep people connected and protect the most vulnerable.
Aside from this, the best information we have about KCOM's customer service can be found on review sites like Trustpilot.
At the time of writing, KCOM has a Poor score of 2.5% on Trustpilot with 62% of reviewers labelling them as a Bad company and 24% saying they are Excellent.
Common complaints include frequent disconnections, slower speeds than expected and long waiting times to speak to an advisor.
Reviews from sites like Trustpilot can only be used as a loose guide to the customer service of a provider, and these sites do tend to attract customers who are either irate or very happy, so customers should be cautious when reading them.
Given the monopoly KCOM have in Hull, customers may also feel there's little point in reviewing and the page only has just over 420 reviews at the time of writing.
---
Where is KCOM available?
As well as their Hull heartlands, KCOM are expanding into other parts of East Yorkshire and into Lincolnshire too.
This includes places like Driffield, Market Weighton, Nafferton, Pocklington, Howden, Goole, Withernsea, Hornsea, Bishop Burton and parts of Bridlington.
In addition, they have also expanded to Barton, Brigg, Barrow upon Humber, Hibaldstow, Messingham, Epworth, Crowle and Haxey.
KCOM say they will expand to nearby locations if there is demand, citing the rollouts in Broughton, Goxhill and Scawby that were a direct result of residents asking for the service.
This map gives an overview of where their services have spread to so far: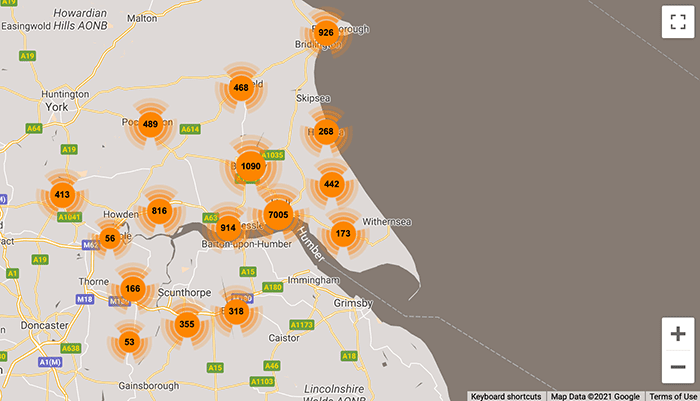 However, coverage within areas may not be comprehensive as this more detailed analysis of KCOM services in Bridlington demonstrates: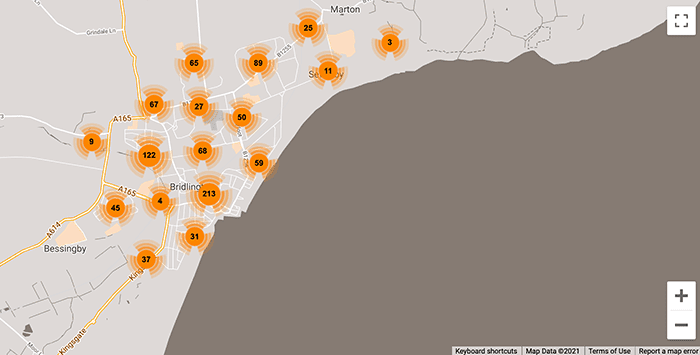 There's more information about the market share of different UK broadband providers in this guide.
---
Verdict: Is KCOM any good?
For broadband customers beyond KCOM's traditional home in Hull, the FTTP provider is becoming a real option for households searching for fast broadband speeds.
It's testament to how well the regional expansion is going that the rollout was named Telecoms Project of the Year at the National Technology Awards in September 2021.
While KCOM's slower packages are more expensive than similar deals from other ISPs, it's important to remember KCOM offers full fibre all the way to the property instead of just to the cabinet. This delivers more reliable download speeds as well as improved upload speeds too.
What we like about KCOM:
Their full fibre network offers fast and reliable speeds
Upload speeds are comparatively fast
Routers are optimised for their broadband speeds
Call packages are affordable
Pro support offers free engineer visits
We do have a few reservations, however:
Pricing for entry-level fibre is almost double the price of similar speed packages from rivals
Rollout beyond Hull is slow so far
We don't have much independent customer service data about them
All told, KCOM's FTTP packages are a great draw, although it's likely their faster deals from 100Mb up will be more attractive to customers than the 30Mb package.
See if KCOM's available in your area by checking local broadband deals using our free tool.