Mesh technology available with the latest routers allows wireless networks to be seamlessly extended over larger areas, allowing devices to remain connected to one network wherever they are in the home.
This has allowed broadband providers to offer guarantees on whole home WiFi coverage, with promised minimum speeds in every room, simply by providing customers mesh extenders to use alongside their router.
While WiFi guarantees usually come with an additional monthly cost, they also often offer money back if they fail to deliver the speeds and coverage promised.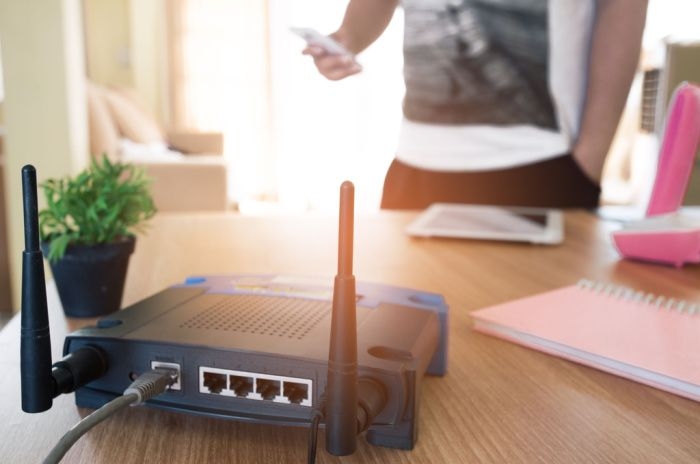 Credit: Casezy idea/Shutterstock.com
---
At a glance: WiFi guarantees by provider
Best buy rating
Monthly price
Minimum term
Minimum speed
Guarantee
Extras
Virgin Media
£8
(free with Gig1 or Volt)
30 days
30Mb
£100 bill credit
No
Sky
£7.50
18 months
Up to 25Mb
1 months broadband and WiFi Max refund + guarantee cancellation
Yes
BT
£12
24 months
'Strong' signal on My BT App
£100 bill credit
No
Community Fibre
£10
12/24 months
10Mb
3 months bill refund + WiFi guarantee cancelled
No
TalkTalk
£6
18 months
10Mb
Cancel add-on early
No
Vodafone
£5 - £15
24 months
10Mb
Leave contract early
Yes
EE
£10
24 months
N/a
N/a
Yes
Hyperoptic
£7
12/24 months
N/a
N/a
No
KCOM
£5 per extender
18 months
N/a
N/a
No
Zen Internet
£9
(+£9 P&P)
12 months
N/a
N/a
No
---
Verdict: Who offers the best WiFi in every room guarantee?
For guaranteed WiFi in every room, Virgin Media offer the best add-on in their WiFi Max service, promising customers minimum download speeds over wireless of at least 30Mbps on any of their broadband deals.
Virgin Media's WiFi Max has recently been boosted for both new and existing customers from 20Mbps to 30Mbps. If a customer doesn't receive 30Mbps speeds in every room they can request up to 3 WiFi Pods to extend coverage, and if the guarantee still isn't met they can claim a £100 bill credit, and the service itself can be cancelled with just 30 days' notice whether it works or not.
Virgin Media Gig1 broadband and Ultimate Volt bundle customers get WiFi Max included for free, as do any customers on any of Virgin's Volt packages. All other customers can add WiFi Max for just £8 per month.
Sky also recently updated their whole home WiFi guarantee, launching their own WiFi Max add-on in July 2023, and boosting promised speeds from 3Mbps to up to 25Mbps.
However, only customers on Sky's full fibre broadband plans will be promised speeds of 25Mbps, while superfast customers are only guaranteed 10Mbps. The new add-on also bundles a new WiFi 6 router, the Max Hub, and currently costs £7.50 per month on an 18-month term.
We also like Vodafone Pro II for providing customers with a 4G mobile back-up service if their fixed line broadband goes down at any time. Vodafone customers will get 100GB of mobile data if their broadband develops a fault, as well as access to dedicated wireless support technicians.
---
What are WiFi guarantees?
WiFi guarantees vary between provider, although all of them use mesh routers and mesh extenders to improve the coverage of a wireless network around a customer's home.
Some WiFi guarantees are actual promises of a minimum download speed or level of WiFi coverage that should be achieved in every room of a customer's home. If a provider fails to meet this guarantee, some will refund money or allow a customer to leave their contract early.
However, some providers stretch the definition of the word 'guarantee' more than others and don't actually offer anything back if 'whole of home' WiFi coverage isn't achieved. The service in these instances is simply a subscription for loaning the mesh extenders with support provided, whether they manage to do the job or not.
Some WiFi guarantees also come with added extras, which can range from out of hours engineer appointments, to 4G mobile broadband back-ups.
---
How is WiFi in every room guaranteed?
WiFi guarantees have come around since the introduction of mesh technology in the latest routers, which allows a wireless network to be extended more easily around a house by adding mesh extenders to the network.
Unlike WiFi range extenders, which broadcast a new network and then relay traffic back to the router, mesh seamlessly broadcasts boosted signals on the same network.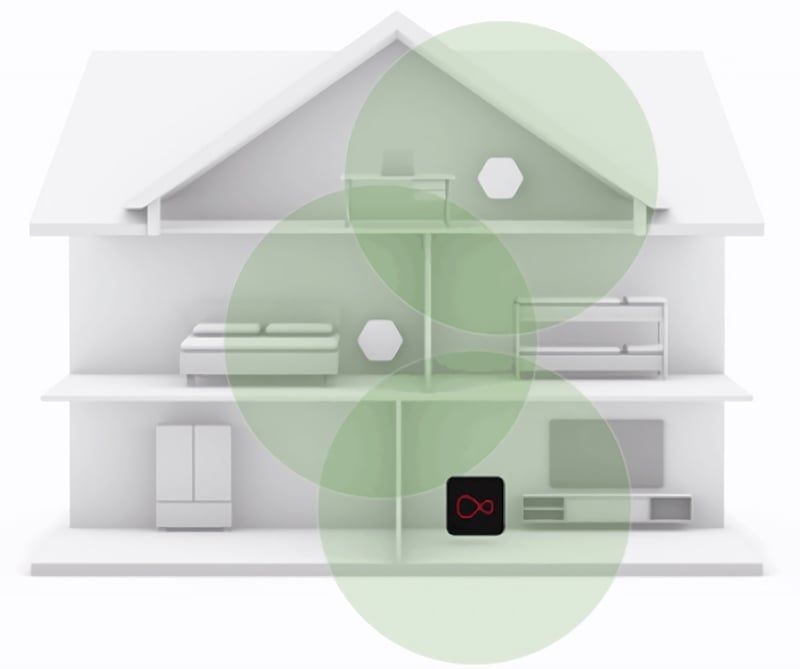 Virgin Media's illustration of their mesh system boosting WiFi signal throughout a larger home.
Mesh is much more efficient than older range extenders in terms of signal management and also data transfer. However, its main benefit is its ability to extend the original wireless network so devices don't have to switch between different WiFi networks as they move around a building or home.
All WiFi guarantees rely on a mesh supporting wireless router, they then provide customers with mesh 'discs' or 'pods' (basically extenders) to place around their home to boost signal in areas the main router fails to reach. WiFi guarantees usually provide one extender at first, with most providers limiting customers to a maximum of three extenders.
Ultimately, it's a WiFi guarantee because a mesh router and up to three mesh extenders ought to provide a decent wireless network in even the largest of homes.
And of course, there are the expected caveats that the cellar, loft, and bottom of the garden are usually excluded.
---
How much do WiFi guarantees cost?
WiFi guarantees cost around £5 to £12 per month on top of the broadband price, although some providers offer them for free on certain packages - particularly very fast packages, like gigabit broadband deals.
Most WiFi guarantees as add-ons have a minimum contract term too, usually this will run alongside the broadband contract if the WiFi guarantee was taken out at the time of signing up, but existing customers adding the add-on later on may find their contract is extended as a result, so that's worth checking.
In terms of value for money, the subscription price is fairly low if a customer lives in a particularly large house or one with very thick walls and needs the maximum three extenders.
To purchase outright, mesh extenders aren't cheap.
Amazon eero Pro 6 mesh extenders (provided with TalkTalk's Full Fibre deals) cost around £100 each, with the main router costing around the same. A Linksys Velop mesh system with two devices retails at just under £300. And BT's Whole Home WiFi 6 costs £400 for three mesh discs, or £150 for an additional disc.
Overall then, WiFi guarantees can provide value for money, saving customers from large upfront costs, especially with providers who will actually refund the subscription fees if the technology fails to improve their wireless network.
---
Providers with WiFi guarantees
The majority of broadband providers now offer WiFi guarantees as more of their standard routers now support mesh, so it's easier for customers to subscribe for compatible mesh extenders.
Notable exceptions to this include:
Plusnet
NOW Broadband
TalkTalk superfast fibre
Only TalkTalk full fibre customers can sign up to their Total Home WiFi guarantee, as only these plans come with the Amazon eero router used to boost wireless coverage.
As we'll look at each provider's take on a 'WiFi guarantee' varies considerably, with Virgin Media, Sky, BT, and Community Fibre offering the most substantial guarantees, while EE and Vodafone offer the most tangible added extras.
Virgin Media WiFi Max
Virgin Media's WiFi guarantee now promises 30Mb download speeds in every room or customers can have a £100 bill credit.
The provider recently reclaimed their 'fastest wireless guarantee of all major providers' accolade by boosting their guarantee from 20Mbps to 30Mbps, after Sky launched a rival guarantee up to 25Mbps.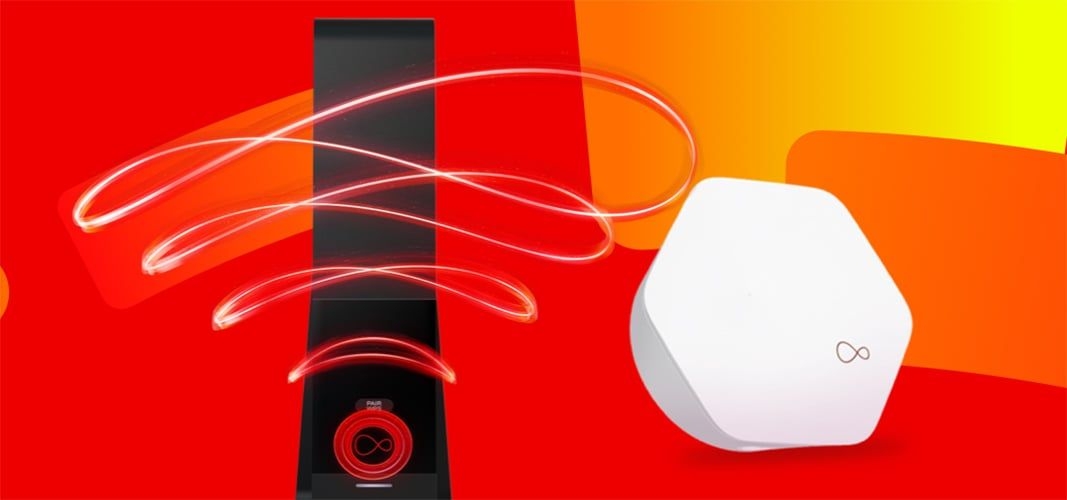 Virgin Media's WiFi Max is also better than Sky's however, as customers on 50Mbps plans are still promised 30Mbps, and all customers get a £100 bill credit if it fails to deliver.
In addition, Virgin Media's WiFi Max add-on can be cancelled at any time providing just 30-days' notice, so it's also the most flexible WiFi guarantee on offer.
Virgin Media WiFi Max costs £8 per month, but it's provided for free to customers on Gig1 broadband, Ultimate Volt or any Volt package.
Sky WiFi Max
Launched in July 2023, Sky's new WiFi guarantee add-on is called WiFi Max and bundles a new WiFi 6 router with up to three Plume mesh booster pods.
Sky WiFi Max promises speeds of 25Mbps in every room of a customer's home. If customers don't get the promised speeds Sky will send up to 3 WiFi pods to boost speeds, an engineer visit, and eventually will refund one month's broadband subscription and WiFi Max add-on fee, as well as giving customers the right to cancel the WiFi Max add-on early.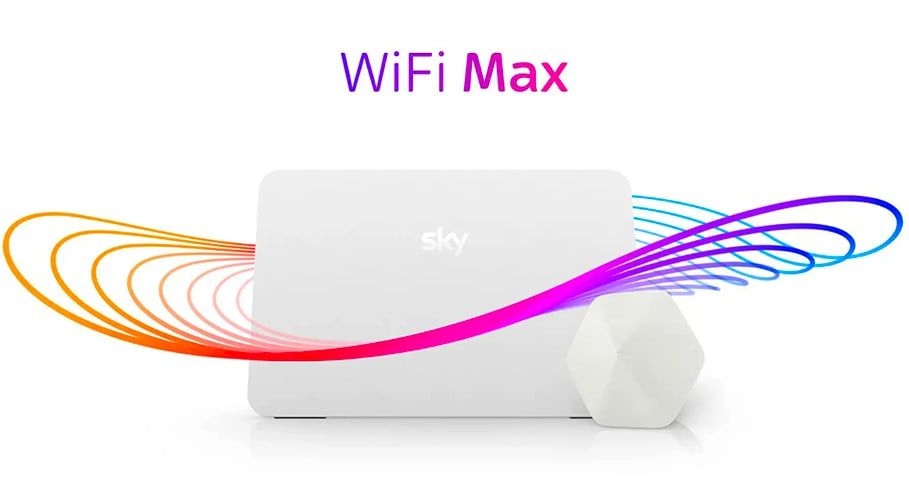 The downside to Sky WiFi Max is it only promises those headline speeds to customers on their full fibre packages; Ultrafast, Ultrafast Plus, or Gigafast. Customers who take WiFi Max on Superfast 35 or Superfast will get the updated router and WiFi pods, but are only guaranteed speeds of 10Mbps.
New and existing customers can add Sky WiFi Max from £7.50 per month, on an 18-month minimum term. While Sky say it's perfect for customers who bundle Sky Stream or Sky Glass, devices that also support WiFi 6, WiFi Max isn't yet available to customers with Sky Q TV plans.
Sky Broadband Boost
Sky's older Broadband Boost service has now largely been replaced by WiFi Max, however it's currently still available for customers who sign up to Sky Broadband with Sky Q.
Sky Broadband Boost costs just £6 per month, making it one of the cheapest WiFi guarantees. However, the promised minimum speed is just 3Mbps in every room.
While the guaranteed speed in every room is pretty slow, Sky Broadband Boost also offers daily line checks and free off-peak engineer visits if a broadband connection develops any issues.
Customers also get 2GB of Sky mobile data if their fixed line broadband goes down, but this will be offered up to three times in a month. These extras are also included in the new Sky WiFi Max service.
In terms of the WiFi guarantee, if a customer fails to achieve 3Mb speeds in every room Sky will refund the Broadband Boost subscription paid, and waive future costs up until the end of the minimum term.
Customers who don't take Sky Broadband Boost or Sky WiFi Max get a Wall to Wall WiFi guarantee for free instead, which will give customers a refund of one month's broadband subscription if they don't have 3Mb speeds in every room.
BT Complete WiFi
BT's Complete WiFi service offers WiFi in every room for £12 per month.
Alongside the BT Smart Hub 2, customers will be sent up to three Complete WiFi discs to improve the wireless coverage around their home. BT don't promise a minimum download speed, but instead rely on the My BT app to determine if the WiFi signal is 'strong' or 'weak'.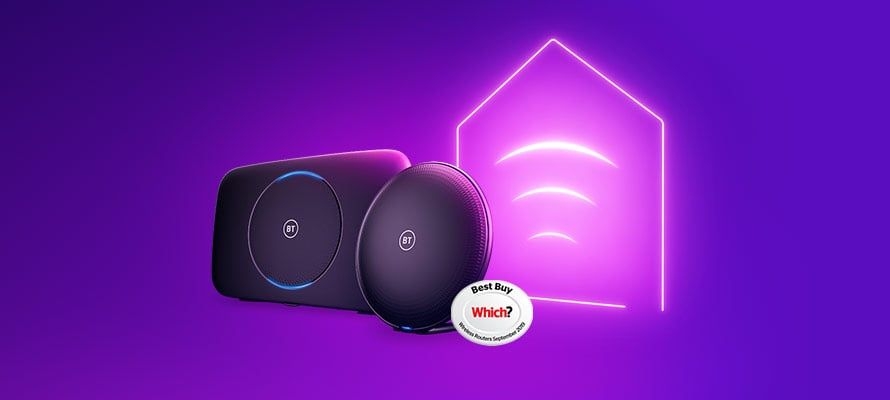 If it's not 'strong' in every room after BT have done their best, including sending out an engineer to correctly position any mesh discs, customers get £100 bill credit.
BT Complete WiFi comes with a 24-month contract term, and that can't be sidestepped even if a customer doesn't manage to get a reliable wireless connection in every room. That's worth bearing in mind when the add-on costs £12 per month, as the £100 bill credit won't cover the cost for the length of the contract.
Community Fibre WiFi in Every Room
Community Fibre's WiFi in Every Room service is available on packages with download speeds of 150Mb or faster.
WiFi in Every Room is installed by engineers, so customers won't have to spend time going back and forth to get additional extenders and a final engineer visit if they can't get a WiFi signal in every room straight away.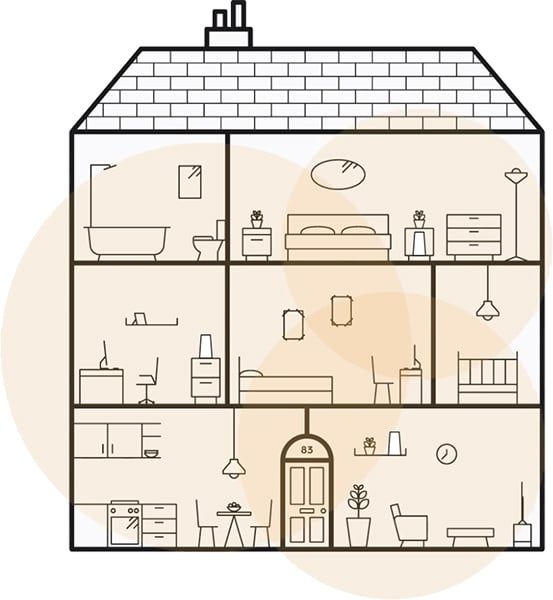 Community Fibre's WiFi in Every Room is installed by engineers to best position the mesh extenders.
The add-on costs £10 per month and guarantees a minimum download speed of 10Mb in every room or customers will get a refund of three month's broadband subscription, plus the WiFi in Every Room add-on cancelled.
TalkTalk Total Home WiFi
TalkTalk offer the Total Home WiFi add-on to full fibre broadband customers.
The add-on includes a second Amazon eero, which can be used with customer's existing eero to boost wireless coverage and speeds around a home.
Total Home WiFi costs £6 per month, although Full Fibre 900 customers get it included in their package for free.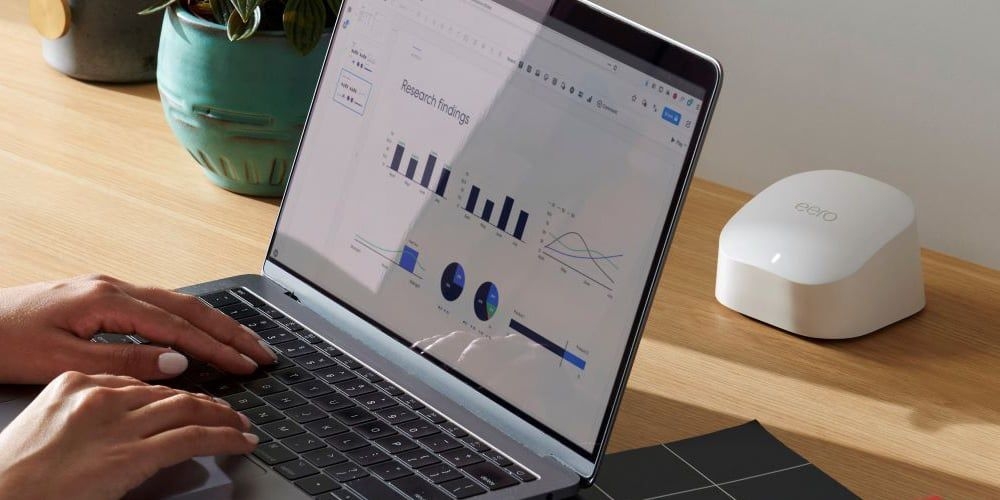 There isn't much of a guarantee, except that if customer doesn't achieve minimum wireless speeds of 10Mbps in every room, TalkTalk will first send out an engineer, and if that still doesn't resolve the issue the customer can cancel the add-on without incurring any early termination charges.
Amazon eeros cost around £100 per device, so the Total Home WiFi add-on offers decent value for money up until the end of the initial 18-month minimum term, although it doesn't offer any money-back if it fails to deliver.
Vodafone Pro II
Vodafone Pro II isn't an add-on, but is an actual range of Vodafone broadband packages, which come bundled with extras including a Super WiFi guarantee.
The Super WiFi guarantee offers a reliable wireless connection in every room or says a customer can leave their entire contract for free.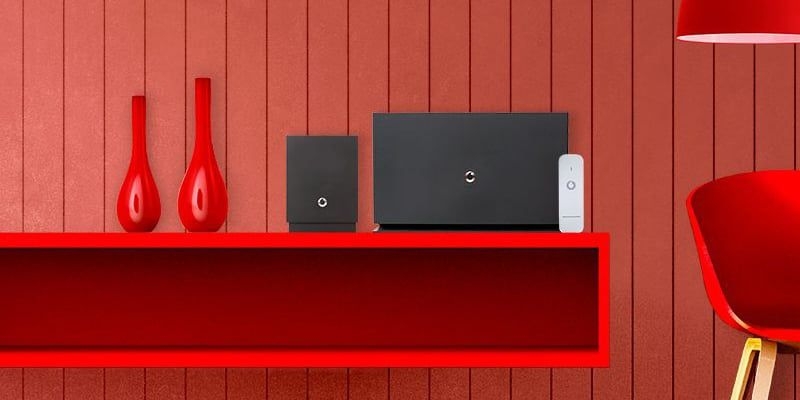 Vodafone guarantee minimum download speeds of 10Mb in every room and will supply up to three mesh extenders to achieve this.
Vodafone Pro costs approximately £5 to £15 more each month than their standard broadband packages, but also comes bundled with a 4G mobile broadband back-up service that providers 100GB data if the fixed line broadband goes down, and access to dedicated wireless support technicians.
EE Smart WiFi
EE don't offer a WiFi guarantee that promises anything, but they do offer some tangible extra benefits that make their service worth looking at.
EE Smart WiFi offers one mesh extender disc and a 4G mobile WiFi hotspot with 2GB data each month. EE say they will provide up to two more mesh discs if they're needed, but delivery charges may apply.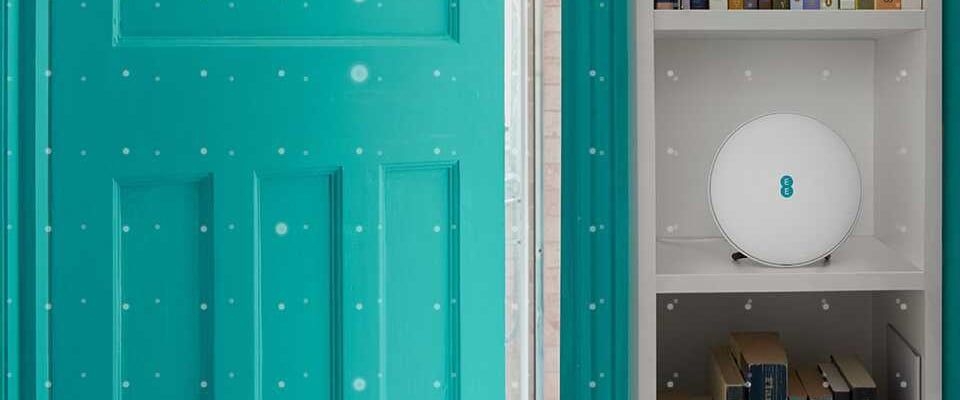 While there are no minimum speed or WiFi coverage guarantees on offer, the service's main benefit is customers get 250GB of EE mobile data if their fixed line broadband develops a fault at any time.
The EE Smart WiFi add-on costs £10 per month and comes with a 24-month minimum term.
Hyperoptic Total WiFi
Total WiFi from Hyperoptic isn't a WiFi guarantee, but simply a mesh extender device that works with Hyperoptic's main router.
The service costs £7 per month and is available on packages with a 12 or 24-month contract period. It's not available on rolling monthly deals. Existing customers who want to take Total WiFi will need to sign up to a new minimum term.
Considering Hyperoptic is a dedicated full fibre broadband provider it's somewhat surprising their mesh service is much more limited than with other providers, offering just one mesh extender compared to up to three with most other providers.
It could be a result of their previous focus on connecting blocks of flats, where a customer's home is likely to be smaller than a house. However, as they move into new build developments and start rolling out to larger houses in London, perhaps Total WiFi will see an upgrade.
KCOM Smart WiFi
KCOM's Smart WiFi service is again, another mesh service only, with no actual WiFi guarantee offered.
Smart WiFi costs £5 per device, and KCOM will supply up to three devices, but say most households will only need one.
The service is provided on a self-install basis only and there are no engineers on hand to check connectivity or placement for you.
Zen EveryRoom
Zen Internet's EveryRoom offers a WiFi guarantee insofar as they'll send an additional mesh extender if the first one doesn't achieve wireless coverage in every room, but that's about it.
Zen EveryRoom costs £9 per month and comes with a 12-month contract. Postage is charged on mesh extenders at £9, and they'll send one device before determining if a customer needs a second one, so you'll have to pay postage twice if that's the case.
Zen use the well-regarded Fritz! Box router for their broadband packages, and customers will be sent the Fritz! Repeater 3000 as part of the EveryRoom service. Purchased separately a Fritz! Repeater 3000 costs around £140.
---
Are WiFi guarantees worth paying for?
Because the WiFi guarantees available from each broadband provider differ so much, whether they're worth paying for or not really depends on the provider and the add-on itself.
It also comes down to some degree to a customer's home and the issue they may be experiencing with their wireless network in the first place. For example, some people may find simply upgrading their router to a better device may resolve their issues.
Sky's new WiFi Max service actually combines a more up to date router that supports the latest WiFi 6 protocol and improved wireless coverage. However, most other providers merely provide WiFi boosters to work with the existing router.
Alternatively, Virgin Media offer their WiFi Max guarantee for free for customers on their fastest broadband plans for example, at which point, it's a great added extra.
Even for Virgin Media customers on slower plans like M125 or M250, at £8 per month WiFi Max guarantees minimum speeds of 30Mbps in every room or a £100 bill credit - and with a 30-day term it can be cancelled at any time. In this instance, there's a lot less risk to try the service out and see if it improves wireless coverage.
As we've seen though, other services such as those offered by Hyperoptic, KCOM and Zen Internet, don't offer a lot extra and tie customers down to lengthy minimum terms.
At this point it's more questionable whether it's worth committing to an additional subscription cost, or simply finding a better broadband deal that perhaps comes with a better router in the first place.
---
Summary: understanding the terms
WiFi guarantees are becoming commonplace for customers signing up to broadband deals, with many providers offering them as optional extras at the point of sign up.
Yet with such large variations between the guarantees on offer it's really important a customer understands the add-on they're signing up to and that it's going to offer them a worthwhile benefit.
Virgin Media's WiFi Max offers the fastest wireless guarantee of all major providers, promising market-leading wireless download speeds of 30Mbps in every room. In addition, if they fail to deliver that, customers get £100 bill credit, and the WiFi Max add-on can be cancelled at any time.
In addition, it's great for Virgin Media Gig1, Volt, or Ultimate Volt customers as they get the WiFi guarantee included for free.
Sky's new WiFi Max offers another fast wireless guarantee, promising speeds of 25Mbps in every room, yet the caveat is that only applies to full fibre customers, with superfast packages only promising speeds of 10Mbps.
Community Fibre and Vodafone also offer WiFi guarantees that are pretty safe to try out. Community Fibre will refund three month's broadband subscription and cancel the service if it doesn't work out, and Vodafone allow their customers to exit their contract early without penalty.
Vodafone's take on a WiFi guarantee also comes with a substantial tangible benefit in the form of a 4G mobile data back-up if the home broadband goes down at all. We like that this can actually help people stay online, although arguably people could simply sign up for a mobile data SIM.
Overall, we suggest customers considering an every room WiFi guarantee to check the terms of the service and what they're getting carefully. They should ask:
Does it guarantee a minimum speed in every room?
What are the caveats?
What does the provider have to do if their guarantee isn't met?
Can the WiFi guarantee be cancelled if it doesn't provide coverage in every room?
Purchasing mesh extenders separately can be expensive, and so WiFi guarantees certainly have their place. Yet with such variation between providers it's worth finding out exactly what is on offer and what isn't.
Read more about how to get the fastest broadband in your area, and which provider is the most reliable.