Sky has unveiled its most powerful WiFi package yet, offering a new Max Hub router with an updated WiFi guarantee.
New and existing Sky broadband customers can now sign up to WiFi Max, an add-on which combines the latest Sky router with an improved WiFi guarantee.
The new Max Hub router offers the latest WiFi 6 technology, with improved security and the ability to pause devices and set schedules.
Sky's WiFi guarantee is also boosted up to 25Mb per second with new boosters, or customers can get their money back.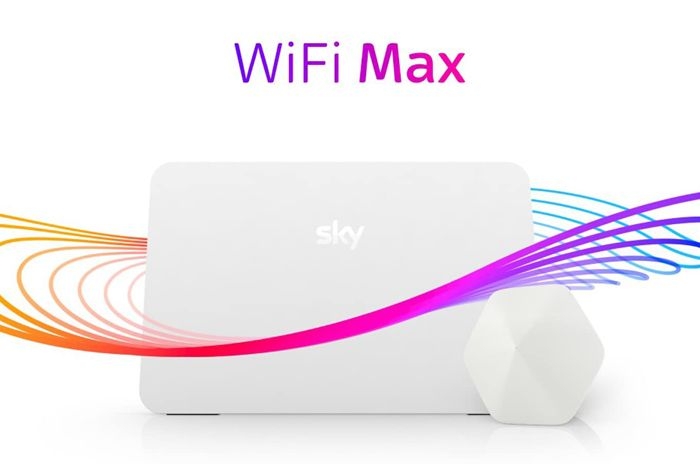 WiFi Max
WiFi Max is a new add-on from Sky for broadband customers on either Superfast, Ultrafast or Gigafast plans.
It currently costs £10 per month, although customers signing up here can get it for just £7.50 per month, and includes an updated router and improved WiFi guarantee.
The updated WiFi guarantee promises minimum download speeds of 25Mb per second in every room for full fibre customers, and 10Mb per second for those on superfast plans.
For full fibre customers this makes it the UK's fastest WiFi guarantee, beating Virgin Media's similarly named 'WiFi Max' by 5Mb.
While Virgin Media customers on their fastest Gig1 plan or Volt get the guarantee for free, it's still a welcome upgrade for Sky, who previously only promised speeds up to 3Mb.
Sky say customers who don't get the guaranteed download speed will be sent up to three Max Pods, as well as an engineer to optimise the customer's set up. If the customer still doesn't get the promised WiFi speed throughout the home, Sky will refund one month's broadband and WiFi Max subscription fee, along with the option to cancel WiFi Max.
This is slightly different from the previous Sky Broadband Boost, which refunded customers all money paid for the add-on.
Max Hub
To help deliver those faster speeds, Sky have released a new router, the Max Hub, which updates the protocol from 5 to 6 compared to the current Sky Broadband Hub.
While most devices will still use WiFi 5, both Sky Stream and Sky Glass already support WiFi 6, so customers with Sky TV and broadband should notice an immediate improvement.
This is another area where Sky are leapfrogging Virgin Media, as the Virgin Media Stream Box only supports WiFi 5.
Sky have also partnered with Plume, to offer new WiFi 6 pods that can extend the Max Hub router's wireless network seamlessly around a home, enabling Sky to up their promise of minimum download speeds in every room.
The Max Hub router also uses intelligent cloud optimisation and offers improved security via the MySky app, which monitors devices in real time and alerts customers to problems as they happen.
Broadband deals
Sky WiFi Max is available to both new and existing customers on any one of the following Sky broadband plans:
Superfast 35
Superfast
Ultrafast
Ultrafast Plus
Gigafast
WiFi Max is priced at £10 per month, but customers who sign up via our Sky deals page can find the add-on for just £7.50 per month right now.
It's worth repeating, only customers on Sky's Ultrafast and Gigafast plans will get the fastest 25Mb speed promise, while those on Superfast plans will be promised speeds of at least 10Mb in every room.
New customers who don't add WiFi Max, will get the current Sky Broadband Hub which supports WiFi 5, and the free Wall-to-Wall WiFi Guarantee which promises speeds of at least 3Mb in every room or customers can claim one month's broadband subscription back.
Sky Broadband Boost is no longer available, with WiFi Max replacing it.
While Sky say WiFi Max is ideal for customers who bundle Sky Stream or Sky Glass with Sky broadband, it's not yet available to existing or new customers who take Sky Q.
However, at the time of writing, Sky Q customers can still access Sky Broadband Boost for £6 per month if they need to extend their wireless network.