Thanks to many service roles being bought back to the UK, most broadband providers now deliver their customer service from UK locations.
This currently includes providers like BT, Plusnet, Community Fibre, Sky, Direct Save Telecom, and Zen Internet.
However, there are notable exceptions including TalkTalk, Vodafone, and Virgin Media who run at least some of their customer service centres offshore.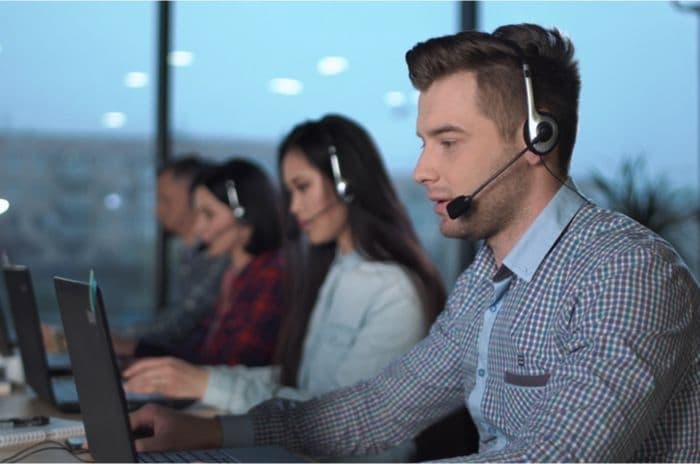 Credit: Frame Stock Footage/Shutterstock.com
---
At a glance
| UK call centres | Some UK call handling | Overseas call centres |
| --- | --- | --- |
| BT | Virgin Media | Hyperoptic |
| Community Fibre | Vodafone | TalkTalk |
| Direct Save Telecom | | |
| EE | | |
| Gigaclear | | |
| iTalk Telecom | | |
| KCOM | | |
| NOW Broadband | | |
| Plusnet | | |
| Shell Energy Broadband | | |
| Sky | | |
| Zen Internet | | |
---
Which broadband providers offer UK customer service?
Many broadband providers operate their customer service from centres within the UK and Ireland.
This is a massive change compared to where we were a decade ago, with several providers bringing back huge numbers of call centre roles to the UK.
However, there have also been recent reports of providers closing service agent roles in the UK, with rumours these jobs could either be replaced with AI or moved offshore again in a bid to cut costs.
Here is what we know about the broadband providers currently delivering customer service from the UK.
BT
BT have now moved 100% of their customer service calls back to the UK and Ireland.
They announced in May 2018 they were working to bring their call handling back from India and the Philippines, and the process was completed in January 2020.
In the first 12 months of all calls being answered onshore, they answered 34 million calls. This was lower than the 38 million of the previous year, but BT say that's due to their advisors being better placed to help customers at first contact.
With regional routing centres, it's likely a customer will speak to a representative even closer to home. However, BT have also been upgrading their office buildings under the Better Workplace Programme which aims to complete by 2024.
Under this programme, BT is consolidating its locations from over 300 to just 30, with a focus on cities including Birmingham, Bristol, Manchester. London, Darlington and Newcastle. Although the investment underlines BT's commitment to offering UK-based services.
BT's efforts to improve their customer service has been working, with above average scores for overall satisfaction amongst their customer base according to Ofcom's latest Comparing Service Quality report.
The provider also had lower than average complaint figures and numbers of customers with a reason to complain.
So, it seems BT's strategy of bringing customer care back to the UK and Ireland has paid off.
However, there have also been recent reports BT is planning to replace around 10,000 jobs with artificial intelligence, with a fifth of jobs cut in customer services. This means BT will provide more support via AI chatbots, which could be frustrating for users.
Community Fibre
Community Fibre is a dedicated London-based provider, with a footprint of over 1 million homes in the capital.
The provider offers customer support direct from their London offices, and has service agents available to help customers in a range of languages, including English, Spanish, French, German, Greek, Latvian, Hindi, Romanian, Italian and Portuguese.
Community Fibre is one of the highest rated broadband providers on Trustpilot, with a Trustscore of 4.9 out of 5 from over 32,900 reviews. While most of the reviews seem to focus on great service from installation engineers, there are also many reviews suggesting positive experiences with contract renewals and complaints.
Direct Save Telecom
Direct Save Telecom promise customer support from UK-based staff.
Their technical support, customer service, billing and admin helplines are all routed through a Watford number, the location where their headquarters are.
Direct Save Telecom is a small provider, but they also have largely positive reviews on Trustpilot, with a score of 3.9 out of 5 from over 1,800 reviews. A high number of their reviews praise their customer service agents.
EE
EE are another broadband who have brought their customer service back to the UK in recent years.
Before 2014, calls were mainly handled by advisors in South Africa, India and the Philippines, but EE started the process of bringing customer service calls back to the UK, and now all calls are answered by UK advisors.
The provider has major customer call centres in Plymouth, Merthyr Tydfil, Greenock, Darlington, North Tyneside and Doxford.
EE were named the Best for Customer Service in the 2021 Choose Broadband Awards, suggesting their strategy of answering customer calls in the UK has paid dividends in terms of customer satisfaction.
Gigaclear
Gigaclear is a small dedicated rural broadband provider, who deliver customer services from their head office location in Abingdon, Oxfordshire.
Customer reviews on Trustpilot are largely positive, with many customers praising the helpful support staff. Gigaclear have a rating of 4.3 out of 5 from over 10,800 reviews on the platform.
iTalk Telecom
iTalk Telecom are a small broadband provider based in Brighton & Hove, East Sussex.
They promote their UK-based call centre staff as an element of their service on social media, which seems to be based out of their head office location in Hove.
iTalk are another small provider with excellent ratings on Trustpilot, and many of their reviews citing customer service as a reason for the good review.
KCOM
Hull broadband provider KCOM have UK-based customer care, with their website promising local customer service from their bases in Hull.
Read more about KCOM and their expanding network.
Now
As NOW is part of the Sky family, their customer service seems to follow the same UK-based pattern as their owner's.
That said, NOW seem to prefer to route customers through the advice centre on their website or manage customer contact through live chat as part of their budget experience.
Plusnet
Plusnet are true to their Yorkshire roots with their customer contact centres based in Leeds and Sheffield.
Their website says they have received 34 customer service awards over their 26 years in business, and they cite their performance in Ofcom's 2022 Comparing Service Quality report, where they came first for overall satisfaction amongst their customers.
While they did suffer a major billing system issue in 2018, and had high levels of complaints in 2020, they have dramatically improved their complaint levels since then, reporting an average level of complaints alongside BT in the latest research.
Shell Energy Broadband
Shell Energy Broadband say they offer UK-based customer service via UK call centres and live chat providers, something they have reiterated in responses to customers on review sites.
Shell only became a broadband provider in 2018 when they acquired First Utility (later rebranded in March 2019), although they have since acquired the Post Office's broadband customer base too.
Their customer complaint levels have increased since their entry into Ofcom's complaints data in 2021, peaking at 31 complaints per 100,000 customers in the second quarter or 2022. They did however show great improvement in the most recent results, bringing their complaint levels down to just 16 per 100,000 customers in Q1 2023.
Sky
Sky have customer contact centres in Livingston, Dunfermline, Uddingston and Falkirk in Scotland, as well as Leeds, Newcastle, Stockport, Derby, Manchester and Cardiff. Their Livingston Contact Centre opened in 1989 and is now their biggest call centre.
With consistently low complaint levels across broadband and pay TV, Sky are often the provider with the lowest number of complaints in Ofcom's quarterly figures.
Sky won Gold for Best Customer Service in the 2022 and 2023 Choose Broadband Awards.
However, Sky have also announced job cuts in both their in-house centre in Livingston, as well as in outsourced call centre locations in Belfast, Derry and Derby. While there are no official announcements yet, there are numerous reports these jobs will be outsourced to India and Bulgaria to help reduce costs.
Time will tell if this move frustrates customers enough for Sky to lose their market-leading reputation for excellent customer service.
Zen Internet
Zen Internet are committed to UK call centres without unnecessary call scripts.
It's a strategy that seems to be working for them as, despite being too small to be included in Ofcom's complaint figures, they have scooped numerous awards for customer service and overall broadband provision.
---
Broadband providers with only some UK call handling
Some broadband companies have call centre staff based both in the UK and elsewhere.
There are two notable examples of this: Virgin Media and Vodafone.
Virgin Media
Virgin Media have some call centre staff in the UK, although the majority of their calls are still answered offshore by advisors in India and elsewhere.
They announced at the beginning of the coronavirus pandemic in March 2020 they were creating more than 500 customer call centre jobs in the UK, as overseas call centres were closed by lockdown restrictions.
Virgin's existing UK-based call centres are in Birmingham, Manchester, Teesside and Sheffield.
Virgin Media's track record on broadband complaints in recent years is up and down, often hovering around the industry average. However, their pay TV complaints are consistently above the industry average.
They are also another provider to announce job losses in recent months, although with the majority of their customer service agents outsourced, it's likely to be engineers facing redundancy. However, less engineers could result in longer wait times to resolve connection problems and faults, which would have a knock-on effect to complaint levels.
Vodafone
Vodafone have brought thousands of call centre roles back from South Africa in recent years, although they still retain some call staff in locations like Egypt.
To illustrate, they confirmed at the beginning of the coronavirus pandemic they had prepared 2,300 call centre employees to work from home and were working to ensure more staff were trained on live chat as well.
Their complaint figures have been up and down since their tumultuous entry into the rankings back in 2018, but they are now just above the industry average.
---
Broadband providers with call centres abroad
It can be difficult to find details when broadband providers prefer to keep their customer call centres offshore as they aren't usually as keen to highlight the fact as those with UK-based call centres.
We found two companies who seem to have all their customer contact roles offshore: Hyperoptic and TalkTalk.
Hyperoptic
Hyperoptic seem to run their customer service centres out of Serbia while other business functions run out of their UK offices.
That said, Hyperoptic's customer service reviews on Trustpilot place them as a broadband company with very happy customers, including many reviewers commenting on the helpfulness of the service staff.
TalkTalk
The majority of calls to TalkTalk seem to be handled by advisors in South Africa and the Philippines, although there are some (apparently outsourced) call handling jobs in the UK too.
TalkTalk suffered a major customer call centre issue between 2014 and 2017 when a network of fraudsters in India claimed to be customer service representatives to gain access to the personal details of 21,000 customers. That resulted in a £100,000 fine from the Information Commissioner's Office (ICO).
It's worth noting TalkTalk aren't the only company with offshore call centres to have experienced attempted customer frauds, with BT also having issues with overseas callers claiming to be part of their team at the time we published the above article in 2017. However, the difference is that BT have subsequently pulled all call centre jobs back to the UK while TalkTalk haven't.
In terms of complaint trends, TalkTalk are usually above average, and had the highest complaints for fixed line broadband and home phone in the most recent data from Ofcom.
---
Getting broadband support
The default method for getting in contact with our broadband providers remains by telephone. Ofcom data shows 90% of customer contacts were made via that method in 2022.
There is a growing number of customer contacts through webchat, however, with 6% of 2022 contact made using live chat over the internet.
Providers prefer these services and often try to guide customers towards them for several reasons:
They can fix small problems quickly
It allows advisers to deal with multiple queries at once
It frees up advisers to talk to other customers who may need help more
From a customer perspective, live chat can help with the small things and it's useful for ironing out queries or getting quick technical support on why a router might be playing up.
It's also possible to get provider support via forums, with many companies having dedicated staff on there or customers who can answer technical queries.
However, many of us will still prefer to pick up to the phone and call our provider, and the trend in using AI chatbots to answer live chat queries may become a point of frustration.
Capping support call costs
The biggest change to the cost of calling technical support came about in 2014 because of the introduction of the Consumer Rights Directive.
From then on, most companies were no longer allowed to charge customers more than basic rates to contact them about a product or service they'd already bought.
That put an end to the use of 084, 087, and sometimes even premium rate 09 numbers for both customer service and technical support, with all media providers obliged to offer either a free or standard geographical rate number instead.
The approximate fees for calling certain types of UK telephone numbers are:
| | Type | Cost from landlines (per minute) | Cost from mobiles (per minute) |
| --- | --- | --- | --- |
| 01, 02 | UK geographic numbers | Up to 16p | Up to 65p |
| 03, 0345 | UK-wide numbers | Up to 16p | Up to 65p |
| 0800, 0808 | Freephone service | Free | Free |
| 0845, 0844, 0843 | Business rate numbers | Up to 7p + up to 67p access charge | Up to 7p + up to 67p access charge |
Many providers have recognised that good value customer service can be as important as headline price when potential customers are shopping around - and offering completely free customer service calls from any UK phone line is one way of boosting their customer service image.
| Provider | Customer service number |
| --- | --- |
| BT | 0800 800 500 |
| Community Fibre | 0800 082 0770 |
| Direct Save Telecom | 0800 800 154 |
| EE | 0800 079 8586 |
| Gigaclear | 01865 591131 |
| Hyperoptic | 0333 332 1111 |
| iTalk Telecom | 0333 210 4290 |
| KCOM | 01482 606 1010 |
| NOW Broadband | 0330 3323 050 |
| Plusnet | 0800 432 0200 |
| Shell Energy Broadband | 0330 0945 801 |
| Sky | 0333 7591 018 |
| TalkTalk | 0345 172 0088 |
| Virgin Media | 0345 454 111 |
| Vodafone | 08080 034 515 |
| Zen Internet | 01706 902 001 |
Note: The opening times for these lines will vary but call centres will have automated messages letting you know when they open and what options are available.
---
Summary: Do UK call centres really matter?
As we can see, many broadband providers offer UK-based customer service. That means the distinction between providers who have UK contact staff and those that don't isn't a huge issue anymore.
If we look at the best broadband providers for customer service, we can see the highest ranked ISPs do have UK call centres, such as Sky and BT.
However, smaller provider Hyperoptic also tends to have a good reputation for customer service despite their call centre being based in Serbia.
Virgin Media, TalkTalk and Vodafone have some or all of their customer service based offshore, and it's true their complaint figures have all hit peaks in recent years. On the other hand, there's no clear correlation between offshore customer service and bad customer service.
Common customer complaints about offshore staff tend to relate to communication barriers or call scripts. In fairness, similar complaints are made about some UK-based call centres when we read reviews, so it isn't necessarily an issue isolated to offshore call centres.
Ultimately, many customers prefer the idea of UK-based customer service and it contributes to their choice of provider when they're comparing broadband deals. Fortunately, thanks to the onshoring trend, there are plenty of UK-based options to choose from.