NOW have scoped the Best Overall for the second year running, while Plusnet came a close second claiming our Silver award.
Plusnet also won Gold for Most Reliable Provider, with the lowest faults in the industry and the most fault resolutions on first contact. They also scored highly in our independent survey for customer service, being rated 5 out of 5.
Our new category for 2023 is Fair Terms, seeking to highlight providers with no mid-contract price rises and fair out of contract increases.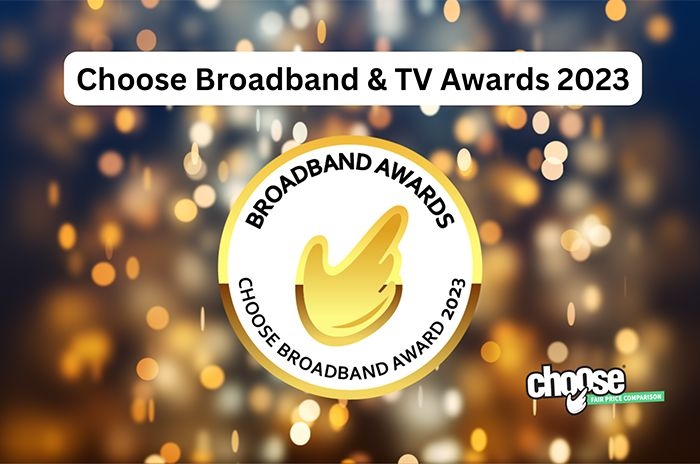 ---
Choose Broadband Awards 2023: Winners
| | Gold | Silver |
| --- | --- | --- |
| Best Overall | NOW | Plusnet |
| Best TV | Sky | Virgin Media |
| Digital Inclusion | Community Fibre | Vodafone |
| Fair Terms | Hyperoptic | Community Fibre |
| Innovation | Community Fibre | |
| Ethical Initiatives | Zen Internet | |
| Community Contribution | Community Fibre | |
| Rural Coverage | Gigaclear | |
| Best Value | NOW | Community Fibre |
| Best Budget | Vodafone | NOW |
| Fastest | Virgin Media | Community Fibre |
| Most Reliable | Plusnet | Virgin Media |
| Best Customer Service | Sky | Plusnet |
| Best Triple Play | Sky | Virgin Media |
| Best Bundle | Virgin Media | NOW |
---
The awards
The Choose Broadband Awards 2023 aim to showcase the best options for customers looking for broadband, TV and home phone deals in the UK.
We want to highlight where providers are going above and beyond, whether that's within their local communities, or on a wider scale in terms of creating innovation in the market.
We also look to recognise industry progress in terms of fairer contract practices and ethical initiatives to make services greener and better for the environment.
As such, we focus on a few specialist awards:
Digital Inclusion
Innovation
Ethical Initiatives
Community Contribution
Fair Terms
Our Fair Terms award is new for 2023, and aims to highlight the current issue surrounding mid-contract price rises and soaring inflation.
While Ofcom are now investigating the fairness of inflation-linked mid-contract price rises, some broadband providers are already swimming against the tide and acting more fairly already. So, we want to recognise that.
Choose cares highly about fairness for consumers, so every award listed here has been through a rigorous selection process and we've used data from various sources to help us make our decisions, such as:
Our own in-depth research into pricing, coverage and services
Commissioning an independent survey on broadband customers
Third party research from sources including Ofcom, Trustpilot and Thinkbroadband
Read on to find out who won each award and why we recognised their efforts.
---
Best Overall
NOW have won our Best Overall for the second year running mainly due to their budget pricing and value for money proposition.
In a cost of living crisis, price is king, and NOW's low cost broadband provides a strong option in the market place for a decent broadband connection without breaking the bank.
While they lost some points for ditching their free anytime call plan, which helped them scoop the award in 2022, they've recently confirmed the price of broadband and line rental subscriptions won't be increasing for existing customers in 2023, despite some providers hiking prices by as much as 14.4%.
NOW also featured in Ofcom's industry complaints report for the first time in 2022, and they've shown strong performance, consistently coming in below the industry average.
We also like the fact NOW Broadband customers can save money on NOW TV Memberships for a budget home entertainment option.
Plusnet are a great choice for broadband owing to their competitive pricing, strong switching offers, reliable broadband and good customer service.
As one of our top 3 for most reliable broadband providers, Plusnet have the lowest fault record in the industry, coupled with the highest fault resolution rate on first contact.
They also stick to their roots with their Yorkshire based UK call centre, which earned them 5 out of 5 in our survey of Plusnet customers.
---
Best TV
Sky bought their popular TV service to even more customers this year with the launch of the Sky Stream Puck box, which circumnavigates the need for a satellite dish or expensive Sky Glass TV set.
Their comprehensive TV platform brings more content to homes than any other provider, including sports, movies, entertainment and an unrivalled range of on-demand apps.
Extra flexibility lies in the fact Sky TV can be taken with or without Sky broadband, and they've consistently had the lowest number of pay TV complaints since 2011.
Virgin Media is always a close second to Sky for premium TV, despite having cheaper prices overall for broadband and TV bundles.
This year's launch of Virgin Media Stream is an innovative budget option for broadband customers who want a streaming platform. We particularly like the 10% credit offer, which helps make Virgin the cheapest streaming box for a variety of on-demand apps.
Overall, while they can be a little behind on content, they're slowly catching up to Sky with the recent launch of Sky Sports in Ultra HD and upcoming addition of Paramount+ in 2023.
---
Digital Inclusion
Community Fibre win the Digital Inclusion award for 2023 as they went against the grain this year to bring a social broadband tariff to anyone who needs it.
While all other providers with social tariffs require customers to be in receipt of certain means-tested benefits, such as Universal Credit, any new or existing Community Fibre customer who finds themselves struggling with bills can request their social tariff to stay connected to fixed line broadband for just £12.50 per month.
The social tariff pricing also makes it one of the cheapest social tariffs in the UK, second only to Vodafone's £12 deal. They also boosted the average download speed on the plan to 20Mb in January 2023.
Vodafone took a brave decision this year to offer a likely loss-making social broadband tariff, costing just £12 per month, which makes it the UK's cheapest tariff.
As an Openreach reseller Vodafone have to pay wholesale access costs, and BT's own social tariff is priced at £15 per month and is said to be at "cost price".
Indeed, Vodafone themselves said at the time of the tariff launch the price point would be unsustainable unless further action was taken to reduce the wholesale cost of providing social tariffs.
While the tariff is limited to those on means-tested benefits, we wanted to recognise the burden they were choosing to take to bring more affordable packages to those who need it during the cost of living crisis.
---
Fair Terms
Hyperoptic have spent the past 12 months raising awareness and championing fixed price broadband, whilst also calling on the Government to ban above inflation mid-contract price rises.
As one of just three major broadband providers left in the market to offer fixed deals, we felt their fair approach to customer terms needed to be recognised.
In a cost of living crisis, it seems particularly unfair for providers to hike prices beyond an already soaring rate of inflation, with some prices going up as much as 14.4% or even 17.3% in the mobile market.
Not only that, but inflation-linked price rises are ambiguous at best and don't provide customers with a fair ability to agree to those rises at the time they sign up - something Ofcom is perhaps finally realising in their upcoming investigation into mid-contract price rises.
For this reason, we wanted to use the Choose Broadband Awards 2023 to shine a spotlight on Hyperoptic's fair approach to their pricing terms, as they continue to offer customers the assurance and transparency of one monthly price for the entire length of their minimum term.
Community Fibre announced in September 2022 they would be limiting out of contract price rises to just £2.
The steep increase in price for those who don't switch immediately at the end of an introductory period, can see broadband bills double in some instances, which has prompted calls from charities for action to protect customers from unfair bills.
Limiting out of contract increases to just £2 per month makes Community Fibre one of the fairest providers for existing customers who stay loyal.
---
Innovation
Continued development of Community Fibre's partnered AI Lifemote system this year has helped them scoop gold for Innovation.
They've aided connectivity issues of over 2000 customers before they were aware they had a problem. Lifemote has helped Community Fibre achieve 63% improvement in speed for customers using dual-band WiFi, and a further 33% improvement in speed for customers suffering with signal degradation or coverage issues.
The AI system is clearly keeping their customers happy, with the highest rating on Trustpilot of any broadband provider, they have a Trustscore of 4.9 out of 5 from over 25,950 reviews.
---
Ethical Initiatives
Zen Internet demonstrate their ethical and environmental credentials through their B Corp status where they must continue to prove they're having a positive social and environmental impact.
Zen also has Carbon Neutral Plus status and is committed to reducing carbon emissions, supporting environmental projects and promoting sustainability.
While they removed their lifetime guarantee in 2022, they remain committed to fixed broadband prices and no mid-contract price rises.
---
Community Contribution
Community Fibre have connected over 450 community centres in London to their full fibre broadband network, giving them 1Gb connections for free.
They also operate their own team of over 75 Digital Ambassadors to help provide support and training to people who need help with digital skills.
Digital Ambassadors are trained by Community Fibre and then offer voluntary digital training workshops in local communities throughout the week.
---
Rural Coverage
Gigaclear added 119,000 premises to its rural based full fibre network in 2022, bringing its rural coverage figure to over 380,000 premises.
As a dedicated rural provider, they boast a 90% network coverage in underserved areas that have yet to gain full fibre broadband from any other provider.
Gigaclear also connect rural villages to free Internet through their Community Hub Scheme, with more than 250 community hubs established across 16 different counties so far.
---
Best Value
NOW Broadband win our Best Value award for offering some of the cheapest broadband deals in the UK, coupled with good customer service and the ability to save more by bundling NOW TV Memberships.
NOW Super Fibre is currently priced at just £22, making it one of the cheapest broadband deals available nationwide. Customers can then save £60 on a NOW Cinema subscription.
Unlike some budget providers who tend to gather complaints, NOW's entry into Ofcom's complaint reports has shown they have fewer complaints than average, coming in third so far for Q1 to Q3 2022 records.
And as mentioned above, NOW have confirmed broadband and TV subscriptions for in-contract customers won't be going up in 2023, adding even more value to their proposition.
While only available in the capital, London-based Community Fibre offer the fastest broadband speeds for the lowest monthly price in the market.
In London, Community Fibre offer 150Mb average download speeds for just £17.99 per month, making the provider unrivalled for value for money. Even ultrafast plans, like their 300Mb full fibre deal costs less than many superfast fibre to the cabinet connections.
Add capped out of contract price rises of just £2 to the mix, and you've got a provider offering value for the long term.
---
Best Budget
Vodafone offer one of the cheapest full fibre broadband deals in the UK, with their Full Fibre 1 plan coming in at just £21 per month.
Other plans are equally low cost, with customers able to take full fibre on the BT Openreach or CityFibre network with 82Mb average download speeds for just £23 per month.
Availability for Vodafone full fibre is growing, with 9.6 million premises passed on the Openreach network, and a further 2 million passed by CityFibre.
NOW Broadband also offer one of the UK's cheapest prices, with their superfast fibre available to over 97% of homes and costing just £22 for 63Mb average download speeds.
We also like the ability to save more on NOW TV Memberships, with the provider offering cut price access to premium content from Sky, including Sky Atlantic, Sky Cinema, and Sky Sports.
---
Fastest
So far unrivalled in their fastest broadband accolade, Virgin Media have been boasting the UK's fastest widely available broadband for a few years now, also winning this award last year.
Gig1 is available across Virgin's entire network of 16 million premises, and offers average download speeds of 1130Mb per second. It also featured in Ofcom's independent speed research for the first time in 2022, where Ofcom confirmed real-world average download speeds at peak times of 1134.83Mb.
Once again only coming second due to their smaller size and London-only focus, Community Fibre offer customers the option of 3Gb download speeds.
While this plan comes at a heady price, all their other broadband connections offer symmetrical upload speeds, and their full fibre to the home network is already a few years into moving towards XGS-PON technology which can deliver speeds of up to 10Gb.
---
Most Reliable
Plusnet scoop the Most Reliable Broadband award for the second year running for continuing to achieve the lowest fault records in the industry according to Ofcom.
They also have the lowest number of customers who have to contact their provider more than once to get the same fault resolved, with just 2% of customers needing to contact them again.
This suggests Plusnet have a low level of network faults, but that when they do they quickly resolve issues without customers having to ask twice.
Virgin Media have one of the market's fastest fault resolution times, fixing most issues within just one day of the fault being reported.
They also have a low level of customers needing to contact them again about the same fault, with just 3% of customers needing to get back in touch about the same problem.
---
Best Customer Service
Customer service superheroes Sky have consistently maintained an excellent customer service record, with some of the lowest complaint levels in the market for several years.
Sky also have the lowest number of customers with a reason to complain, coupled with one of the highest levels of satisfaction among customers regarding their complaints handling.
Sky broadband customers are also more likely to recommend their provider, and their untarnished customer service record also extends to their pay TV, landline and mobile services.
Plusnet had one of the highest scores for satisfaction with customer service in our independent survey of broadband customers.
They've also always run their call centre from their original headquarter location of Yorkshire in the UK.
Now backed by parent company BT, Plusnet was one of four providers more likely to be recommended in independent research by industry regulator Ofcom, alongside Sky, BT, and BT-owned EE.
---
Best Triple Play
Sky offer excellent customer service on their triple play bundles, bringing TV, broadband and phone to customers across the UK.
Bundle customers get extra discounts compared to taking the services separately, and despite the move to digital voice, Sky are one of few providers to continue offering a home phone line as standard.
Sky also launched a streaming service for all this year, with their Sky Stream Puck box made available to customers in October 2022.
Sky Stream brings Sky to homes that couldn't access or install a satellite dish for the first time, as well as improving the ease of setup for all. The Sky Stream Puck box also has one of the widest arrays of on-demand app compatibility in the market.
Virgin Media offer some of the cheapest broadband, TV and phone bundles, including when premium channel packs such as Sky Sports and Sky Cinema are added.
In addition, they include 1080p HD and even Ultra HD content as standard in their Bigger Bundle and Ultimate Volt Bundle.
In April 2022, they introduced their first streaming service, Stream TV. With a 10% credit on any channel packs purchased, it's an innovative way to offer triple play at a cost-effective price.
---
Best Bundle
Virgin Media O2 Volt is an innovative bundle born from the merger of these two telecoms companies.
Volt bundles can save customers £755 over the length of a contract with all the savings and benefits combined, including boosted broadband speeds, boosted mobile data, tech treats, and free access to their market-leading whole home WiFi guarantee.
Ultimately customers who take both fixed line broadband and mobile through a Volt bundle can save considerable sums, as well as access a range of free benefits.
Silver: NOW
NOW offer discounts for customers who bundle their broadband with their TV Memberships.
Offering both a great value way of accessing premium Sky content, with a strong starting record for customer service, NOW combines cheap prices with a quality product.