Sky, EE and Now are among the winners in the Choose Broadband Awards for 2021.
Smaller broadband providers including Hyperoptic and Gigaclear are also recognised for excellence.
Stay tuned for a special announcement in April as we confirm the winner in the Best for Innovation category.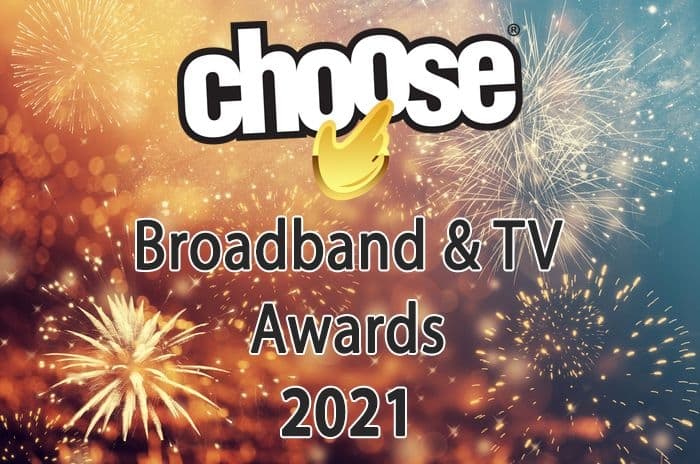 Best for Inclusion
Hyperoptic win our Best for Inclusion award thanks to their superfast social tariff that is leading the way in digital inclusion.
In March 2021, Hyperoptic launched their Fair Fibre Plan offering 50Mb broadband to customers on specific means-tested benefits for £15 per month.
This is on a monthly rolling broadband only contract, with no installation or upfront costs.
While several other ISPs offer social tariffs, Hyperoptic are the first to offer a completely unlimited superfast tariff for those on lower incomes.
Hyperoptic's network currently covers parts of around 43 towns and cities in the UK and they expand to social housing developments in partnership with local councils and associations as well as other housing developments.
Best Value for Money
Now are the Choose top pick when it comes to Best Value for Money.
The broadband provider (who recently rebranded from Now TV to just Now) frequently top the table of the cheapest broadband providers in the UK, offering low prices across all three levels of ADSL and superfast broadband.
To add to their value for money, Now are one of the few providers to include free anytime calls with their broadband, and they offer discounts for customers looking to take a Now Entertainment Membership too.
Best for Speed
Virgin Media take our 2021 Best for Speed award.
As well as offering 1GB speeds to 6.8 million households across 12 UK cities, Virgin's most widely available broadband reaching speeds of 630Mb for triple play customers is now available to more than 16 million households.
It's no surprise we often feature them as one of the UK's fastest broadband providers.
Best for Reliability
EE are the Best for Reliability when it comes to broadband in the UK.
As our guide to broadband reliability shows, EE have low rates of daily disconnections and their own customers rank them highly on service reliability.
Average broadband speeds from EE also meet their advertised speeds according to research from Ofcom.
Best for Customer Service
EE are the Best for Customer Service too, with low customer complaint numbers and high levels of customer satisfaction.
Our guide to the best broadband customer service also shows they answer the phone more quickly than other ISPs, picking up in just 26 seconds on average compared to the industry average of more than two minutes.
Ofcom's data for 2019 shows more EE customers were satisfied with how their broadband provider handled their complaint than any other major ISP.
Best for Rural Coverage
Gigaclear take our Best for Rural Coverage award thanks to their efforts helping to bring more than 200 communities online across the UK.
While many rural broadband providers are highly localised, Gigaclear has brought speeds of up to 900Mb to over 65,000 rural homes and businesses.
Read more about rural broadband options.
Best Triple Play Provider
Virgin Media take the Best Triple Play Provider award as they match incredibly fast broadband speeds with a quality pay TV experience.
Their Ultimate Oomph bundle combines broadband speeds of 630Mb with over 230 TV channels, bringing the ultimate variety to customers.
As a bonus, Ultimate Oomph subscribers effectively get a quad-play deal thanks to a free unlimited 4G data SIM.
Read our review of Virgin TV.
Best for Premium TV
Sky takes the 2021 Best for Premium TV award thanks to their unrivalled TV content and excellent Sky Q box.
Premium content is Sky TV's bread and butter, so customers can opt for Sky Cinema, Sky Sports and other add-ons to create a customisable and flexible TV experience.
Thanks to Sky TV partnering with Netflix, there's plenty of content to choose from, plus Sky have consistently low complaint levels for both TV and broadband.
Best Low Cost Provider
Plusnet are the 2021 Best Low Cost Provider award winner.
They offer consistently low prices for ADSL, 36Mb fibre and 66Mb fibre broadband with a focus on value for money above frills and extras.
Customers ordering Plusnet broadband through Choose will often receive a reward card equating to several months of broadband fees - low prices coupled with free rewards offers superb value for customers searching for a good deal. Read more in their review.
Best Provider 2021
Our Best Provider 2021 crown goes to Sky for an excellent performance across several categories.
Sky broadband works brilliantly alongside Sky TV, but it's also a great option on its own, especially as Sky Ultrafast has started to roll out across the UK.
Their customer service in recent years has been excellent, and their complaint levels are remarkably low.
Best of all, they're competitive on price, despite offering notable extras including their Sky Broadband Shield parental controls.