Is Direct Save broadband any good?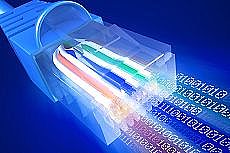 IN among the clamour about cheap broadband deals from the big providers, it's easy to overlook the smaller budget ISPs.
Direct Save Telecom are one such company, offering discounted broadband, line rental and phone calls - and the option to go contract free.
They resell BT, so they're available pretty much everywhere - and they're one of the few companies not to carry out credit checks on prospective customers, making them a useful option for people with less than ideal credit histories.
But as well as offering super budget broadband, they also supply ultrafast fibre-to-the-premises (FTTP) broadband of up to 300Mb in certain areas
We'll start by looking at the usual broadband packages, but the impatient can jump ahead:
Broadband
Direct Save sell standard broadband of up to 17Mb, and fibre broadband in both 38Mb and 76Mb varieties.
The standard broadband is the real budget option; prices for their fibre are pretty similar to those charged by other providers.
Here are the options:
Package
Broadband
Contract term
Upfront price
Monthly price
Broadband Deal + Pay Per Use Anytime calls
Up to 17Mb
Unlimited
12 months
£33.90
£22.95
Superfast Fibre 38Mb
Up to 38Mb
Unlimited
12 months
£33.90
£31.50
Superfast Fibre 76Mb
Up to 76Mb
Unlimited
12 months
£33.90
£38.70
Each of these deals is available on fairly standard terms: those after the £20.70 standard broadband package should expect to sign up for a minimum of 12 months, while those wanting fibre will need to sign an 18-month agreement.
But Direct Save's standard broadband is also available without a contract, on 28-day rolling terms - albeit at a higher price. There's more on that option below.
Phone calls and line rental
Anyone wanting Direct Save broadband must also take Direct Save's line rental, which, depending on the length of the phone contract, will cost from £13.50 to £18.75 per month.
At £18.75 per month, Direct Save's line rental is only just cheaper than BT's, and doesn't usually come with any inclusive calls. That makes the standard broadband deal in the table above even more attractive, as it comes with evening and weekend calls.
However, Direct Save also offer a couple of different line rental deals.
Customers willing to pay for 12 months upfront face a one-off charge of £162 - equivalent to £13.50 a month.
Alternatively, those willing to agree to an 18-month landline contract will pay £15.95 a month.
Those wanting very cheap broadband can't combine it with the 12-month upfront line rental - but they can opt for the 18-month deal.
That means it's possible to get up to 17Mb broadband plus phone line - and evening and weekend calls - for £17.90 a month, which is among the very cheapest deals going.
Cheap broadband
Compare cheap broadband deals
here
Customers can add evening and weekend calls to UK landlines (01, 02, and 03 numbers) for £2.95 a month, or anytime calls to UK landlines for £6.75 a month.
Their out-of-allowance call charges are pretty competitive as well. The connection fee is 15.75p per call; calls to UK landlines then cost 9.5p per minute. Calls to mobiles cost from 5.9p per minute to the main networks for those with the anytime bundle, to 18p per minute for calls to MVNOs.
With the exception of 080 numbers, which are free, the access charge for calls to 08, 09, and 118 numbers is 9p per minute.
There's also an International Option for a further £1.50 a month, which cuts the cost of calling abroad by at least 40% compared to BT's standard prices.
But for some of the most popular call destinations, this might not actually be necessary. Calls to these locations - including India, Pakistan and China - already cost at least 80% less than they would with BT.
Finally, anyone wanting extra services such as call waiting, divert, and anonymous call reject will pay extra. Most features, including caller display and basic voicemail, cost £3.15 a month.
In fact the only call feature service they offer free is 1471.
Even faster broadband
In September 2014, Direct Save announced they were entering the FTTP market - offering speeds of up to 300Mb to certain new-build developments.
The number of locations where such speeds are available is so small, they're individually named on the Direct Save site.
But for those who live in one of the 40 or so England-only developments, there are four speeds available:
| | Package | Contract term | Upfront price | Monthly price | |
| --- | --- | --- | --- | --- | --- |
| | 25Mb Broadband + weekend calls | 12 months | £33.90 | £19.40 | |
| | 40Mb Broadband + evening and weekend calls | 12 months | £33.90 | £23.40 | |
| | 100Mb Broadband + evening and weekend calls | 12 months | £33.90 | £39.45 | |
| | 300Mb Broadband + evening and weekend calls | 12 months | £33.90 | £62.95 | |
Each of these deals comes with a minimum contract of 12 months.
Adding extra calls to the 25Mb deal costs the same as it does for standard and FTTC customers, but those with the 40Mb and faster deals can upgrade to anytime calls for £5.50 a month.
There are a few other companies offering FTTP broadband, including Hyperoptic who we reviewed here.
At this point in time, none of the FTTP providers are really in a position to offer "budget" connections - but compared to the biggest ultrafast provider in town, Virgin, they're still quite competitive.
For example:
Package
Contract term
Upfront price
Monthly price
25Mb Broadband + weekend calls
12 months
£33.90
£19.40
Up to 50Mb + Talk Weekends
12 months
£14.99
£32
for 12 mths,
then £40
100Mb Broadband + evening and weekend calls
12 months
£33.90
£39.45
Vivid 100 + Talk Weekends
12 months
£14.99
£37
for 12 mths,
then £45
Vivid 200 + Talk Weekends
12 months
£14.99
£45
for 12 mths,
then £53
300Mb Broadband + evening and weekend calls
12 months
£33.90
£62.95
No contract broadband
As mentioned above, the commitment-shy among us have an ally in Direct Save.
The no-contract option is offered as a rolling 28-day service, with just 28 days' notice required should users want to head elsewhere.
Monthly charges are as follows:
Package
Broadband
Contract term
Upfront price
Monthly price
Non Contract 20GB Broadband + Pay Per Use Anytime calls
Up to 17Mb
20GB usage
1 month
£33.90
£28.90
No Contract Unlimited Broadband + Pay Per Use Anytime calls
Up to 17Mb
Unlimited
1 month
£33.90
£33.90
Note the data limit for the cheaper of the two packages.
Anyone who isn't sure whether they can stay within a 20GB limit has two options:
The first is to pay for additional data, at £5 per 5GB.
Alternatively, and probably more cost effectively, they can upgrade to the Broadband Family package, which costs £5 more per month, but offers unlimited data.
Anyone who isn't sure what they're likely to use can get a better idea by looking at our guide to data usage, here.
It's possible to cut the monthly cost by going for upfront line rental - but as that ties customers in for 12 months at a time, it might not be the logical choice for people who want freedom from contracts.
What it does mean, though, is that anyone who's not so keen on the broadband but likes the cheaper line rental can look for another broadband provider - such as Zen (more) or Plusnet (more) who both offer broadband to customers without insisting they take the phone line too.
No credit check
As mentioned at the start, Direct Save don't carry out any kind of credit check on potential customers during sign up.
The only requirement before they'll start the phone and broadband service is for customers to pay their first invoice upfront.
Direct Save bill everyone on the 7th of each month, so the first invoice is made up of the partial line rental, broadband charges, and any set-up or activation fees for the month of activation, plus the first full month's service charges.
Anyone taking broadband should therefore factor in an activation fee of £24.95 and router P&P costs of £8.95, as well as the first full month's service charge of £20.70 - a total of £54.60 on top of the partial month's costs.
Meanwhile, whether because of a house move or a disconnection, Direct Save will reactivate phone lines free of charge, subject to a £50 security payment and a minimum 18-month contract.
That £50 money is credited back to the user's account once the service has begun.
However, while the lack of credit check and a fairly reasonable security payment might be good news for people who have less than ideal credit records, the stipulation that bills can only be paid via direct debit may still cause some issues.
Not so cheap
Where Direct Save's budget image falters a little is in terms of adding extras.
We've already mentioned that while calls themselves are competitively priced, calling features such as voicemail and caller ID are £3.15 each per month.
Unlike some of the other providers who charge for such features, Direct Save don't offer discounts for bundling more than a couple.
Anyone giving fewer than 28 days notice of their intention to end the service must pay an administration fee of £19.95, on top of any early termination fees - £5 for their phone line, £10 for broadband, or £15 for fibre.
In short, it'll cost £20.70 a month to keep the service, or £15 a month until the supposed end of the contract to cancel it.
This keeps them in line with Ofcom recommendations that early termination charges shouldn't cost more than continuing with the service.
Anyone who's paid for line rental upfront will find that's non-refundable, and still be liable for the £5 a month charge.
However, Direct Save will also ask for compensation to cover the cost of activation and the router - at £69.50 per phone line installed or activated, and £34.95 for the router.
All in all
As with other budget providers there are stings in the tail.
But Direct Save offer an affordable way of getting online, and some really good value phone options, for everyone from those with shaky credit histories to people in ultrafast housing developments.
There are very few companies attempting to do both - and we'll be watching to see how they fare.