Broadband speeds can be given in Mbps or Gbps, as well as average broadband speeds, personalised speed estimates, and minimum guaranteed speeds.
But what does that all mean? In this guide we'll explain how broadband speeds work, what they mean, and the speeds customers can actually expect to receive.
We'll also look at how broadband providers are allowed to advertise speeds and how broadband speed regulation has evolved over the years.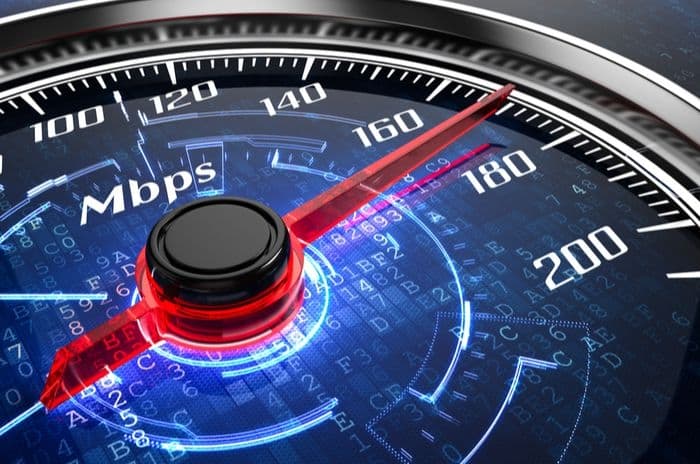 Credit: Sashkin/Shutterstock.com
---
What do broadband speeds mean?
Broadband speeds are quite technical in nature and they may not be entirely self-explanatory for everyone. So, here's a rundown of the basics.
Mbps or Gbps
Broadband speeds are given in Mb or Mbps, which stands for megabits per second. This is how fast data is downloaded from the Internet, for example 10Mb would mean 10 megabits of data are downloaded every second.
Where speeds are listed as Gb, or Gbps, this means gigabits per second, and is the same as saying 1,000Mb or 1,000 megabits.
Broadband speeds are different to how we talk about downloaded data, storage or usage however. Usage or storage is always given as MB or GB, while it looks similar it's actually quite different.
MB stands for megabytes, and as there are 8 bits in a byte, 10MB would be 8 times larger than 10Mb.
The same goes for GB, which means gigabyte, and again 10GB would be 8 times more data than 10Gb.
Download and upload
Most broadband packages will have different download and upload speeds, with upload speeds often being much slower as the connection is asymmetrical.
For example, Virgin Media's fastest Gig1 broadband plan offers download speeds of 1.13Gbps, or 1,130Mbps, yet the average upload speed on the plan is just 52Mbps, almost twenty times slower.
There are some providers however, predominantly independent full fibre providers, that offer symmetrical upload and download speeds.
Community Fibre is one, and their gigabit-capable plan for example offers average download speeds of 920Mbps and average upload speeds of 920Mbps as well.
Speed definitions
It's common to see broadband speeds referred to as superfast, ultrafast or gigafast, and while these may sound like marketing terms or even package names, they're actually specific definitions of certain broadband speed.
Superfast means broadband that has a download speed of at least 30Mbps, and includes all speeds up to 300Mbps.
Ultrafast then is broadband with a download speed of 300Mbps or more, at least that's according to Ofcom's latest speed definition. Confusingly, the UK Government, and some providers, still refer to ultrafast as broadband that's at least 100Mbps.
Lastly, gigafast broadband, also known as gigabit-capable broadband, covers connections that offer average download speeds of 900Mbps or more, particularly those around the 1Gbps mark.
Average broadband speeds
Average broadband speeds most commonly refer to how broadband is advertised. This is because in November 2017, the Advertising Standards Authority (ASA) ruled that advertised broadband speeds must be available to at least 50% of customers at peak times.
Since that ruling broadband has always been advertised with average, rather than up to, download speeds.
However, average broadband speeds could also mean average speeds across the UK, or in particular areas. For example, Ofcom say the average home broadband speed in the UK is now 59.4Mbps, which has increased by 18%, or 9Mbps, since last year.
Fastest broadband speeds
The fastest broadband speeds an individual property can get will vary as different broadband networks are now available in different areas of the country.
However, gigabit-capable broadband, which is the current top end of broadband speeds, is now available to over 70% of UK homes, with a Government target to reach 99% by the end of 2030.
For now, the fastest widely available broadband speed is offered by Virgin Media, with an average download speed of 1.13Gb.
---
How do advertised average broadband speeds work?
Broadband packages are now advertised with an average download speed. This speed is a median average that must be received by at least 50% of a provider's existing customer base between the peak hours of 8pm to 10pm.
Average broadband speeds are meant to give customers a more accurate indication of how fast the broadband package is likely to be, because previous 'up to' speeds were found to be somewhat mis-leading.
However, while average broadband speeds are an improvement, they can still mean some customers won't get a speed that fast, although some customers may also get an even faster speed than that advertised.
To circumnavigate these issues, Ofcom the industry regulator, also introduced minimum speed guarantees and personalised speed estimates in their Broadband Speeds Code of Practice.
We also have real world speed information from independent research carried out across the major broadband providers in the market, which we look at below.
Broadband Speeds Code of Practice
Ofcom's Broadband Speeds Code of Practice was introduced in 2019 to help improve understanding for customers signing up to a broadband deal regarding how fast their connection was actually likely to be.
While the code is voluntary, so far, the following providers have signed up to it:
BT
EE
Plusnet
Sky
NOW Broadband
TalkTalk
Utility Warehouse
Virgin Media
Zen Internet
Providers not listed above may only follow some aspects of the code, or none at all. This includes providers such as Hyperoptic, Community Fibre, Shell Energy Broadband, Direct Save Telecom and Vodafone.
The Broadband Speed Codes of Practice cover the following requirements:
Realistic peak-time speed estimates at the point of sale given for individual properties
Provide a minimum guaranteed speed, which if not met within 30 days, allows the customer to leave their contract early without penalty
Customers also have a right to exit bundled services if the guaranteed broadband speed is not met, and the codes of practice above apply to all broadband services, whether they are full fibre or copper phone line connections.
In addition to providing speed estimates and a guaranteed minimum speed at the point of sign up, providers should also be providing customers with information on their speeds once they've sign up, including information on what to do if their speeds aren't as fast as promised.
We've more information on whether you can pay less for slow broadband speeds here.
However, because the code is voluntary, there are instances where even signed up providers aren't meeting the full conditions of the code.
For example, Ofcom named and shamed Plusnet in December 2020 for failing to implement personalised speed estimates, and as of the time of writing, are still yet to do so.
Plusnet say they're focused on providing a budget broadband service to their customers, but it shows the dangers of having voluntary rules that can be easily opted out of if a provider doesn't want to implement them, which can make comparing providers harder for customers.
Comparing broadband speeds
When it comes to understanding broadband speeds and comparing different broadband packages, the implementation of average broadband speeds means many providers selling similar connections also have very similar speeds, which can make comparing difficult.
For example, if we take a snapshot of current average broadband speeds on superfast packages, we see how similar they are:
| | Package | Advertised average download speed |
| --- | --- | --- |
| BT | Fibre 2 | 67Mb |
| EE | Fibre Plus | 67Mb |
| Plusnet | Unlimited Fibre Extra | 66Mb |
| Sky | Broadband Superfast | 59Mb |
| NOW Broadband | Super Fibre | 63Mb |
| TalkTalk | Fibre 65 | 67Mb |
| Shell Energy Broadband | Superfast Fibre Plus | 67Mb |
| Vodafone | Fibre 2 | 60Mb |
With the exception of Sky and Vodafone, most providers' superfast plans have an average download speed of around 66-67Mb.
Of course, when we look at packages using a wider range of broadband technologies, such as cable or full fibre, there are more notable differences:
| | Package | Advertised average download speed |
| --- | --- | --- |
| BT | Full Fibre 100 | 150Mb |
| EE | Full Fibre Max 100 | 100Mb |
| Plusnet | Full Fibre 145 | 145Mb |
| Sky | Broadband Ultrafast | 145Mb |
| TalkTalk | Full Fibre 150 | 152Mb |
| Shell Energy Broadband | Full Fibre 100 | 109Mb |
| Vodafone | Full Fibre 100 | 100Mb |
| Virgin Media | M125 Fibre Broadband | 132Mb |
However, these full fibre connections have much greater top speeds and so the differences in average speed are more to do with the speed the provider has chosen to offer at that level or price point.
Whereas, in the superfast table above, we're looking at the top speeds achievable by fibre to the cabinet connections.
It's likely that most customers will also want to take into consideration price as a major aspect of comparing broadband deals, along with any special offers, customer service performance, and extras, like whole home WiFi guarantees.
Where faster technologies like full fibre to the home are available, it's worth considering the upgrade for a more reliable broadband connection.
---
Real world broadband speeds research
Alongside improved advertised speeds that now use the average broadband speed most customers of a particular provider actually experience, we can also draw information from real world speed research into how fast a provider's broadband connection actually is.
The latest speed research published in October 2022, reveals the following real-world speeds for superfast packages:
Ofcom average speeds, published March 2023
Advertised average speed
Over 24hrs
Peak time
(8-10pm weekdays)
Vodafone
60Mb
62.68Mb
58.90Mb
Sky
61Mb
64.30Mb
62.01Mb
Plusnet
66Mb
34.44Mb
33.51Mb
Plusnet
66Mb
64.15Mb
63.57Mb
BT
67Mb
63.76Mb
62.95Mb
TalkTalk
67Mb
61.70Mb
60.85Mb
TalkTalk
77Mb
79.96Mb
79.96Mb
As you can see providers are achieving close to their advertised averages, although when we look at the real-world speeds of full fibre and cable broadband connections, we can see these services are delivering faster than average speeds to their customers in real-world situations.
Ofcom average speeds, published March 2023
Advertised average speed
Over 24hrs
Peak time
(8-10pm weekdays)
Virgin Media
132Mb
110.78Mb
109.76Mb
BT
145Mb
148.72Mb
148.26Mb
Sky
145Mb
150.22Mb
150.46Mb
TalkTalk
152Mb
159.90Mb
159.91Mb
Virgin Media
264Mb
217.77Mb
216.14Mb
BT
300Mb
302.34Mb
300.99Mb
Virgin Media
362Mb
380.56Mb
375.94Mb
Virgin Media
516Mb
533.91Mb
514.59Mb
TalkTalk
525Mb
451.64Mb
451.34Mb
Virgin Media
1130Mb
1138.79Mb
1127.67Mb
Most of the full fibre and cable packages above have faster real-world speeds than their current advertised average, suggesting more customers are likely to get the speeds advertised than those on superfast fibre to the cabinet connections.
Historic real-world speeds
Looking at older reports we can also see how broadband speed advertising has improved over the years to give customers a more accurate picture of the likely speed they will receive.
| | March 2016 package | | May 2019 package | | November 2020 package | |
| --- | --- | --- | --- | --- | --- | --- |
| Sky | Up to 76Mb | 56.6 - 63.5Mb | 63Mb FTTC | 56.3 - 61.0Mb | 59Mb FFTC | 50.8Mb |
| BT | Up to 76Mb | 57.4 - 61.1Mb | 67Mb FTTC | 62.4 - 64.6Mb | 67Mb FTTC | 55.9Mb |
| BT | N/A | N/A | 67Mb FTTP | 73.1 - 74.4Mb | 67Mb FTTP | 74.0Mb |
| EE | Up to 76Mb | 59.9 - 64.7Mb | 67Mb FTTC | 60.0 - 64.9Mb | 67Mb FTTC | 53.1Mb |
| Plusnet | Up to 76Mb | 54.8 - 58.1Mb | 66Mb FTTC | 58.0 - 61.4Mb | 66Mb FTTC | 56.1Mb |
| TalkTalk | N/A | N/A | 63Mb FTTC | 61.0 - 64.5Mb | 67Mb FTTC | 56.9Mb |
| Virgin Media | Up to 100Mb | 93.3 - 98.2Mb | 108Mb Cable | 106.0 - 107.9Mb | 108Mb Cable | 106.8Mb |
Looking at Plusnet as an example, we can see how prior to the advertising rule changes, they advertised their superfast plan with "up to 76Mb" broadband speeds, yet the real-world research showed customers were only getting around 54Mb to 58Mb.
After the rule changes the same package became advertised as offering 66Mb on average, and was found to deliver 58Mb to 61Mb speeds, which is much closer and therefore more accurate.
This real-world speed data can help give us a more accurate picture of how different broadband providers and networks are performing, and whether they're delivering their advertised average speeds.
---
How broadband speed advertising has evolved
The current rules around advertised broadband speeds might not be perfect, but they are a huge improvement on where we were a few years ago.
We first reported on frustrations with advertised speeds in 2007 when broadband contracts supposedly offering 8Mb connections were found to be providing an average of just 2.7Mb.
Those slow speeds are worlds away from the superfast and ultrafast broadband we're used to today, yet it shows the debate about advertised broadband speeds has been going on for well over a decade.
Advertising rules moved forward in 2011 when the Committee of Advertising Practice (CAP) released a new framework that stipulated advertised speeds must be available to at least 10% of their customers.
Bear in mind, though, these were 'up to' speeds rather than average speeds. Ofcom research in 2010 found customers choosing 'up to' 20Mb or 24Mb broadband were receiving an average speed of 6.2Mb - 29% of the advertised speed.
Ofcom wanted 'up to' speeds scrapped as far back as May 2010, but they weren't in control of the ultimate decision and it was decided by CAP that 'up to' speeds should remain.
When we looked at the revamped system in May 2012, we found most providers had complied with CAP's ruling, but that it hadn't made much impact on speed clarity.
Advertising reforms
Fast forward to late 2016 and the Advertising Standards Authority (ASA) finally called on CAP to change the regulations on broadband speed advertising.
This resulted in an important rule change: broadband providers had to advertise average (median) speeds available to at least 50% of customers at peak times.
These rules came into force in May 2018, removing the option for broadband providers to advertise 'up to' speeds at the same time as boosting the base number of customers able to receive the advertised speeds from 10% up to 50%.
Codes of practice
While Ofcom's broadband speeds code of practice was first introduced way back in December 2008, it didn't gain much power until 2015, when it was updated to allow customers to exit their contracts if their minimum guaranteed speed wasn't delivered.
In November 2020, the code was further strengthened to ensure speed estimates were personalised to a particular property, rather than simply being based on similar properties.
However, as a voluntary code, it's still not a set requirement and even signed up providers, like Plusnet, are choosing not to meet all of the rules.
For customers who do sign up where a guaranteed minimum speed is given however, they can exit their contract if their provider doesn't deliver the speeds promised within 30 days.
---
Summary: are given broadband speeds reliable?
Broadband advertising frequently frustrates customers, especially when average speeds bear no resemblance to the speeds they actually receive.
This is compounded by broadband providers' advertising being misleading in other ways. These are two examples from recent years:
Vodafone were reprimanded in April 2019 for implying 1Gb speeds could be obtained for £23 per month in an advert on their own website.
TalkTalk were rebuked twice in four months in 2019, the first time for suggesting they were the only provider to promise no in-contract price rises and the second time for making unproven claims about their wi-fi hub.
The problem is, while these ads were banned by the ASA, the authority doesn't have any power to fine companies and deter them from making unsubstantiated claims again. So, essentially, the criticism amounts to a slap on the wrist and polite encouragement to behave in future - something that doesn't ultimately help customers if the misleading ads keep coming.
It's clear the progress made on advertised broadband speeds over the last decade or so has improved the information customers are given.
No longer are we provided with averages based on what a meagre 10% of customers can receive, nor are we bamboozled by what 'up to' broadband speeds really mean in practice.
Yet there is definitely more work to do to give customers the information they need to choose between broadband providers offering very similar average broadband speeds.