Vodafone broadband has announced the launch of a 2.2Gb full fibre broadband package for early 2024.
Vodafone has announced plans to launch its fastest full fibre broadband speeds of 2.2Gbps for customers from early 2024.
The multi-gig speeds have already been tested in trials with wholesale provider CityFibre in York in early 2023, proving customers could experience these faster speeds at home.
Vodafone say the new package will be 38% faster than rival EE's upcoming 1.6Gbps plan.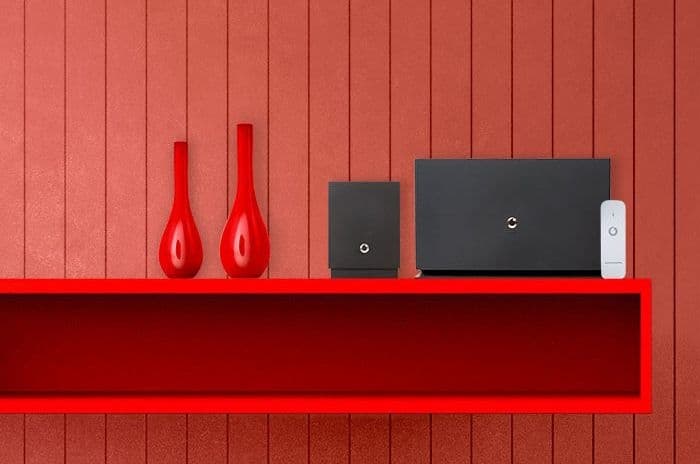 2.2Gb broadband
Following on from CityFibre's announcement in July 2023 that they would be launching a wholesale 2.5Gbps full fibre broadband plan, Vodafone is bringing that offer to consumers.
The new broadband plan from Vodafone will use CityFibre's updated XGS-PON technology, which the wholesaler expects to deploy to 90% of network exchanges by the end of 2023.
However, that does mean Vodafone's 2.2Gb full fibre plan will only be available in some areas of CityFibre's network, which has a current footprint of over 3 million premises.
Vodafone say the 2.2Gb plan will work with their current Pro II broadband package, which bundles a WiFi 6E router with a Super WiFi 6E booster for whole home wireless coverage.
Pro II broadband
Vodafone's upcoming 2.2Gbps broadband plan will be sold under their Pro II package, which aims to boost wireless speeds around a home, as well as supporting the latest WiFi technology.
WiFi 6E supports the latest WiFi 6 protocol, or 802.11ax, but also adds support for the newly released 6Ghz spectrum. This means it can provide both faster and further reaching wireless signal, with much less signal interference than current 2.4GHz and 5GHz channels.
Vodafone Pro II broadband includes the Vodafone Ultra Hub, a WiFi 6E router, and a Super WiFi 6E Booster, which can be placed in separate locations to boost a wireless signal further around a home.
While customers will need WiFi 6E compatible devices to benefit from this technology, Vodafone has already demonstrated in trials Pro II broadband enables customer to benefit from these faster multi-gig broadband speeds.
Competition
EE have also recently launched a multi-gig broadband plan, with speeds of 1.6Gbps being made available over the Openreach FTTP network from Friday, 20th October for £69.99 per month on a 24-month contract.
While Vodafone's 2.2Gbps plan is 38% faster than this new deal from EE, the Openreach reseller has the lead on availability with customers able to sign up sooner.
Virgin Media, a third network provider, is also planning an upcoming 2Gbps broadband plan, after their XGS-PON network went live in June 2023, supporting broadband speeds up to 10Gbps.
In addition, Virgin Media still has the edge on availability, with their network covering 16 million premises, in comparison to 11 million with Openreach, and, as mentioned, just 3 million with CityFibre.