Many of the UK's biggest names are signed up to a broadband speed code of practice that means we can exit our contract if they don't meet minimum guaranteed speeds.
However, this is a voluntary code and doesn't cover all providers, so a lot of customers will still miss out.
There is no mechanism to allow customers to pay less if their broadband speeds are too low, although it's still worth complaining to a provider and seeing if anything can be done.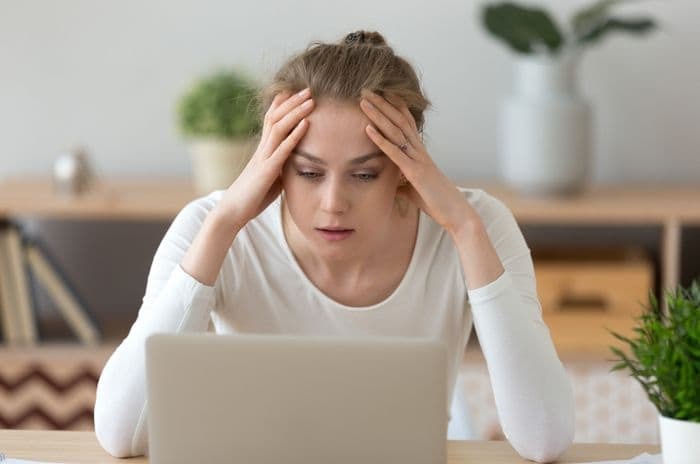 Credit: fizkes/Shutterstock.com
---
Can a customer pay less if they don't get minimum guaranteed speeds?
There is currently no legal framework in place that allows customers to demand discounted broadband for slow speeds.
So, for now, the answer is 'probably not'.
However, a customer might be able to leave the contract and sign up with a speedier or cheaper provider if their supplier is a signatory to a specific Ofcom code.
Ofcom's code of practice
Many UK broadband providers are signed up to a voluntary code that gives customers protection against low broadband speeds.
The Voluntary Code of Practice (VCoP) on Better Broadband Speeds Information is a long-winded way of describing a code that:
Ensures customers have protection if the actual speed they receive is below a minimum guaranteed level
Ensures customers have clear information to help them compare broadband offers
This VCoP is, as the name suggests, voluntary, which means providers who are not signatories don't have to abide by it.
However, many big names in UK broadband are signatories:
BT
EE
Plusnet
TalkTalk
Utility Warehouse
Virgin Media
Zen Internet
There are a couple of notable exceptions, with neither Sky nor Vodafone signed up to the code at the time of writing.
Sky used to be a signatory and Ofcom have said they are in talks to re-join during 2022. Other broadband companies are also in talks to join the code.
The Ofcom rules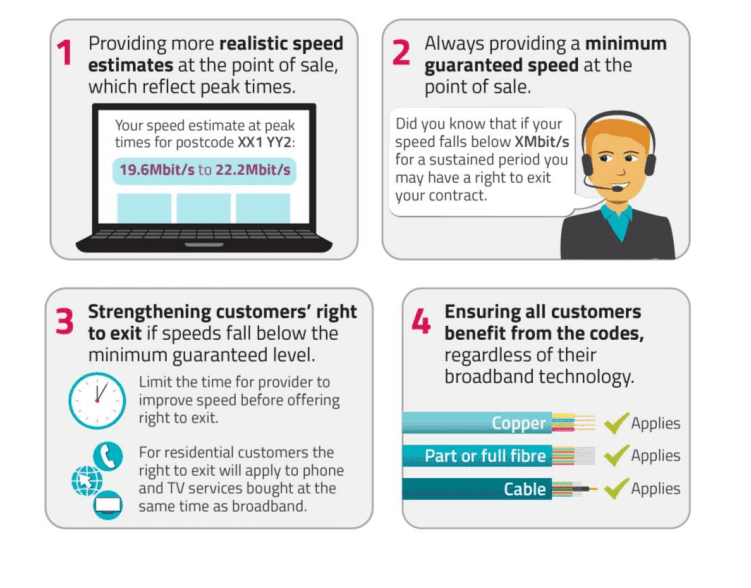 Credit: Ofcom.
As shown in the Ofcom graphic above, the 2018 changes to the VCoP mean:
1. More realistic speed estimates (at point of sale)
The speed estimates provided to customers should now be based on peak time speeds: 8-10pm, the time when most networks are busiest.
'At point of sale' means during the buying process - so this means that customers should be told their realistic estimate before they hand over any money.
2. Minimum guaranteed speed (at point of sale)
Providers should give customers a minimum guaranteed speed, so they can choose based on the worst-case scenario.
BT's version of this shows a personalised download speed range and a 'Stay Fast Guarantee', which is BT's more positively worded spin on 'minimum guaranteed speed'.
Importantly, the minimum guaranteed speed should be connected to information about the customer's right to exit the contract should speeds fall below this level.
3. Strengthening customers' right to leave the contract (if speeds fall below the guarantee)
If speeds fall beyond the minimum guaranteed level and a broadband provider can't improve them within 30 calendar days (i.e. not working days), they have to offer their customers the right to exit without penalties or fees.
Providers should be highlighting information about the right to exit, both in pre- and post-sales information, and clearly linked to the minimum guaranteed speeds.
Another big change is that these rules now apply to bundled contracts: packages that include TV services.
4. Ensuring all customers benefit (regardless of what kind of broadband they have)
Previously, the VCoP only applied to networks over older types of broadband, like copper and part-fibre connections. Now, providers will have to give customers the above information no matter what kind of broadband they have (including cable and FTTP).
Is it working?
Ofcom published a consultation for minor changes to the way bundles were categorised in 2022 and supplied some information on how the VCoP is working for customers.
They said:
Two thirds of broadband customers are covered by the code (see more about the market share of major broadband providers)
Customers are being provided with clear and realistic information about their broadband speeds at the point of sale
95% of speed issues are resolved within 30 days
Of the remaining 5%, most customers were offered ways to resolve their issues while 20% of this group chose to exit their contract or chose an alternative solution
So, the VCoP does seem to be giving customers a way of addressing broadband speed issues with their provider, although it is still reliant on companies being a signatory.
---
Should customers be able to pay less?
While the Ofcom changes are good news for consumers, critics say they don't go far enough.
The argument centres around the fact that, for many UK homes, switching provider is not a useful solution.
If all available connections use the same infrastructure (e.g. Openreach), download speeds might be stuck until the area gets physical upgrades - or alternative providers (e.g. Virgin Media or Hyperoptic) start serving the postcode.
This is especially likely to be the case for the homes hit worst by slow broadband: those in remote areas.
So, then, isn't it only fair that those stuck with slow broadband due to geography or other restrictions should pay less?
The argument against discounts for slow broadband
Pricing by speed, as fair as it might seem, would be complicated.
An across-the-board discount for homes that receive average speeds under a certain level might work - but the bar would have to be very low to make that financially feasible for broadband providers.
At this point, customers might be better off waiting for minimum speed regulations, as paltry they might be.
Perhaps, then, pricing by speed could be done in tiers?
Again, the hitch is cost. Offering cookie-cutter packages for broadband saves providers an immense amount of money. It is unlikely that regulators would force them to shell out on complex pricing systems.
In addition, the reasons broadband runs slowly might be connected to obstacles inside the home rather than anything to do with the provider at all. Under those circumstances, providers would hardly be amenable to charging less.
---
What is an acceptable broadband speed?
Many broadband customers would argue that the only acceptable broadband speed is the one they signed up for.
However, under advertising rules, providers can use an average speed in their adverts as long as it can be achieved by at least 50% of customers at peak times (8pm to 10pm).
What this means, though, is that up to half of all customers may not receive the average speed - and some could receive significantly below that.
What speeds are we getting?
Ofcom data tells us how many premises across the UK can access the different levels of broadband speeds.
As of January 2022, these were the figures across the whole of the UK:
| Broadband | Coverage in January 2022 |
| --- | --- |
| At least 10Mb | 99% |
| Superfast | 96% |
| Gigabit-capable | 66% |
| Full fibre | 33% |
More recent estimates from Think Broadband put the level of full fibre coverage at 37%, and this rollout is the big focus for broadband network operators right now.
However, just because two-thirds of us have access to gigabit-capable broadband, mainly through Virgin Media's Gig1 rollout, that doesn't mean we're all signing up to 1Gb speeds.
For example, while 96% of the UK theoretically have access to superfast broadband of 30Mb or above, only 85% had signed up to a superfast or faster package by March 2021.
The national average download speed taken by homes passed 50Mb in 2018 and rose again to more than 80Mb in tests conducted in 2020.
So, home broadband speeds are getting faster for many, even if there is a small number of households who can't access the supposed UK guaranteed minimum speed of 10Mb.
Universal Service Obligation (USO)
Since March 2020, households that can't receive an 'affordable' 10Mb-or-more connection can request a better line from BT or KCOM (in Hull).
The USO means those providers must connect customers to the network unless it would cost more than £3,400 to do so.
Following an investigation from Ofcom, BT agreed to change their methodology to ensure that houses in communities where multiple households would benefit from the USO without having to pay high costs for the installation.
That said, the USO is still capped and BT can still reject a request.
The percentage of homes and businesses eligible under the USO as of January 2022 was 0.3%.
Note: The USO meant an end to the previous Better Broadband Scheme that helped rural households achieve minimum speeds of 2Mb.
---
Summary: Broadband speed rules
Customers with broadband providers who are signatories to the Voluntary Code of Practice on Better Broadband Speeds Information are in the best position when it comes to getting a decent broadband speed.
These customers will receive a minimum speed guarantee at sign-up and they can hold their provider to that - with caveats:
The minimum guaranteed speed doesn't have to match the average speed
Customers can exit their contract if the problem is not fixed within 30 days
Overall, these codes of practice seem to be working well for customers, yet there is still no mechanism for getting the average speeds we signed up for.
While those must be available to at least 50% of households at peak times, there's no way of making sure providers stick to that for our household.
If we're not getting the speeds we signed up, it's still worth making a broadband complaint and it could be that a company's tech support will be able to address our broadband connection issues.
One possible solution is switching to a lower-cost package that more accurately reflects what speeds the household is getting - but this will have to be negotiated with the provider.
Remember, as ever, to be polite with broadband call centre staff, no matter how frustrating the issue is. Solutions are more likely to be forthcoming if we're cooperative and explain our issues calmly.