Figures also show 58% of lines had a peak-time speed of 30Mb or above, although there were marked differences between urban and rural areas.
At the lower end of broadband speeds, 13% of urban lines had a peak-time speed below 10Mb. In rural areas, this was increased to 33%.
Ofcom also warned that there is little speed benefit for consumers switching between providers with the same underlying infrastructure.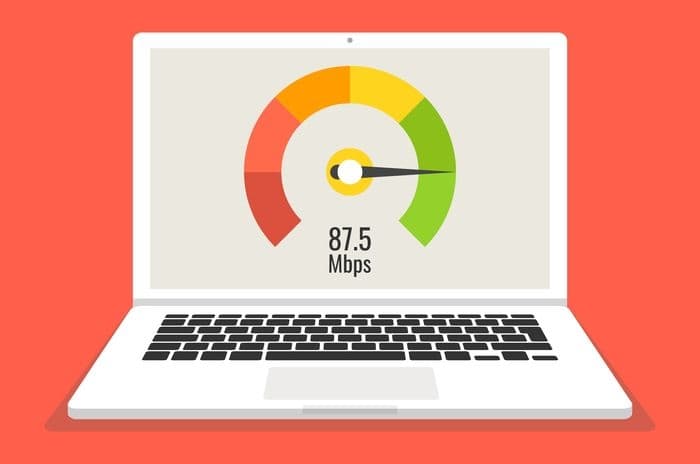 Credit: Art Alex/Shutterstock.com
Average broadband speeds increasing
Between 2017 and 2018, the average download speed actually experienced by homes rose by 8.1Mb to 54.2Mb, an increase of 18%.
While this was lower than the 10Mb increase recorded the previous year, it still represents a symbolic leap to an average of more than 50Mb for the first time.
To put this increase in context, the average was only 17.8Mb in 2013, so there has been an increase of 36.4Mb in the average during the last six years.
This latest report also complements their recent Connected Nations update which found that 58% of properties can now access ultrafast broadband with speeds of up to 300Mb.
Upload speeds increased by 15% between the 2017 and 2018 reports, rising from 6.2Mb to 7.2% across all connections. This contrasts with the 2.3Mb recorded in 2013.
However, Ofcom recorded significant variations in broadband speed and performance based on both location and the technology used.
Rural broadband speeds lagging
Improving rural connectivity has been a hot topic recently, with numerous surveys and reports showing the poor speeds and levels of performance experienced by rural broadband customers.
For instance, a survey of farmers by the National Farmers Union (NFU) earlier this year found 42% of farmers had fixed broadband connections of under 2MB.
Part of the problem for ADSL connections is that longer lengths of copper cables are required to transfer data to the customer's home. This results in slower speeds.
Ofcom identify that fibre-to-the-cabinet (FTTC) connections in rural areas are in line with those in urban areas thanks to the similarity in length of copper wires that travel from the cabinet to a person's home.
Due to this, they found that customers upgrading from ADSL connections to FTTC experience download speeds of up to six times faster and significantly improved performance too.
Ofcom highlight shared technology issues
As well as the copper wire issue in slowing down speeds, Ofcom identified that switching between providers doesn't always result in improved speeds for customers.
For example, various ISPs use the underlying Openreach infrastructure to deliver their services to customers. Ofcom reiterate their research shows switching between providers using this infrastructure has little impact on speed.
This is something we highlight in our comparative guides between ISPs using the same technology, yet Ofcom confirming this is a welcome reminder for customers thinking of switching between providers on the Openreach networks.
That isn't to say there aren't differences between ISPs, with price and customer service often high on the list of variations between broadband providers in our analyses.
This latest UK Home Broadband Performance report is the first with data collected since new rules about advertised speeds came into force.
With ISPs now compelled to advertise speeds that are available to at least 50% of customers at peak times, the actual download speeds examined by Ofcom are more in line with the advertised speeds.
An example of this can be found in EE's lower FTTC offering which was advertised at the time of Ofcom's testing in 2017 as "up to 38Mb". In the 2018 report, this was described as "EE 36Mb".
Learn which ISP provides the fastest broadband in the UK here.
Search for the best broadband options in your area by using our exclusive comparison tool.