While gigabit broadband is now available to over 70% of the UK, there are pockets that can get even faster download speeds, including London with 3Gb deals, and Durham in the North East with 10Gb deals.
Similarly, there may be areas left underserved by the full fibre rollout including more rural parts of the country, where residents may be limited to superfast broadband speeds.
The best way to find out the speed of broadband in your area is using our broadband postcode tool that will return all of the available deals in your area and can then be sorted by speed to find the absolute fastest packages.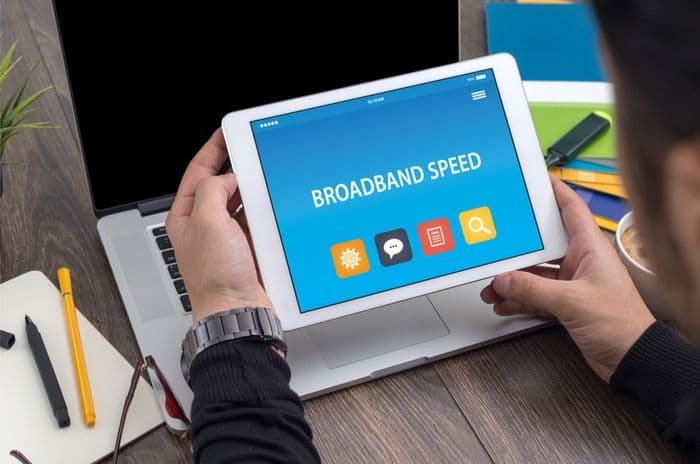 Credit: garagestock/Shutterstock.com
---
Broadband availability checker by area
Our broadband postcode tool can check the availability of the fastest broadband deals in your area, and offers the latest pricing and special offer promotions.
To find out what is the fastest broadband in your area, enter your postcode below:
---
Fastest broadband by area
As multiple providers are rolling out gigabit-capable and full fibre broadband across the UK, availability for the fastest packages is continually changing.
BT Openreach, who have plans to provide gigabit broadband to 25 million premises across the UK in the next few years, arguably operate the biggest network. In the three months up to 31st December 2022, BT added 800,000 homes to its full fibre network, and they have a current build rate of 62,000 per week.
Virgin Media have the current widest availability of fast broadband with their Gig1 plan now available across their entire network of 16 million premises. Virgin Media are also expanding their network to reach more homes, with plans to increase coverage to a further 7 million premises by the end of 2026.
There are also a wide range of smaller independent networks cropping up all over the UK in both urban and rural areas.
As such, right now, as the gigabit rollout continues, there are wide variations in the speed of broadband available in different parts of the country.
While gigabit broadband is now available to over 70% of the UK, and the Government plans to reach 99% by 2030, there are still many areas it hasn't reached yet.
Carrying out frequent broadband postcode checks can let you know if any providers have reached your area as this is likely to constantly change over the next several years.
You can also read more about the fastest broadband in the UK overall.
---
Broadband connection types
The fastest broadband in a particular area will be entirely dependent on the networks and connection types available there.
Superfast broadband
Superfast broadband, that's broadband with a download speed of at least 30Mb, is available to over 97% of the UK.
Predominantly, superfast broadband is delivered on the BT Openreach network, using fibre to the cabinet (FTTC) connections. These utilise the existing copper telephone network, and have fibre optic cables laid to the nearest street cabinet, and then the copper phone line wires take the signal the rest of the way to a customer's home.
FTTC is affected by distance and signal attenuates (weakens) over longer distances. As a result, the fastest speed of these connections is around 60 to 70Mb, with some customers only able to access the 35Mb plans due to the distance they live from the exchange.
Across the UK, availability of superfast broadband is currently:
| | Superfast coverage |
| --- | --- |
| UK | 97% |
| England | 97% |
| Wales | 96% |
| Northern Ireland | 94% |
| Scotland | 95% |
As you can see, while superfast broadband is nearly universally available, more rural areas such as in Scotland and Northern Ireland have slower broadband speeds likely due to distances of properties from the nearest telecoms' infrastructure.
Ultrafast broadband
Faster, ultrafast, broadband speeds are available in areas of the country where either Virgin Media operates their network, or BT Openreach has upgraded areas to G.Fast or full fibre.
G.Fast is a technology which can boost download speeds of fibre to the cabinet (FTTC) connections, yet it's only available to a few areas in the UK, with just 2.8 million premises able to access it.
Some of the towns around the UK that have seen G.Fast upgrades include Bargoed in Cardiff, Worthing, Greenwich, Northampton, Wembley, Lincoln, Barnsley, and Eastbourne, among others.
FTTC can be boosted from a top speed of 80Mb to as fast as 350Mb using G.Fast. However with the advent of full fibre it's no longer being rolled out.
Gigafast broadband
Gigafast, or gigabit, broadband, that is broadband delivering download speeds of 1,000Mb or 1Gb, is now available to over 70% of the UK.
So far, the biggest impact to gigabit availability has been made by Virgin Media when they completed an upgrade of their network to 1Gb broadband speeds for all 16 million premises covered.
While Virgin Media is entirely full fibre, as much of the network still uses coaxial cable for the last mile connection to a customer's home, the provider is also planning to upgrade their entire network to full fibre by the end of 2028. This should mean even faster speeds will become available with Virgin Media in the future.
For now, Virgin Media availability across the UK looks like this:
| | Virgin Media coverage |
| --- | --- |
| UK | 50% |
| England | 52% |
| Wales | 32% |
| Northern Ireland | 45% |
| Scotland | 44% |
As we've seen above for superfast broadband availability, Virgin Media has focused more on urban and suburban areas, with a greater presence in England towns and cities, and less availability in rural areas such as Wales.
However, that doesn't tell the entire story because there are many independent full fibre providers connecting areas to gigabit broadband, and often these smaller companies focus more on rural and underserved areas.
As such, gigabit broadband availability actually looks more promising, especially in Northern Ireland:
| | Gigabit coverage | BT full fibre | Other full fibre |
| --- | --- | --- | --- |
| UK | 73% | 30% | 19% |
| England | 74% | 28% | 20% |
| Wales | 58% | 37% | 4% |
| Northern Ireland | 90% | 85% | 16% |
| Scotland | 67% | 28% | 17% |
Northern Ireland has received a boost in coverage largely due to BT Openreach's rollout of full fibre in the country. While England has more independent full fibre networks operating than in the rest of the UK.
---
Fastest places to live in the UK
While the majority of broadband providers are topping out at 1Gb even on their fastest full fibre connections, there are a handful of providers breaking this limit and offering 3Gb or even 10Gb broadband connections.
Here are the fastest places to live in the UK right now.
London
Community Fibre is a dedicated London provider and their network is capable of delivery broadband speeds as fast as 3Gb, that's three times the fastest widely available speed in the UK.
While it comes at a cost, it's £99 per month on a 24-month contract, it can support a large number of users and devices all connecting at the same time.
And for anyone who doesn't want to spend quite that much, Community Fibre's 1Gb deal is also still one of the UK's fastest broadband packages due to the technology they use to connect homes to their network.
Installing full fibre cables all the way into a customer's home, Community Fibre also offer symmetrical upload speeds, so uploading is just as quick as downloading.
Here are their latest prices:
Package
Broadband
Monthly price
Upfront price
Contract term
1Gbps Fibre Broadband
920Mb average
£25
Free
24 months
Offer: Installed in 48 hours + Free setup
Community Fibre is so far available to over 642,800 homes across 32 London boroughs, and the provider has plans to expand to 2.2 million by the end of 2024, meaning availability is likely to be evolving in the Capital rapidly.
Read more in our Community Fibre review.
Durham, North East
YouFibre are a full fibre specialist with availability dotted around the UK and most highly concentrated in the North East towns of Durham, Darlington, Stockton-on-Tees, Peterlee, Spennymoor, and Houghton.
While their main packages only go up to a standard 920Mb gigafast plan, it's possible for customers to access up to 10,000Mb or 10Gb on the network.
YouFibre don't publish prices of their fastest 10Gb plan for residential customers, but for businesses it's priced at £250 per month, so expect it to be pricey.
Like Community Fibre, YouFibre also offer symmetrical upload and download speeds, so even their 920Mb plan offers some of the fastest upload speeds in the UK.
YouFibre is also available in areas including East Kilbride, Hamilton, and Falkirk in Scotland, Liverpool, Carlisle, Barrow, and Wakefield in the North of England, Barry, Bridgend, Wrexham, and Neath in Wales, Burntwood, Walsall, Wednesbury, Stafford, Grantham, and Boston in the Midlands, Trowbridge, Frome, Chelthenham and Bristol in the West of England, and Gravesend, Folkestone, Guildford, Maidstone, Canterbury, Purfleet, Wisbech and Doddington in the South and South East of England.
Wakefield, Yorkshire
50,000 homes in Stoke, Salisbury and Wakefield were recipients of a Virgin Media trial of the upgrade of their network to support 10Gb download speeds.
While the pilot isn't a long-term broadband offering, residents in Wakefield, Yorkshire were among the first to be connected to the live trial.
Virgin Media have also conducted trials for faster broadband speeds in areas including Edinburgh and Birmingham in 2021 to speeds of 2.2Gb, and Papworth in Cambridgeshire to speeds of more than 8Gb back in 2019.
These trials are all part of developing the fastest broadband technology, and Project Mustang is Virgin Media's UK-wide plan to upgrade their entire network to full fibre by the end of 2028. It's likely however these initial trial areas may well get to see the fastest speeds first.
For everyone else, Virgin Media also offer the UK's fastest widely available broadband plan with their Gig1 deal offering download speeds of 1.13Gb on average.
Find out more in our review of Virgin Media broadband.
---
Summary: use the broadband area checker tool
For anyone wanting to find out which is the fastest broadband available in their area they should use our broadband postcode tool.
This tool will return all the available providers for a given postcode area, and the results can be sorted by broadband speed to see the fastest connections available.
Over the next several years we will be seeing more providers expanding their networks and coverage across the UK in a bid to reach the Government's target of 99% gigabit coverage by 2030. This is likely going to result in an eventual increase in the number of full fibre providers any one home can choose to sign up with.
So, while the speed of broadband in your area may currently be limited to just one or two fast broadband providers, keep an eye on the checker tool to see how that changes over the next few years.
Read more about the fastest broadband in the UK overall, as well as the latest gigabit broadband plans.