96% of UK premises can access superfast broadband speeds of more than 30Mb while 66% can access a gigabit capable connection through full fibre broadband or cable.
However, there are still around 500,000 premises that can't get broadband of more than 10Mb, with many in the most remote areas struggling to reach that threshold.
The UK Gigabit Broadband Voucher Scheme aims to plug gaps in gigabit broadband coverage and could have a positive impact on the slowest premises too, although customers may want to consider different technologies like mobile or satellite broadband.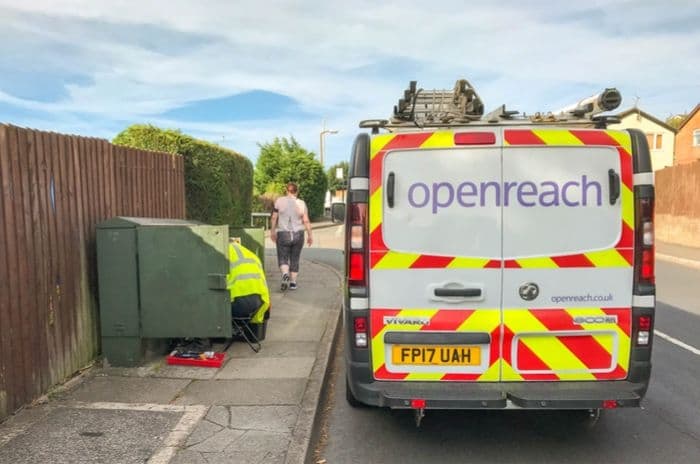 Credit: Ceri Breeze/Shutterstock.com
---
Broadband coverage in the UK
Broadband coverage figures released by Ofcom in May 2022 show that:
96% of the UK has access to superfast broadband (speeds of 30Mb+)
2% cannot access decent fixed line broadband (speeds of 10Mb+)
33% have access to full fibre connections while 66% have access to gigabit capable connections
Expanding superfast broadband was a key concern at the beginning of the last decade, with the rollout making good progress in 2015 and finally reaching its target of 95% coverage in 2018.
Since then, however, superfast coverage has only edged up by 1% due to the difficulties of expanding to the remaining areas.
Compounding the problem is the fact that the rollout of gigabit capable broadband has become the focus of broadband programmes, meaning some premises that still don't have speeds of 10Mb are seeing millions of others upgraded to 1Gb broadband.
Poor rural connectivity
Premises in the most remote areas of the UK that are the hardest to reach with fixed line broadband bear the brunt of slow speeds and poor connectivity.
The National Farmers Union (NFU) runs surveys of its members each year to find out what their broadband and mobile connections are like. In 2022, they found that:
Only 38% of businesses had the broadband speeds they needed
30% had speeds of less than 2Mb
Although 24% had speeds of 24Mb or more, some members reported prohibitive costs for installation
While this data focuses on farmers, the NFU's annual surveys depict the realities faced by many customers looking for decent broadband in rural areas.
The Government is aware of these difficulties and commissioned a consultation on "Improving broadband for Very Hard to Reach Premises" that reported in May 2022.
Their consultation responses demonstrated:
Most customers classed as living in remote areas are estimated to have broadband speeds of less than 10Mb
Respondents require similar broadband speeds, no matter whether they live in rural or urban areas
Almost all respondents agreed broadband improves key facets of their lives, regardless of whether they live in rural or urban areas
The Covid-19 pandemic accelerated the need for improved connectivity in rural and remote areas
Further steps from this consultation have not been announced at the time of writing, although there are already some schemes in place to improve rural and remote broadband coverage.
---
Improving broadband coverage across the UK
The UK Government and the devolved nations have made improving broadband coverage one of their major priorities over the last decade and beyond.
Over the years, we've seen gimmicks like BT's 2010 Race to Infinity competition to assess demand for superfast broadband in rural areas as well as funding to create so-called broadband cities in 2011.
The goalposts have frequently moved, going from a 2Mb minimum commitment that was followed by subsidies for satellite broadband in 2016 and a commitment to a minimum speed of 10Mb a few years later.
Definitions have changed too, with superfast now classified as 30Mb+ (up from 24Mb) and ultrafast widely defined as more than 100Mb+ following a period when Ofcom classed only connections of 300Mb+ as ultrafast.
On the ground, the wrangling over targets and the confusion over definitions are largely irrelevant and most households simply want to know if their broadband speeds are going to improve and how they can get support for that.
Let's take a look at some of the schemes and options for getting faster broadband.
USO
The universal service obligation (USO) was introduced in 2020 following years of wrangling about how fast the minimum broadband speed should be (and it could have gone as high as 30Mb if the House of Lords' 2017 intervention had worked properly).
Under the USO, households have the legal right to request a "decent" broadband speed of at least 10Mb that should be provided by BT (or KCOM in Hull).
There are certain caveats to the USO:
If a public scheme within the next 12 months will cover the property, a request under the USO won't be accepted
If the cost of an installation is more than £3,400, the provider doesn't have to install the connection - the customer should be given the opportunity to pay the difference
It can take up to 12 months for a household to receive a connection under the USO
Changes were made by BT to the way they quote for USO premises in 2021, meaning they now take into account when multiple properties could be connected at the same time and the costs shared.
Ofcom's May 2022 update found that around 506,000 premises (both domestic and commercial) could not access speeds of 10Mb.
However, once alternatives to fixed line broadband (see below) and future rollout plans are taken into consideration, Ofcom estimate only around 78,600 will be left without decent broadband and may be eligible for the USO.
Gigabit capable rollouts
The focus of broadband rollouts in recent years has largely been on full fibre broadband expansion delivering gigabit capable broadband speeds.
In their May 2022 review, Ofcom estimated that around 9.6 million premises (33% of all homes) can now access full fibre broadband.
However, thanks to the Gig1 deployment by Virgin Media, gigabit capable broadband is available to 19.3 million homes (66%).
We look at different gigabit capable broadband networks in our dedicated guide but it's worth pointing out that:
The Government aims to reach 85% of UK premises with gigabit capable broadband by 2025 with the ambition to cover 99% by 2030 (this is sooner than the original deadline of 2033 but more realistic than the plans to hit nationwide coverage by 2025)
Openreach are looking to reach 25 million premises with their fibre to the premises (FTTP) network by the end of 2026, including millions of more rural premises in market towns and villages
Dozens of smaller full fibre operators are rolling out localised networks, so it's worth checking to see if such a development is coming to an area
The crucial thing to note about these gigabit capable broadband rollouts is that customers don't usually need to take the headline speeds of 900Mb or higher.
Providers generally offer lower speeds too, allowing customers who just want a good broadband connection without gigabit speeds to get online.
Government voucher scheme
The Gigabit Broadband Voucher Scheme is offering groups of homes with slow broadband speeds in rural areas vouchers worth up to £1,500 each to help install gigabit broadband.
Again, there are caveats for this scheme:
Single households are not eligible to apply, so groups of households or communities must apply together
Existing broadband speeds must be less than 100Mb
A commercial gigabit capable network is unlikely to be built in that area in the near future
There must be no Government-funded contract already planned or in place to improve the network
There are dozens of broadband suppliers active in delivering these builds across the country, and there's a list on the Gigabit Broadband Voucher Scheme website as well as a postcode checker for eligibility.
These sorts of schemes are likely to be expanded and/or transformed as the Government look to close the gap between the commercially viable 85% of the UK discussed above and the remaining 15% that can be classed as "hard to reach".
Community partnerships
Openreach offer Fibre Community Partnership schemes that allow communities to part-fund or fully fund the costs of their gigabit broadband installation.
Communities looking to part-fund can access the UK Gigabit Voucher Scheme discussed above to cover some of the costs of the build and fund the rest themselves.
However, it's also possible for communities to fund the build entirely themselves without voucher support if none is available.
Alternatives to fixed broadband
While attention is often focused on fixed line broadband, there are other methods to improve internet speeds in hard-to-reach locations including:
Mobile broadband
Fixed Wireless Access
Satellite broadband
4G was pitched as an alternative to home broadband way back in 2012, with the next-generation 5G network heralded as a way of doubling home internet speeds in 2018.
Yet a similar problem affects these mobile services: the areas where their signals currently struggle to reach are likely to be the same ones struggling to get a fixed line broadband connection.
Fixed Wireless Access (FWA) uses the same principle as mobile broadband by transmitting signals to customers' homes, but they are deployed in specific areas to improve coverage and internet speeds.
Ofcom estimates that 7% of UK premises are able to receive a decent broadband service through a Wireless Internet Service Provider (WISP).
Finally, satellite broadband is an option for places where other signals will not reach - but it can be prohibitively expensive.
Learn more about the options for rural broadband and connectivity.
---
Summary: More work to do
The expansion of broadband services over the last decade has benefited millions of households, with speeds upwards of 100Mb becoming commonplace.
With more than 96% of premises in the UK able to receive a broadband connection of 30Mb or more and 66% able to receive gigabit capable broadband, it's clear connectivity in the UK is in a much stronger position than it was in 2009 when BT investing £1.5bn into their superfast broadband network was big news.
Thanks to the rise of alternative broadband operators such as Gigaclear and CityFibre, full fibre broadband networks are spreading across the country and giving customers more choice and faster speeds.
Yet it remains the case that a small core of premises are struggling to reach the 10Mb threshold that the Government class as being a decent broadband connection, including households that are still stuck on an exchange-only broadband line.
For these customers, there are steps they can take:
See if a full fibre network upgrade is planned in their area
Ask for a faster connection to be installed under the universal service obligation (USO)
Consider community funding to improve speeds in a specific location
See if mobile broadband offers a viable alternative
Look into Fixed Wireless Access (FWA) or satellite broadband providers
Ultimately, the last 15% of premises in the gigabit broadband rollout are going to be the hardest to reach, and there is going to need to be considerable Government investment and support to extend full fibre broadband to those commercially unviable places.
It might mean light at the end of the tunnel for customers in remote areas - but with the tunnel set to last until 2030 in some locations, it could mean prolonged frustration for some.
Find out more about who's best for fibre broadband and what to look out for.