Some homes are connected directly to an exchange rather than to a street cabinet, meaning their broadband speeds are limited.
This means these homes are unable to access the faster broadband speeds enjoyed by most of the country.
Customers on exchange-only lines (EOLs) may see a cabinet installed to improve the situation, but others may want to switch to a full fibre provider if available, or even mobile broadband as an alternative.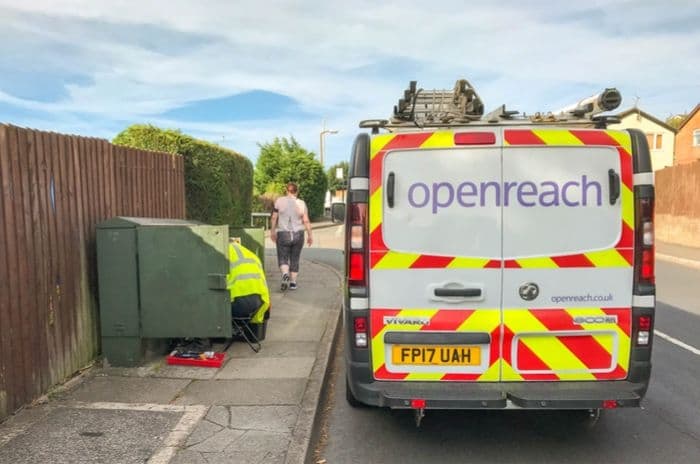 Credit: Ceri Breeze/Shutterstock.com
---
What is an 'exchange-only' household?
An exchange-only household has a phone line that connects directly to the local telephone exchange rather than via one of BT's green street cabinets.
Why are some households exchange-only?
There are a variety of reasons why a property is on an EOL.
The most common properties stuck with exchange-only are:
Properties that are situated very close (< 500m) to the exchange
New build properties, which can mean dozens of households if part of a large development
Properties near exchanges get left out of Openreach's fibre upgrades because they're connected straight to the exchange rather than via clusters, or 'green boxes'.
This makes it uneconomical for Openreach to include the unlucky households in their improvement schemes.
While some lines are being upgraded anyway, albeit later than their neighbours, many are currently left out of plans.
How many households have exchange-only broadband?
Openreach haven't provided up-to-date figures on EOLs for a while now.
Back in 2019, the figure was around 5%, yet we know that Openreach have been installing cabinets outside some exchanges to deal with this issue.
However, without accurate data, it's difficult to know how many properties in the UK currently struggle with this issue.
It's true that some places are more likely than others to suffer from exchange-only.
Rural areas, as usual, often get the short end of the stick. Scotland also has more than its fair share. More surprisingly, the City of London is also notorious for EOLs.
---
What impact does having an exchange-only line have on my broadband connection?
The main impact is on speed and upgradability.
Exchange-only lines often receive download speeds of less than 5Mb. Some lines even hover around 1-2Mb.
People with lines close to the exchange will have reasonably fast ADSL2+ connections - around 15-20Mb - which may soften the blow for some but will be seen as increasingly unreasonable for many.
The problem with exchange-only properties is that they cannot upgrade to fibre-to-the-cabinet (FTTC) broadband because they miss out the cabinet. They may be able to upgrade to fibre-to-the-premises (FTTP, see below), but it's not guaranteed.
Does it matter?
Increasingly, yes - especially for the slowest EOLs.
A household receiving download speeds of 5Mb or less will:
Struggle to enjoy the latest media: streaming services, online gaming and so on. Download speed can be so sluggish that people may even struggle to stream music.
Have issues with online backups like Google Drive, Dropbox and iCloud. Slow speeds can make a computer that's working from the cloud almost unusable
Deal with laggy, frozen video calls on Skype, WhatsApp, Messenger and Facetime.
It's clear that being on an exchange-only broadband line can be a significant drawback for participation in modern life.
With that in mind, how is the issue being tackled?
---
What is being done to improve services for exchange-only broadband household?
Under a plan that Openreach calls "network rearrangement" customers with exchange-only lines may eventually have a fibre-enabled cabinet installed between the exchange and their property.
So far, a few of these have been installed (Openreach provides no definitive figures).
This, unfortunately, isn't a solution that's likely to be put in place for exchange-only lines that are isolated or a long distance from the exchange, or both.
However, with Openreach planning to stop sales of copper broadband as they transform some exchanges and close others in the move towards FTTP, exchanges may be adapted in this way.
The migration away from copper technology theoretically means that exchange-only broadband lines should become a thing of the past, but what can customers do in the meantime?
Can Government schemes help?
The universal service obligation (USO) that requires BT to provide broadband services of at least 10Mb has been active since March 2020.
However, the USO has limits that include a £3,400 price cap for connections. Some EOLs might exceed this cap, even though BT has changed its approach to take into consideration multiple applications from neighbours and communities.
There was also a Better Broadband scheme active in the UK to help rural homes reach speeds of 2Mb, but this was scrapped in 2019 as faster speeds under the USO became the priority.
Fibre Community Partnership scheme
The Fibre Community Partnership (FCP) scheme is designed to help customers in rural areas get connected to ultrafast broadband.
It uses either voucher funding or community funding to get the work done, with some areas utilising a combination of these funding sources.
FCPs are available to areas where full-fibre rollouts are not yet on the agenda, and it requires a good deal of community support to get one off the ground.
At the time of writing, Openreach's FCP portal is closed to new applicants as the company deals with the backlog of outstanding installations.
Mobile broadband
Mobile broadband for the home is now becoming a viable alternative to fixed line broadband connections.
We've progressed from providers offering 4G as a home broadband option to 5G mobile broadband for the home with speeds exceeding what many homes can get on a FTTC broadband connection.
So, for customers on an exchange-only broadband line, it's worth looking seriously at whether mobile broadband is a useful alternative, cutting out the broadband cables entirely and relying on mobile signals instead.
---
Types of fibre broadband
There are several names for the products that use fibre optic cabling to greatly improve speeds. These products all come with acronyms that combine to create a telephonic alphabet soup.
Fibre broadband is delivered via several main methods.
| Type of fibre broadband | Also known as | Top download speeds | Percentage of UK coverage | Future plans |
| --- | --- | --- | --- | --- |
| Fibre to the cabinet (FTTC) | Superfast fibre | 80Mb | Over 97% | |
| G.fast | | 330Mb | Around 11% | Rollout currently paused as focus on FTTP |
| Virgin Media cable | Cable internet, DOCSIS 3.1 | 1Gb | Around 60% | |
| Fibre to the Premises (FTTP) | Fibre to the Home (FTTH), Full Fibre | 10Gb | Around 37% | Expected to reach 85% coverage by 2025 |
The push in Government is to expand FTTP coverage as rapidly as possible, with smaller operators like Hyperoptic an important part of this and Virgin Media also committed to transforming their network gradually to full fibre technology.
Let's take a closer look at what all these technologies mean for customers.
Fibre to the cabinet (FTTC)
Fibre-to-the-cabinet is currently the main method of delivering high-speed broadband to homes and businesses.
Fibre optic cables connect the local exchange to green street cabinets. Traditional copper phone lines then complete the connection from the cabinet to individual properties.
The ultimate speed of each household's connection depends on the length of copper wire between the property and the street cabinet, but FTTC speeds are capped at around 80Mb, with 67Mb the typical advertised average.
G.fast (Openreach only)
G.fast is an upgrade to, rather than a replacement for, the existing Openreach network. It involves installing nodes in cabinets and distribution points.
Openreach were planning an extremely ambitious rollout of the hybrid tech (10million premises covered by 2020), but their focus on FTTP made them scale it back to around 5.7 million.
This rollout has now stalled at around 2.8 million and shows no sign of restarting.
Having a G.fast connection brings a home's potential download speeds up from 80Mb to around 300Mb. But there are downsides:
G.fast is only available to premises within 300-400m distance from the cabinet
If a premises does get G.fast, it's probably not going to get FTTP from Openreach (see below) any time soon
Virgin Media cable
Virgin Media is the biggest provider of 1Gb broadband speeds in the UK, having finished their switch-on of their upgraded technology in late 2021.
Their network reaches 15.7 million homes at the time of writing, so many customers will be able to access their broadband speeds of up to 1Gb, and they are a major reason so many people in the UK can access ultrafast broadband.
Virgin are also committed to further expanding their network as part of Project Lightning, with over 300,000 premises added in the last year.
Find out if Virgin Media's services are available in your area.
Fibre to the premises/home (FTTP/FTTH)
Fibre-to-the-premises connections use a fibre optic cable to connect the customer's home or business directly to the exchange. As an entire FTTP connection is formed of fibre optic cable, it can achieve far higher speeds than FTTC connections.
As of June 2022, 37% of the UK has access to a full fibre broadband connection.
While many of these homes will be part of Openreach's FTTP rollout, there are various other providers active in different parts of the country including:
Some full fibre providers specialise in certain locations, so it's worth finding out which UK broadband operators are active in your area.
---
Summary: Frustrating for some
Although only a minority of the UK is still on exchange-only lines, there are still many premises affected, and this can be a highly frustrating situation.
The impact becomes clear when browsing broadband-based forums: people on EOLs are increasingly impacted by their out-of-date internet, and they're angry about it.
With Openreach focused on racing to meet full fibre targets, many EOL customers may feel left behind, but the copper switch-off scheduled for later this decade brings opportunities for households stuck on old lines.
Customers on EOL lines might be able to improve their broadband speeds by:
Contacting Openreach to ask if they're on an upgrade plan
Making a request under the universal service obligation if speeds are below 10Mb
Checking whether other full fibre broadband providers are active in the area or have rolled out services nearby
Signing up to mobile broadband for the home as an alternative
Customers on exchange-only lines are often advised that there is nothing to do but wait.
However, for those in need of a speed boost quickly, mobile broadband for the home might be the best option, especially if 5G mobile services are available in your area.