Hyperoptic Fair Fibre offers two package choices with 50Mb and 150Mb broadband speeds, along with the option of a home phone line.
Eligibility covers those in receipt of Universal Credit, Pension Credit, Income Support, and six other benefits, including Personal Independence Payment.
Hyperoptic's network so far reaches 1.15 million premises, including a number of council-supported social housing schemes.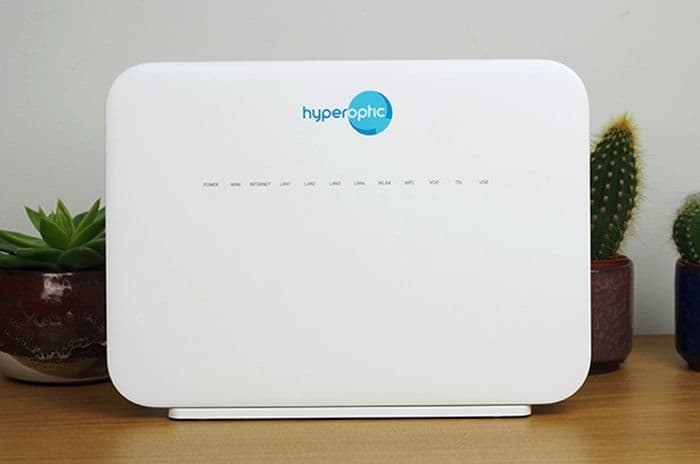 Hyperoptic
---
Hyperoptic Fair Fibre tariffs
Fair Fibre are Hyperoptic's social broadband tariffs, which are affordable deals available to people in receipt of certain means-tested benefits.
Eligible customers can choose between two broadband speeds: 50Mbps and 150Mbps, with the option to add a home phone to either package:
| | Package | Broadband | Monthly price | Upfront price | Contract term |
| --- | --- | --- | --- | --- | --- |
| | Fair Fibre Fast | 50Mb average | £15 | Free | 30 days |
| | Fair Fibre Superfast | 150Mb average | £20 | Free | 30 days |
Both package options come with free setup and installation and are available to both new and existing Hyperoptic customers.
Download speeds are at least superfast on both packages, yet upload speeds vary more widely. Just like their standard broadband packages, the Fast 50Mb plan offers asymmetrical upload speeds of 5.7Mbps on average, while the Superfast 150Mb plan offers symmetrical uploads of 158Mbps on average.
In addition to this speed boost, Superfast was also recently reduced in price from £25 per month to £20 per month, making it a more affordable option as one of the UK's fastest social broadband tariffs.
The Fair Fibre social tariffs are also contract-free, so customers can cancel the plans at any time with just 30 days' notice if they need to.
Existing Hyperoptic customers can also access these deals if they're eligible without incurring any early termination charges even if they're within a minimum term contract.
And, while Hyperoptic offer no mid-contract price rises anyway, social broadband tariffs, like Fair Fibre, are excluded from any annual price rises.
Home phone calls
Both Hyperoptic Fair Fibre broadband plans can be taken a home phone line, which costs an extra £3 per month.
The home phone service includes free calls to UK landlines in the evening and at weekend as standard, and customers can add additional calling plans to their package for the following prices:
| | Monthly price | Calls included |
| --- | --- | --- |
| Anytime UK Landline Plan | £3 | Anytime calls to UK landlines |
| UK Mobile Plan | £3 | 50% off UK mobile calls |
| International Plan | £5 | 50% off calls to international destinations |
These prices are the same as for standard customers, and out of allowance calls also cost the standard rates of:
7p per minute for UK landlines
17p per minute for UK mobiles
10p call connection fee
For people who use their home phone lines regularly, Hyperoptic Fair Fibre may not be the best choice, as the BT Home Essentials tariff offers broadband and inclusive anytime calls without additional charges.
Read more on the different social broadband tariffs available.
---
Eligibility for Hyperoptic Fair Fibre
Hyperoptic Fair Fibre eligibility is broader than most social tariffs, accepting a wider range of benefits including:
Universal Credit
Pension Credit
Income Support
Income-based Employment and Support Allowance (ESA)
Income-based Jobseekers Allowance (JSA)
Housing Benefit
Attendance Allowance
Care Leavers' Support
Personal Independence Payment
Due to a relatively new integration with the Department for Work and Pensions, those in receipt of Universal Credit, Pension Credit, Income Support, ESA or JSA can apply online using an instant check for eligibility.
Customers in receipt of one of the other four benefits will need to apply by phone instead, and will likely need to provide proof, although Hyperoptic say this can simply be a photo of a benefits letter.
There is no end date for the Fair Fibre plan, but customers will need to let Hyperoptic know if they stop receiving benefits so they can be moved to a standard plan.
It's also likely Hyperoptic will carry out occasional eligibility checks with the DWP, but they say they'll give customers 30 days' notice before ending the plan if they lose eligibility.
How to apply
New and existing Hyperoptic customers can apply in any of the following three ways:
By phone on: 0203 318 3209
By raising a ticket in My Account (existing customers only)
In all cases, potential customers should clearly mention that they want to apply for Fair Fibre, and be ready to provide proof of receipt of one of the listed benefits.
Existing customers
As we've covered, Fair Fibre is open to applications from existing Hyperoptic customers as long as they're in receipt of one of the qualifying benefits.
Those who are still within the minimum term on a current broadband deal can move to the Fair Fibre plan if they want to and they won't be subject to any early leaving fees or penalties for doing so.
In addition, when they move to Fair Fibre they'll move onto a monthly rolling plan, regardless of how long the minimum term left on their previous deal with Hyperoptic was.
How to pay
Customers must pay broadband bills by Direct Debit, unless a different payment method has been agreed with Hyperoptic in advance.
Hyperoptic don't specify any other payment methods other than Direct Debit, and customers are often asked for bank details to setup a direct debit mandate when they apply.
Customers looking at singing up to Fair Fibre who can't pay this way should contact the provider to ask.
However, there are other options. BT Home Essentials offers a range of payment methods including PayPoint and cash and cheque through the Post Office. Virgin Media also accept payment online and by phone on their Essential social tariff.
---
Market comparison
Unless customers are moving from a standard in-contract Hyperoptic broadband plan to Fair Fibre, there are other social broadband tariffs available.
This is because, while customers within a minimum term can move to Fair Fibre without penalty, if they wanted to switch away from Hyperoptic they would be subject to early leaving fees.
However, for new customers and those out of contract with Hyperoptic, if households are eligible for a social tariff, there are a range of options available.
| | Package | Broadband | Monthly price | Upfront price | Contract term |
| --- | --- | --- | --- | --- | --- |
| | Fair Fibre Fast | 50Mb average | £15 | Free | 30 days |
| | Home Essentials Fibre Essentials | 36Mb average | £15 | Free | 12 months |
| | Essential Broadband Plus | 50Mb average | £20 | Free | 30 days |
| | Fibre 1 Essential | Up to 38Mb | £12 | Free | 12 months |
BT Home Essentials is a stand out tariff simply because it includes a home phone line as well as inclusive calls at any time to both UK landlines and UK mobiles, which just isn't available on many other social broadband tariffs.
However, for customers who only want broadband, cheaper options are available with providers including Vodafone, as well as Community Fibre in London.
Overall, Hyperoptic offer faster speeds than most social broadband tariffs for the price, and is flexible in the sense customers can take a home phone line if they need one.
---
Verdict: Is Hyperoptic Fair Fibre worth it?
For existing Hyperoptic customers who are eligible for the Fair Fibre tariff it's an easy option to save money and reduce household outgoings.
It's pleasing that Hyperoptic offer two broadband speed choices, both of which provide superfast download speeds, and the Superfast plan is one of the fastest social broadband tariffs available.
For new customers however, it will come down to what's available in the area - for example, alternative social tariff providers include BT and Virgin Media.
And, for those whom cost is the biggest factor, there are ultimately cheaper social broadband tariffs available from Vodafone, Virgin Media, and Community Fibre in London.
In addition, while the home phone option with Hyperoptic is a welcome one, it's worth bearing in mind none of the inclusive call plans entirely cover the cost of calls to UK mobiles, with the only option offering 50% off these calls.
Regular home phone users would be better off with BT Home Essentials, which covers both calls to UK landlines and UK mobiles at any time for a similar price.