Hyperoptic have reduced the price of their fastest social broadband tariff from £25 per month, to £20 per month.
People struggling to afford their broadband bill may be eligible for a social broadband tariff if they're in receipt of certain means-tested benefits, including Universal Credit.
Hyperoptic is one provider who offers four different social tariff options, with two choices of download speed. The faster of the two, 150Mb, is being reduced in price from £25 to £20 per month.
Their most affordable social tariff, Fair Fibre Fast Broadband, offers 50Mb download speeds and costs £15 per month.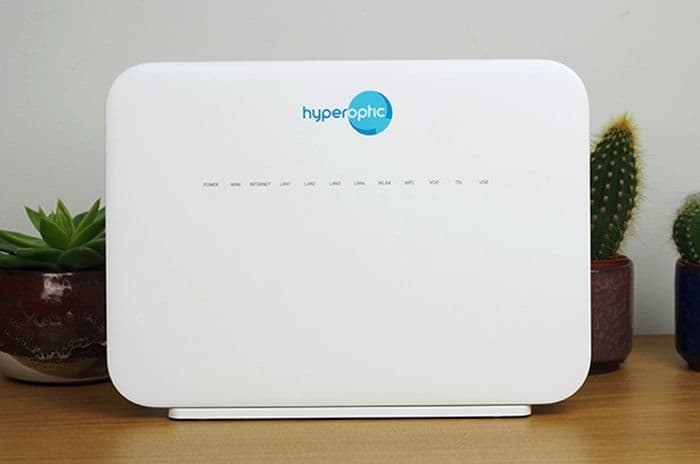 Hyperoptic
Hyperoptic Fair Fibre
Hyperoptic were one of the first providers to offer a social tariff for people in receipt of benefits, and won our Digital Inclusion Award in both 2021 and 2022 for their Fair Fibre deal.
Fair Fibre offers a choice of 50Mb or 150Mb broadband speeds, with the option to take a home phone line with free evening and weekend calls to UK landlines for an extra £3 per month.
The price reduction announced by Hyperoptic today sees their fastest 150Mb plan reduced by £5 per month.
Fair Fibre 50Mb costs £15 per month, and the 150Mb plan now costs £20 per month. While the free evening and weekend call plan includes calls to UK landlines, it's worth nothing UK mobiles are excluded and will be charged.
Hyperoptic Fair Fibre has broader eligibility criteria than most providers, and is available to both new and existing customers in receipt of any of the following benefits:
Universal Credit
Income Support
Pension Credit
Income-related Job Seekers Allowance
Housing Benefit
Personal Independent Payment
Attendance Allowance
Care Leavers Support
Income-related Employment and Support Allowance
However, it's a little confusing why Hyperoptic have included Personal Independent Payment (PIP), but left out Disability Support Allowance (DSA).
PIP and DSA are two benefits which have recently come under the spotlight in the cost of living crisis due to the Government withdrawing support for these benefits under the Warm Home Discount, despite the Office for National Statistics revealing in October 2022, 55% of disabled adults were struggling with their energy bills.
New customer offers
Anyone considering switching to Hyperoptic who's not eligible for a social tariff, might want to check out their current Black Friday special offers, now running until 8th December.
Broadband plans on 24-month contracts are half price for six months, meaning the 50Mb plan costs just £10 per month for six months, and then £20 for the remaining 18-months of the minimum term.
Similarly, the 150Mb plan costs just £12.50 for six months, and then £25 for 18 months.
Package
Broadband
Monthly price
Upfront price
Contract term
Fast 50Mb (24 months)
57Mb average
£10
for 6 mths,


then £20

£29
24 months
Offer: 6 months half price

(Ends 08/12/2022)

Superfast (24 months)
158Mb average
£12.50
for 6 mths,


then £25

£29
24 months
Offer: 6 months half price

(Ends 08/12/2022)
Overall, while the deals look attractive, they still work out more expensive than the Fair Fibre social tariffs, with the new customer offer on the 50Mb plan working out at £17.50 a month over the length of the contract, and the 150Mb plan working out at £21.88.
Previous pricing on the Fair Fibre 150Mb plan, at £25, would have made the social tariff version of the package more expensive than the deal for new customers. This may explain one of the reasons it's seen a drop-in price.
See Hyperoptic's latest prices and offers.
Mid-contract price hikes
Alongside offering a range of social broadband tariffs to help customers struggling to afford their bills, Hyperoptic are also pretty vocal when it comes to fairer terms for consumers, especially relating to mid-contract price hikes.
As just one of only three broadband providers left who don't have annual price rises baked into their contracts, Hyperoptic CEO Dana Tobak recently wrote to Ofcom, the Department for Digital, Culture, Media and Sport (DCMS), the Advertising Standards Agency (ASA) and the Committee for Advertising Practice (CAP), to try and persuade the implementation of emergency measures to protect consumers from upcoming high inflationary price rises during the cost of living crisis.
In April 2023, consumers could see broadband and mobile bills rise by as much as 15% if inflation remains at its current level.
Hyperoptic's letter sent out three requests:
an immediate requirement that advertised price claims must clearly set out any mid-contract price rises,
that advertising includes a clear explanation of the calculation, and
the real impact it will have on what customers are going to have to pay.
Hyperoptic backed up their position by citing their survey which found as many as 80% of broadband users don't understand what CPI (the Consumer Price Index) is. Of those who felt they could calculate the correct price increase, only 23% got it right.
In addition, in our own campaign against mid-contract price rises, we feel it's frankly impossible for consumers to budget for price increases based on a figure (inflation) that isn't known to them at the time of taking the contract out.
Dana Tobak, CEO of Hyperoptic, said, "The practice of forcing mid-contract price rises on people is causing real consumer harm, and we want to see big changes so that broadband users are better informed and protected.
"At the very least, the price you pay throughout the contract should be transparent in all advertising. We also want Government and Ofcom to go further, so that if a price increases mid-contract, you should be able to turn to a new provider without paying early termination charges.
"Current rules allow providers to hike charges mid-contract by the CPI rate of inflation plus an extra 3.9 per cent on top. That's a staggering 15 per cent using the latest figures.".