In January 2012, in response to Government pressure, Ofcom announced that 4G services will be rolled out to 98% of the population.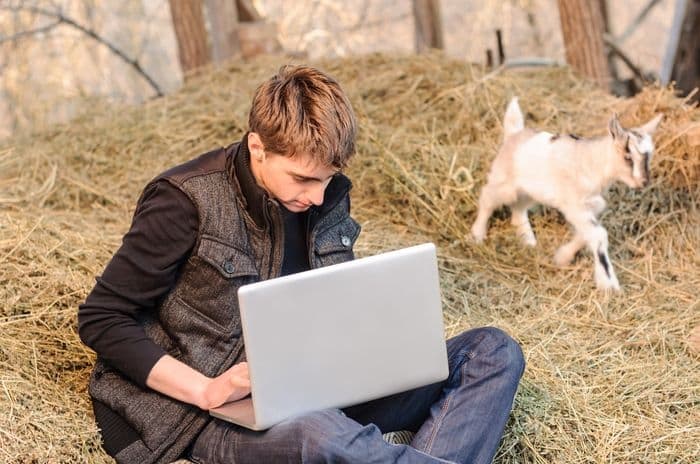 Credit: Ajan Alen/Shutterstock.com
Previously, mobile operators were aiming to extend to 95% of the population, roughly in line with 3G.
So will 4G boost rural broadband?
Getting to 98%
How about some phone signal?
Following boosts to 3G earlier in the year, in July 2011 the Communications Consumer Panel (CCP) kicked off demands to use the 4G roll-out to help those in rural areas.
Up to three million UK residents live in a mobile 'not spot' - meaning that they are without even a 2G connection - the panel said and Ofcom is responsible for extending services to them before upgrading urban infrastructure.
"Most places that were mobile coverage notspots 10 years ago are still notspots today," CCP chair Bob Warner said.
"The spectrum auction represents perhaps the only chance we have in the next decade to improve coverage in the nations and for rural communities."
The move to 4G
By November 2011 MPs were arguing that rural areas should get more than just 2G. They said they found the planned "imposition of a 95% coverage obligation [for 4G] to be unambitious."
The Government was keen to utilise the format to meet its commitment to universal broadband service and please lobbyists for broadband coverage in the countryside.
A spokesperson for the Countryside Alliance told The Telegraph around the same time that, "the Alliance believes that the current lack of reliable broadband is one of the greatest threats to the growth of the rural economy.
"...the Government should hasten the roll-out of rural broadband, as well as ensuring the sale of spectrum enables the countryside to compete in a growing digital economy."
In January 2012 Ofcom ceded to pressure and set a condition that at least one of the new licence holders had to achieve 98% coverage across the country.
By utilising the longer wavelength of the soon to be redundant analogue TV, 800Mhz band, 4G mobile broadband services will get to places 3G couldn't, Ofcom said.
A real alternative to adsl?
In an atmosphere in which rural campaigners accuse Government of sidelining them a 'available everywhere' solution is extremely appealing.
But will 4G really be a boost to rural broadband users?
Speed concerns
Trials of 4G carried out by BT Openreach and retail and Everything Everywhere in Newquay, Cornwall has promised up to 30Mb speeds for its 180-odd participants.
Yet the average speed in the area has taken months to creep up to meet ADSL speeds, about 6Mb. Nationwide 4G, furthermore, won't give communities the special attention lavished on the trial area.
All in all, rural areas should take claims that they'll be able to reach up to 100Mb speeds, the standard for 4G, with a large pinch of salt.
Rural broadband connections may be struggling, but that doesn't mean 4G will be better.
Price concerns
The UK's mobile broadband users are going through data at an alarming rate.
Even with the extra space on the 4G parts of the spectrum GBs will continue to be rationed; per GB, mobile broadband is always more expensive than ADSL and unlimited mobile broadband has all but disappeared.
Net neutrality concerns
Net neutrality is also more of a concern for mobile broadband users currently.
Only 3G operators currently block VoIP or video-on-demand altogether.
Coverage concerns
Finally, although 4G will certainly improve coverage it can't work miracles.
One of the major notspots for mobile coverage in the country is on the rail networks, for example. Ofcom research suggests that there's only a 10% chance of maintaining a 15 minute mobile phone call on the East Coast mainline.
Meanwhile some maintain that it will be nearly impossible for the networks to actually improve coverage in practice; the networks say they've already built as many 2G and 3G masts as possible.
If the current infrastructure were to be merely upgraded to 4G, those people with poor signal now would still have cause for coverage complaint.
Too many concerns?
The radio spectrum auction is due to take place at some point in the final quarter of 2012 and will be the largest ever sale of its kind. It will see the release of 80% more capacity than was released in 2000.
The 4G services themselves aren't expected to roll out until late 2013.
According to James Firth, CEO of think tank Open Digital speaking to PC Pro the long timescale could save 4G from being an irrelevance to rural users.
"Open Digital understands concerns of rural broadband campaigners, but believes that if Government policy can stimulate a healthy mix - which must include cable, WiMax and strong competition from 'whitespace' operators - competition will prevent anti-competitive network management or restrictive pricing," he said.
White space devices
Ofcom are also counting on whitespace operators to pick up the slack.
The regulator plans to use airwaves vacated by analogue radio after the switchover to digital radio is complete.
White Space Devices will be able to identify unoccupied areas of spectrum or 'white spaces' and use this space to send and receive wireless signals such as wi-fi or mobile broadband.
"Spectrum is a resource that is in huge demand, fuelled by the recent explosion in smart phones and other wireless technologies," said Ofcom head Ed Richards.
"However, there is only a limited amount of it to go around, which means we need to start thinking more creatively about how it is used. White Space Devices could offer an effective solution."
Able to travel further and penetrate walls more easily, it's no wonder the signals in this band of spectrum are attractive to Ofcom.
A version of the technology is already being trialled in Scotland where BT Openreach is conducting a trial of white space wireless broadband access on the Isle of Bute.
Here it is the space between digital TV channels that is being utilised although in a statement Ofcom said that, "in practice this technology could also work in the FM radio band."
Ofcom expects as much as 50% of the capacity currently occupied by FM radio stations to be vacated leaving the regulator wondering how much money can be raised... erm, we mean, how this capacity could be used most effectively.
Ofcom have even come up with a way which could avoid interference between the new devices and existing wireless technologies.
A white space router or base station would have to first consult a geolocation database which would contain live information telling the router which frequencies it is able to use in the specified area.
Sounds like an innovative solution, whether it'll work in practice we'll have to wait and see.