While customers are currently given an estimated broadband speed, the changes mean these estimates would be more personalised.
These estimates can help customers walk away from a contract if the promised standards are not met.
The changes will require upgrades by the provider and so they won't come into force until 15 November 2020.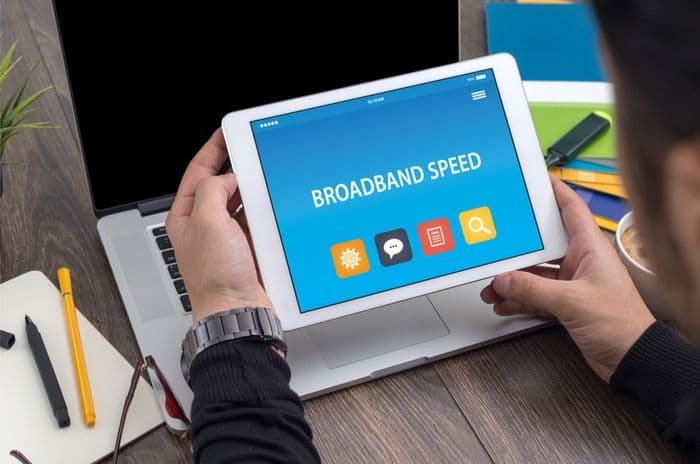 Credit: garagestock/Shutterstock.com
What are the changes?
The broadband speed estimates customers are currently given when signing up to a broadband contract are based on estimated data sourced from similar properties.
So, the characteristics of properties including the distance from the street cabinet or exchange are factored in, but these are currently based on general data rather than information about those specific properties and this can lead to wrong estimates.
Under the new guidelines, broadband providers will be required to give more customers personalised estimates based on the actual capabilities of the line.
There are a couple of caveats to these changes, however, with only fibre to the cabinet (FTTC) lines being covered under the estimated guarantees rather than copper only or gigafast connections.
In addition, the Broadband Speed Code of Practice which Ofcom are updating here is a voluntary one and there are only six home broadband providers signed up: BT, EE, Plusnet, Sky, TalkTalk and Virgin Media.
These alterations will come into force on 15 November 2020, allowing ISPs the chance to upgrade their systems to meet the new demands.
Customer choice
Ofcom has brought in changes over recent years which have helped customers make more informed decisions about their broadband provider.
For instance, when searching for a broadband package, the estimates customers are given are now based on what 50% of customers at peak times can access.
Estimates were previously based on what only 10% of customers could access, but changes that came into force in 2018 increased this to 50% and ruled ISPs had to advertise average speeds rather than "up to" ones.
This allows more customers to receive more accurate estimates at the point of searching, and the new rules mean these results will be even more personalised than before when customers click through to sign up for deals.
Voluntary code
One weakness in this approach is that the six providers signed up to the Broadband Speed Code of Practice have done so voluntarily.
So, while they will implement the new personalised estimates proposed by Ofcom, not all broadband providers will be involved and so this limits customer choice.
Ofcom are aiming to promote a culture of fairness across the broadband market through recent initiatives such as reducing the charges paid by customers who have passed the end of their fixed term contracts.
Again, the six biggest ISPs are the ones who have signed up to implement changes across for out of contract customers from March 2020.
Ofcom's fairness drive has also included all major broadband providers signing up to a set of commitments to support fair approaches towards pricing, marketing and reliability of services.
Most recently, they have published a fairness framework which details how they assess the customer experience, focusing on how much customers are potentially harmed by practices in the communications sector.
All these initiatives work together to promote a fairer broadband market in the UK, with today's speed estimate alterations becoming part of that from November 2020.
Find out more about getting the fastest broadband for your home here.