We can register with the Telephone Preference Service (TPS) to block unwanted marketing calls or choose a home phone that specifically blocks nuisance calls.
In addition, we can report unwanted calls and texts to the relevant authorities, helping to shut them down and potentially get those firms fined.
Nuisance calls reached a peak in 2015 when 73% of households had received them, but this had dropped to 43% by 2019.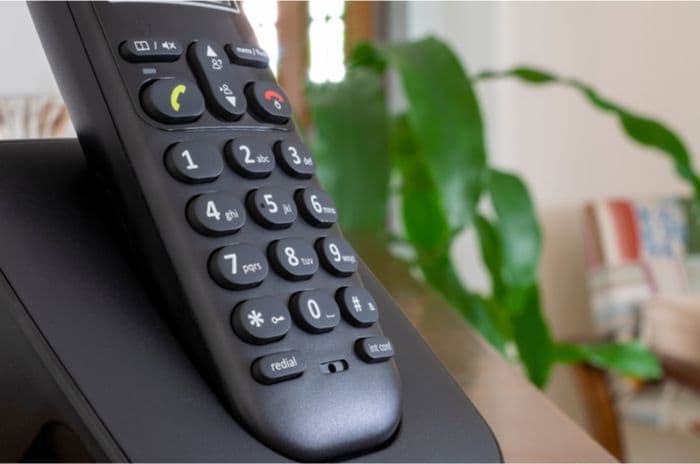 Credit: Leonidas Santana/Shutterstock.com
---
How to stop nuisance calls and texts
Nuisance calls can be frustrating and upsetting, but there is a quick step we can take to help prevent them coming through.
While nuisance texts can be more difficult to stop, we look at how to respond to them as well below.
There's also more information later in this guide on other ways to handle nuisance calls and texts.
Register with TPS
The best way to combat nuisance calls is to join the Telephone Preference Service (TPS).
This is a register that officially tells companies we are opting out of unsolicited marketing and sales calls.
The TPS is the organisation contracted by Ofcom to maintain the list of phone numbers belonging to people who don't want to receive live marketing calls.
Companies aren't allowed to contact the numbers on the list, unless they have another form of consent from the individuals listed. It works for mobiles as well as landlines.
Any companies calling you from within the UK after you've registered your number are breaking the law.
The TPS says you should allow 28 days for your registration to become completely effective, but you should notice a reduction in calls almost straight away.
Registering for the TPS is straightforward and can be done on their website.
It's also possible to register a mobile number with the TPS by sending a text that says "TPS" along with your email address to 85095.
There are no charges to send this message, and the service will confirm you've been added to the register in a free return message.
If you're unsure whether you're already on the TPS, they have an option to check your number against their database.
Check for and stop nuisance messages
Nuisance SMS messages can be trickier to deal with but there are a few steps to follow if we receive a message that we're unsure about or don't want to receive.
Check whether the message is from a legitimate company or a service we have previously signed up to. If it is, we should be able to reply "STOP" and they shouldn't send any further messages
If the sender is unknown or the message looks like it could be a scam, do not respond to the message at all
Replying could alert the spammers to your number being active and will most likely result in further unwanted messages.
Instead, we should forward the message and the number it came from to 7726.
This is the number providers use to collect nuisance and scam texts. As we explain below, reporting is crucial to help providers block or ban the senders, although other nuisance messages sent using different numbers can pop up in the meantime.
We can also take a screenshot or screen recording of scam messages and send them directly to the National Cyber Security Centre (NCSC) at [email protected].
---
More on tackling nuisance calls
The Telephone Preference Service is an excellent resource, but it cannot stop spam calls and texts entirely.
There are other methods we can use to reduce or track unwanted calls such as:
Caller display to check who's calling before we answer
1471 to check the number that called us last
1571 voicemail service that allows callers to leave a message
Anonymous call rejection
Thanks to a rule change in 2018, all providers now have to offer caller display without charge as standard.
So, as long as we have a compatible handset (and most homes will have one of these already), we can screen unwanted calls and only answer the numbers we want to.
Caller display is particularly useful if you're able to programme your contacts or address book into your home phone, making unknown callers instantly recognisable.
Using a combination of caller display, 1471 and voicemail you can leave unknown callers to be diverted to answer phone, and choose whether or not to investigate further any that don't leave a message, perhaps by searching for the number online.
However, as we explain in our guide on caller display and other calling features, the rules on features like 1571 can vary, plus there are costs if we use 1471 and then click through to return the call. So, it's important to check these.
Protection from anonymous calls
Some landline providers offer anonymous call rejection services. As the name suggests, these will block anonymous calls from getting through, providing another layer of protection for a home phone.
This can be useful, although it's important to note they may also screen calls from legitimate organisations with multiple phone lines - like our employers or businesses we want to use - so we should be mindful of that.
These are the nuisance call blockers offered by major providers:
BT Call Protect
Sky Talk Shield
CallSafe from TalkTalk
Plusnet Call Protect
These are included free of charge, but it's worth checking whether different providers have similar features that come with monthly charges.
For example, anonymous call rejection can be added to Virgin Media's home phone plans, but it is a chargeable feature at £3 per month.
As we've mentioned, anonymous call blocking can be a heavy-handed approach and might not be the best option for many people.
For example, it could result in missing calls from legitimate companies, banks, doctors and other services.
External devices
Some companies provide devices that stop nuisance calls before they even get to the phone.
The trueCall Call Blocker, for example, is a small box that sits between the phone handset and the landline connection, filtering all calls against a list of approved numbers.
It isn't a cheap piece of kit at £100, but it might provide piece of mind for some households.
We've seen other devices designed to block calls come and go over the years.
The BT Home SmartPhone S released in 2014 had a built-in blocker for nuisance calls, but it cost £170 for the device and £1.75 per month for Caller Display to go along with it.
Thankfully, since the launch of BT Call Protect in 2017, the need for such devices has decreased, although it's unclear whether they're living up to their pre-launch estimates of blocking 25 million nuisance calls per week.
Reporting the problem
The methods we've outlined above should reduce the number of nuisance calls we receive but if we're still receiving calls from specific organisations and they refuse to stop, there are a few more things we can do.
We can complain to the TPS and tell them a company is ignoring our preferences (this only works after being on the register for 28 days).
We can report the company to the Information Commissioner's Office if we're receiving unwanted sales calls or silent/abandoned calls from a firm we can identify. It's also possible to complain to Ofcom about these.
If we receive malicious or threatening calls, we should contact our phone provider immediately and they will assist. If the threat is real and immediate, contact the police.
It might seem that reporting nuisance calls is a fruitless exercise, but the Information Commissioner's Office (ICO) and Ofcom have been known to levy huge fines on companies breaking the rules in the past.
In early 2022, the ICO fined five companies more than £400,000 for making over 750,000 predatory calls to elderly and vulnerable people in 2020.
A decade earlier, Ofcom fined TalkTalk £750,000 for silent sales calls made by external providers.
So, it's clear that taking a few minutes to report persistent nuisance calls can have an impact - even if we rightly believe it shouldn't be necessary.
---
More on tackling nuisance texts
It's important to stress that spammers will target mobiles they know to be active.
Legitimate services that follow the rules should stop sending you texts if you reply "STOP". A spammer on the other hand will use this as a way to lure people into replying.
Therefore, if you suspect a text is spam, don't reply. If you're right and you reply, you've just added your number to a spammer's database and increased your likelihood of receiving further annoying messages.
Spot spam texts
Spotting a spam text is usually pretty straightforward, as they tend to have a few features that easily distinguish them from other types of marketing messages.
Spam SMS
The first thing to look for is that there will be no name displayed when you open the message, just a number that nearly always starts +44.
The second standout feature is that the message will usually be selling or advertising one of the following services: accident claims, insurance claims or payday loans and be asking you to reply for "more info" or to "stop". Remember: never reply.
Can you get legitimate marketing SMS?
Yes. While not spam, legitimate marketing messages can still be highly annoying. They're usually the result of you forgetting to tick a box on a form opting out of that firm's marketing activities.
If you can identify the company from the message and it says "reply stop" or similar, do that.
If you have any doubts don't reply. Instead visit the company's website or contact their customer services department to get yourself removed from their marketing lists.
On rare occasions, we might receive texts from a company when we've opted out. This is something the ICO can investigate, as we saw in 2019 when they fined EE £100,000 for sending text messages to customers who had opted out of direct marketing.
Premium SMS services
If you've ever bought a ringtone or wallpaper by SMS then you may still be signed up to receive messages from that company at a premium rate.
The message will be from a five digit number called an SMS short code beginning with either 6 or 8. Messages from charities all start with 70.
You should have knowingly signed up to services such as these, so if you think you're being charged without having ever agreed to a subscription, try and contact the firm directly.
If this doesn't work, the regulator for these texts is the Phone-paid Services Authority (PSA), and they can deal with complaints about content, goods and services charged to phone bills.
We can ask our mobile provider to bar all premium rate calls or texts from our phone. This should be easy to set up and might be possible to put in place through a mobile app or online account - check with your provider.
---
Home phones to block nuisance calls
Caller ID is available on many home phones, but there are other handsets that say they are designed to prevent and block nuisance calls.
These are three of our favourites:
BT Premium Phone
Panasonic KX-TGJ320EB
Gigaset Premium C575A
For customers who want multiple handsets in the household, there are options to take two or sometimes more handsets.
| | BT Premium Phone | Panasonic KX-TGJ320EB | Gigaset Premium C575A |
| --- | --- | --- | --- |
| Individual numbers blocked | 1,000 | 100 | 15 |
| Blocks which calls? | Anonymous, calls by type, selected numbers | Anonymous calls, range of numbers, selected numbers | Anonymous calls, selected numbers |
| Address book | 1,000 | 250 | 200 |
| Talk time | 21 hours | 15 hours | 17 hours |
| Standby | 240 hours | 250 hours | 320 hours |
| Answerphone capacity | 60 minutes | 40 minutes | 30 minutes |
| Price | £69.99 | £49.99 | £69.99 |
Caller display must be enabled via a customer's landline provider for these handsets to work effectively.
1. BT Premium Phone
The BT Premium Phone is the most advanced handset option offered by BT and utilises trueCall technology to offer the following features:
Premium Call Blocker to screen incoming calls
Block by Number with space for up to 1,000 individual numbers
Block by call type to block mobile, international, withheld and unavailable numbers or those from a certain area
Do Not Disturb
BT say this handset will block up to 100% of nuisance calls. Thanks to the customisable settings, we should be able to ensure the calls we want get through.
2. Panasonic KX-TGJ320EB
Panasonic often have a range of handsets available, with the KX-TGJ320EB one of the latest promising to target nuisance calls.
Customers can:
Block specific numbers
Block entire groups of numbers
Block withheld numbers
Put their handset into Do Not Disturb mode
There's also a feature that allows Talking Caller ID, so customers can hear who is calling without needing to approach the handset itself - useful for those with limited mobility, for example.
One downside to this particular device is that there is no way to block international calls specifically. That may be an issue for people who receive a lot of unwanted calls from international numbers.
3. Gigaset Premium C575A
The Gigaset Premium C575A is the latest device in the Gigaset range of home phones.
It includes the following features for nuisance calls:
Ability to add 15 specific numbers to a blocklist
Anonymous call blocking for withheld numbers
Time periods where the phone does not ring
One thing we especially like about the Gigaset compared to the other handsets on this list is the larger screen (2.2 inches compared to 1.8 inches). This makes it a good option for older users who want to block nuisance calls.
---
What are regulators doing about nuisance calls?
Work to tackle nuisance calls has been going on for years and there have been some definite improvements based on these efforts.
It has become easier for the ICO to fine companies for breaching rules around nuisance calls and texts, even if companies are based abroad.
We've also seen the Government wage a self-declared war on directors of companies found to be making nuisance calls.
At their peak in 2015, 73% of households in the UK were receiving a nuisance call on their landline, while 52% were receiving them on their mobiles, driven in part by the push for customers to claim PPI compensation.
This had fallen to 43% and 37% as of January 2019, although we then saw an uptick in nuisance calls and texts during the final months of 2020 amid the coronavirus pandemic.
Overall, however, we're receiving far fewer nuisance calls and texts than we used to and we're seeing companies hit with fines if they breach the rules.
This is a better system than the one we reported on ten years ago, even though customers who receive nuisance calls and texts are still understandably stressed and frustrated by them.
As they can also serve as a stepping stone for telephone scams, it remains as important as ever for regulators to look at fresh ways of tackling them and for customers to remain vigilant if they ever do pick up the phone to a cold caller.
---
Summary: Use the tools available
Nuisance calls and texts remain an unfortunate fixture of life, despite efforts to eliminate them entirely.
We can target the nuisance calls we receive by:
Registering with the Telephone Preference Service (TPS)
Enabling caller display on our home phone
Using any protection features offered by our landline provider
Choosing a home phone with built-in protections
Reporting marketing calls from companies who ignore the rules
In addition, we should report nuisance texts when they arrive and never respond to scammers to avoid being added to their lists.
As landline and mobile customers, we can take steps to protect ourselves and choose service providers that help us to do that.
Fines from Ofcom and the ICO are a deterrent for some companies, but others will see them simply as the cost of doing business. This means it's trickier for regulators to target these firms as effectively as they might like, meaning nuisance calls and texts will persist until all loopholes are closed.