Fining the companies behind cold calls and nuisance texts will become easier from April, under changes to the law.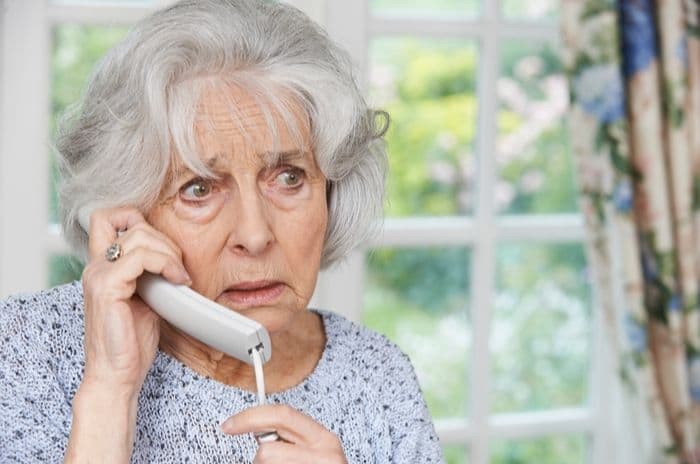 Credit: SpeedKingz/Shutterstock.com
At present companies can be fined up to £500,000 for such activity, but only if the Information Commissioner's Office (ICO) can prove it's caused "substantial damage or substantial distress".
The Government also says it will look at measures that would see board level executives being held responsible for the nuisance calls and texts made by their companies.
In 2014, the ICO received more than 175,000 complaints about cold calls and spam texts, with the number of complaints peaking in the summer months, mostly energy and supposed Green Deal marketing calls.
Substantial distress
That need to prove "substantial damage or distress" has meant the ICO's hands have been tied to an extent.
We still need people to report these calls to us, but now we can use those complaints to better target the companies.
Christopher Graham, Information Commissioner
For example, any company sending unsolicited marketing texts is breaking the law.
But in 2012 when the ICO fined Tetrus Telecoms for sending hundreds of thousands of spam texts claiming the recipients were owed money in PPI or accident claims, a tribunal found in favour of the company.
That made it more difficult for the ICO to take action against other firms flouting the law by sending spam texts.
Information Commissioner Christopher Graham has previously called the rules "a licence for spammers and scammers", and says the change in the law will help people fight back.
"We still need people to report these calls to us, but now we can use those complaints to better target the companies."
Loopholes
As the legislation stands, organisations are supposed to have an individual's consent to make automated calls or send them texts.
Live calls are only allowed if the recipient hasn't opted out of receiving them, often by registering with the Telephone Preference Service (TPS).
Research for Ofcom and the ICO suggests signing up to TPS will reduce the number of calls someone receives by about a third, although 45% of those registered say they don't receive any live sales calls, compared to 26% of those who aren't.
In addition, people who register with TPS see the number of other nuisance calls, including silent and abandoned calls, and recorded messages, drop by about 35%.
But there are further limitations to the effectiveness of the TPS.
Anyone who's failed to tick or untick the box regarding marketing on any forms they've filled in is considered to be giving their consent to be contacted - which overrides inclusion on the register.
In addition, some companies simply don't check the TPS.
In September 2014, the TPS received more than 2,000 complaints about nuisance calls. Of those complaints, at least 10 were made about each of 38 companies.
The ICO says companies like this are most likely breaking the law - if only because of the "cumulative effect" of the large number of calls they make.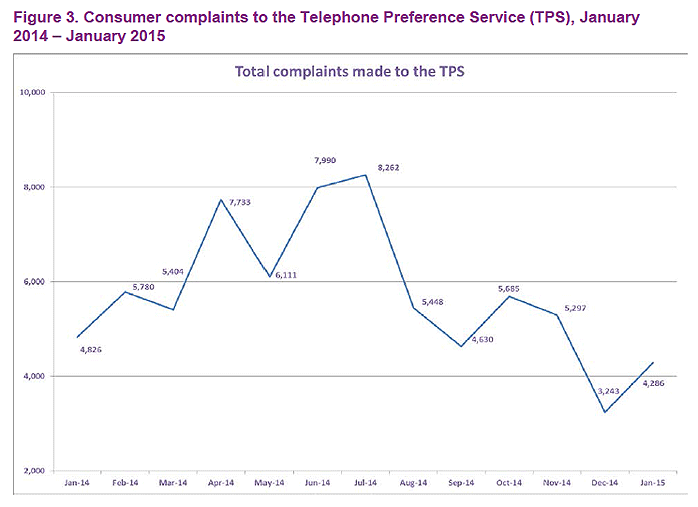 SOURCE: Ofcom, Telecoms Complaints Bulletin, February 2015. Available here [pdf]
The action taken
While most of us find cold calls and spam texts annoying, they can be much more bothersome for older and more vulnerable people.
In a speech earlier this month, Mr Graham acknowledged that such people "are particularly at risk, and this can only add to the worries of those who care for them."
Meanwhile a survey by Which? found that around 80% of people say they're regularly cold-called at home, and a third of us are left feeling intimidated.
It's up to Ofcom to deal with silent and abandoned calls. It has the power to take action against companies that "persistently misuse a network or service resulting in annoyance, inconvenience or anxiety".
That's mainly been done through fines: since 2012 seven companies have been ordered to pay a total of £1,618,000 for abandoned and silent calls.
Last December two companies, Green Deal Savings Limited and MYIML Limited, were each fined £20,000.
Ofcom reckons MYIML Limited - a lead generation company - made more than 30,000 abandoned calls between 16 December 2013 and 3 February 2014.
Green Deal Savings made an estimated 12,703 silent calls between 27 October and 14 December 2013 - and it also made more than 400 abandoned calls within 24 hours in October 2013.
Meanwhile the ICO has taken action against nine companies for nuisance calls and texts since 2012, issuing fines totalling £815,000.
There are trends in the subject matter: in 2013 they focused on pensions and PPI, but in 2014 pension calls dropped off considerably and the top topics became "government funded" boilers and solar panels - driven, the ICO says, by the launch of the Government's Green Deal.
SOURCE: Ofcom, Telecoms Complaints Bulletin, February 2015.
Stopping them
So what else is being done to stop nuisance texts and calls?
Ofcom has been working with the telecoms industry to improve call tracing and how source phone numbers are transmitted and presented to customers.
Meanwhile, the international Internet Engineering Task Force is working on the issue of trying to trace calls made using VoIP - say using Skype to phone a landline.
In the meantime, people can sign up to services like TPS and Silentcall-gard, which should offer them some degree of protection, and forward spam texts to their mobile operator to get the numbers blocked.
There's more on how to do this, and what to do if the problem continues, in our guide.
There's also hardware available that helps block nuisance calls, but the cost of the service is one customers have to foot.
Consumer organisations have urged telecoms companies to do more to cut the calls and spam "at source", with StepChange Debt Charity also suggesting further legislation and a culture change are required.
They say the UK's "opt out" requirement is the lowest level of regulation in the EU, and we should be aspiring to the standards of other countries in Europe, where customers are assumed not to want to receive marketing calls unless they actively register their interest.
But from April 6th, it will at least be much easier for customer complaints and the resulting ICO cases against companies to stick - and the hope is that the greater threat of a sizeable fine will lead to fewer nuisance texts being sent at all.