Big names Amazon, Google and Roku all have streaming sticks currently available, although Now has phased out their streaming stick in favour of a TV box instead.
Our favourite TV stick is the Amazon Fire TV, with several options available and an entry-level price that would tempt anyone looking to enhance their TV.
Roku Express is the cheapest option out there while Google Chromecast with Google TV has finally brought Chromecast into the remote control age.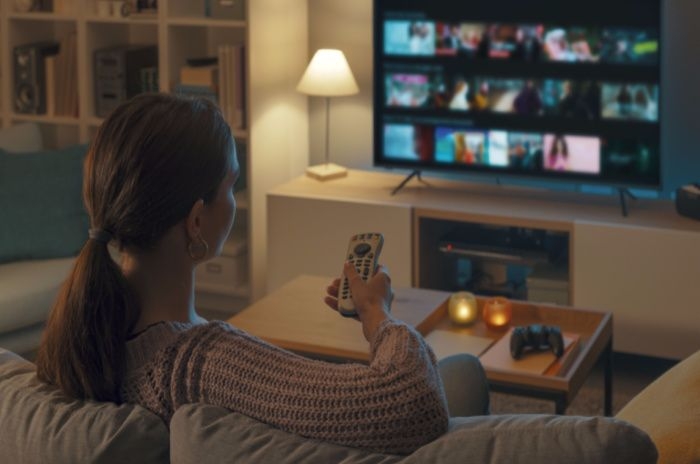 Credit: Stock-Asso/Shutterstock.com
---
Which smart TV stick should I choose?
There are three major types of smart TV stick available right now:
Amazon Fire TV Stick
Google Chromecast
Roku
We look at these options and the different TV sticks available from each manufacturer below, but which smart TV stick is the best overall?
Verdict: Amazon Fire TV Stick
There's an Amazon Fire TV Stick to suit the budget and requirements of every household, whether we just want a basic Lite stick for less than £30 or are looking for TV controls, UHD capability or Wi-Fi 6 compatibility.
We like the fact that Amazon Prime Video is included with all the other benefits of Amazon Prime, meaning customers get access to Amazon Originals and other premium content.
It also has great depth of apps without being overrun by poor quality options.
---
1. Amazon Fire TV
Best for: Comprehensive streaming
| | Device | Price | Colour | Remote | Size |
| --- | --- | --- | --- | --- | --- |
| | Amazon Fire Stick Lite with Alexa Voice Remote Lite | £29.99 | Black | Yes | 8.6 x 3.0 x 1.3 cm |
| | Amazon fire TV Stick with Alex Voice Remote (includes TV controls) | £39.99 | Black | Yes | 8.6 x 3.0 x 1.3 cm |
| | Amazon Fire TV Stick 4K with Alexa Voice Remote (includes TV controls) | £49.99 | Black | Yes | 9.9 x 3.0 x 1.4 cm |
| | Amazon Fire TV Stick 4K Max with Alexa Voice Remote (includes TV controls) | £54.99 | Black | Yes | 9.9 x 3.0 x 1.4 cm |
The family of Amazon Fire TV sticks has something for every household, whether they want a budget TV stick or an ultra-fast 4K option.
Amazon Fire TV can be used without a subscription to Amazon Prime Video and can simply serve as a central hub for other subscription content from the likes of Netflix and Now as well as free streaming services such as My5 and ITV Hub.
However, the extra content available with Prime Video such as TV shows, films and Amazon Originals mean many customers will use the Fire TV stick alongside an Amazon Prime subscription to reap the full benefits.
From September 2022, the price of an Amazon Prime membership is £8.99 per month or £95 per year. This includes Amazon Prime Video, Amazon Music Prime and unlimited free delivery on Prime products.
Difference between Amazon Fire TV sticks
Amazon markets their four Fire TV sticks in the following ways:
Fire TV Stick Lite - Essential streaming under £30
Fire TV Stick - HD streaming with convenient TV controls
Fire TV Stick 4K - Cinematic 4K streaming with Dolby Vision
Fire TV Stick 4K Max - High-performance 4K streaming with Wi-Fi 6 support
This is how the specifications of Amazon Fire sticks compare:
| | Fire TV Stick Lite | Fire TV Stick | Fire TV Stick 4K | Fire TV Stick 4K Max |
| --- | --- | --- | --- | --- |
| Full HD | Yes | Yes | Yes | Yes |
| 4K Ultra HD | No | No | Yes | Yes |
| Dolby Vision support | No | No | Yes | Yes |
| Audio | HDMI pass through of Dolby-encoded audio | Dolby Atmos | Dolby Atmos | Dolby Atmos |
| Memory | 1GB | 1GB | 1.5GB | 2GB |
| Quad-core processor | CPU 1.7 GHz, GPU 650 MHz | CPU 1.7 GHz, GPU 650 MHz | CPU 1.7 GHz, GPU 650 MHz | CPU 1.8 GHz, GPU 750 MHz |
| Wi-Fi 6 support | No | No | No | Yes |
So, for customers who want a basic HD streaming stick, the Amazon Fire Lite is a budget-friendly option but it comes with some limitations and doesn't allow control of a customer's TV, soundbar or receiver as the other devices do.
Out of the four, the Fire TV Stick 4K Max is the only one with Wi-Fi 6 support to take advantage of the faster networking options, with customers able to use more devices effectively on the network - as long as they have a Wi-Fi 6 router, and those are currently rare in the UK, meaning this technology may not be useful for many right now.
Amazon Fire hands-on
I found the Amazon Fire set-up and interface a little tricky when I took the Amazon Fire TV 4K for a test drive.
The Amazon Fire TV stick
In terms of setting up the device, it was the only one that didn't fit snugly at the back of my TV thanks to the large design. Fortunately, Amazon include a HDMI extender cable in the box, so it's obviously an issue they're aware of.
Also, while the central hub for content is a welcome feature (and commonly found in smart TV tech), I had a couple of frustrations with it:
The mix of Amazon Prime Video content and premium content that must be rented/purchased can be confusing
TV show archives aren't necessarily there in full, so the first series may be available and subsequent series are not
Amazon do make all this clear and customers can turn off in-app purchases if they're worried about accidentally buying something, but it's a niggle that extra purchases are pushed so heavily even if a customer already subscribes to Amazon Prime Video.
---
2. Roku Express
Best for: Budget streamers
| | Device | Price | Colour | Remote | Size |
| --- | --- | --- | --- | --- | --- |
| | Roku Express | £19.99 | Black | Yes | 7.6 x 3.8 x 1.9 cm |
| | Roku Express 4K | £34.90 | Black | Yes | 8.6 x 3.9 x 2.0 cm |
| | Roku Streaming Stick 4K | £44.99 | Black | Yes | 9.4 x 2.1 x 1.1 cm |
Note: Adding a HDMI cable can cost more.
Roku is a streaming platform that, like Amazon Fire TV, allows customers to bring content from various subscription and free services into one place.
There are two types of Roku streaming device: the infrared Roku Express devices that come with a small black box that must be in line of sight of the remote and the Roku Streaming Stick that operates via wi-fi.
Roku Express hands-on
I took the Roku Express through its paces and found the set-up process straightforward enough - with the caveat that positioning the sensor somewhere that didn't look out of place and wouldn't get knocked off was a chore.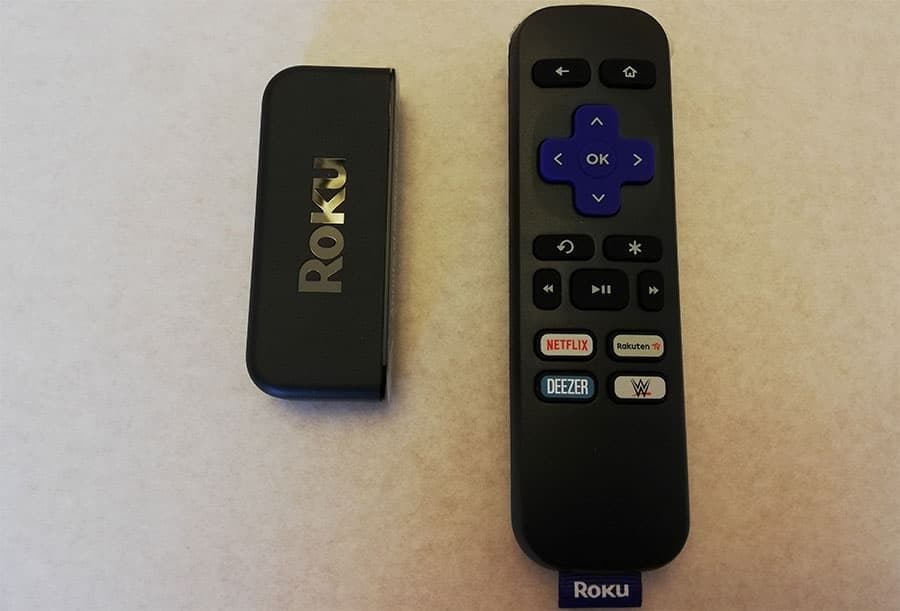 The Roku smart TV stick and remote controller
There's also no option for the Roku to control the TV in the same way pricier models of the Fire do, and there are no volume controls on the remote either.
In this way, it's a stripped-down smart TV stick, something that may appeal to users who want a simpler experience.
Content on Roku
On the face of it, the sheer volume of content available via Roku should bring it to the top of any list compiled on content alone. However, it isn't that simple.
Pay-per-view or pay-per-channel is a peril across smart TV devices, and Roku customers are required to input a payment method at the installation stage.
Obviously, you're not obliged to buy any of this extra content, but the temptation's there, so the costs can soon add up if you let them.
Another problem I found with Roku is that there's so much inferior content amongst all the available apps that it can be difficult to locate the good stuff. Moreover, the cost of some lesser apps can suggest customers are getting more value than they are.
Purchasing on Roku needs to be done carefully, checking reviews and the websites of any apps to see if they're worthwhile and what the charges are. As a plug and play option, then, it might prove costly, although it's hard to deny the wealth of content available.
---
3. Google Chromecast
Best for: Google and Android users
| | Device | Price | Colour | Remote | Size |
| --- | --- | --- | --- | --- | --- |
| | Google Chromecast | £28.99 | Black | No | 5.82 x 1.37 x 5.82 cm |
| | Google Chromecast with Google TV | £59 | White | Yes | 28.39 x 9.91 x 2.95 cm |
There are two Google Chromecasts available: the standard Google Chromecast and the Google Chromecast with Google TV.
The major difference between the two is that the original Chromecast is a device that can be used with a tablet or phone to cast content to a TV while the 4th-gen Chromecast acts more like the smart TV platforms we've discussed above.
Pricing differs between the two models as well the functionality, so it's worth considering what each of the Chromecasts do.
Google Chromecast
The standard Google Chromecast is a small circular device that doesn't come with a separate remote. It connects to the back of a TV and is operated through a customer's smart device (tablet or phone).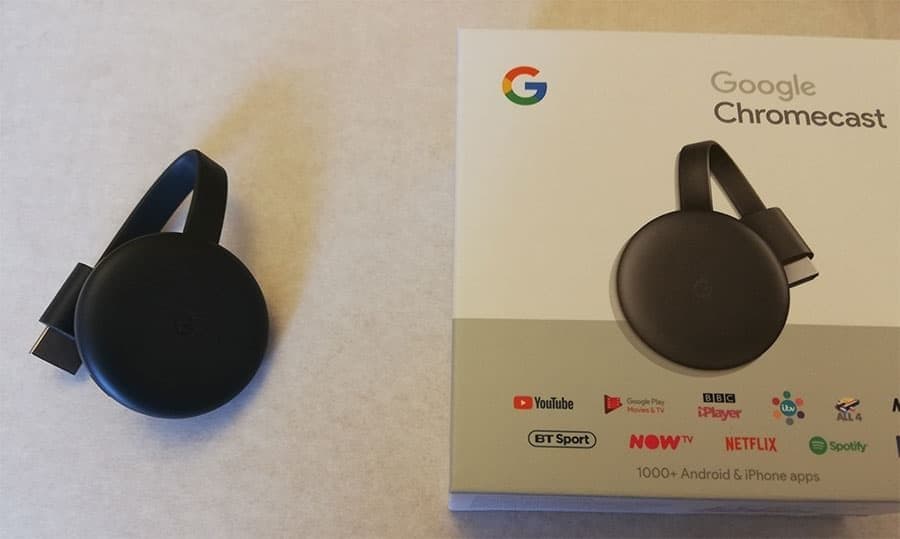 Google's Chromecast smart TV stick offers a different design to the others
Getting content on to the TV requires customers to cast it using their smart device. This means customers need to have free accounts or paid subscriptions with compatible services and they must have a phone or tablet.
The benefit of the Chromecast is that it's a comparatively cheap device that's useful for accessing content, but it is limited by not having a dedicated remote.
When I went hands-on with the Chromecast, I found the set-up slightly complicated by the fact the device works as part of the larger Google Home system.
In practice, this only means a couple of extra set-up steps and it will be useful for people who do want to use the wider Google Home ecosystem and have the Chromecast as part of this.
Something else I found with the Chromecast was occasional technical difficulties between the casting device and the dongle, usually brought about by wi-fi issues in the home because there's the extra step of casting to get the content on the TV.
Google Chromecast with Google TV
The advanced Google Chromecast comes with Google TV as the name suggests, but it also comes with a remote that makes it a smart TV platform rather than simply a casting device.
Here's what you get when you choose the Google Chromecast with Google TV:
Chromecast dongle and a voice-activated remote that features dedicated YouTube and Netflix buttons
Home screen with access to a customer's content and subscriptions
Personal recommendations
So, it's more of a central hub for content in the same way Roku and Amazon Fire TV sticks are, with the pricing similar to the Amazon Fire TV Stick 4K Max.
---
Other ways to turn your TV smart
TV sticks are not the only way to make a TV smart, with set-top boxes and soundbars available to help users stream content and access subscriptions.
These include:
Now TV Box - While Now used to offer a Now TV Smart Stick, this has been discontinued in favour of their set-top box. Alternatively, customers can use the Now app on other smart sticks or TV boxes, with Now the only place to watch Sky Atlantic outside of the Sky platform.
Apple TV 4K - The Apple TV 4K box isn't just a vehicle for their Apple TV+ streaming service - it also acts a central hub for other subscription and free content.
Netgem TV - Netgem offers a TV box and soundbar that can be purchased to access free content as well as subscription plans for premium content. Some apps are not yet available on Netgem TV, however.
There are Freeview and Freesat boxes for customers who want to access free content, while major providers Sky TV, BT TV and Virgin Media TV all offer comprehensive TV packages.
See what BT, Sky and Virgin do differently when it comes to TV.
What's the difference between a streaming stick and a set-top box?
There are three major differences between streaming sticks and set-top boxes: size, pricing and connectivity options. As you might imagine, all three points are connected.
Streaming sticks are more compact than set-top boxes, and they can be used on different TVs and devices. It's far easier to unplug a stick from the USB port on a living room television and move it to the bedroom than to unravel the cables from a set-top box.
With this reduction in size comes a corresponding reduction in price. Streaming sticks are noticeably cheaper than set-top boxes because there's less to them and they don't have any of the other elements that make boxes costlier.
Here's where set-top boxes prove their worth though: they have more ports and connectivity options than a simple USB streaming stick.
For instance, some boxes have Ethernet ports to allow the internet to be connected directly to the device and therefore improve the streaming quality. There may also be USB ports to play otherwise unsupported media through the TV or audio lines out to add external speakers.
So, a set-top box is generally a more versatile option - but it does usually have a more premium price tag to match.
---
Summary: Options for every budget
Smart TV sticks and other devices designed to turn TVs into content hubs are very popular, partly because subscription streaming services and apps have proliferated over the last years.
As well as big names like Netflix and Disney+, smaller streaming services such as BritBox and STARZ have debuted with mixed success, bringing different types of content to viewers.
Smart sticks and TV boxes offer a way to watch all this content, with prices starting from as little as £19.99 for the Roku Express.
Here are five questions to ask when considering which smart TV stick is right for you:
Do you have Amazon Prime or are you interested in it? If so, the Amazon Fire TV Stick is likely to fit in best.
Do you want a cheap plug-and-play device that has lots of free and subscription content available? Check out the Roku range of smart TV sticks.
Do you need 4K capabilities? Choose a stick that supports that.
Do you have Amazon Alexa or Google Home already? Choosing a device that works within the wider ecosystem might be worthwhile.
Do you know which apps you want access to? Most smart TV sticks support all major apps but it's always worth checking if your favourite is covered as there are some exceptions.
Overall, TV sticks are a budget-friendly way to make a TV smart and to create a central hub for the content we already subscribe to.
Just be careful to check the extra costs of signing up to services - and make sure to cancel those you aren't using.
Compare Amazon Prime Video, Now TV and Netflix to see which has the best content.