Netflix has the largest catalogue, with over 40,000 hours of content, compared to just 26,500 with Amazon Prime.
While both providers offer exclusive and original programming from The Boys on Prime, to Stranger Things on Netflix, there is more exclusive content available with Netflix.
Yet, Amazon Prime have their own strengths, including the rights to show 20 Premier League football matches, and 17 UEFA Champions Leagues games in the upcoming 2024 season.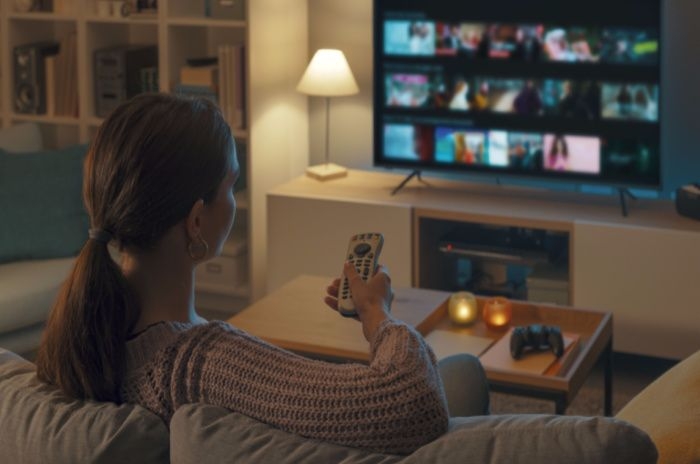 Credit: Stock-Asso/Shutterstock.com
---
At a glance
| | Netflix | Amazon Prime |
| --- | --- | --- |
| Monthly price | From £4.99 | £8.99 |
| Catalogue size | 40,646 hours | 26,536 hours |
| Original programming | Yes | Yes |
| Resolution | Up to 4K | Up to 4K |
| Customer satisfaction | 57% | 41% |
| Household take-up | 60% | 46% |
Netflix
Amazon Prime
Pros
Largest catalogue
1080p HD and UHD as standard
More exclusive content
Access to sports events including Premier League and UEFA Champions League
Cheapest plan at just £4.99/pm
Includes free one-day delivery
Cons
Ad-free and Ultra HD plans more expensive
Browsing experience not as good
No free trial option
Some content has ads or requires further payment
---
Price
Winner: Amazon Prime. While Netflix is cheaper overall for a basic plan, Amazon Prime includes music streaming and free one-day delivery in their subscription price.
Comparing Netflix and Amazon Prime on price isn't straightforward, namely because Netflix has three different package options, and Amazon Prime bundles music streaming and free one-day delivery into their subscription.
Netflix is technically cheaper, with their Standard with ads plan costing just £4.99 per month, less than Amazon Prime's £8.99 monthly charge.
Yet, Amazon Prime include up to 4K viewing within the one price, as well as free one-day delivery on Amazon goods can save households considerable money if they shop at Amazon regularly.
Here are the latest prices side-by-side:
| | Monthly price | Simultaneous screens | Resolution | Adverts |
| --- | --- | --- | --- | --- |
| Netflix: Standard with ads | £4.99 | 2 | 1080p HD | Yes |
| Amazon Prime | £8.99 | 3 | Up to 4K | Yes (on some content) |
| Netflix: Standard | £10.99 | 2 | 1080p HD | No |
| Netflix: Premium | £17.99 | 6 | 4K Ultra HD | No |
It used to be possible to subscribe to Prime Video, without Amazon Prime, but this is no longer possible. The annual membership savings are also reducing from April 2023, with annual plans increasing in price from £79 to £95.
Amazon customers can sometimes get a 30-day free trial of Prime, although it's not always offered.
There is no annual membership option with Netflix, and neither is there a free trial, although they also used to.
Overall, for price there is a reasonable tie between Netflix and Amazon Prime, simply because while Netflix is cheaper, Amazon Prime offers customers more with their subscription - although the savings depend on how often a household stops with Amazon.
---
TV integrations
Winner: Netflix is more commonly included in pay TV packages from Sky and Virgin Media than Amazon Prime, with some bundles including the streaming service for free.
Sky include Netflix Basic for free in both their Sky TV packages, with the option to upgrade to the Standard and Premium plans at a discounted rate.
Virgin Media include Netflix Standard for free in their top-end Biggest TV and Mega Volt bundles, although all other Virgin TV customers can add Netflix through their account.
BT TV also includes Netflix Basic in their Entertainment and Big Entertainment packages, while Netflix Standard is included in the VIP package.
Even TalkTalk TV offers the ability to bundle Netflix Standard with their superfast fibre broadband, with the option to upgrade to Netflix Premium for a discounted rate.
Here are some of those Netflix bundles:
Package
TV
Broadband
Monthly price
Upfront price
Contract term
Sky Entertainment + Netflix
150
N/a
£19
Free
18 months
Offer: Save £7/mth + Free setup

(Ends 29/12/2023)

Sky Entertainment + Netflix + Superfast Broadband
150
61Mb average
£36
Free
18 months
Offer: Save £7/mth on Sky Entertainment & Netflix + Reduced price broadband + Free setup

(Ends 29/12/2023)

Entertainment + Fibre 2
96
67Mb average
£20
for 3 mths,


then £55.99

£30
24 months
Offer: Black Friday: 3 months free broadband and reduced setup costs (was £61.99) + £100 BT Virtual Reward Card

(Ends 07/12/2023)

Mega Volt bundle
230
516Mb average
£85
Free
18 months
Offer: No setup fee (was £35) + O2 mobile SIM with Unlimited data, minutes and texts
Amazon Prime on the other hand, while accessible as an app on Sky, Virgin Media, BT and TalkTalk boxes, isn't included as standard in any of the packages.
Overall, both Amazon Prime Video and Netflix have good support for their on-demand app on Sky Q, Sky Stream Puck, Sky Glass, Virgin 360, Virgin V6, Virgin Stream, BT TV Pro Box, TalkTalk TV, Android TV, and YouView TV boxes.
However, Netflix has become a more standardised feature of premium pay TV packages, often being included within the base subscription.
---
Experience
Winner: Netflix feels easier to browse and find new content than Amazon Prime, and it has less back and forth to move between series and episode screens.
Both Netflix and Amazon Prime allow you to search for films by name or feature, for example it's possible to search for 'period dramas', films starring particular actors, or even by viewing quality by searching for 'films in ultra hd'.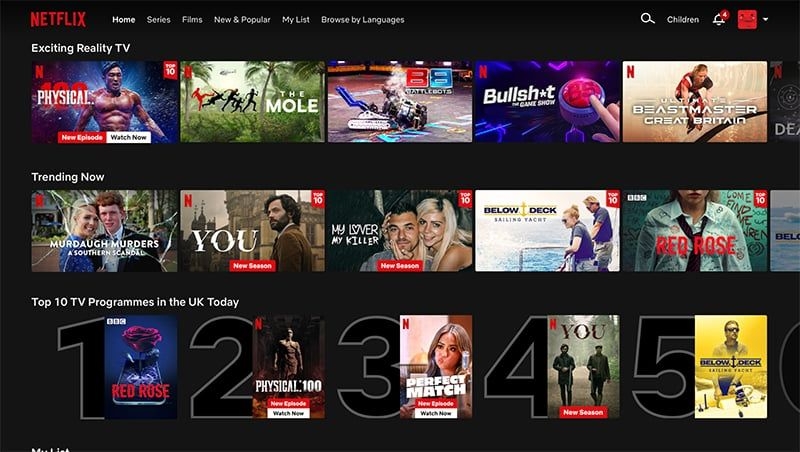 Yet Netflix has an arguably more pleasing browsing experience, that feels easier to find new things to watch, although both platforms suffer from a relational viewing experience, where they bias towards displaying titles similar to those you've already seen.
While this does mean you get suggestions closer to what you may like, it also makes missing out on new titles more likely to happen as well.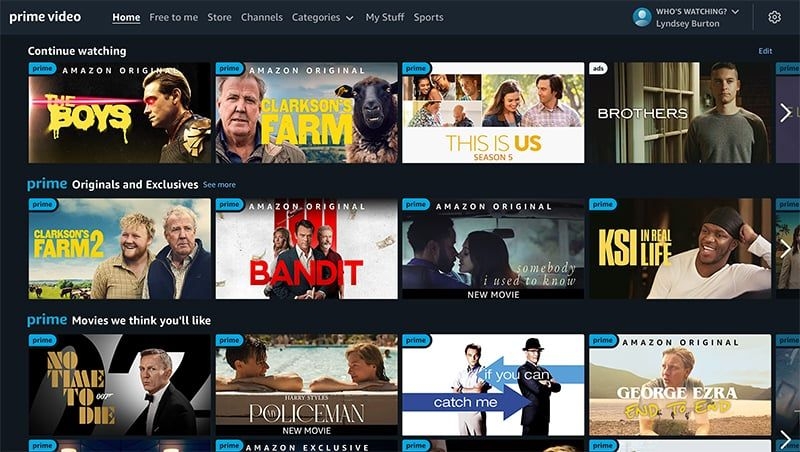 Ofcom's Media Nations report 2022 surveyed subscription video on-demand customers and found more people felt Netflix was easier to find their way around, and easier to find something they wanted to watch, than customers of Amazon Prime did.
| | Netflix | Amazon Prime |
| --- | --- | --- |
| Appeals to a wide range of different audiences | 82% | 77% |
| Provides services that are easy to find my way around | 82% | 72% |
| Easy to find something I want to watch | 80% | 71% |
| Programmes that are relevant to me | 75% | 68% |
| Programmes that I can watch and talk about with people I know | 75% | 67% |
| Programmes that are different in their approach to other providers | 66% | 60% |
Overall, we felt Netflix had a better viewing experience than Amazon Prime, while the providers are both more than usable, Netflix just feels that bit easier to browse and find new content ideas.
---
Content catalogue
Winner: Netflix have more hours of content on their streaming platform than Amazon Prime does.
Netflix has over 40,000 hours of on-demand content on their platform as of August 2022, while Amazon Prime has just over 26,500 hours.
Netflix also have more exclusive content with their own Netflix Originals programming.
They've created shows including:
Stranger Things
The Crown
The Tinder Swindler
Inventing Anna
Squid Game
Orange is the New Black
Bridgerton
Ozark
Don't Look Up
It can be argued that Netflix's major pull is their extensive collection of Originals that can only be viewed with a Netflix subscription.
Amazon Prime also have their own exclusive programming named Amazon Originals. These include titles such as:
The Boys
Gen V
Good Omens
The Grand Tour
The Marvelous Mrs Maisel
American Gods
The Main in the High Castle
The Expanse
HANNA
Carnival Row
Amazon Prime's focus tends to be more on HBO-style high-budget dramas, while Netflix cross genres more readily.
Amazon Prime also offer Prime Exclusive shows, which aren't available elsewhere, with titles including:
Mr Robot
Vikings
Lucifer
Black Sails
There is one big downside to Amazon Prime over Netflix however, and that's some content on Prime Video costs extra to buy or rent to view.
For example, some series may let customers watch the first one or two seasons as part of their Prime subscription, but further seasons then become chargeable extras.
Some movies may also require people to pay extra to view them. While this does help expand the content available on Prime Video, it can seem a little unfair when people already have a paid subscription.
In addition, there's a greater number of shows and films that are free to view but customers have to watch adverts. While Netflix has created a Standard with ads plan, they have otherwise kept the platform ad-free for all other subscribers.
One redeeming feature of Amazon Prime Video is that they cater for sports fans, gaining 20 Premier League matches in the 22/23 season, alongside ATP tennis and other sports. As well as gaining rights to 17 UEFA Champions League matches for the first time from 2024, after being an exclusive with BT Sport since 2015.
Ofcom's Media Nations 2022 report found Prime Video was the second most popular streaming service for live and catch-up sports, second only behind BBC iPlayer.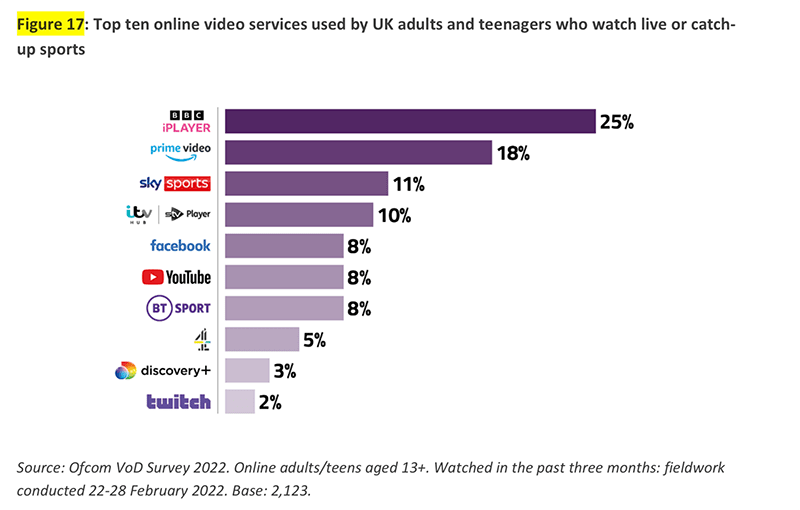 Amazon Prime also gained 635,000 subscribers at the end of 2020 for their sports content alone.
Sporting fixtures definitely differentiates Amazon Prime from Netflix, and given that sports content is included in the standard subscription price makes them seem much better value for money, especially when you consider NOW's Sports Membership costs £34.99 a month.
Overall, Netflix have the larger catalogue, with a bigger array of exclusive Netflix Originals programming. But Amazon Prime may win over a few sports fans.
---
HD & UHD streaming
Winner: Amazon Prime offer Ultra HD viewing in 4K resolution as standard, while Netflix viewers have to pay more for a Premium subscription.
Prime Video will show subscribers 4K content as long as their devices and displays are compatible. To find Ultra HD programming, simply search for Ultra HD on Prime in the toolbar.
The majority of shows on Prime Video will be available in 1080p HD, while those supporting HDR and 4K UHD are marked, and these tend to be found on newer programming like The Boys.
Netflix provides content in 1080p HD on its Standard plans after it boosted viewers up from SD in October 2022. To watch Netflix in Ultra HD customers need to take the Premium plan, which costs £17.99 a month, and includes a selection of content in 4K and HDR.
Again, to find shows in 4K specifically, simply search for 4K or UHD, compatible programming will carry the Ultra HD logo next to the programme description.
Customers need either a HD or Ultra HD/HDR compatible TV, as well as the smart stick or box if connecting to the on-demand app through an external device. Minimum download speeds are quoted to be 15Mb to 20Mb for 4K viewing.
Overall, Amazon Prime are cheaper for full 1080p HD and Ultra HD viewing, although Netflix has now boosted their cheapest plans to 1080p HD.
---
Verdict: Netflix or Amazon Prime?
Overall winner: If we had to choose one over the other, we'd go with Netflix. They have a larger catalogue overall and more exclusive programming you won't want to miss.
6.2 million households in the UK have subscriptions to both Netflix and Amazon Prime, and with both providers producing their own exclusive programming it's not hard to understand why.
There are also definitive differences between Netflix and Amazon Prime that may tempt a household to take one service over the other, or simply mean that households benefit from subscriptions to both streaming services.
Here's a recap of the main differences:
Netflix has a larger catalogue with over 40,000 hours of content
Netflix has more original programming
Netflix has the cheapest overall plan for those on a budget, with Standard with ads costing just £4.99 per month
Prime Video offer 1080p HD and Ultra HD viewing as standard
Prime Video has access to sports events, including 20 Premier League matches and 17 upcoming UEFA Champions League games from 2024
Prime Video also includes music streaming and free one-day delivery on Amazon goods
Both Netflix and Prime Video offer subscriptions on a monthly rolling basis, so it's possible to dip and out of each streaming service depending on the content released at the time.
Overall, while we'd pick Netflix as our winner, both services have winning factors in their own right, and many households will continue to want subscriptions to both platforms.
Read more about the best streaming service in the UK.