It means customers will currently pay £24.95 plus set-up for 11Mb Fast Broadband while 67Mb Fibre 65 is £24 per month with free set-up.
The alteration encourages customers to take fibre broadband when perhaps they may have decided 11Mb speeds were fast enough for them.
However, with 3% of the UK still unable to access superfast broadband, this could feel like an extra charge for being in a poor coverage area to some.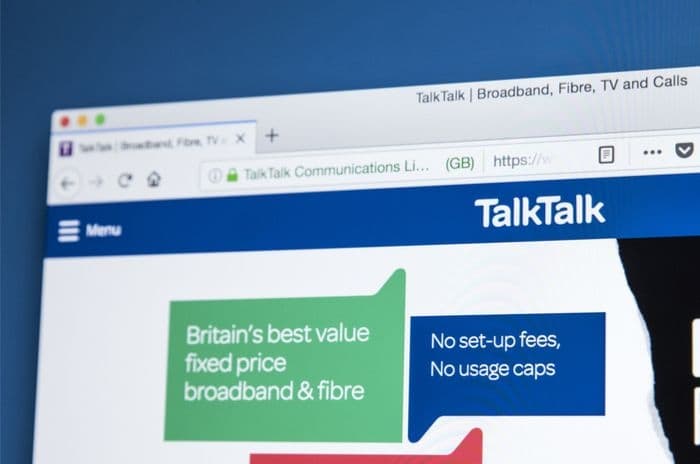 Credit: chrisdorney/Shutterstock.com
New prices
The new pricing takes effect from 1 April 2021 and means customers will pay £24.95 for standalone Fast Broadband or £26.95 for Fast Broadband TV.
Both these packages are subject to a £9.95 set-up fee and are on 18-month contracts.
On the fibre side, customers can expect to pay £22 per month for Fibre 35 (38Mb) or £24 per month for Fibre 65 (67Mb) broadband. Neither of these packages have a set-up fee.
So, customers will be able to access the fastest widely available broadband TalkTalk offer for less than the costs of their slowest package.
This is the latest change TalkTalk have made to their pricing structure recently following their axe of TV Boosts in November 2020 and their switch to annual price increases following the scrapping of their fixed price broadband contracts.
Push towards fibre
In practice, most people are going to opt for fibre broadband these days given the choice and seeing the higher prices of copper broadband in comparison won't make a difference either way.
However, superfast fibre broadband has only reached 97% of the UK according to the most recent figures released last month, and 98% coverage is unlikely to be reached for several years.
That leaves up to 3% of the country unable to access TalkTalk's fibre broadband, so they may legitimately feel they are being penalised for being unable to take the budget provider's fibre deals.
While there are other standard copper broadband deals available, TalkTalk are arguably one of the best known budget broadband providers around and have a large share of the UK broadband market.
Plus, it's possible the pricing structure may confuse customers who are entering the broadband market for the first time, particularly the elderly and those who might be labelled digitally excluded. To the untrained eye, the price differences look peculiar and confusing.
Openreach costs
The context behind TalkTalk's copper broadband price increased is likely to be based on the recent Ofcom review of the telecoms market from April 2021 to March 2026.
That gave Openreach the ability to raise prices of legacy copper broadband products to help fund their investment into fibre to the premises (FTTP), and it was confirmed earlier this week they have opted to do so already. Many of the increases to broadband provider costs will be introduced from 1 July 2021.
With this in mind, TalkTalk's copper broadband increase is likely to be just one of many as providers pass their costs increase on to customers.
In TalkTalk's case, it seems they have opted to keep their fibre prices as low as possible and instead pass the increase on to copper broadband customers instead.
Keep an eye on our broadband comparison pages for the cheapest available broadband deals and read this guide on the current best deals.