How you can help stop digital exclusion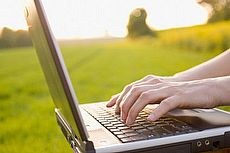 6.4 million UK adults, about 13% of the adult population, have never used the internet, according to the Office of National Statistics.
Those left behind by the advances of the digital age can find it harder to find a job or access Government services and, according to the Low Incomes Tax Reform (LITR) Group, "are in danger of falling even further behind in future."
If you consider yourself pretty tech savvy, you can help to get people online.
In this guide we take a look at how to get involved in volunteering projects that help get people online and, in the second section, why they're so important.
How you can help
The longer people wait to acquire skills, the more problems they're likely to face or, as LITR put it, "as technology advances, more steps are added to the digital journey for non ICT users."
Become a Digital Champion
The Go On initiative, once known as Martha Lane Fox's Race Online, is looking for volunteers to help at its many computer skills projects throughout the UK.
Find out more on the Go On site here.
Age UK also support the Digital Champion project, running classes and courses for older people - volunteer to teach one here.
Become an AbilityNet volunteer
AbilityNet focuses on improving the digital skills of disabled people.
Many of their projects are staffed by volunteers, 8,000 people give their time across the UK, and they're always looking for more help.
Volunteers don't need to be technical experts, familiarity with commonly used computer hardware and software is enough, though it'll probably be a plus if you have any familiarity with assistive technology software, and training is provided.
Their volunteering page is here.
Look for local projects
There are also numerous local projects looking for volunteers willing to make both long and short-term commitments.
Check the Do It site for opportunities.
You can search by area and categories relating to getting online to find relevant deals, for example: 'Education and Literacy' and then 'Technology and the Internet'.
When we had a quick look while updating this article we found loads of interesting sounding projects, most of them targeted towards helping specific groups like newly arrived refugees, though there were some general IT help drop in classes looking for volunteers too.
Help informally
If you can be an informal IT help desk to those you know then that's great too.
For example, you could explain some of the benefits of getting online to those who feel the internet is 'not for them' or offer some tips about online fraud to someone worried about security.
Old, working computers, laptops, tablets and smartphones could be useful to someone who's not yet online.
Not only is there a digital divide, there's also a gulf between the have and have-nots in terms of devices.
Very broadly, we can think of digital exclusion as exclusion from making the best use of all types of digital technology so every little helps.
We have three guides to help people who are new to getting online stay safe on the internet which could help.
If you know someone that is having trouble getting online because they don't have a computer we also have a guide on projects that offer free PCs and laptops here.
What creates digital exclusion?
There are four factors that create digital exclusion.
Access: both physical and financial
Motivation: including understanding or appreciation of the benefits
Skills: including whether they have any available means of learning ICT skills
Confidence: including fears of fraud and online security
These barriers affect different people to different degrees and as a result some groups are much more likely to be digital excluded.
We can probably all name the biggest one.
The elderly
Any graph of the proportion of people connected to the internet drops suddenly above the age of 65, an effect sometimes known as 'the communications cliff'.
Older people are also the group mostly likely to actively choose to avoid technology.
56% of people over 65 'voluntarily exclude' themselves from having Internet access compared to the national average of 22%.
Understanding the benefits
"I've managed so long without it I just don't want or need [the internet]."
- Royal National Institute for the Blind (RNIB) research.
This statement will undoubtedly sound familiar to many people. One of the biggest problems leading to digital exclusion of elderly people is that they simply don't see the benefits that the internet could afford them.
And yet elderly people who do frequently use the internet can easily explain the reasons.
"To get in touch with my grandson in Australia," one respondent to a LITR survey said.
Another person in the same survey used the internet to download books for her kindle. She used an eBook because, like many elderly people, her eyesight is impaired.
Access to information relating to health, benefits, and services for the elderly would bring obvious and direct gain to many of the older people who are choosing not to engage with modern technology.
However, it is not only choice that can exclude elderly people, many also suffer from age related disabilities.
People with disabilities
There are about 10 million disabled people in the UK: that's 18% of the UK population, the substantial majority with 'hidden' disabilities approximately 828,000 adults have a learning disability, for example.
A high proportion of this group are digitally excluded.
Perceived inability
Just as with elderly people that may be partly because of a perceived inability to access the internet.
And, for some, those barriers are very real: "... having difficulties with vision, hearing, mobility, cognitive processing, or literacy often limits their access to much of today's digital economy," LITR say.
There are however continual improvements made to accessibility of both computers and the internet; greater education and advertisement of these services would go a long way towards eliminating digital exclusion for people with disabilities.
In the world of technology, physical inaccessibility should not be a barrier.
The financially disadvantaged
Finally, those already at a social or financial disadvantage are more than three times more likely to be digitally excluded.
More than a computer
Getting on the internet for the first time is not as quick and easy as we may remember it.
Not only do you need a computer but the infrastructure to go with it. Home broadband can be expensive, phone data even more pricey.
A significant proportion of people (36%) in recent Ofcom research said that they were prevented from accessing the Internet.
Half of that 36% said a home connection, a computer and all the bells and whistles was just too expensive.
Assistive technology
Linking the last two sections, let's also not forget those with disabilities who cannot afford the accessibility hardware and software available to them.
Assistive technology can be much more expensive than a standard connection.